Update (November 4, 2022): VICTORY! Texas A&M University has confirmed that it will release the nine healthy golden retrievers it had transferred from its failed canine muscular dystrophy laboratory to the veterinary school!
This momentous news comes after PETA's hard-fought campaign that began with our shocking exposé of the school's deplorable laboratory. Our relentless pressure ended its cruel breeding of dogs to develop this crippling disease and led to the release of more than 50 dogs.
But we never gave up on these nine betrayed golden retrievers. We campaigned hard—and now the dogs will be in homes before the end of the year.
You can read more about our win for the nine dogs here.
---
Originally posted on March 30, 2022:
The more PETA uncovers about the horrific tests to which experimenters subjected dogs in Texas A&M University's canine muscular dystrophy (MD) laboratory, the more frustrating it is that the school has been dodging our latest request: Release the nine healthy dogs from this program who were transferred to the veterinary school and finally give them a chance to be adopted into a loving home.
We recently dug up a 2020 paper detailing experiments in Texas A&M's canine MD laboratory in which experimenters used golden retriever puppies—approximately 3 and 6 months of age—to study the dogs' breathing and difficulty with respiration. Experimenters strapped the puppies into a jacket system with wires, attached a rigid plastic mask over their faces, and forcibly restrained them on a table to conduct breathing tests.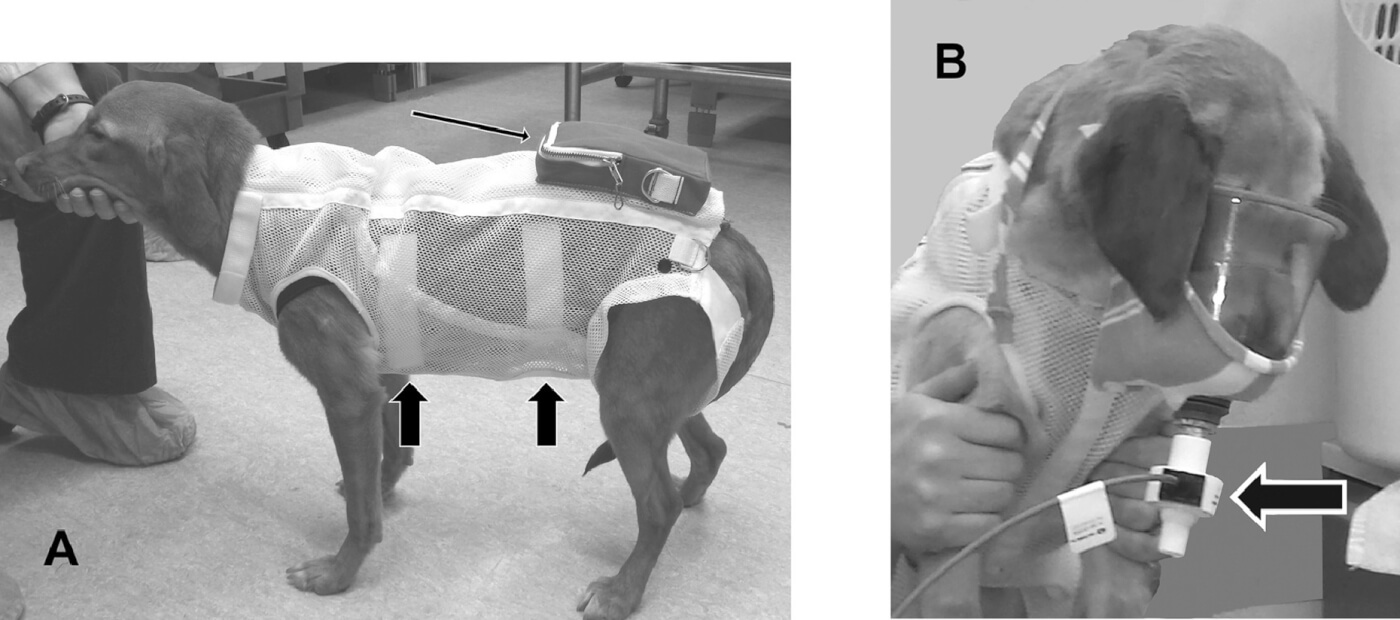 The respiration test pictured above is just one of the cruel experiments to which Texas A&M has subjected dogs. Experimenters at the school have also repeatedly stretched dogs' muscles with a motorized lever to gauge how much canine MD has ravaged their bodies. And prior to shutting down its horrific dog-breeding program in 2019—following a relentless, two-and-a-half-year-long PETA campaign—the university churned out countless litters of sick dogs condemned to a lifetime of suffering.
But the end of Texas A&M's dog-breeding program wasn't the end of PETA's work. Since 2019, we have blown the lid off the university's lies and attempts to cover up its mistreatment of dogs. In 2021, we exposed Peter Nghiem—the canine MD laboratory's lead experimenter—for publicly stating that the healthy dogs from the program are adopted out once he has no more use for them. In reality, the university quietly transferred nine dogs to another campus laboratory. And later that year, we obtained documents showing that the university renamed Cannoli—a healthy dog born into its failed canine MD laboratory—likely in an attempt to hide that the golden retriever remains imprisoned by the school.
Tell Texas A&M to Release the Remaining 9 Healthy Dogs
The remaining dogs still imprisoned at Texas A&M deserve to know the warmth of a loving home, rather than spending the rest of their lives in miserable, sterile laboratory cages. Take action below to help them: