These grassroots activists went above and beyond to help animals, bringing our international campaigns to their cities. When the whole world came to a halt, they enthusiastically worked with PETA to win major campaigns. Today, PETA honors these Outstanding Activist Award winners for their impressive efforts.
Read on to find out which activists won big for animals:
Teamwork was the name of the game this year. The first dynamic duo are longtime advocates Ashley Ollie and Len Goldberg, who took on Winners Canada with gusto and won, pushing the company to go fur-free! This victory was no small feat, as TJX is the parent company of TJ Maxx, Marshalls, and HomeGoods—just to name a few.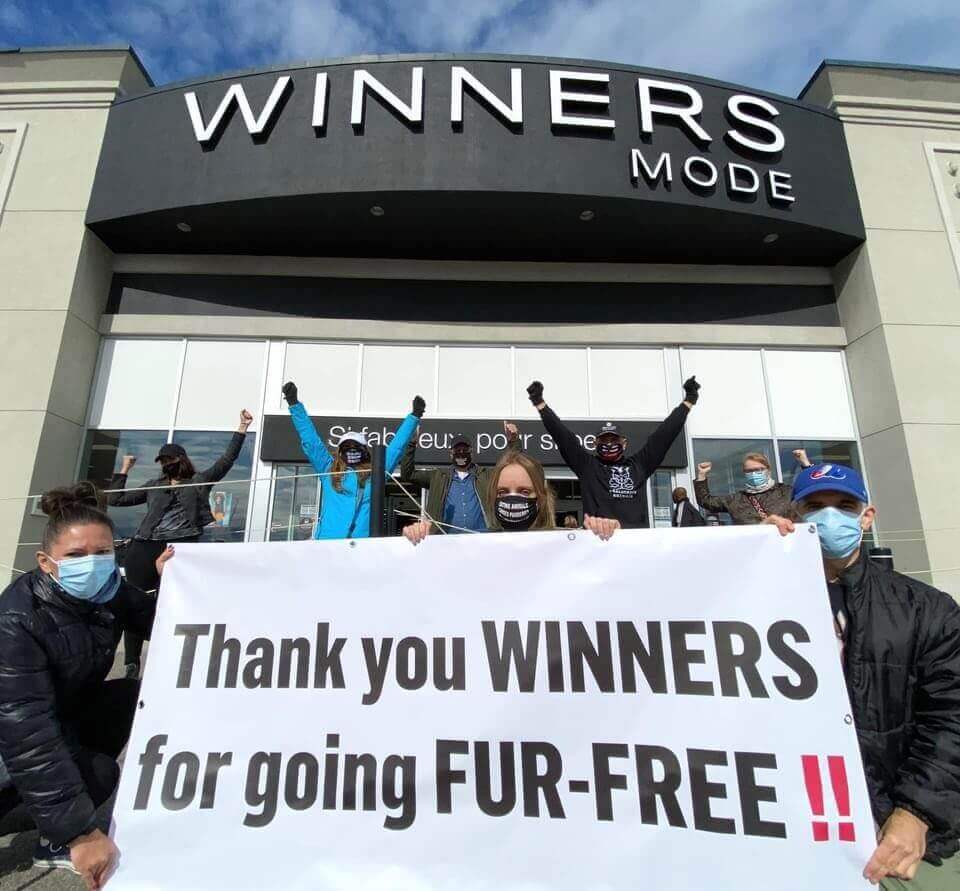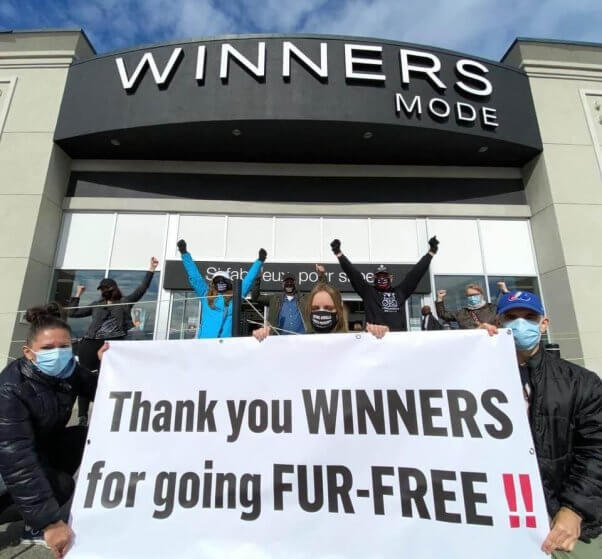 Ashley Ollie
Ashley spoke up for animals every single day of the year by posting animal rights stickers and posters throughout Montréal, volunteering at animal sanctuaries, and protesting slaughterhouses and experimenters. 
"Whether we are in a pandemic or safe, there are always infinite ways [to] stop oppression of animals and accelerate the vegan revolution," said Ashley.
She helped lead a campaign to prompt Winners to stop selling fur, sparked by her solo demonstration inside a Montréal store. Ashley helped organize in-store disruptions and e-mail blitzes that led this massive retailer to go fur-free in all Canadian stores. 🙌  She also led protests to end Starbucks' vegan milk surcharge that generated mainstream media coverage in Canada and led protests outside Walmart and Canada Goose stores along with her partner, Len Goldberg.
Len Goldberg
Ever since Len spoke out to fur-wearers in the early 1970s, he's wanted to help end the fur industry. He accomplished a "primary life goal" this year when his and Ashley's campaign against Winners ended in a huge victory for foxes, rabbits, and other animals killed for their fur. 
Len told PETA, "When I defend animals I defend people, because humans will save themselves when they save animals." 
He also helps activists and groups across Canada advance their campaigns as an animal rights live-streamer. Any videos and memes he makes are consistently shared thousands of times on Facebook. P.S. This is Len's 27-year anniversary of volunteering with PETA. That is dedication. 👏
*****
Outspoken activists Leo Anguiano and Nathan Semmel joined forces to win a campaign urging Paragon Sports to stop selling fur.
Leo Anguiano
Pursuit of justice for all must include campaigning for animal rights. It's the moral obligation of those in positions of privilege and power to amplify the voices of those who have been silenced. Leo makes it his mission to #EndSpeciesism.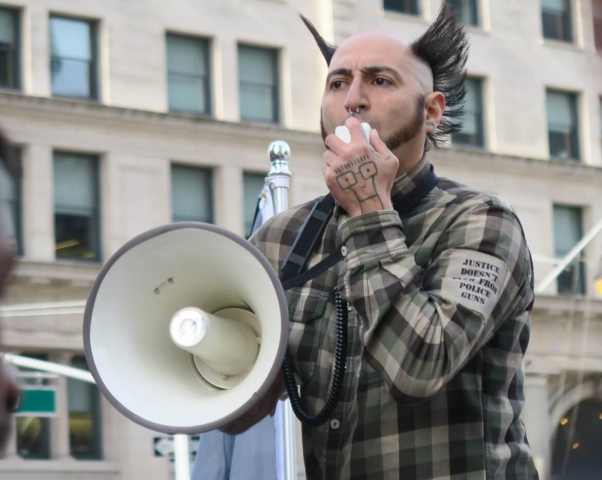 "Momentum is currently swinging heavily in favor of the fight to obliterate the entire fur industry, and we must make the most of this opportunity," said Leo.
The anti-fur movement is what originally drew Leo to animal rights many years ago. He believes that campaigning against fur is a fantastic entry point into activism and urges everyone to speak up for animals abused for their fur or skin. You can help: Take action by urging Urban Outfitters to stop selling products of cruelty, then share this petition with all your friends. 🖤
Nathan Semmel
Nathan knows that being vegan is not enough to liberate animals who are suffering. Minks don't deserve to be tortured on filthy factory farms where sick animals are jammed together in cages—even Pamela Anderson agrees.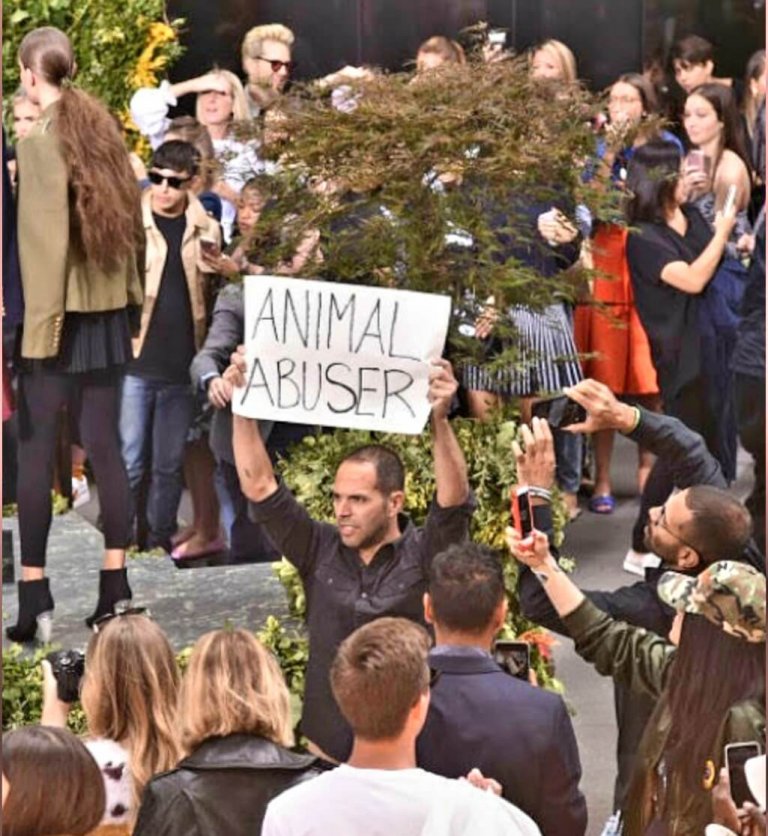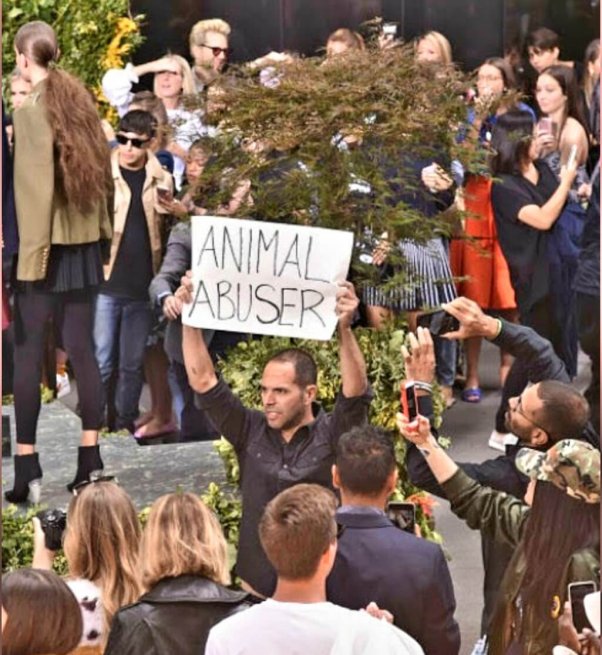 Nathan encourages everyone to take action for all the trapped, confined, tortured, and scared animals abused for their fur. (That means you, Canada Goose.) 👉  Urge Canada Goose to ditch fur and down fur good.
"I humbly share this award with all the NYC activists who inspire me. I believe we all have a responsibility to disrupt the status quo because the world in which we live still normalizes cruelty to animals," Nathan told us.
*****
Rosemary Davy
Rosemary is an animal liberation activist who's been vegan for half her life. This year, she led a successful charge to stop Oscar Mayer's Wienermobile from visiting her city. PETA's planned protest on behalf of pigs abused on factory farms made the vehicle cancel its appearance.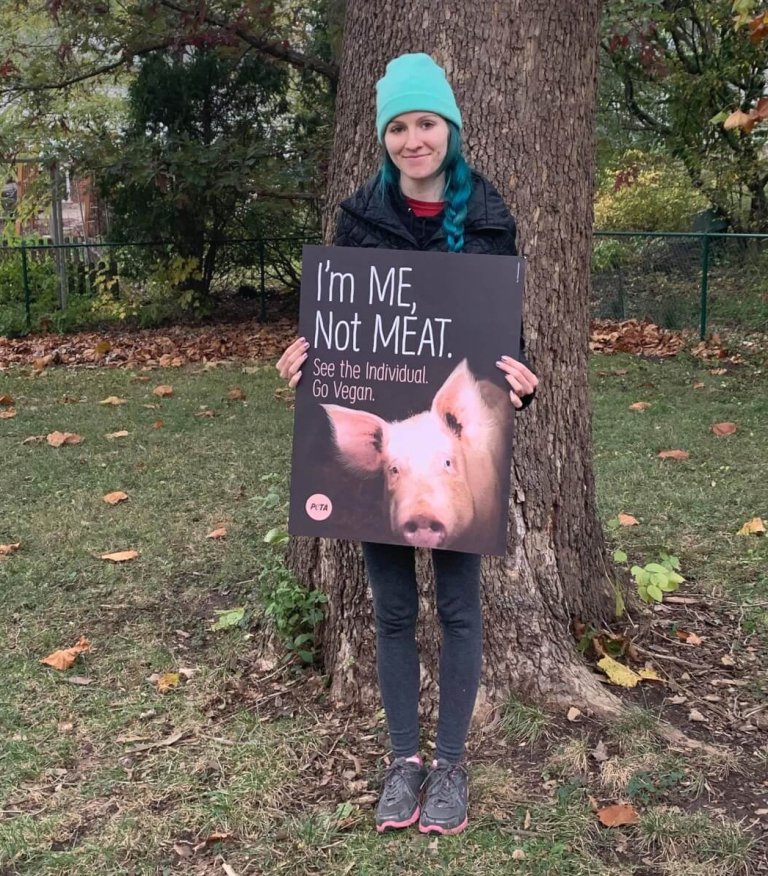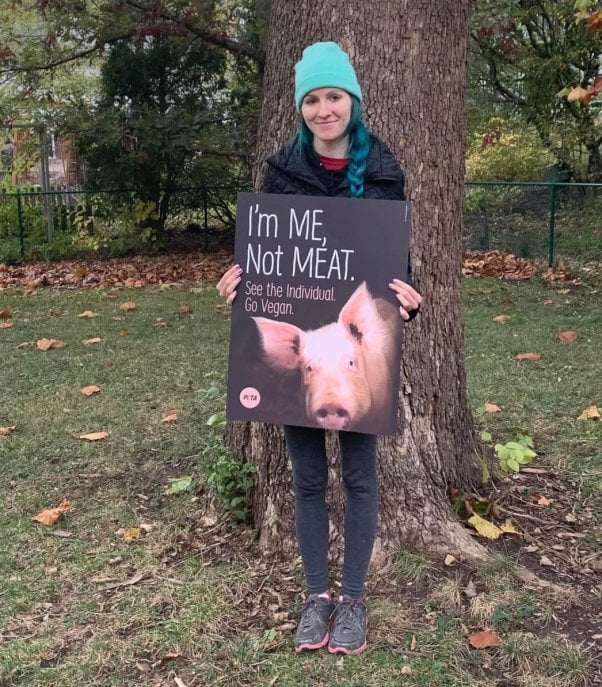 "We all have the power to change the world, for better or for worse, with the choices we make every day. In the face of these huge injustices, being silent is not an option for me. I feel compelled to speak up because I know that we are capable of change," said Rosemary.
Rosemary keeps herself busy when she's not leading demonstrations: She not only helps organize DxE Chicago events but also leads a local Animal Rights Activists chapter and works as a vegan hospitality consultant. 😋 
Jodie Wiederkehr
Jodie also received a Hero to Horses Award earlier this year—she's a superstar. 🌟  As executive director of the Chicago Alliance for Animals and founder of the Partnership to Ban Horse Carriages Worldwide, she makes her city a more humane place for animals. And her effort pays off. Starting on January 1, 2021, horses will no longer suffer on Chicago's cold, hard streets while pulling horse-drawn carriages.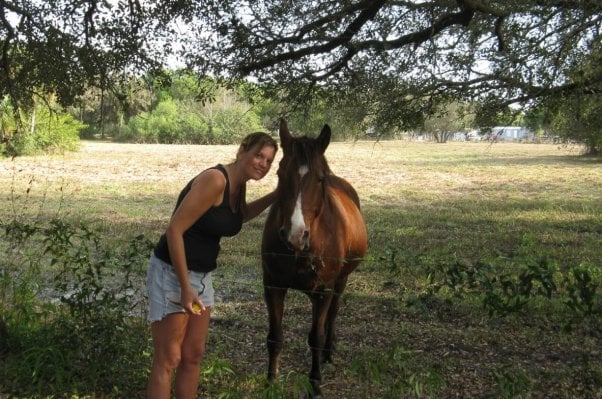 "Horses have a true ally in Jodie, whose unwavering commitment and compassion have helped make Chicago the largest city in the country to shut down the cruel carriage industry," says PETA President Ingrid Newkirk.
She also founded the Center for Ethical Science, dedicated to informing the public about the cruel, misleading, and dangerous practice of animal experimentation.
*****
Rachel Levy
From disrupting Canada Goose's grand opening in Soho to leading the charge against Saks Fifth Avenue for selling fur in New York City, Rachel is a true ally to animals. She is wholeheartedly determined to help stop the torture of millions of animals violently murdered each year for clothing.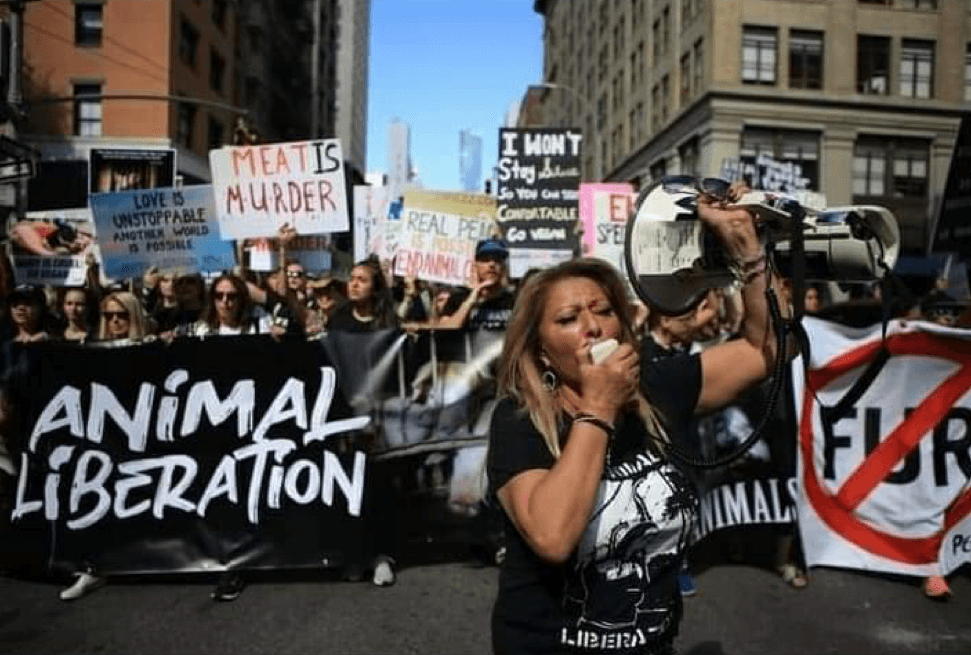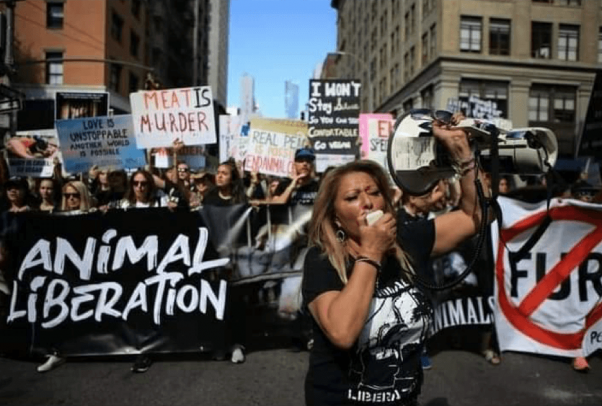 "Just look into the eyes of [these] beautiful individuals. They are crying for mercy, and for their lives," pleads Rachel.
Rachel knows that we have the moral responsibility to stand up against all cruelty to animals. She persuades live auctions and "wet markets" to surrender animals, including calves abused in the dairy industry and ducks and chickens slated for slaughter.
Ana Campos
This outspoken Floridian helped achieve a major victory for captive animals: SeaQuest, an exploitative and shady roadside petting zoo, was stopped from opening in a Fort Lauderdale mall. This sleezy company decided to drop its bid to open there as part of a lawsuit filed by PETA, the Animal Rights Foundation of Florida, and Ana.
Her activism helped prevent many animals from suffering at SeaQuest. A sloth named Flash and an otter named Jelly are among those who have died at the hands of the miserable business. 💔  Join Ana in speaking out against SeaQuest today.
Dozens of Other Remarkable Activists
These other outstanding activists will also receive an award from PETA:
| | | |
| --- | --- | --- |
| | | |
| Madi Pydisetty | Anastasia Rogers | Melanie Johnson |
| Bobby Bates | Saiju Gangadharan | Graciela Iparraguirre |
| Dani Alexander | Victoria Sova | Oliver Carlin |
| Alka Chandna | Ellen Ericksen | Michael Fujimori |
| Rachel Ogden | Jenny McQueen | Bryan and Carla Wilson |
| Stacy Dean | Bobby Cornn | Mary Chris-Staples |
| Morgan Hill | Matthew Tao | Maria Leonardi |
| Brittany Drake | Erika Wilkinson | Laura Ray |
| January Cook | Jeremy Shell | Andrea Diaz |
| Britt Menhart | Jeremy Beckham | Katerina Trabazo |
| Cindy, John, and Toni Anthony-Favia | Ashley Keith | Moshe Eckmann |
| Julie Graham | Jenny Brown | Conchita Caceres |
| Julia Novak | Julie Coffey | Sherry Blythe |
| Aaron Evans | Ken Penn | Rim El-iali |
| Trey Wharton | Shannon Blair | Jill Carnegie |
| Mary Ann Persad | Sam Campos | Cody Wayne |
| Cordelia Stone | Addison Lantz | Jon Stainback |
| Linda Cridge | Veronica Schade | |
You Can Be an Outstanding Activist, Too
Inspired by all the changes these activists have made? Take the lead as a volunteer who organizes and leads protests for one of PETA's strategic campaigns at least every other month:
Apply to Become an Action Leader
Not ready to plan your own demonstrations? You can be an activist every day from the comfort of your own home. Join PETA's Action Team to create real, measurable change for animals by taking action without even leaving your bed: