When Margot Robbie's Barbie and Ryan Gosling's Ken leave Barbieland for the real world in their upcoming movie, they'll have a lot more to think about than just their own mortal fates. If the pair witness how wickedly humans choose to treat our fellow animals in laboratories, on factory farms, in the clothing business, and in countless other settings, they'll get the chills.
Far from plastic and fantastic, things that are made of bits and pieces of animals or tested on them come by way of their torment and suffering. Animals are used to make shoes, purses, meals, and even lifestyle accessories chosen to match an outfit, as if they didn't have any feeling at all.
We believe that if Barbie and Ken find out about the work PETA does in their adventure, they'll be on board as enthusiastic supporters of animal rights. So we're releasing a trio of unofficial, Barbie-compatible packs so your Barbie and Ken dolls can take part in animal-saving action.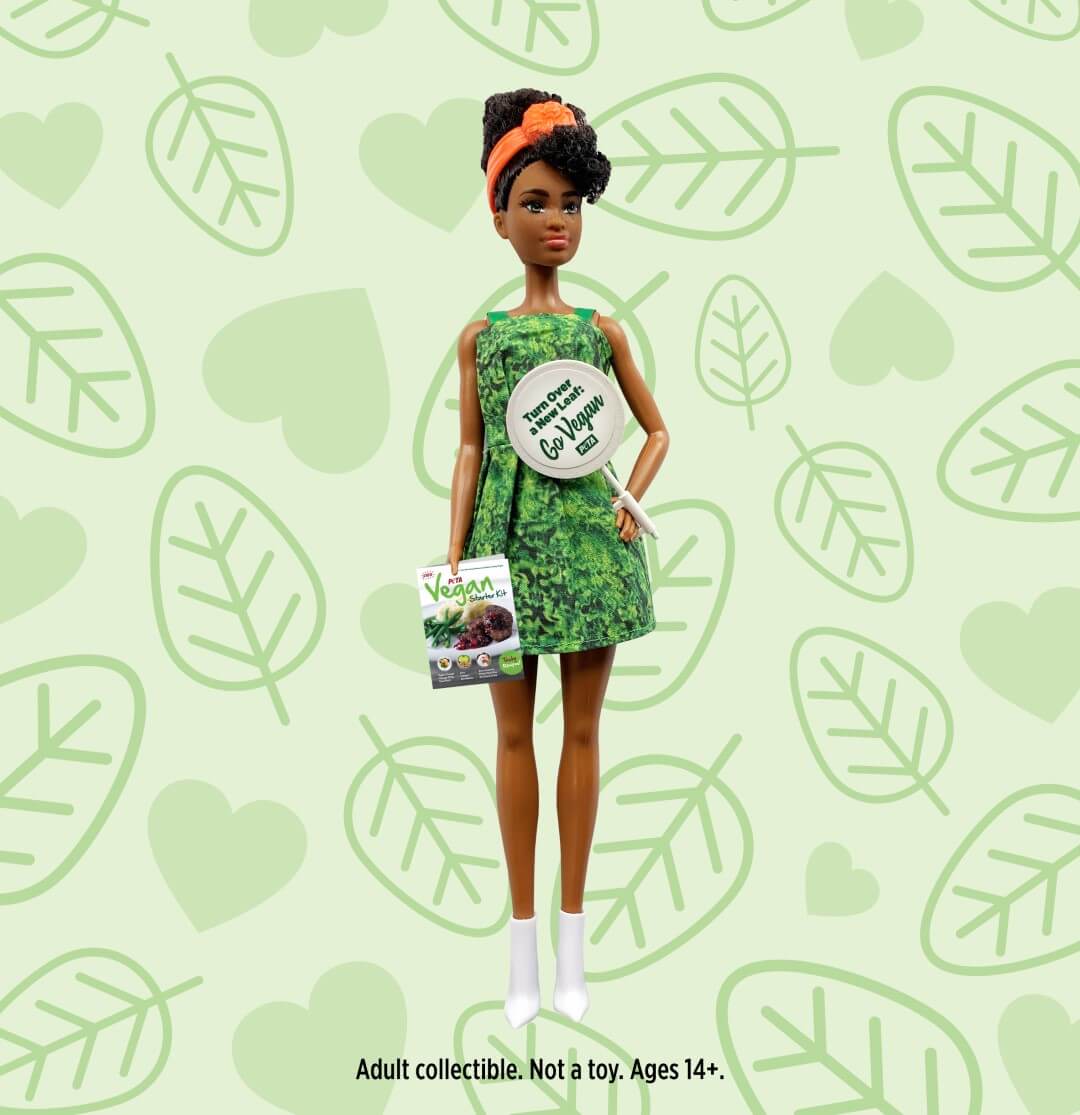 Make Your Barbie Turn Heads as a 'Lettuce Lady'
Give your Barbies the chance to break the mold with a certified PETA original: our iconic leafy "Lettuce Lady" dress. With a lollipop sign reading, "Go Vegan," Barbie can live the legacy of our vegan ambassadors who have traveled the globe, including to Cuba and Turkey, to spread awareness of the many benefits of a plant-based lifestyle.
Of course, this kit equips your Barbie with her own miniature vegan starter kit, which she can use to help others turn over a new leaf in life.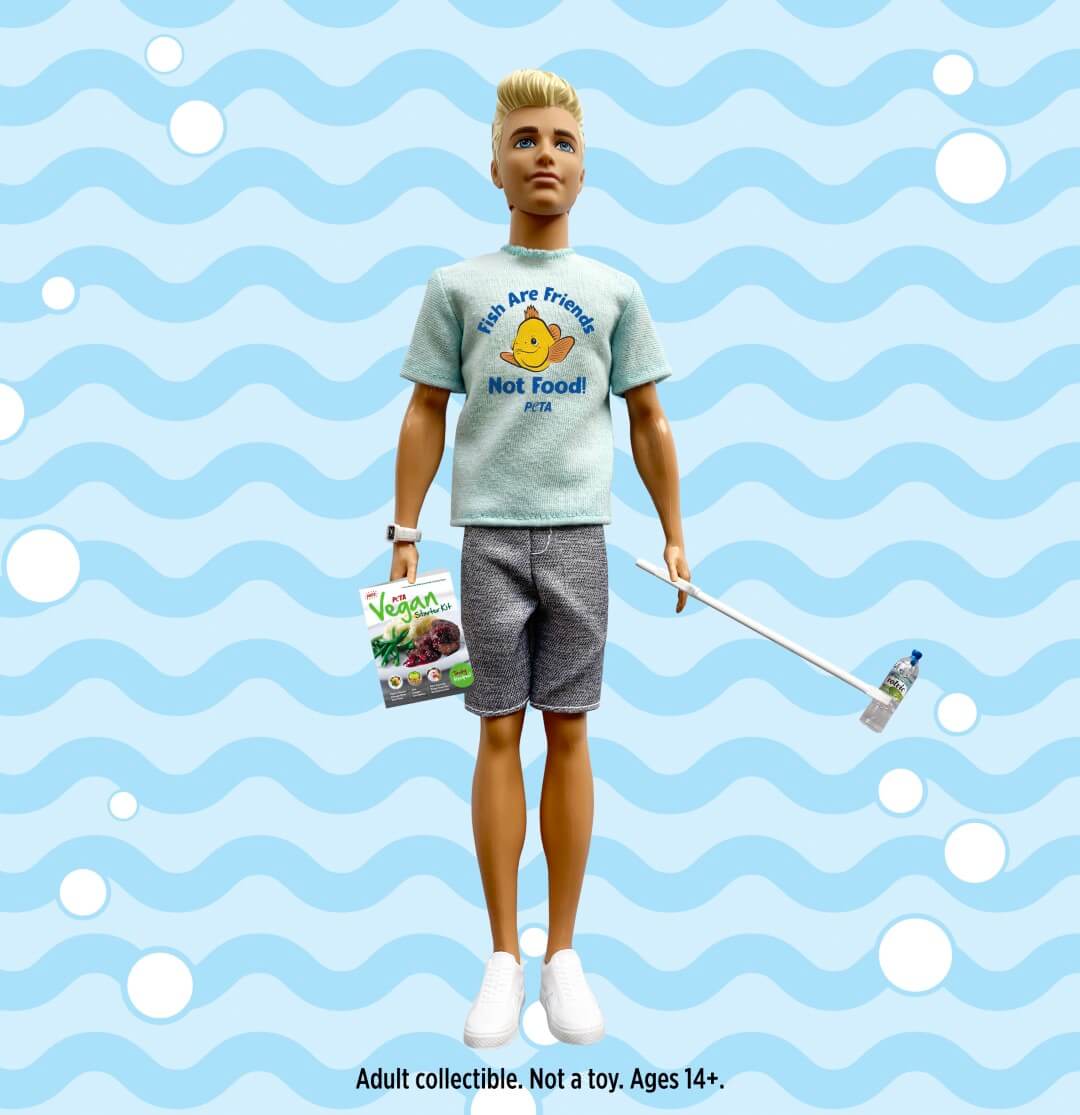 Ken Goes Fishing … for Trash
If you're not content with your doll being "just Ken," our "trash fishing" kit enables him to pursue a fish-friendly calling. Complete with a "Fish Are Friends, Not Food" tee, a trash grabber, and, of course, some trash to catch, our kit will get Ken all set to clean his local waterways of harmful litter that hurts and kills fish. This kind of fishing sure beats putting holes in fish's sensitive lips and suffocating them.
Be sure to snag PETA's human-size Trash Fishing Provisions Kit and photograph yourself doing the good deed with your kitted-out Ken.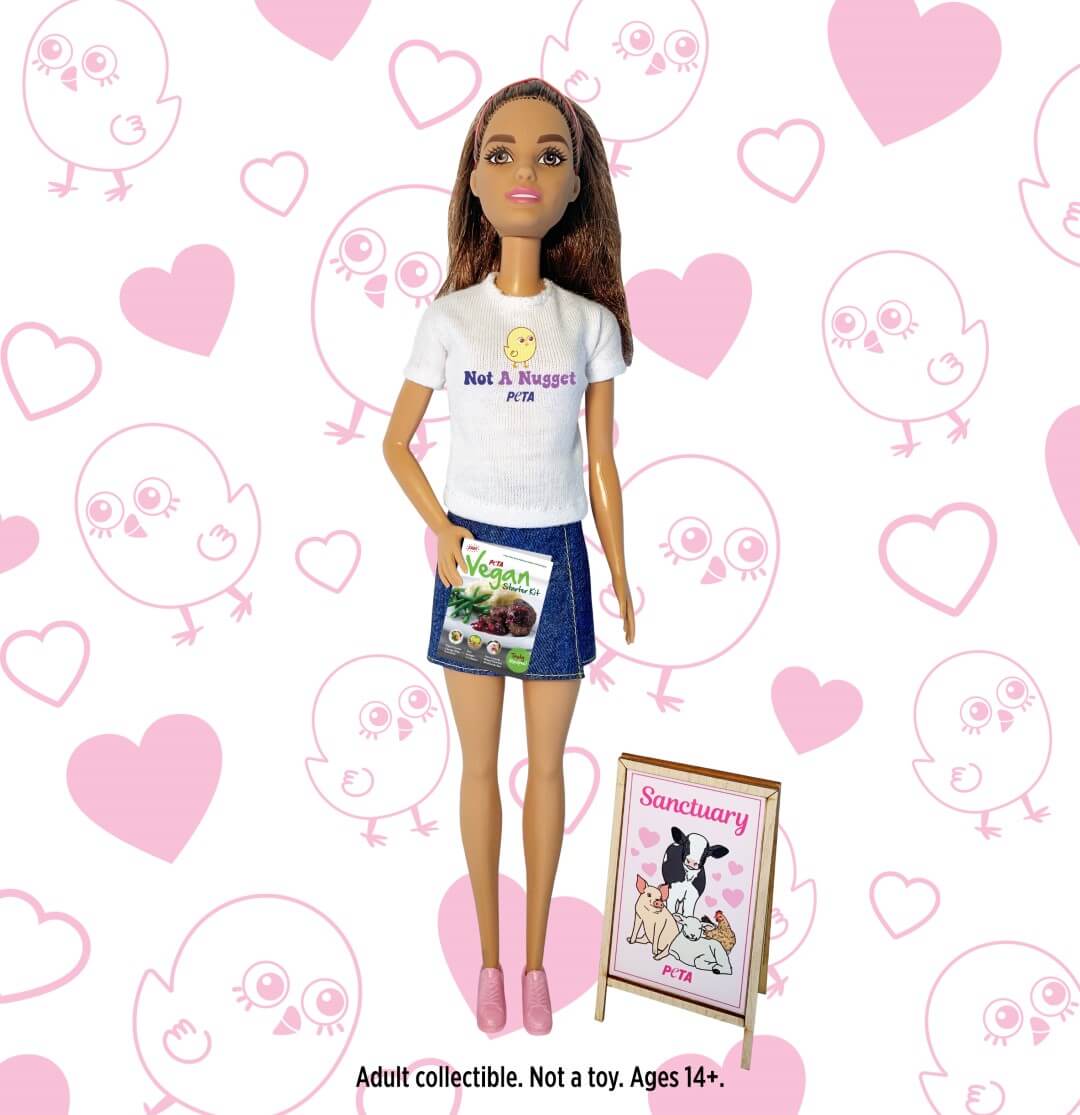 Barbie Converts to the Sanctuary Life
"If you've already got the facilities, why not use them for good?" That's the question we're asking all farm owners, who can change the lives of many animals by opening a sanctuary. Now Barbie can get in on that compassionate action with our new sanctuary accessory kit, which converts existing farm playsets into fully fledged animal sanctuaries, where animals can live in peace and won't be exploited for human purposes.
The conversion kit includes a shirt with PETA's classic "Not a Nugget" print and a sign designating the farm as a sanctuary.
Support Animals—in Work and Play
We're hoping Barbie and Ken run into a PETA demonstration during their adventures—we know they'd take up the cause of animal liberation for life. If you think a career in animal defense is right for you, we're hiring! Check out PETA's open positions and bag yourself a career that makes a difference for animals everywhere.
---
Note: BARBIE and KEN are registered trademarks of Mattel Inc., which is not affiliated or connected with and does not necessarily approve of, endorse, sponsor, or otherwise support PETA or PETA's unofficial doll accessories.