Pamela Anderson was in Tel Aviv this week to shoot a lingerie ad, and, of course, being Pam, she just had to squeeze in some animal rights activism while she was there. Mobbed by reporters and paparazzi, she led a demonstration outside a local vegetarian restaurant to remind people that eating meat is murder on animals and to hand out Hebrew copies of her pro-veg ad for PETA.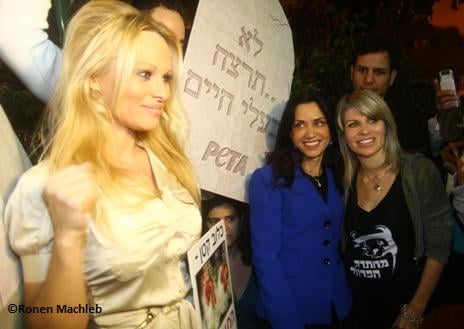 Pam told the media swarm, "It's easier than ever to live without killing animals for food or clothing."
She also talked with political leaders and reporters about a bill calling for a ban on fur in Israel. Mitzi Ocean, a member of Israel's International Anti-Fur Coalition, thought Pam's actions on behalf of animals were heavenly. "I think it's beautiful – we need more angels," she said.
Written by Michelle Sherrow