After receiving a complaint from PETA and conducting an inspection on August 26, 2021, the U.S. Department of Agriculture (USDA) cited Animal Haven Zoo—a roadside zoo in Weyauwega, Wisconsin—for several violations of the federal Animal Welfare Act (AWA). Another USDA inspection, conducted in late November 2021, resulted in further citations against this notorious facility. Not long afterward, Animal Haven Zoo landed on the wrong side of the AWA once more, as the USDA cited it for multiple violations, according to an inspection report from January 24, 2022. These citations included failing to provide adequate veterinary care, failing to maintain enclosures, and failing to offer adequate shelter from the elements—all violations that could cause suffering to animals and jeopardize their welfare. Now, in a citation issued on February 23, the USDA has slapped Animal Haven Zoo with a fine of $6,450 for eight alleged violations of the AWA that took place between November 2020 and November 2021.
Just how bad is Animal Haven Zoo?  The feds have cited it for a number of troubling animal welfare concerns, including its glaring failures to do the following:
Offer adequate veterinary care to numerous sick or injured animals, including two rabbits with scabbing on the lower portion of their right inner ears, a rabbit with eye and ear discharge and missing hair on the back left foot, a rabbit with a scab and missing hair on the nose, a pig whose tusk was growing into his cheek, a porcupine with eye discharge and cloudy eyes, a goat with an abnormally growing rear hoof, a lamb who was thin and weak and showed signs of scours, a sheep with a lump on the left side of his or her face, and an alpaca with overgrown front nails
Provide a liger with water for about 20 hours (When given water during the inspection, this animal drank for over four minutes.)
Provide adequate shelter to three female aoudads (Barbary sheep), and to a group of nine rabbits who lacked sufficient shade and shelter from the elements
Remove waste from two rabbit enclosures, which the licensee admitted had not been cleaned in "at least a week," resulting in "an excessive accumulation of rotten food and soiled waste that was covered in flies"
Maintain rabbit enclosures in good repair (One pen was found to have loose wire mesh with points sticking out, and a hutch had protruding screws—both of which posed a risk of injury to the rabbits.)
Maintain other enclosures in good repair, including a 12-inch-by-6-inch hole in a metal panel within the juvenile tigers' enclosure with sharp points that imperiled the tigers; bent or broken wire fencing with sharp points in the camel and muntjac enclosures; a large hole with loose wires in a deer enclosure gate; bent, leaning, and disconnected fencing in another deer enclosure; a leaning support post between the bison and wolf enclosures; an improperly repaired hole in the prairie dog enclosure through which four animals escaped; and fencing damaged by fallen branches in a sheep enclosure—an issue Animal Haven Zoo has been cited for twice since PETA first reported it to the feds in July 2021
Animal Haven Zoo's Poor Track Record
Animal Haven Zoo was previously cited for transporting and exhibiting a newborn tiger cub at a local school in May 2021, where children were allowed to interact with him. That same month, the roadside zoo exposed a young tiger cub to a dog, according to the latest February 23 citation. According to the USDA, "Public exhibition of young tigers less than 4 weeks old puts them at risk for getting sick."
In addition, the facility has acquired big cats from shady dealers such as "Joe Exotic" and confines them and other animals to paltry, dilapidated cages with no enrichment and where they've been observed pacing—a sign of psychological distress.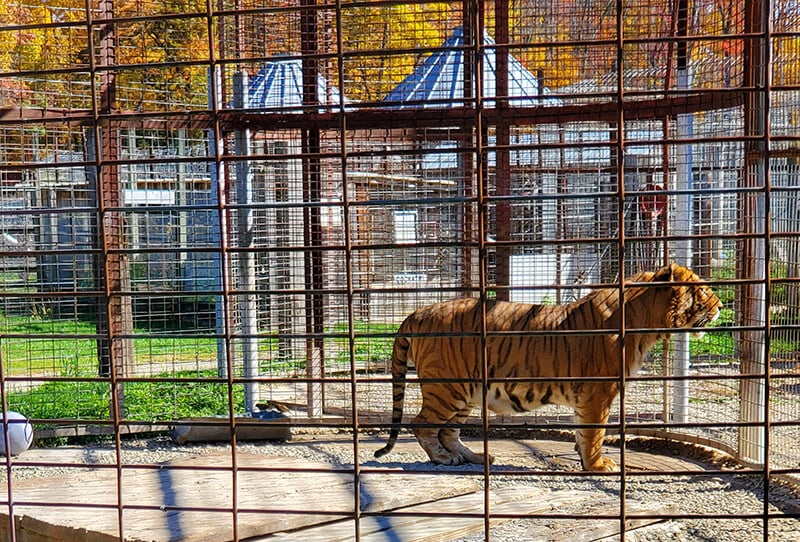 What You Can Do for Rabbits, Tigers, Pigs, and Others at Animal Haven Zoo
Never buy a ticket to Animal Haven Zoo or any other roadside zoo where animals languish in miserable conditions. Then, share this post to let your friends, family members, and social media followers know why they should do the same.
Want to do more?
Please urge Animal Haven Zoo to send the animals it exploits to reputable facilities where they can finally get the care that they desperately need.