For Immediate Release:
October 11, 2023
Contact:
David Perle 202-483-7382
Media, Pa. – Following an alert from PETA, the U.S. Department of Agriculture (USDA) has cited local roadside zoo Linvilla Orchards for 10 violations of the federal Animal Welfare Act (AWA), including for filthy conditions and improper care of nearly 350 birds. These citations come after the USDA finally added new regulations to the AWA that provide birds with basic protections—although birds used by exhibitors have been covered by the AWA since 2002, the USDA didn't enforce the regulations until adopting the new standards earlier this year.
According to the just-released report, on August 30 a USDA inspector discovered 50 birds with feather loss on their backs, wings, and chests and many of them with red skin. There were no inventory records for any of the birds at the facility—including documentation for ones who had died—and the "[facility] caretaker said he scoops birds out if any die in the pond daily." Multiple bird enclosures lacked clean drinking water. A tub of water for turkeys and peafowl "contained dirt, debris, leaves, algae, and scum," and when the inspector asked the employee to give the birds clean water, the "caretaker argued, saying it would be dirty within minutes." Additionally, different bird species were housed incompatibly, the pond for geese and ducks was dark green and contained algae, and enclosures had a buildup of feces and old food, among other violations.
"Hundreds of birds have been denied adequate care at Linvilla Orchards, where dead birds' bodies are apparently found floating in the pond on a daily basis," says PETA Foundation Director of Captive Animal Welfare Debbie Metzler. "Filth and suffering seem to be the norm at this ramshackle facility, which is why PETA urges everyone to stay away from roadside zoos that use vulnerable animals as sideshow attractions."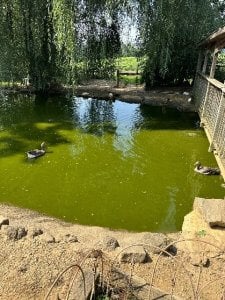 Ducks swim in green pond water at Linvilla Orchards. Photo: PETA
PETA first wrote to the USDA about Linvilla Orchards in 2012 regarding complaints about chickens who were confined without access to clean water, dead birds whose bodies were left to decompose among live animals, and birds who were suffering from feather loss, sores, and untreated injuries. (Photos are available here.) At the time, the USDA took no action to help the birds. In 2013, PETA filed a lawsuit against the USDA for its failure to protect birds covered by the AWA, including those at Linvilla Orchards. In February 2023, the USDA announced its new welfare standards, which provide basic protections but still fall short of addressing the unique needs of birds, such as failing to explicitly require space for flight. PETA will continue to push for stronger regulations until birds receive appropriate protections under the AWA.
Linvilla Orchards has a long history of citations dating back to 2013 for its neglect of deer, sheep, goats, and other animals in its custody, such as improper food storage, contaminated drinking water, failing to repair animal enclosures, keeping expired veterinary medications, and denying adequate veterinary care to two "very thin" deer, including one in 2018 who was "emaciated" and drooling.
PETA—whose motto reads, in part, that "animals are not ours to use for entertainment or abuse in any other way"—opposes speciesism, a human-supremacist worldview. For more information on PETA's investigative newsgathering and reporting, please visit PETA.org, listen to The PETA Podcast, or follow the group on X (formerly Twitter), Facebook, or Instagram.