Animal Haven Zoo in Wisconsin blatantly flouted U.S. Department of Agriculture (USDA) guidelines by transporting a 3-week-old tiger cub to a local school and posting about it on Facebook, resulting in a USDA citation for improper handling. The agency has said that subjecting big-cat cubs younger than 4 weeks old to public contact is a violation of the federal Animal Welfare Act, because of the risk of exposing these sensitive babies to disease, infection, and stress. Infant big cats used for petting and photo ops are taken from their mothers within days of birth and passed around from person to person, when they should be sleeping and nursing like any other baby mammal.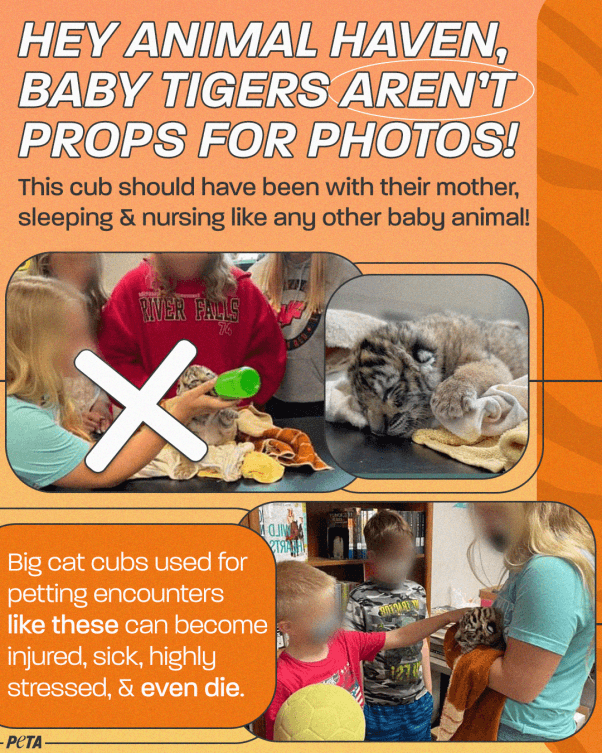 Animal Haven has displayed little regard for the welfare of this cub or the other animals at the roadside zoo. It has acquired big cats from shady dealers like "Joe Exotic" and confines them to paltry, dilapidated cages with no enrichment, where they have been observed pacing—a sign of psychological distress. Animal Haven also recently allowed a local woman with no big-cat experience to "foster" three infant tigers in her home for several weeks, before apparently transferring two of the cubs to another shady roadside zoo.
In nature, tigers remain with their mothers for over two years and patrol territories of up to 965 square miles. Treating tiger cubs like props and confining them to barren cells like those at Animal Haven is a form of speciesism, a human-supremacist worldview.
Please urge Animal Haven to send these animals to real, accredited sanctuaries, where they can finally get the care that they desperately need.
Send polite emails to:
Dawn Hofferber
Owner
[email protected]
Please feel free to use our sample letter, but remember that using your own words is always more effective.