Jenny Woods started working at PETA in 1989, back before people even knew what the word "vegan" meant. At the time, the fur industry was in its heyday and abuse in laboratories went completely unchecked. Back then, it truly felt like it was a handful of PETA employees against the world, a challenge that Jenny took on with immense grace and ferocity for her entire life, which tragically ended on August 22.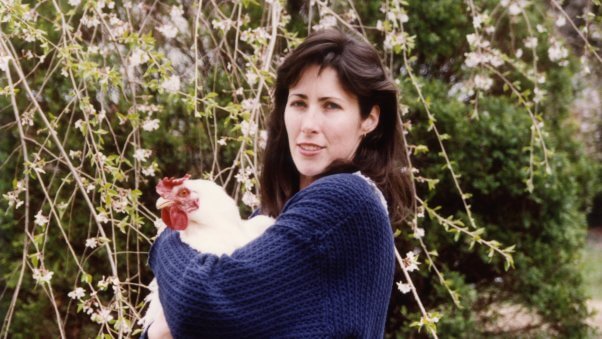 Jenny—always a truly valued and loved part of the PETA family—was empathy personified. She felt animals' suffering to her core and turned it into action. She never hesitated to put herself in tricky situations or silly costumes to draw attention to animals. She was one of the first to do a runway takeover, disrupting an Oscar de la Renta fur fashion show. She famously—and theatrically—pied one of one of the biggest chicken killers in the U.S., Frank Perdue, in the face with a tofu cream pie and forced people to take a hard look at the hidden violence in the chicken industry.
Jenny never liked being in the limelight, but as the head of campaigns in the 1990s, she was called upon numerous times to do national television interviews about PETA investigations and protests. Even though these interviews and debates made her anxious, she prepared thoroughly and spoke eloquently, describing, for example, the terror that pigs and ferrets felt when strapped into General Motors cars and slammed into steering wheels in crash tests. (With Jenny's help, PETA won that campaign and got GM, the last automaker in the world using animals in crash tests, to replace them with dummies.) Jenny knew that, as PETA President Ingrid Newkirk says, just being born human affords us privileges that other animals don't have, so we're duty-bound to ease their suffering.
We also brought the fur industry to its knees, got veggie burgers on menus around the world, and helped stop some of the most egregious experiments on animals—and Jenny had a hand in every victory. She did it with her smarts, with her drive, and always with a huge dollop of humor—something anyone who knew Jenny will remember her by: her booming, infectious laugh.
Jenny was generous with her time and love for her family and the many friends who were lucky enough to be a part of her life. Over the years, her family grew to include a big, handsome rescued lab mix named Riley, who had her wrapped around his paw. Later, there were three kitties rescued by PETA—Lily, Sophie, and Mia—who felt loved every day of their lives, each getting the special attention they deserved. And finally, Libby, a dog rescued by PETA from a laboratory in which she had been poked and prodded for years, resulting in the emotional scars of a vulnerable abused person, but who felt safe in Jenny's care.
"God, I love PETA," Jenny said every time PETA had a victory, like when we ended Ringling Bros.' reign of terror on elephants and tigers or when we got a tethering ban passed that spared social dogs the torture of isolation and deprivation, and PETA loved Jenny back.
Join PETA in Honoring Jenny's Fierce Advocacy and Gentle Heart
More than anything, Jenny would have wanted to be remembered as an activist's activist, something she was in spades. That's why, in her memory—and because this would mean more to her than all the candles, flowers, tears, and words in the world—we invite everyone to join us in taking action for animals in Jenny's honor. Your creativity and ideas are of course encouraged, but here are some suggestions as well:
Share this post on Twitter, tag us @peta, and let us know how you took action for animals in honor of Jenny.
"Thank you, Jenny, for changing the world for animals who now live well because you opened eyes and hearts. Rest in peace. You earned it."

—Senior Vice President of Communications Lisa Lange