In a 10-year period, beginning in 1981, roughly 19,000 animals—from mice and rats to pigs—were killed in auto safety tests conducted by the General Motors Corporation (GM). This number was staggering to most Americans, who had no idea that live animals were used in car-crash tests and then disposed of—that is, until PETA got involved.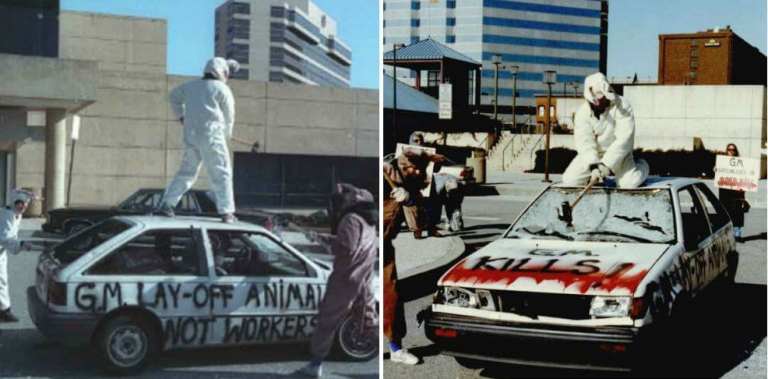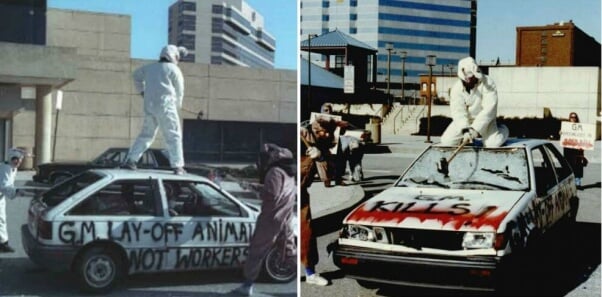 Ending Car-Crash Tests on Animals
By September 1991, PETA had already begun a campaign against GM for its use of animals in car-crash tests. The first of dozens of planned protests against the car manufacturer took place at the auto show at the State Fair of Texas that year. Speaking to the media, we told the truth: Computer models and state-of-the-art dummies are the path to a safer future—not archaic, barbaric tests on animals.
People want a car that will accommodate a dog, not one that's killed a dog. When consumers learn that animal cruelty is a built-in feature in GM cars, we think they'll take their business elsewhere."


—Dan Mathews, PETA Senior Vice President of Campaigns
We called our campaign the "Heartbreak of America" (a play on GM's slogan at the time) and kept pressure on the company for months on end. By early 1993, PETA members and other conscientious consumers across the country had held protests at GM dealerships in at least 45 U.S. cities. We smashed GM cars outside auto shows while wearing animal mascot outfits, and activists (including PETA's founder and president, Ingrid Newkirk) were arrested when they blocked GM's float during the annual Rose Parade in Pasadena, California, wearing colorful animal outfits—an event that landed on a Los Angeles Times list of the biggest controversies in Rose Parade history.

© Patsy Lynch
Later that year, after 18 months of hard-hitting PETA demonstrations speaking out against the use of live pigs and ferrets, GM officially confirmed that it had ended its use of animals in car-crash tests. Soon after, all other car manufacturers followed suit. Public pressure and superior science proved too much for these companies' excuses, and countless animals were spared a violent, needless death.
In an age when computer models and state-of-the art dummies are the order of the day, they're still killing innocent animals in the name of science. It's like something out of the Dark Ages."

—Dan Mathews
All experiments on animals must end.
It's horrifying to look back now and imagine that animals were deliberately slammed into walls at high speeds in car-crash tests, yet without PETA's campaign, the public may have remained in the dark for years as these twisted experiments continued.
Today, we're still attempting to shine a light into the darkest, deadliest laboratories where animals are suffering. At Texas A&M University, experimenters bred golden retrievers and other dogs to develop canine muscular dystrophy (MD). This disease ravages their bodies, causing progressive muscle wasting and weakness. After nearly 40 years, experiments on dogs with MD haven't led to a cure or even a treatment to reverse disease symptoms. Texas A&M ended its breeding program under pressure from PETA, but 20 dogs remain in the school's laboratories. So far, it's refused to send them to safe, loving homes.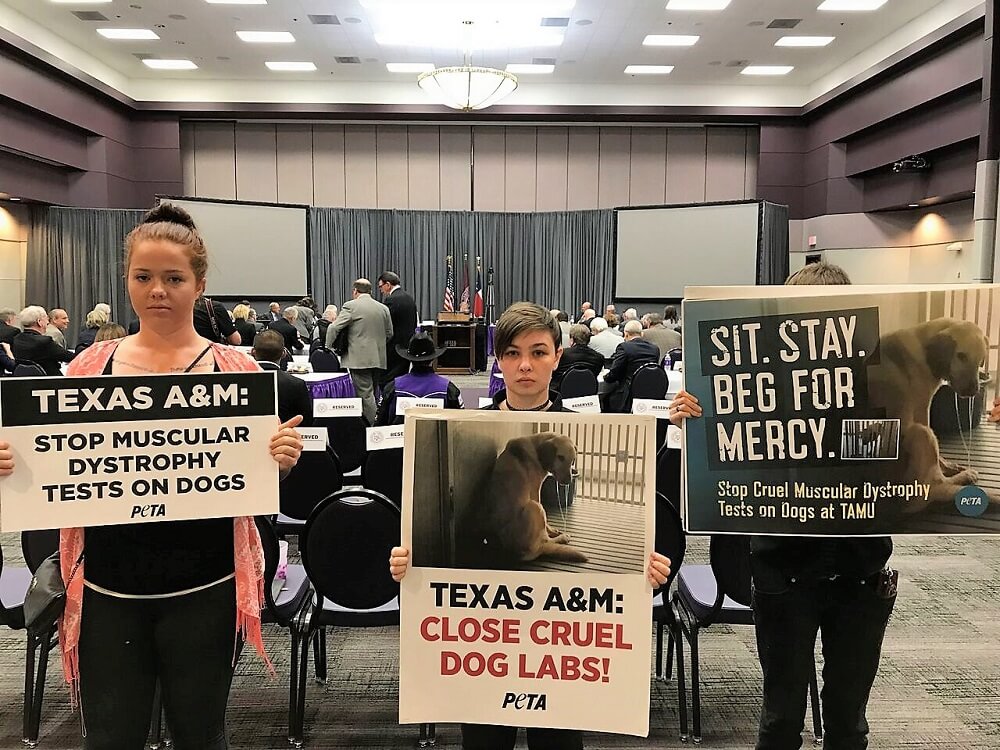 Take Action for Animals
Join PETA and hundreds of thousands of compassionate people in urging Texas A&M to end experiments and release all the dogs there for adoption. It only takes a minute using your phone or computer, so what are you waiting for?