2021 was another successful year for PETA's work to end cruelty in the horse racing industry. To celebrate, here are the top attention-grabbing events of the year. From the Breeders' Cup activist who crashed the winner's circle to the Bob Baffert impersonator at the National Museum of Racing and Hall of Fame ceremony, PETA made it a memorable year for helping horses forced to race.
Win: 'K-Pop Fan' Crashes Breeders' Cup Winner's Circle to Protest Horse Slaughter
When South Korean–owned Thoroughbred Knicks Go won the famed Breeders' Cup Classic horse race, one activist slyly stole the spotlight—and sent a powerful message to the Korea Racing Authority. Disguised as a fan of K-pop music, she got herself invited into the winner's circle, where she unfurled a sign with a message that U.S. media—which snapped photos and videos later seen around the globe—couldn't decipher but that Koreans couldn't miss: "Korea Racing Authority, how dare you turn racehorses into dog food!"
Knicks Go wins! And South Korean activists invade #BreedersCup. @DelMarRacing President Joe Harper doesn't know that the sign says 'Korea Racing Authority, how dare you turn racehorses into dog food!' pic.twitter.com/HfxGHQjKjo

— PETA (@peta) November 7, 2021
Place: Baffert Impersonator Debuts at the Racing Hall of Fame Ceremony
Disgraced Thoroughbred trainer "Bob Baffert"—actually an impersonator sent by PETA—crashed the National Museum of Racing and Hall of Fame induction ceremony in Saratoga Springs, New York, to defend himself against PETA supporters who were there to call for his removal from the museum.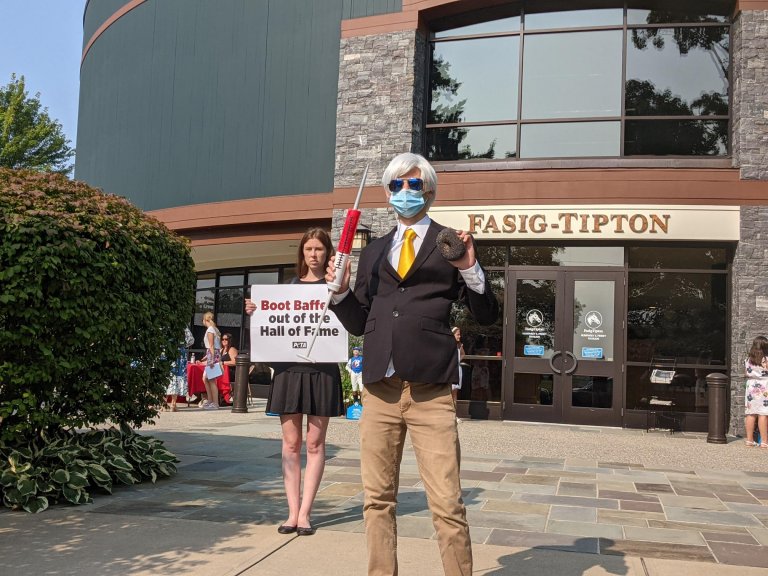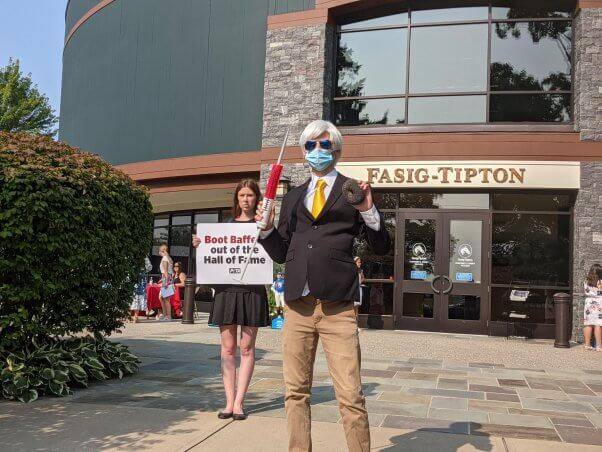 PETA's impostor carried some of the trainer's tools of the trade: a poppy seed bagel, because he once claimed that the morphine found in his horse's system came from a stable employee nibbling on one, and a huge syringe, because he's racked up more than 30 drug violations in his years as a Thoroughbred trainer.
https://m.facebook.com/official.peta/videos/555206695893525/?extid=SEO—-&refsrc=deprecated&_rdr
It's a Photo Finish for Show Between PETA's Kentucky Derby Billboard and the Giant 'Whistle' That Launched Our Whistleblower Hotline
PETA drove our message home with a mobile billboard circling in front of the entrance to Churchill Downs at the Kentucky Derby in April 2021. While the track urged social distancing to protect against COVID-19, our billboard recommended that racegoers practice moral distancing to protect the horses. Five horses died after sustaining catastrophic injuries on Churchill Downs' dirt and turf tracks in 2020, and Derby first-place finisher Medina Spirit tested positive for illegal amounts of drugs following the race. The 3-year-old horse later collapsed and died during a racetrack workout while in trainer Bob Baffert's custody.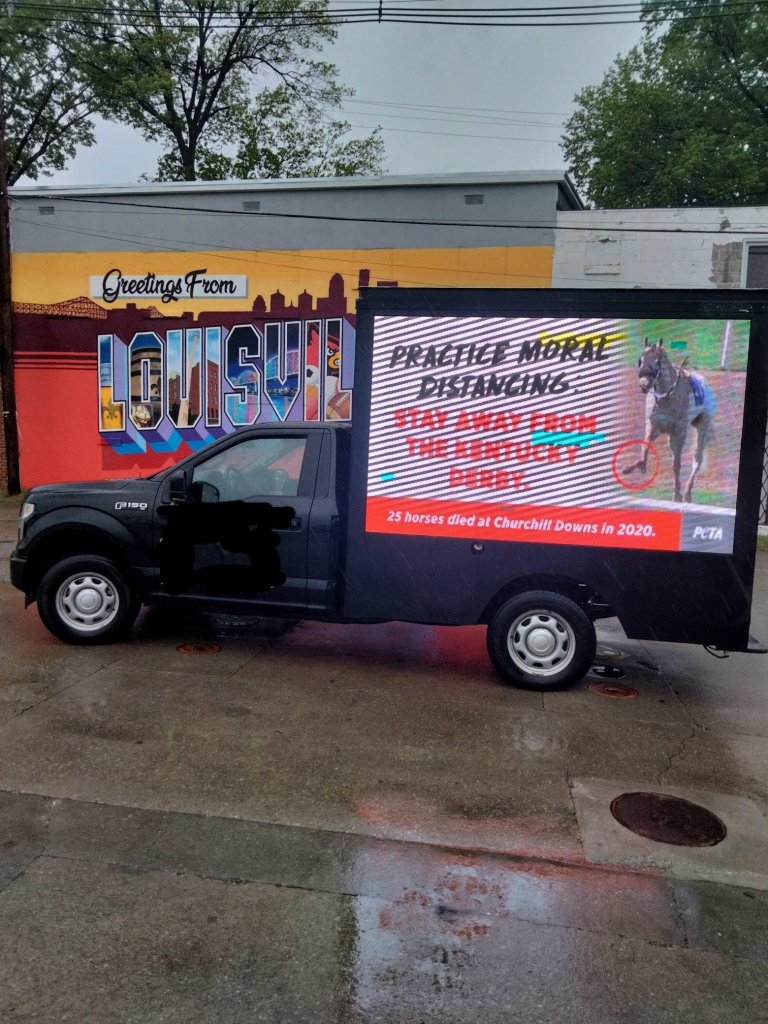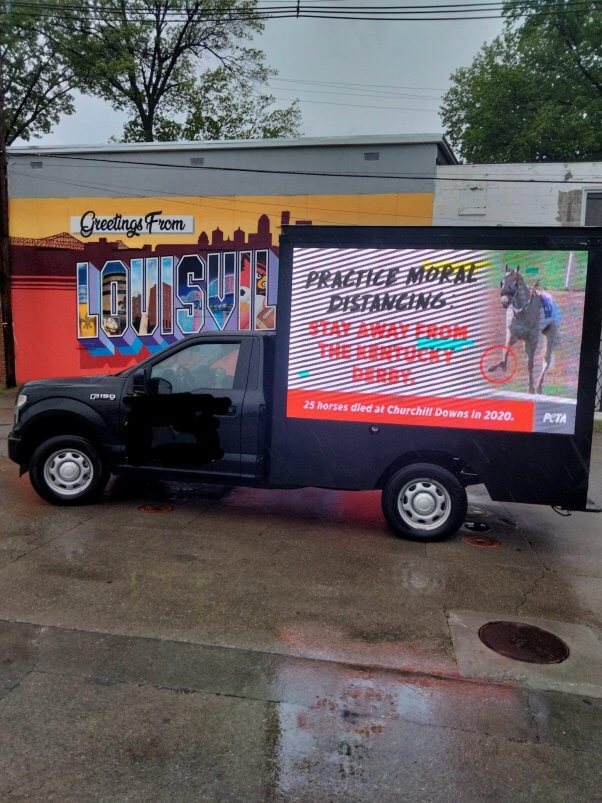 Also in the photo finish for show was the giant whistle costume that launched our whistleblower hotline for racetrack workers who have witnessed or know about cruelty to animals or other illegal activities involving horses used for racing or other equestrian competitions. The hotline allows whistleblowers to report anything that causes concern, from horses who have been administered prohibited substances to the harsh whipping of the animals or the use of electroshocking devices. Reports can be submitted anonymously to PETA by e-mailing [email protected] or calling 706-WHISTLE (706-944-7853).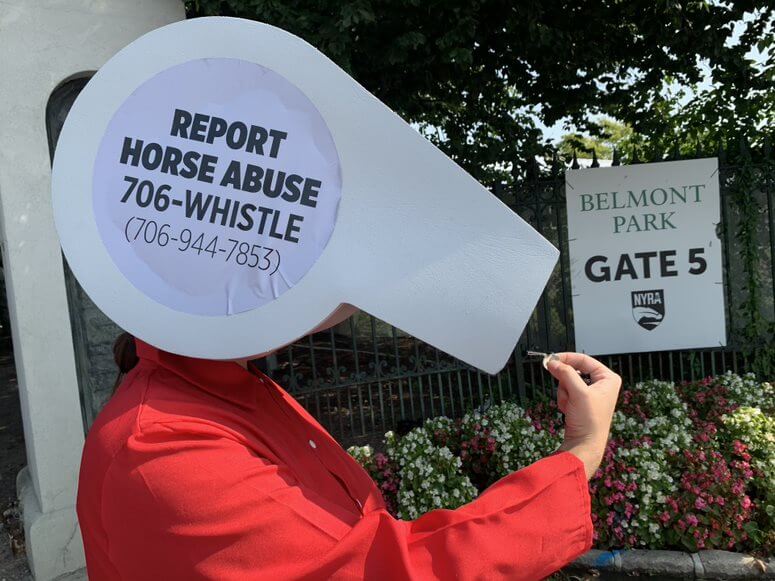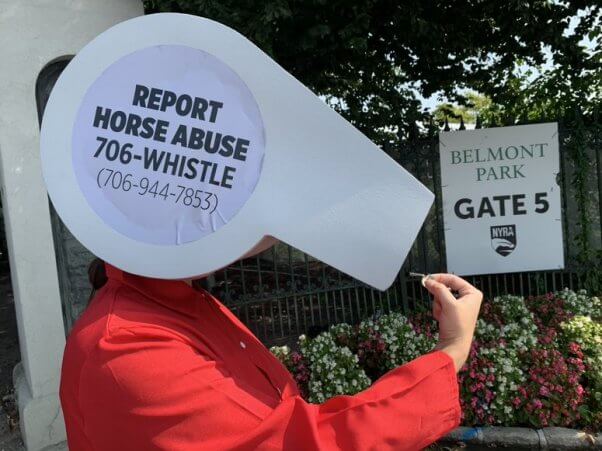 *****
While these stunts might be funny, they highlight serious issues rampant in the horse racing industry. PETA also had some great victories for horses this year:
Horse trainer Amber Cobb, who was caught on video striking and terrorizing a young horse, had her owner/trainer license revoked by Delaware officials in October.
A PETA investigation previously exposed Steve Asmussen for exploiting workers, among other abuse. This investigation was one of the reasons the notorious horse trainer was sued by the U.S. Department of Labor and settled yet another federal lawsuit for wage theft.
Several racetracks—including Gulfstream Park, Golden Gate Fields, Santa Anita Park, Laurel Park, Pimlico Race Course, and Indiana Grand Racing & Casino—have put regulations in place to ban trainers who transport horses on cargo ships, on which horses have died.
New York Gov. Kathy Hochul signed into law a bill prohibiting the slaughter of racehorses or those bred for racing "stock." The bill also makes it illegal to sell, barter, purchase, possess, transport, or receive a horse for the "intent of slaughtering."
New York Assemblymember Linda B. Rosenthal introduced a bill to cancel $230 million in annual subsidies to racehorse owners, breeders, and trainers.
New Jersey became the first state to ban whipping Thoroughbreds to make them go faster.
All three Triple Crown races—the Kentucky Derby, the Preakness Stakes, and the Belmont Stakes—were run without the use of the debilitating diuretic drug Lasix.
https://twitter.com/peta/status/1461749110822875136
Help us continue this work into 2022 by taking action for horses used in the racing industry: