Update (June 8, 2023): The New Jersey Racing Commission has issued a seven-year suspension and an $11,000 fine to Amber Cobb for her treatment of the filly. Cobb was also found to be in possession of hypodermic needles, syringes, and six bottles of injectable substances, as well as being in violation of other rules. She should have been banned from racing, but at least she's out of business until 2030.
---
Update (October 28, 2021): Victory! After hearing from PETA and thousands of our supporters, the Delaware officials have revoked Amber Cobb's owner/trainer license. During further investigations by the Board of Stewards at Delaware Park, it was found that Cobb participated in horse racing while her license was suspended and had failed to attend a required anger-management program. PETA is grateful to the commission for taking this decisive action.
---
PETA has received information that the filly featured in the video is reportedly safe on a farm.
HELP WIN MORE VICTORIES FOR HORSES

Original post
Update: September 10, 2021
Progress! Delaware stewards issued a ruling denying Amber Cobb access to all facilities under the jurisdiction of the Delaware Thoroughbred Racing Commission. Maryland's Pimlico Race Course also notified PETA that it had banned the trainer at the end of July.
This filly was just 2 years old when racehorse trainer Amber Cobb did this to her:
(Warning: graphic footage)
PETA obtained the footage above through an open-records request to racing officials. In the video, Cobb is seen screaming at, cursing, and hitting the young Thoroughbred with a plastic pitchfork while the horse was tied to the back of a stall at a farm in New Jersey earlier this year. Cobb's actions frightened the horse so badly that while she was trying to escape, she flipped over and came down hard on the floor. Cobb left her flipped upside down and tied to the wall, until finally jockey Jaime Rodriguez entered the stall to untie her.
You would think that Cobb's racing license would have immediately and permanently been revoked for her actions, but that didn't happen. The Delaware Thoroughbred Racing Commission (DTRC) and Pennsylvania State Horse Racing Commission suspended it for just two months. (These commissions were involved because she races in Delaware and Pennsylvania.) She was also ordered to attend anger management classes. This punishment is neither commensurate with the abuse nor a sufficient deterrent to prevent horses from enduring such reckless and dangerous behavior. The excessive punishment inflicted on the filly, delivered by an enraged trainer, is a cruelty issue that transcends a simple rules violation and is a stain on the "sport."
Cobb must be permanently banned from horse racing.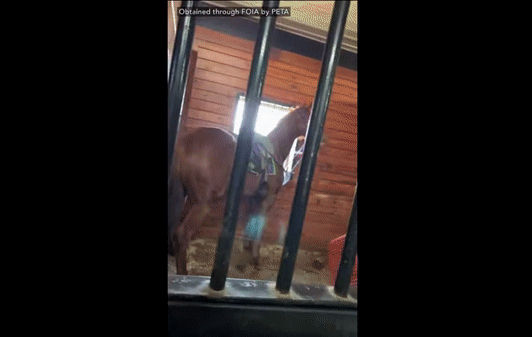 She has a history of violations, including in 2020 when she was fined $500 for having filled syringes with medication. In 2018, she also had an "altercation" in a public area at Finger Lakes Gaming & Racetrack in New York and was fined $200.
In addition, a former employee testified at her DTRC hearing that Cobb punished a horse by withholding food for days.
Anyone who abuses a horse and demonstrates a clear disregard for horse racing rules should not be allowed to race, train, or own horses.