Disgraced Thoroughbred trainer "Bob Baffert"—actually an impersonator sent by PETA—crashed the National Museum of Racing and Hall of Fame induction ceremony in Saratoga Springs, New York, today to defend himself against PETA supporters who were there to call for his removal from the museum.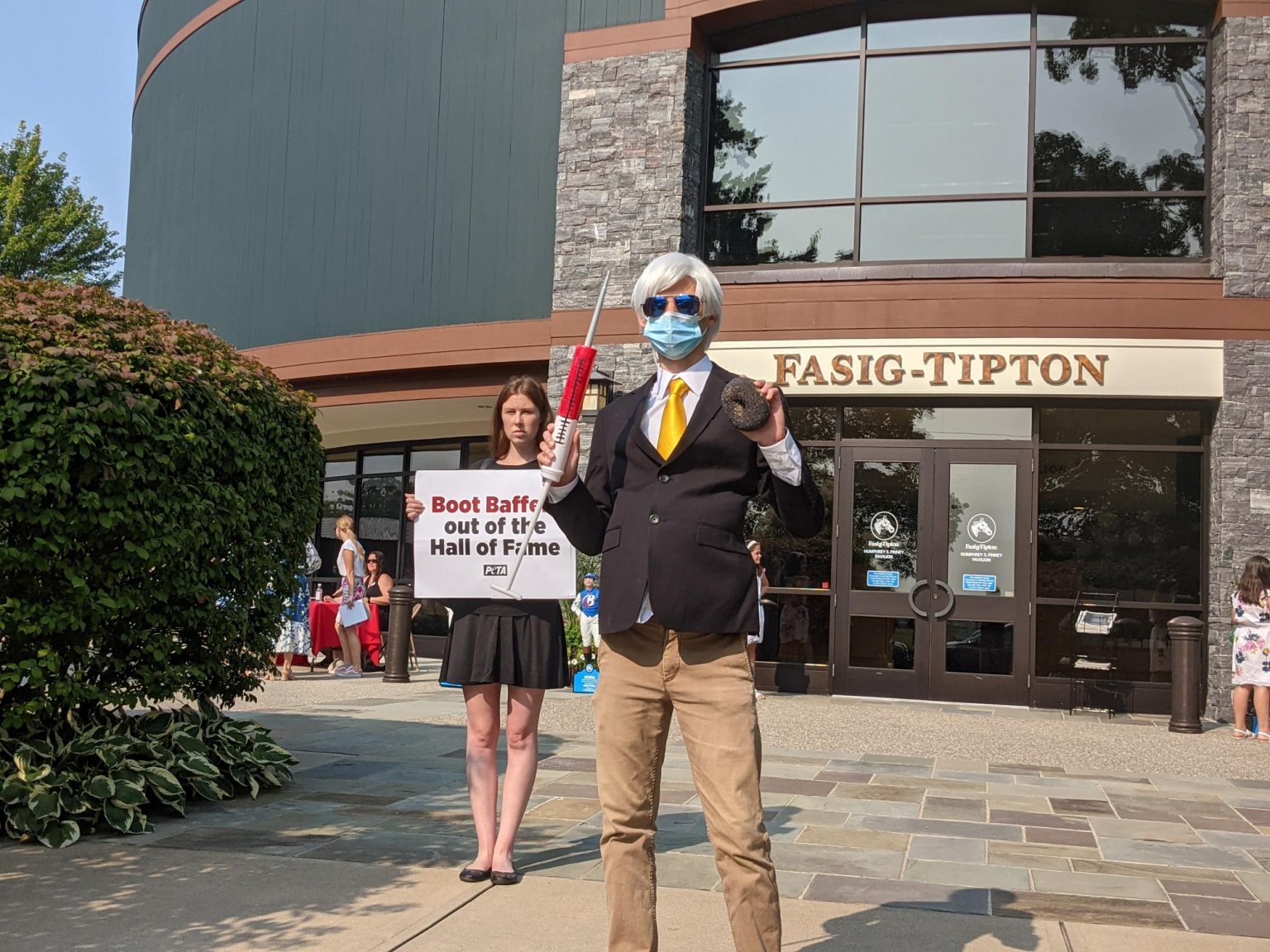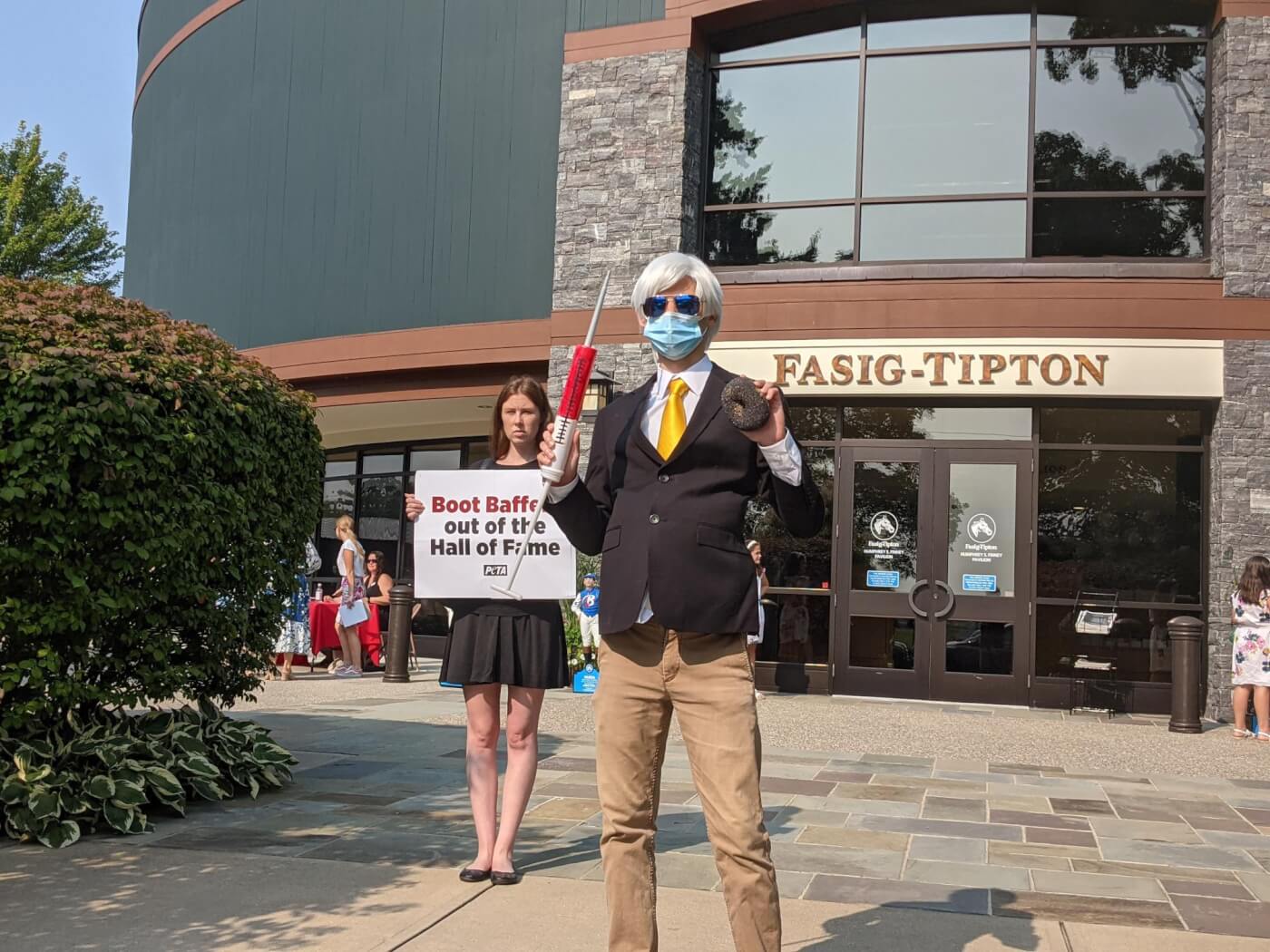 Ready to amuse attendees outside with some of Baffert's classic excuses, PETA's imposter carried some of the trainer's tools of the trade: a poppy seed bagel, because he once claimed that the morphine found in his horse's system came from a stable employee nibbling on one, and a huge syringe, which is appropriate, since he's racked up more than 30 drug violations in his years as a Thoroughbred trainer.
Inside the Hall of Fame, one horse trained by Baffert, American Pharoah, was being inducted. PETA pointed out that this Triple Crown–winner had been whipped more than 30 times in the home stretch of the 2015 Kentucky Derby. Another horse Baffert trained, Medina Spirit, may be disqualified from this year's Derby for a drug violation.
PETA is demanding that Baffert be unceremoniously removed from the Hall of Fame, given that 74 horses have died in his care in California since 2000. "But I'm the real victim!" the Baffert impersonator whined. "The Hall of Fame is littered with drug-offending trainers! Why are they only picking on me?" Here are just a few of those trainers:
Steven Asmussen
In 2014—two years before Steven Asmussen was inducted into the Hall of Fame—a PETA investigation blew the lid off the aggressive regiment of drugs and performance-enhancing "treatments" given to horses at the trainer's New York stable. To speed up horses' metabolism, workers recklessly administered a thyroid drug, Lasix, which dehydrates the animals so they lose weight and run faster. They also administered muscle relaxants, sedatives, and other potent pharmaceuticals (sometimes even when the animals had no apparent symptoms).
Horses' legs showed multiple scars from being burned with liquid nitrogen―a process called freeze-firing―and other irritating "blistering" chemicals, purportedly to stimulate blood flow to their sore legs. The investigator noted one horse who was "so sore it hurt him even to stand." Steven Asmussen's body count says it all. Since 2014, 21 horses he trained have died.
Todd Pletcher
Throughout his career, Todd Pletcher—who will be inducted in the 2021 ceremony—has left a trail of bodies behind him. Since 2010, 32 horses he trained in New York have died, and he has been fined a number of times for drug violations.
Jerry Hollendorfer
Since 2000, 122 horses have died in the care of this inductee, making him the trainer with the most horse deaths in California. Four of these deaths occurred within a six-month period at Santa Anita Park in Arcadia, which has since banned him. Since 2005, his horses have had at least 15 positive drug tests.
In 2020 alone, 69 horses died at New York racetracks, and 45 have died in 2021 so far. Most horses who sustain fatal injuries on the track have preexisting injuries that were likely masked by drugs. You can help prevent horses from enduring the same fate by telling the New York State Gaming Board to take action now: