Update (July 26, 2022): Medina Spirit trainer Bob Baffert's name has become synonymous with scandal and carnage. He has just returned to racing following a 6-month suspension, and a horse's body is already being hauled away.
Rapacious was just 2 years old and hadn't even raced yet, but we can expect Baffert's usual set of excuses. California officials must seek and accept nothing less than the entire truth, and they must release it publicly. They might also try to explain how someone whose career is littered with so many dead horses is still allowed to set foot on a racetrack.
Update (February 23, 2022): Bob Baffert's suspension in Kentucky and the posthumous disqualification of Medina Spirit from the rigged 2021 Kentucky Derby were a long time coming. Now, Baffert's home state of California must act without delay. PETA is calling on the California Horse Racing Board to abide by the statement it issued last May and suspend him in California. PETA urges the board to convene an urgent meeting and make good on its word by suspending Baffert for 90 days, effective March 8 to June 5.
BREAKING: The now-dead Medina Spirit was just stripped of the 2021 Kentucky Derby win following a positive drug test.

With trainer Baffert racking up over 30 drug violations—5 in the last year—the racing industry must remove him from the Hall of Fame! pic.twitter.com/jfulR9sMKu

— PETA (@peta) February 21, 2022
It won't bring Medina Spirit back, but it may protect other horses.
Update: December 10, 2021
After PETA requested a thorough investigation into the sudden death of 3-year-old racehorse and Kentucky Derby "winner" Medina Spirit, we're taking it a step further to protect other horses trained by Bob Baffert. Yesterday, we called on the California Horse Racing Board to protect the surviving horses in Baffert's barn by issuing what amounts to a restraining order against him.
Pending necropsy results, PETA is calling for 24/7 security guards and additional drug testing. We're also pushing the board to ban Baffert from having unsupervised contact with the horses in his barn and from making any veterinary decisions about them, as well as appointing an independent veterinarian to make all medical decisions.
Update: December 7, 2021
Medina Spirit collapsed and died during a workout at Santa Anita racetrack. Trainer Bob Baffert claimed that the horse died of a heart attack—but this isn't the only time one of his horses has suddenly dropped dead. Seven of Baffert's horses died mysteriously during a 16-month period that was suspiciously linked to his reckless and routine administration of the powerful hormone thyroxine to horses without thyroid conditions. He has continued to be embroiled in drug controversies since then, right up until Medina Spirit's notorious positive drug test in the Kentucky Derby.
All of Medina Spirit's veterinary records must be seized, and a thorough investigation must be conducted. Baffert's attorneys must not be allowed to control the narrative. PETA urges Del Mar and Santa Anita racetrack officials to bar Baffert pending the outcome of an investigation and necropsy.
UPDATE: June 3, 2021
Now that a second sample from the Bob Baffert–trained horse Medina Spirit has tested positive for a prohibited substance, bettors who've been cheated by putting money down on the rigged Kentucky Derby may contact PETA or attorneys who are filing class-action lawsuits.
But it's important to remember the other victim here: Medina Spirit. He should be thoroughly examined by independent veterinarians to find out why he was administered a powerful medication and whether it was through injections to his joints rather than with a topical cream. The racing industry must at last stop buying Baffert's nonsensical excuses and kick him out for good.
Update: May 13, 2021
Trainers should know: If they dope horses, they risk a lawsuit. And Bob Baffert—the trainer for Medina Spirit, the horse who just "won" the Kentucky Derby and subsequently failed a post-race drug test—has two horses (Concert Tour and Medina Spirit) entered in Saturday's Preakness Stakes. So PETA is reminding bettors to hold their tickets in case they end up taking horse abusers and cheaters to court.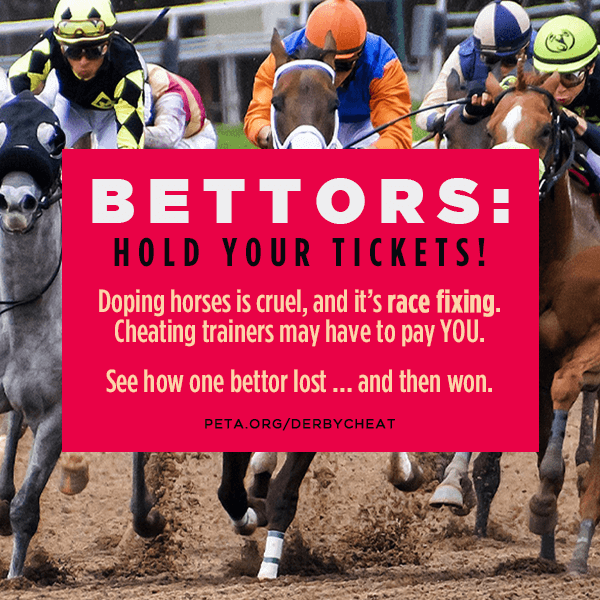 The memo follows last year's $20,000 settlement in a first-of-its-kind, PETA-supported lawsuit brought by a bettor against a horse trainer and an owner for illegally doping a horse before a harness race. Keep reading to learn more—you, too, can sue if you're cheated out of rightful winnings by trainers who have drugged horses.
Update: August 24, 2020
Victory! As reported by the Associated Press, the bettor who filed a first-of-its-kind, PETA-supported lawsuit alleging that a horse trainer and an owner violated state and federal racketeering laws and engaged in fraud by illegally doping a horse used for harness racing has just secured a $20,000 settlement. 
---
Learn more about the PETA legal victory that could change horse racing on The PETA Podcast:
Listen to more episodes on iTunes and Spotify! Subscribe for new episodes.
---
In the lawsuit, Illinois-based bettor Jeff Tretter alleged that trainer Robert Bresnahan Jr. and owner J.L. Sadowsky LLC illegally influenced the outcome of a January 2016 race at the Meadowlands, an East Rutherford harness track, by doping the horse Tag Up and Go, who went on to win the race in an unprecedented fashion. Unbeknownst to bettors, Tag Up and Go had tested positive for the banned substance erythropoietin, which stimulates red blood cell production, thereby increasing the blood's oxygen-carrying capacity. The complaint also alleged that both Bresnahan and Sadowsky falsely affirmed via their racing application that the horse had not been illegally drugged.
Noting that the horse was a victim, too, Tretter will donate $7,500 of the settlement to the nonprofit New Vocations Racehorse Adoption Program, which rescues Standardbred and Thoroughbred racehorses and provides them with a safe haven, rehabilitation, and placement in experienced, caring homes. 
Not including the amount that will be donated to the New Vocations Racehorse Adoption Program, Tretter received twice what his winnings would have been had Tag Up and Go not run or been properly excluded from the January 2016 race.
"Doping horses has got to stop—not only is it cruel, it's also race fixing. This settlement serves as a shot across the bow to trainers who care more about their bank accounts than about horses: Stop cheating or risk having to pay up."

PETA Senior Vice President Kathy Guillermo
"We faced a lot of opposition because of the precedent involved, but I hope this will open the door for others to come forward and hold those responsible accountable for their blatant cheating at tracks across North America," says Tretter. "Bettors must organize and go after the cheats for every verifiable dime that was lost. Electronic wagering has given bettors a chance to do just this, and we are talking about millions, if not hundreds of millions of dollars. Hopefully, my lawsuit will lead the way and give others the confidence to do just that. It's very disturbing that people in racing with integrity will eventually be put out of business, but that is what the sport has become. I still believe there are more good than bad in the sport, but the bad are ruining the game for everyone. The people in charge who have failed to protect the honest bettors, trainers, and owners are every bit as much to blame as those holding the syringe."
© iStock.com/Malven
Performance-enhancing drugs often mask horses' pain, allowing them to race and train with injuries that would otherwise be disabling. Illegal doping and the overuse of medication are rampant and frequently lead to injury, broken bones, and death.
Update: September 12, 2019
The New York Times reports that the 2018 Triple Crown winner, Justify, tested positive for a banned substance after winning the Santa Anita Derby last year—and that the California Horse Racing Board covered it up. Under California regulations, Justify should've been disqualified. If he had been, he wouldn't have been eligible to run in the Kentucky Derby, which would have meant no Triple Crown win and no $60 million for the sales of his breeding rights. Instead, the apparently drugged horse is now being treated like a sex slave. Justify's  trainer, Cheatin' Bob Baffert, should be immediately suspended, and bettors who lost might want to think about this lawsuit.
Update: April 20, 2019
As reported by the Associated Press today, a bettor has filed a lawsuit against a Standardbred horse's trainer on violations of federal and state racketeering laws and against both the owner and the trainer for fraud. The plaintiff alleges that the doping of the trotting horse Tag Up and Go with the banned substance erythropoietin amounted to race fixing.
This lawsuit may open the door to hundreds of similar lawsuits across the U.S., and PETA hopes this possibility will make trainers and owners reconsider illegal doping and the overuse of medication, both of which harm horses and lead to injury, broken bones, and death. Despite PETA's exposés of abuse and the introduction of federal legislation to regulate medication, the racing industry hasn't yet put a stop to the rampant drugging of horses.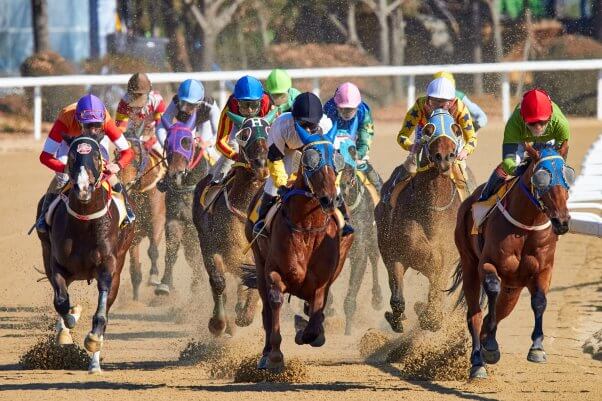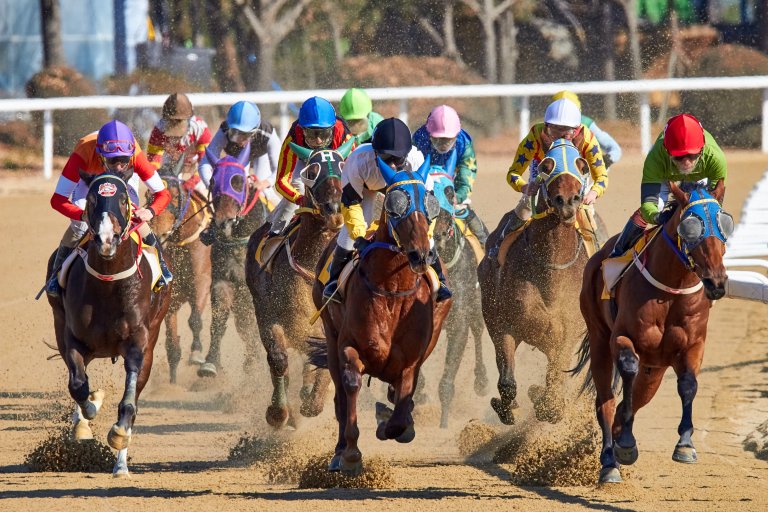 According to the lawsuit, the plaintiff, Jeff Tretter, placed a bet on a harness race at the Meadowlands racetrack in New Jersey in January 2016 in which Tag Up and Go was racing. Tag Up and Go unexpectedly won the race, but a drug test revealed that he had been given the banned substance. His trainer, Robert Bresnahan Jr., has a record of previous drugging violations.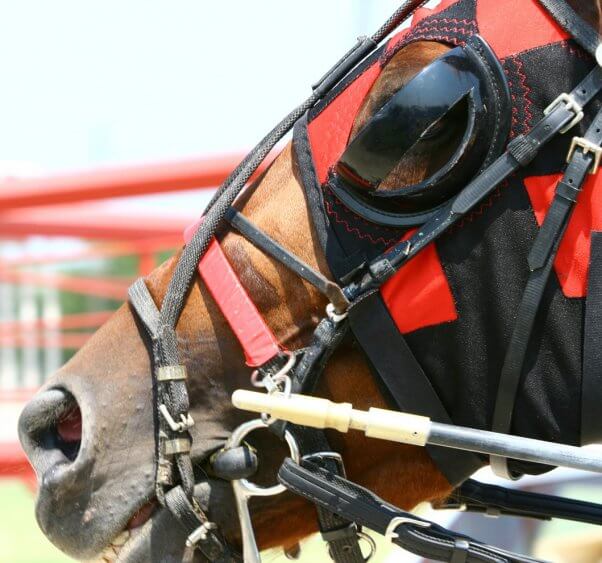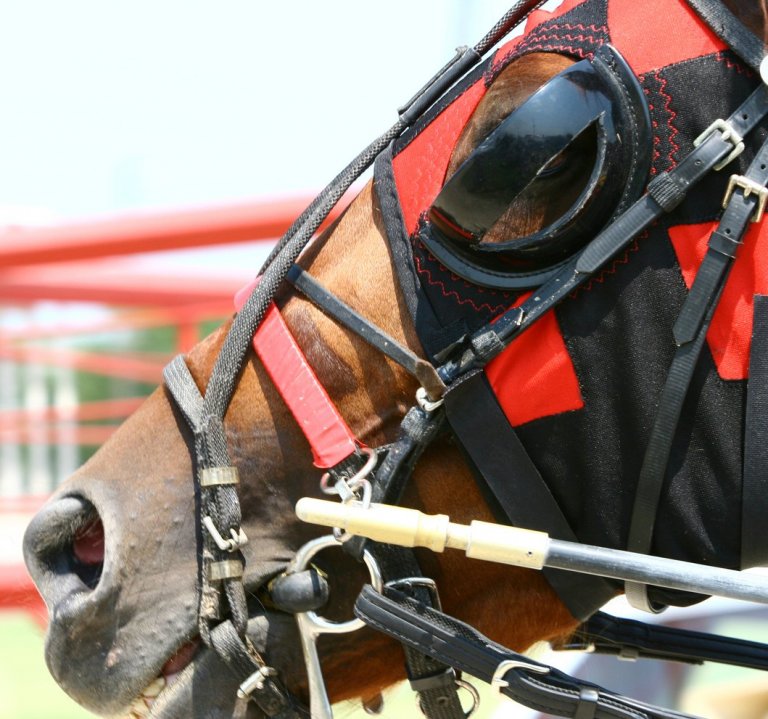 © iStock.com/jlsohio
When a horse used in a race tests positive for illegal drugs, the race results can be adjusted to reflect the true winner, and the prize money may be redistributed accordingly. For the bettors, however, there is no recourse.
In this case, the drugs may not have been discovered without the efforts of PETA and the owner of Meadowlands. In 2012, we asked Meadowlands to step up efforts to prevent drugging as well as harsh whipping of horses. The track took action, instituting changes that included increased random drug testing and the suspension or banishment of trainers whose horses test positive for illegal substances.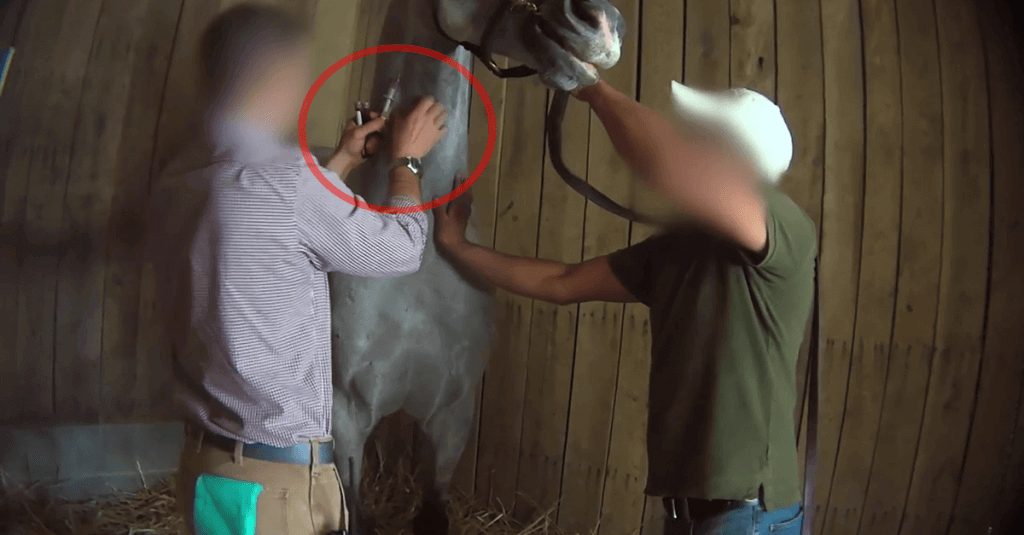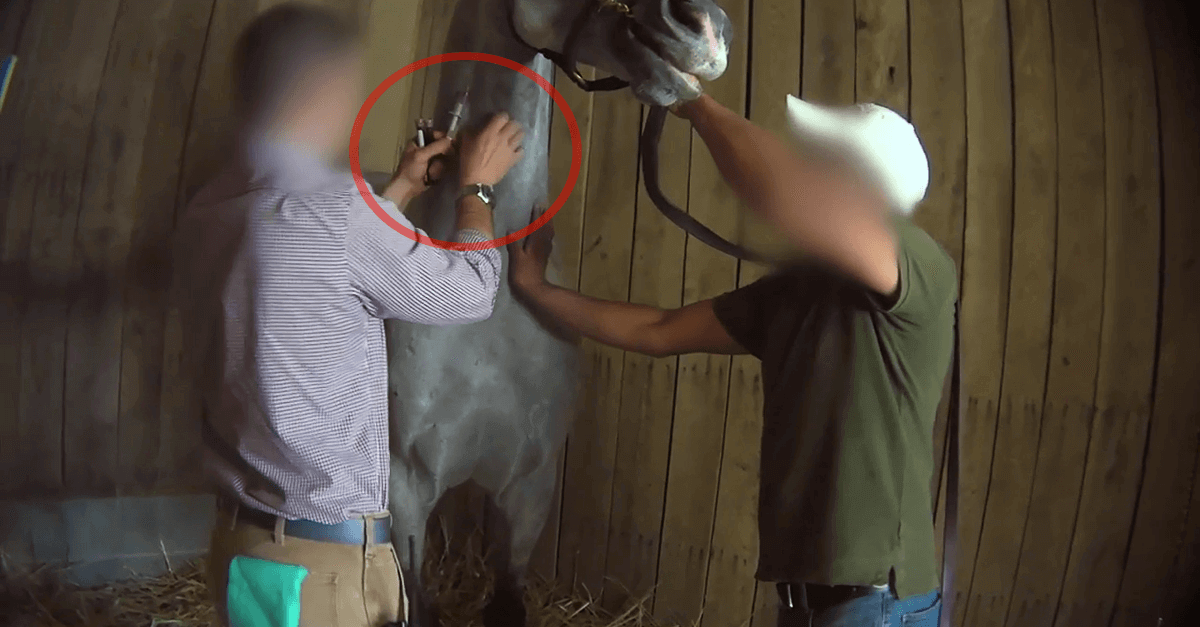 As a PETA investigation showed, illegal drugging is common in horseracing, as is the misuse of anti-inflammatories, painkillers, muscle relaxants, and more to keep injured horses on the track and bringing in money when they should be recuperating from strains and injuries.
---
Learn more about abuse in horseracing on The PETA Podcast:
Listen to more episodes on iTunes and Spotify! Subscribe for new episodes.
---
An average of three horses die every day on racetracks in the U.S.
You can help horses used for racing.