Russell Simmons wasn't kidding when he said that he wanted to challenge President Obama to use his influence to end the dolphin slaughter in Taiji. Russell penned a letter to the U.S. Ambassador to Japan, Caroline Kennedy, and asked her to deliver a petition to the president that urged him to refuse to sign the proposed Japan trade agreement until the Japanese government banned the capture and slaughter of dolphins. And Russell got help from some heavy hitters. The petition was signed by Sean Penn, Woody Harrelson, Gwyneth Paltrow, Charlize Theron, Cameron Diaz, Jennifer Aniston, Alicia Silverstone, Ellen DeGeneres, Emily Deschanel, Susan Sarandon, Olivia Munn, Jennifer Hudson, Kellan Lutz, Channing Tatum, William Shatner, Cher, and many more. Here's hoping that Obama helps dolphins out—and that Japan does the same.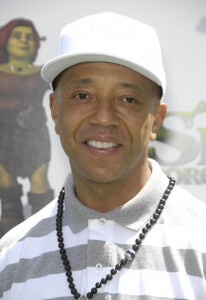 ©StarMaxInc.com
In other celebrity news:
Some of the world's most popular models are proving that they're also models of compassion. Following in the footsteps of Pamela Anderson, Crystal Hefner, Joanna Krupa, and many more beautiful ladies with equally beautiful hearts, Victoria's Secret Angel Behati Prinsloo and Daisy Fuentes are speaking up for the animals abused by SeaWorld:
Please please watch this. Please don't buy a ticket. Please RT #Blackfish #miami #FreeLolita http://t.co/dxjF9Tth4a

— Daisy Fuentes Marx (@DaisyFuentes) February 5, 2014
And they're in great company:
"@peta: RT if you will #NeverBeSilent about @SeaWorld's orca abuse! #Blackfish #EmptyTheTanks pic.twitter.com/TaoON7C5QI" never

— malillany marin (@malillanymarin) February 5, 2014
CONDEMN THE TAIJI DRIVE HUNT AND ASK JAPAN TO CLOSE IT DOWN. http://t.co/ybnzwRsFRd

— Aaron Simpson (@aaronsimpson) February 5, 2014
Wow…Just saw the Blackfish documentary…SeaWorld has some major explaining to do. #Inhumane @blackfishmovie

— Max Scherzer (@Max_Scherzer) February 5, 2014
All animals in captivity become mentally ill. We would 2 if we were locked up & forced to do tricks 4 No more whales in bathtubs @SeaWorld

— Sofia Sisniega (@SofiaSisniega) February 5, 2014
Any parent who can fathom their child being taken from you to be exploited for entertainment should see "Blackfish" and act accordingly.

— Richard Marx (@richardmarx) February 5, 2014
Thank u @cnn for bringing back #blackfish keeping the story alive is important to educate the public . Stop captivity of whales n dolphins

— matt sorum (@mattsorum) February 4, 2014
Is Sheryl Underwood channeling her inner Beyoncé? The Talk host has embarked on a month-long vegan cleanse for February. And if Bey's satisfaction with it is any indication, Sheryl might go for round two in March.
When Colbie Caillat performed on The Today Show, she made a point of saying that her Stella McCartney dress was vegan, just like Colbie.
And PETA was getting a lot of love this week on Twitter:
PETA will never turn its back on the animals who need them the most. That's why I'm so proud to support. Watch: http://t.co/1FO6yIIZpU @peta

— Kellan Lutz (@kellanlutz) February 5, 2014
Oh how beautiful all of you @peta followers are! Amazing things are possible when no life is valued less than another!

— Jeb Brovsky (@JebBrovsky) February 5, 2014
Thank you @peta @peta2 for sending me a care-package of love. I will keep your card forever! Love you guys! xoxo m.

— Misty Upham (@MistyUpham) February 4, 2014
https://twitter.com/NATTYVILLAVECES/status/430395623654060032
Goodnight #veganmafia have to be up early for court for my @SeaWorld float arrest at #roseparade – @peta has a demo first #activistlife #fun

— Simone Reyes Ⓥ (@simonereyes) February 3, 2014
To keep up with what all your favorite stars are doing for animals, follow @PETA on Twitter.