The Goddess of Pop is also a goddess to pups. When Cher tweeted, asking for information from PETA on how to help dogs left to face the harsh winter weather alone outdoors, many of her fans responded, and PETA sent her information on our "Angels for Animals" doghouse sponsorship program.
Elsewhere on Twitter, Miley Cyrus showed us some puppy love, Sam Simon spoke out for dolphins, and Olivia Munn helped us celebrate our victory for three soon-to-be-released elephants.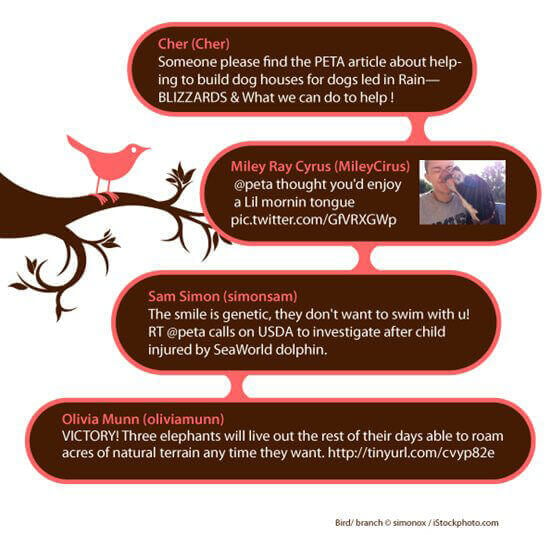 Charlotte Bobcats and Kentucky Wildcats fans already knew that the NBA's youngest player, Michael Kidd-Gilchrist (MKG), is also a really kind person, and now MKG is proving it to animal advocates, too. When the gentle giant was ready to share his home with a new dog, he adopted a puppy who had been abandoned in the parking lot of the Humane Society of Charlotte.
Maybe fellow rescued-dog parent Chelsea Handler will invite Michael and his new pup on her show. Her conversations with guests often do turn to animal issues—like when Marion Cotillard stopped by and she and Chelsea both shared their disdain for SeaWorld. 
You'll never catch our buddy Christian Serratos at SeaWorld, either—but you will catch her gracing the list of the 50 Brightest Latino Stars Under 25, with fellow PETA pals Daniella Monet and Marlen Esparza. 
Awards abound for animal advocates this week: Paul McCartney, Pink, Carrie Underwood, Steve Aoki, Ellen DeGeneres, Trent Reznor, and Tegan and Sara have all been nominated for Grammys! 
E!'s Catt Sadler lifted her voice for animals this week, too. She openly joined the ranks of the fur-free and fabulous in her piece "Real Stars Who Love Fake Fur," in which she name-dropped our friends Eva Mendes and Charlize Theron. 
To keep up with what all your favorite stars are doing for animals, follow @PETA on Twitter.