A local PETA member has submitted an application to the Georgia Department of Transportation to erect a 10-foot tombstone on U.S. 129 in Gainesville—the "poultry capital of the world"—to commemorate dozens of chickens who were killed when a tractor trailer overturned en route to a slaughterhouse.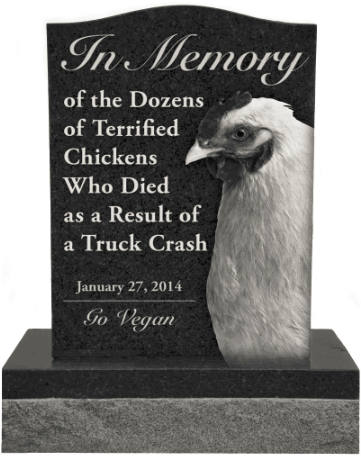 Tombstone: ©iStock.com/ChiyaCat | Chicken: ©PhotodiscAnimal Attraction /Getty Images
PETA will provide the memorial if it's approved. The tribute will let people know that the best way to prevent crashes such as this one is to go vegan, because chickens shouldn't have to make the terrifying trip to the slaughterhouse at all. It will also remind tractor-trailer drivers of their responsibility to the thousands of animals they haul every year as well as to the motorists whose lives are endangered when a tractor trailer crashes.
While there's nothing anyone can do to bring back the birds who died because of the crash, we can all help other chickens just by choosing mock meats and other tasty vegan foods.