It's been the year of Disney remakes (exhibit A, exhibit B), and The Lion King may be the most highly anticipated one yet.
With its star-studded cast (Beyoncé!) and an amazing soundtrack (a brand new Elton John song!), the film is expected to rake it in at the box office this summer. But we're most excited for its groundbreaking visual effects that bring the animals of Pride Rock to life on screen—without using a single live animal.
Remember who you are. #TheLionKing pic.twitter.com/SVrIMgq8HX

— The Lion King (@disneylionking) May 30, 2019
Critics are just as obsessed with the film's technology, calling the movie a "breathtaking visual cinematic achievement" and a "landmark *visual* experience." To celebrate director Jon Favreau's decision to keep live animals off his set and his revolutionary use of technology, PETA is honoring him by sponsoring a rescued lion named Louie and asking Disney to commit to not using live big cats in any future film or television productions. We're also sending vegan lion-shaped chocolates to the film's cast as a thank-you for lending their voices to these beautiful computer-generated animals.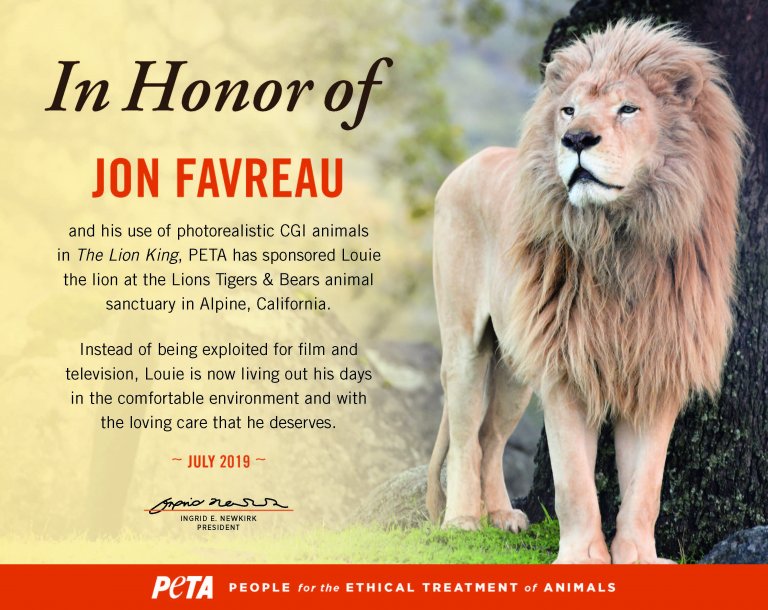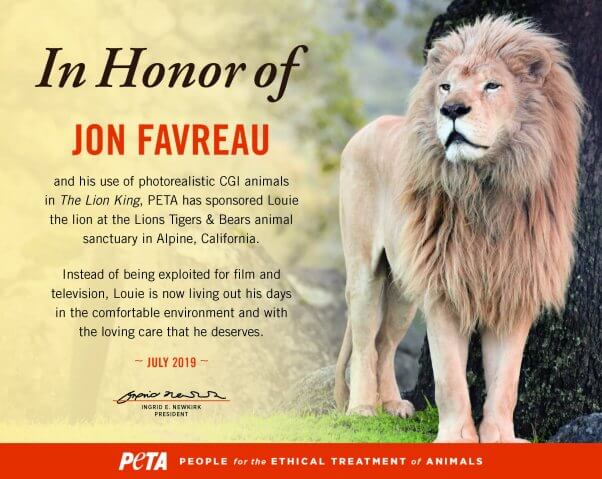 Louie is a lion living at the Lions Tigers & Bears animal sanctuary in Alpine, California. He was surrendered to the sanctuary by a Hollywood animal trainer after having been taken from his mother as a cub in South Africa and then forced to perform for entertainment. Instead of being exploited for film and television, he now gets to live out his days at a real sanctuary, with all the space, enrichment, and excellent care that he deserves.
Louie was lucky in the end, but countless other animals used for entertainment endure physical and psychological abuse at the hands of trainers. When they aren't being forced to perform, many animals born into the industry spend their lives inside cramped, filthy cages, deprived of exercise, companionship, and enrichment. Many are even separated from their mothers prematurely—a practice that's cruel to both the baby and the mother and that denies the infants the maternal care and nurturing that they need for normal development. And don't be fooled by American Humane's (AH) "No Animals Were Harmed" stamp of approval. Despite AH's "monitoring," animals used in film and TV are routinely subjected to dangerous situations, which, in some cases, can lead to injuries or even death. AH doesn't monitor preproduction training techniques or how the animals live when they're not being used for filming. The only way to protect animals in film and television is not to use them and to opt for humane alternatives such as computer-generated imagery or animatronics instead.
This isn't the first time that Favreau and Disney have turned to technology instead of exploiting captive wild animals. Their 2016 adaptation of The Jungle Book brought iconic animals such as Baloo the bear and Bagheera the panther to life with innovative effects instead of using live animals.
"It's very hard to teach an animal to talk from what I understand," Favreau joked in an interview. "So this seemed like a good solution. It's also better for the animals not to be on set …. I'm a city boy, so I thought CG animals would be the way to go."