We e-mailed, we picketed, we smashed cars, we refused to back down, and WE 👏 DID 👏 IT 👏
Nine days into the 2020 Iditarod, Fiat Chrysler Automobiles (FCA) confirmed that its Anchorage dealership will finally cut ties with the Alaska dogsled death race.
Thanks to a massive PETA campaign, Anchorage Chrysler Dodge Jeep Ram Center—an independently owned FCA dealership that has sponsored the Iditarod since 2007—has decided to drop its support of the race after this year's event.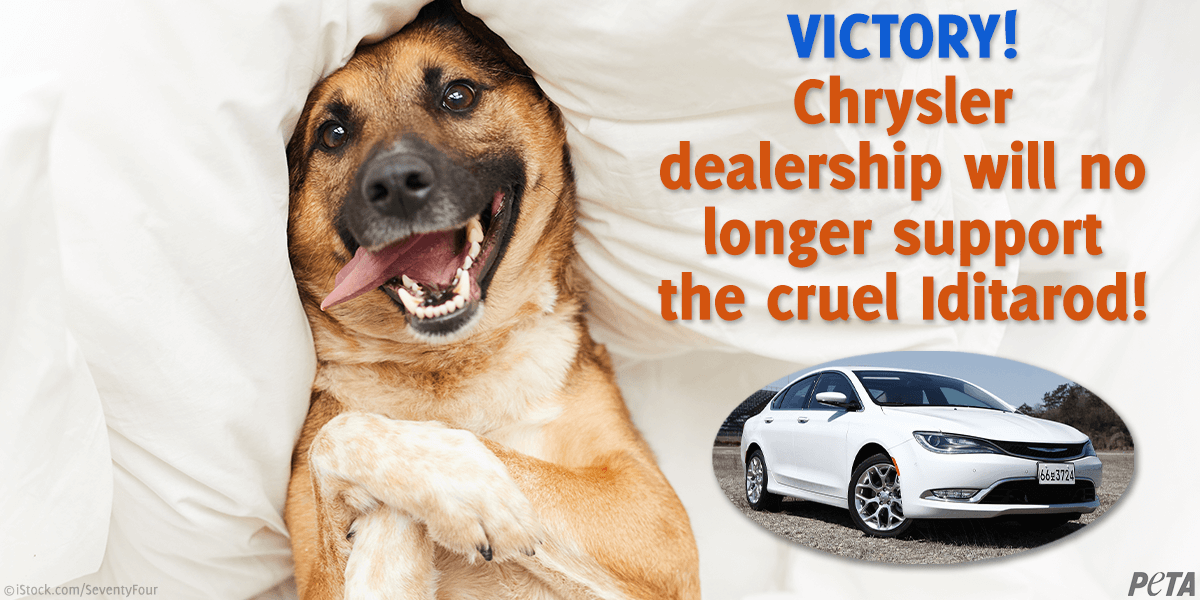 This victory wouldn't have been achieved without kind folks like you. You sent more than 250,000 e-mails to Chrysler urging it to cut ties with the race. Our members and supporters also helped us hold more than a dozen protests across the country featuring costumed "dogs" smashing cars …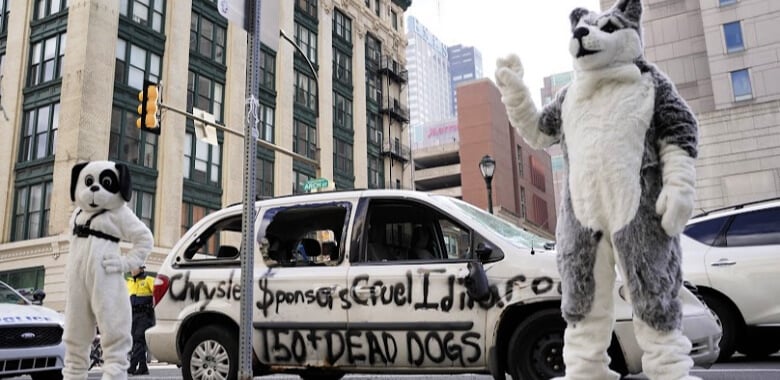 … activists chained to Chryslers …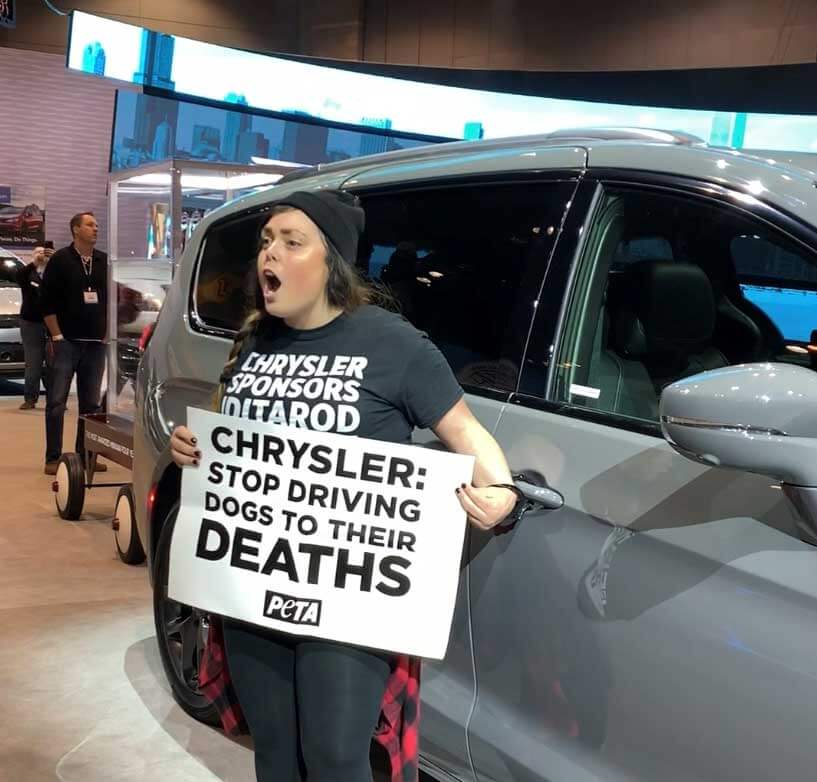 … protesters dragging a sled full of "dead dogs" around downtown Detroit …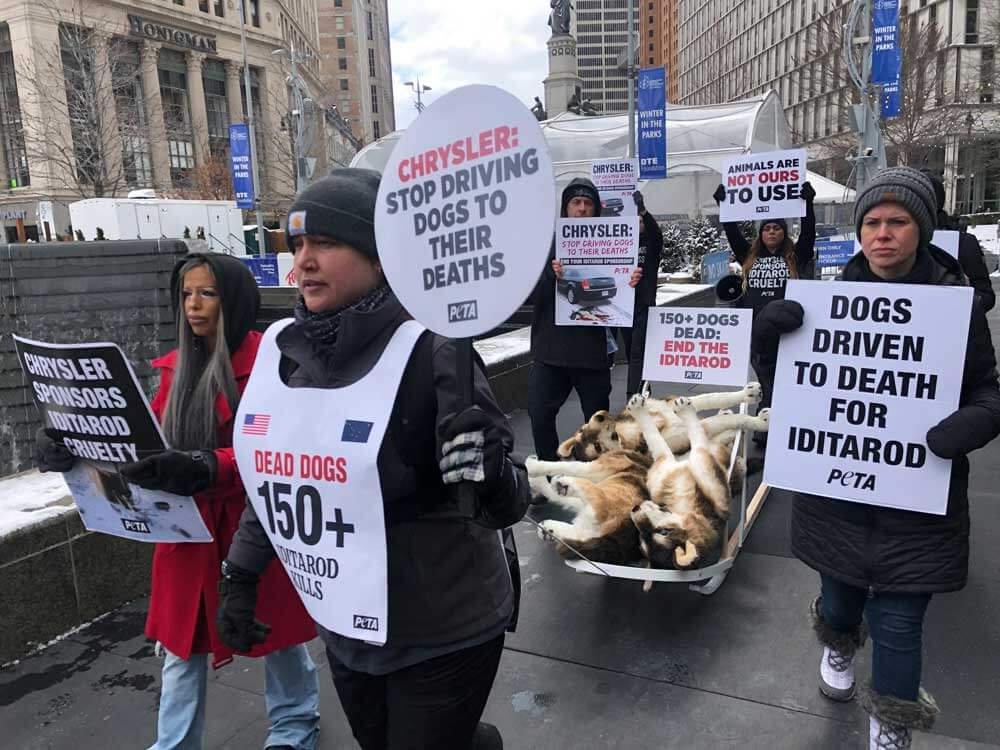 … and more. Our ad blitz opened eyes, too—the ads played on television stations near the company's Detroit headquarters and showed viewers the widespread neglect and suffering endured by dogs used in the Iditarod.
These dogs are forced to run about 1,000 miles through biting winds, blinding snowstorms, and subzero temperatures. More than half of those who start the race don't finish because they're too ill, injured, or exhausted to go on. So far this year, more than 140 dogs have been dropped—and musher Nicolas Petit is continuing to force the dogs on his team to run despite reports that all of them have vomited, three have had frostbite, and one nearly needed stitches.
More than 150 dogs have died as a result of the race, not including countless others who were killed simply because they weren't fast enough or who died during the off-season while chained outdoors, a standard practice seen in the PETA undercover investigation video above.
The Iditarod is losing sponsors left and right.
In early March, longtime Iditarod sponsor Alaska Airlines cut ties with the cruel, deadly race, followed by Baird Private Wealth Management just two days later. They join Coca-Cola, Costco, Jack Daniel's, Maxwell House, Nestlé, Panasonic, Pizza Hut, Rite Aid, Safeway, State Farm, and Wells Fargo in having ended their support of the Iditarod after hearing from PETA.
Dogs are not snowmobiles.
They are individuals with wants and needs who should never be forced to participate in a death race. But mushers are pushing dogs to the brink and beyond, just for a cash prize and bragging rights. These dogs are just as deserving of kindness as the dogs we share our homes with. We're urging the Iditarod to make this year the last year it uses dogs, as the abusive spectacle is losing sponsors left and right. Click on the link below if you're with us.
We're keeping a close eye on the 2020 Iditarod, including what happens with the worst, most abusive mushers. Check back for updates.