Carrie Underwood's pretty pipes have made her one of the most influential artists in country music. But now she's piping up about something truly ugly: "ag-gag" bills. Currently being considered in several states, these unconstitutional bills would make it illegal for anyone to shoot video on factory farms in order to expose cruelty to animals, in essence making whistleblowers out to be criminals. That doesn't sit well with this vegan gal, who tweeted, "'@nytimes: Taping of Farm Cruelty Is Becoming the Crime nyti.ms/10HpjWn' What the what? Terrorism? Really? Dumbest. Idea. Ever." 
Elsewhere on Twitter, Amanda Seyfried joined multitudes of celebrities and supporters in defending PETA's euthanasia policy, Ireland Baldwin declared that she's going to go vegan (with a little help from PETA)—we sent her a vegan starter kit, Paul McCartney's "Glass Walls" video, and cookbooks to help her get started—and Leona Lewis vented about England's Grand National horse race: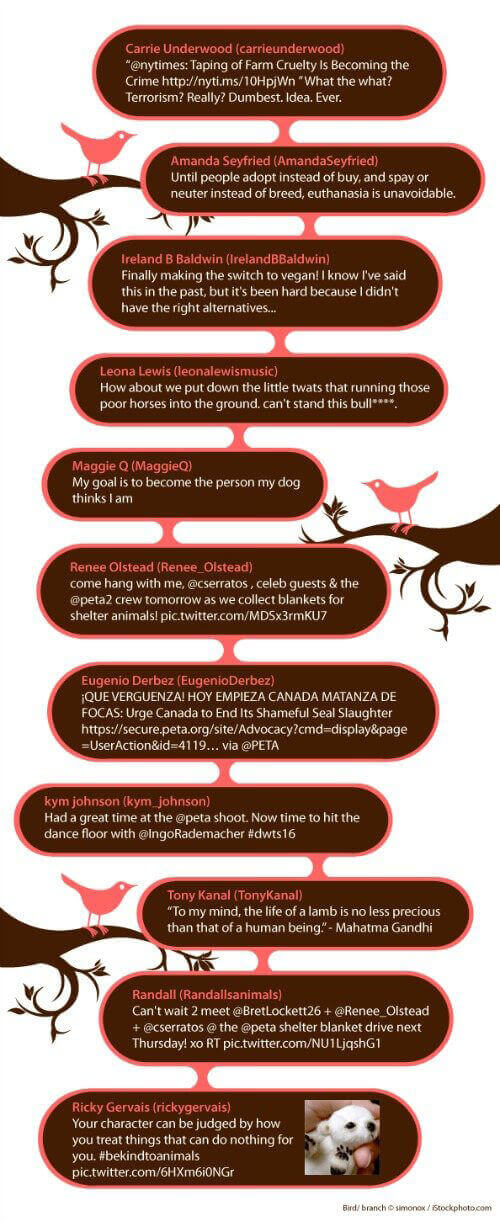 We love our "Never Be Silent" campaign, and Waka Flocka Flame does, too: He never passes up an opportunity to speak up against the cruelty of fur. This time, in an interview with AOL's TheBoombox, Waka called fur "nasty as hell." We couldn't agree more.
Two and a Half Men's Jon Cryer didn't pass up the opportunity to brag about his two rescued dogs in his Us magazine "25 Things You Don't Know About Me" article. 
And over on NBC, Jimmy Fallon's Late Night audience simultaneously screamed with delight and "Awww"ed when the host talked about how überhunk Ryan Gosling has teamed up with PETA to ask for more humane treatment of cows on dairy farms. 
Hey, girl. Ryan Gosling wants you to keep up with what he's doing for animals by following @PETA on Twitter.