We smell a stunt. Canada Goose has announced that, starting in 2022, it will no longer buy "new" fur from coyotes caught in crushing leg-hold traps. This is a thinly veiled attempt to "humane wash" its image—switching from fur taken from coyotes whom trappers have recently caught in steel traps to fur that may already be on the market or in the supply chain. What about all the coyotes who will struggle in traps for hours or even days before they are violently killed within the next two years?
We have a message for Canada Goose and shoppers everywhere: Don't be fooled! Real fur is always cruelly obtained—no matter when an animal was killed for it. Some coyotes trapped for their fur are known to have chewed off their own leg in order to return to their young. Those who don't escape are beaten or shot by trappers.
Today's announcement—which may be nothing more than a way to allow Canada Goose to keep selling its fur-trimmed coats in California when the state's fur ban comes into effect in 2023—won't diffuse international condemnation of the company's extreme cruelty. This move also won't endear the struggling company to the compassionate young people it's trying to woo.
What's more, this announcement does nothing to help the ducks and geese whose throats are still being slit and their feathers used in Canada Goose's down parkas. Geese cooperate and support one another, especially during migration—their honks are signs of encouragement. These dedicated lovebirds choose a mate and stay partnered for life. They suffer just as much as other animals killed and used for the fashion industry, which is why you should never buy anything stuffed with down.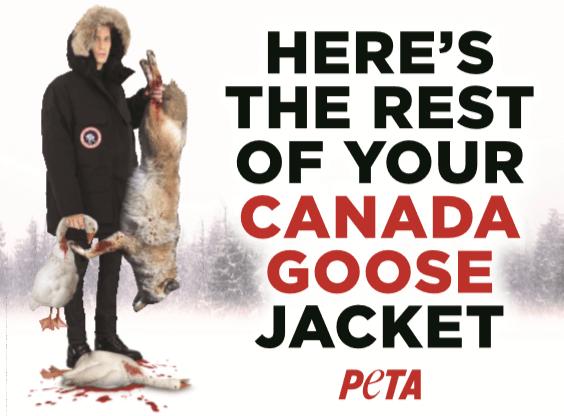 PETA's Campaign to Prevent Animals From Being Killed for Parkas
PETA supporters have been showing up in droves to demonstrate outside Canada Goose stores, at meetings, and even at the home of CEO Dani Reiss. They've also been e-mailing the company every day with messages demanding that it stop using the fur of coyotes who were trapped and violently killed.
This isn't the first time that Canada Goose has changed its tune since PETA has been campaigning against its cruelty. After we filed a complaint with the Federal Trade Commission, the company stopped making false claims on its website and in its marketing materials that its standards ensure that suppliers don't abuse animals.
We've enlisted loads of celebrities who've used their public platforms to demand change and urge their social media followers not to buy Canada Goose. They include Pamela Anderson, Bill Maher, Morrissey, Justin Long, Maggie Q, and many others.
Take Action for Animals Killed for the Fur and Feathers in Canada Goose Apparel
Cruelty isn't sustainable. Compassionate people everywhere know that we must work to end animal suffering for fleeting human trends, not sustain it. That's exactly why an ever-growing list of top fashion brands and outdoor retailers have sworn off fur, including Prada, Coach, Versace, Michael Kors, Balmain, Gucci, Calvin Klein, Burberry, Arc'teryx, Columbia Sportswear, The North Face, Helly Hansen, and many, many others.
You can help coyotes and birds killed and used in Canada Goose coats by taking action today. Get started now: