PETA's members and supporters have been busy. Our fearless activists have braved the cold, the rain, and even a few security teams, all in the interest of spreading animal rights messages. If these photos and videos inspire you to join the effort to oppose animal abuse, keep scrolling—standing up for animals is easy, and we're sharing with you how to do it.
The barks of animals tormented at Texas A&M University's dog laboratory echoed through the halls of SXSW in Austin, Texas, on Tuesday as PETA supporters crashed a panel discussion featuring Michael K. Young, the university's president. Demonstrators urged him to "shut the dog lab down."
LIVE: PETA supporters disrupt @TAMU President Michael Young's panel at #SXSW. Shut the dog lab down! https://t.co/PI8fpiYNXg

— PETA (@peta) March 13, 2018
Click here to urge TAMU to close its dog laboratory.
Earlier this month, the Iditarod kicked off in Anchorage, Alaska. During the race's ceremonial start, a group of PETA supporters gathered around five headstones—each engraved with the name, age, and cause of death of a dog who had died during the 2017 race.
https://twitter.com/peta/status/970354038645624837
Click here to take action against the deadly Iditarod.
PETA plastered Toronto, where Canada Goose is headquartered, with public service announcements designed to help the good people of the city steer clear of douchery by avoiding the real douches at Canada Goose.
PETA supporters just blanketed #Toronto with posters showing everyone how they can avoid being a #CanadaDouche. https://t.co/PKP08oo3oB CC: @CanadaGooseInc pic.twitter.com/f5aNyo1yj2

— PETA (@peta) February 28, 2018
Click here to tell Canada Goose, "Ditch Fur and Down!"  
In a scene resembling a clothing ad gone horribly wrong, PETA inflated a life-size snow globe in Denver. Inside, two PETA members wearing big "wooly" sweaters, hats, and mittens beat up realistic "bloody" sheep. The stunt alerted consumers to the reality that sheep are beaten, punched, kicked, and even killed by impatient shearers in the wool industry.
https://twitter.com/peta/status/967203704859516928
Click here to sign our pledge to be wool-free.
PETA supporters gathered outside a seminar held by notorious experimenter Christine Lattin to protest her painful and irrelevant stress studies on songbirds. Students walking past took leaflets and stopped to chat with demonstrators.
These PETA supporters outside @Yale experimenter's seminar are standing up for birds who are tortured and killed in pointless experiments ✊ pic.twitter.com/f0fKdEg4qp

— PETA (@peta) March 2, 2018
Click here to help end painful tests on animals.
It may have been a cold, rainy morning in Frisco, Texas, but that didn't stop PETA supporters from descending on Work as Worship—an annual Christian retreat at which Joel Manby, then-CEO of SeaWorld spoke—to urge the abusement park chief to send the orcas held captive by the company to sea sanctuaries. The PETA pressure proved to be too much for Manby—he left the company just a few days later.
Let the orcas go! PETA supporters had a loud message for #SeaWorld CEO Joel Manby at the #WorkAsWorship retreat. #WAWR2018 pic.twitter.com/tgduLgRGhS

— PETA (@peta) February 23, 2018
Click here to tell SeaWorld to empty its tanks.
"Mom, I'm going vegan!" That was one girl's reaction after participating in PETA's "I, Calf" virtual reality experience. Viewers were placed "in the body" of a young calf whose mother secretly gave birth to twins and—remembering that farmers took her previous babies away—hid one of the newborns to protect him. "I, Calf" made recent appearances in Florida, Georgia, and Louisiana.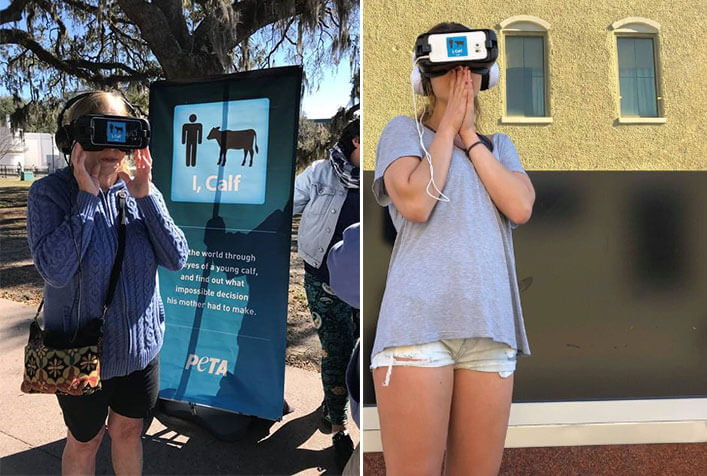 Click here to give dairy "products" a thumbs-down, and go vegan instead.
"I, Orca"—PETA's other virtual reality experience—challenged folks in San Antonio to experience firsthand what it's like for orcas and other animals suffering in captivity at SeaWorld. After participating, one 7-year-old boy proclaimed, "SeaWorld should release the animals! It's so sad that they live there."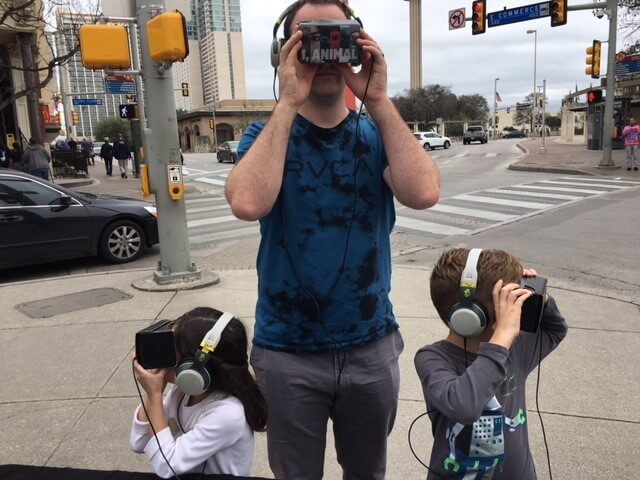 Click here to tell SeaWorld to release the animals it holds captive into seaside sanctuaries.
A "tiger"—wearing little more than bodypaint—was out and about in Miami Beach's City Center just prior to UniverSoul Circus' opening-night performance to urge passersby not to buy tickets to the event.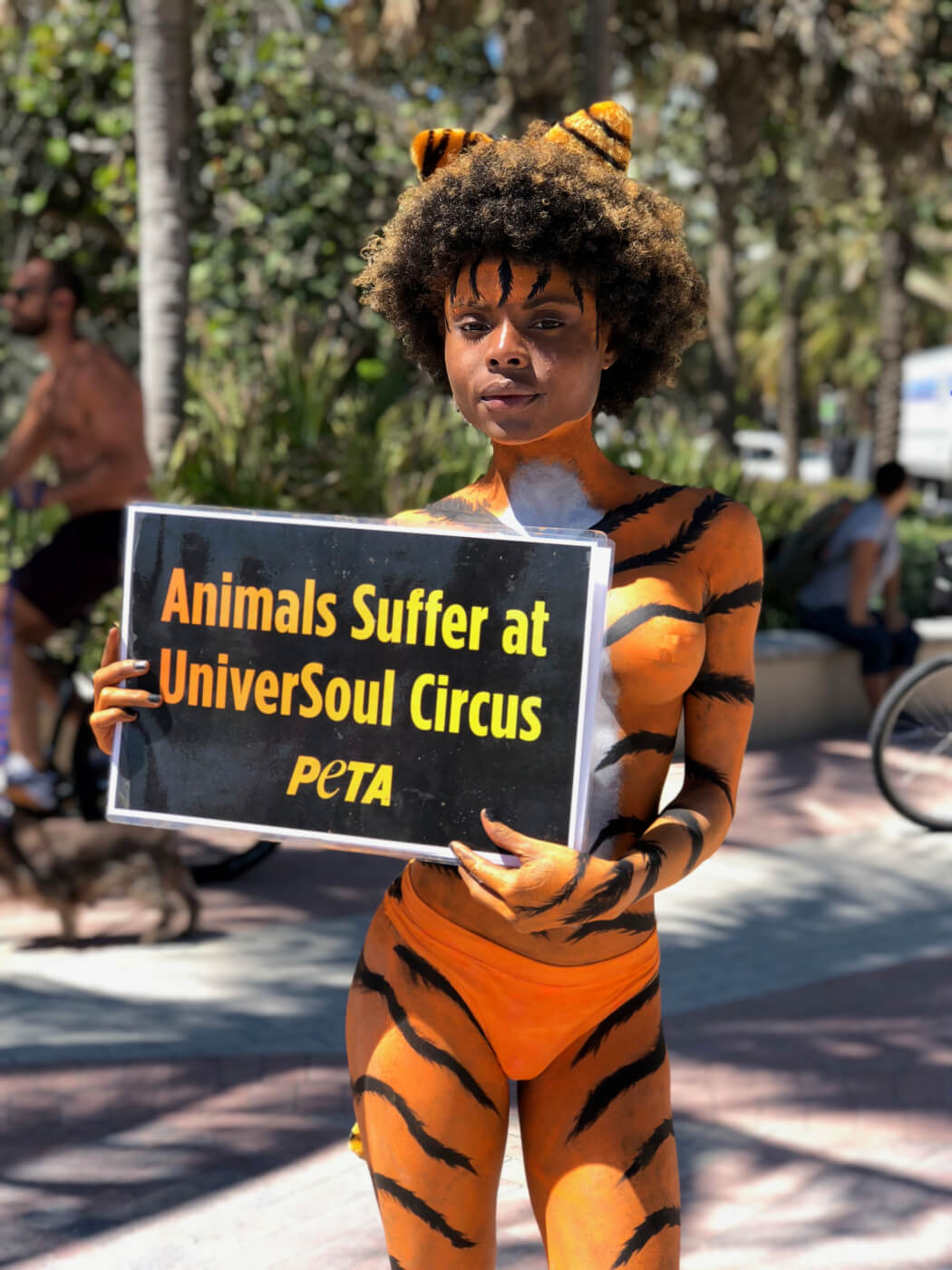 Click here to urge UniverSoul Circus to end all cruel animal acts.
PETA Germany was busy, too. From asking folks in Cologne to try "dog's milk" (because really, what's the difference between drinking dog's milk and cow's milk?) …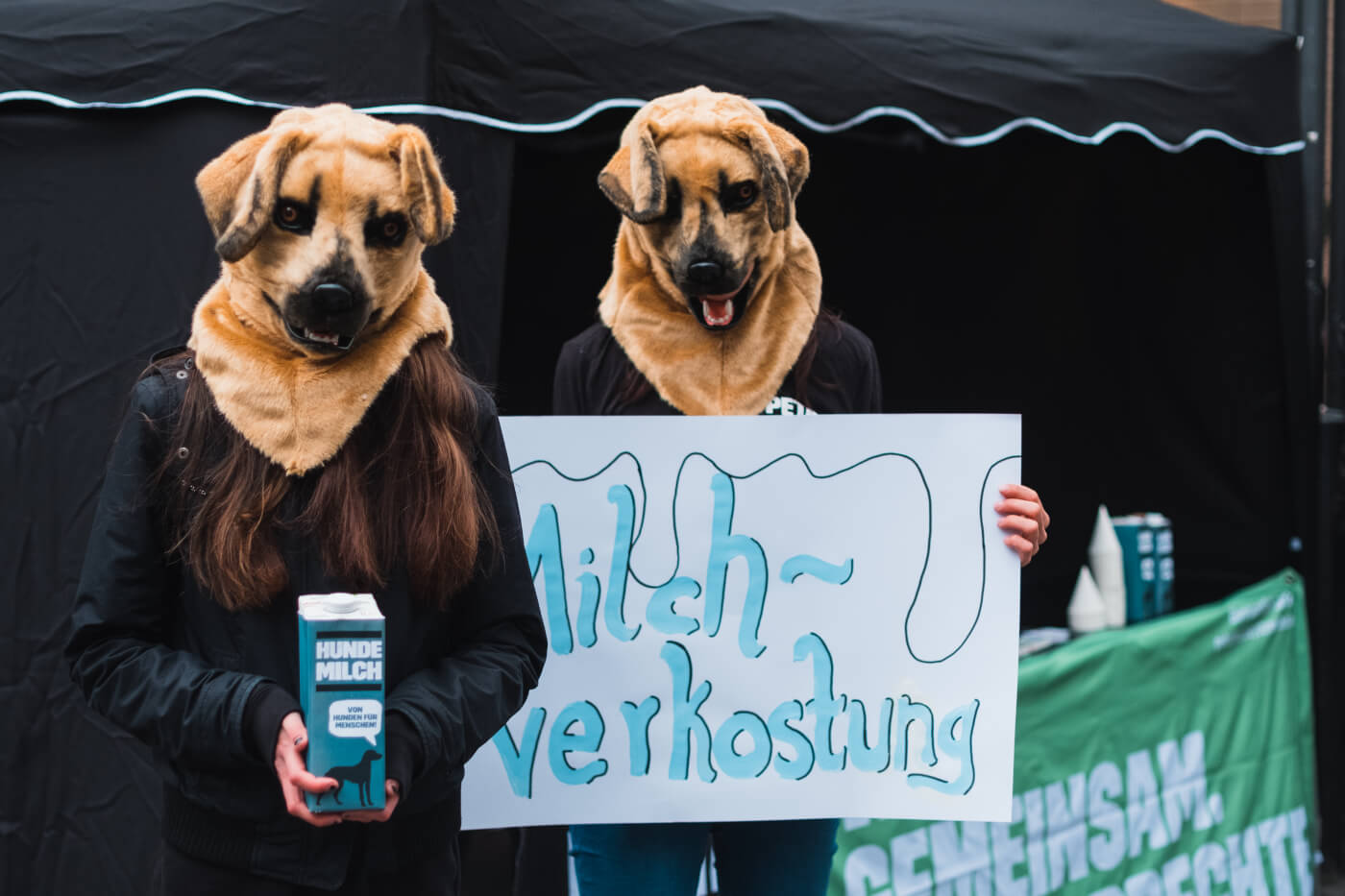 … to protesting fur in Munich …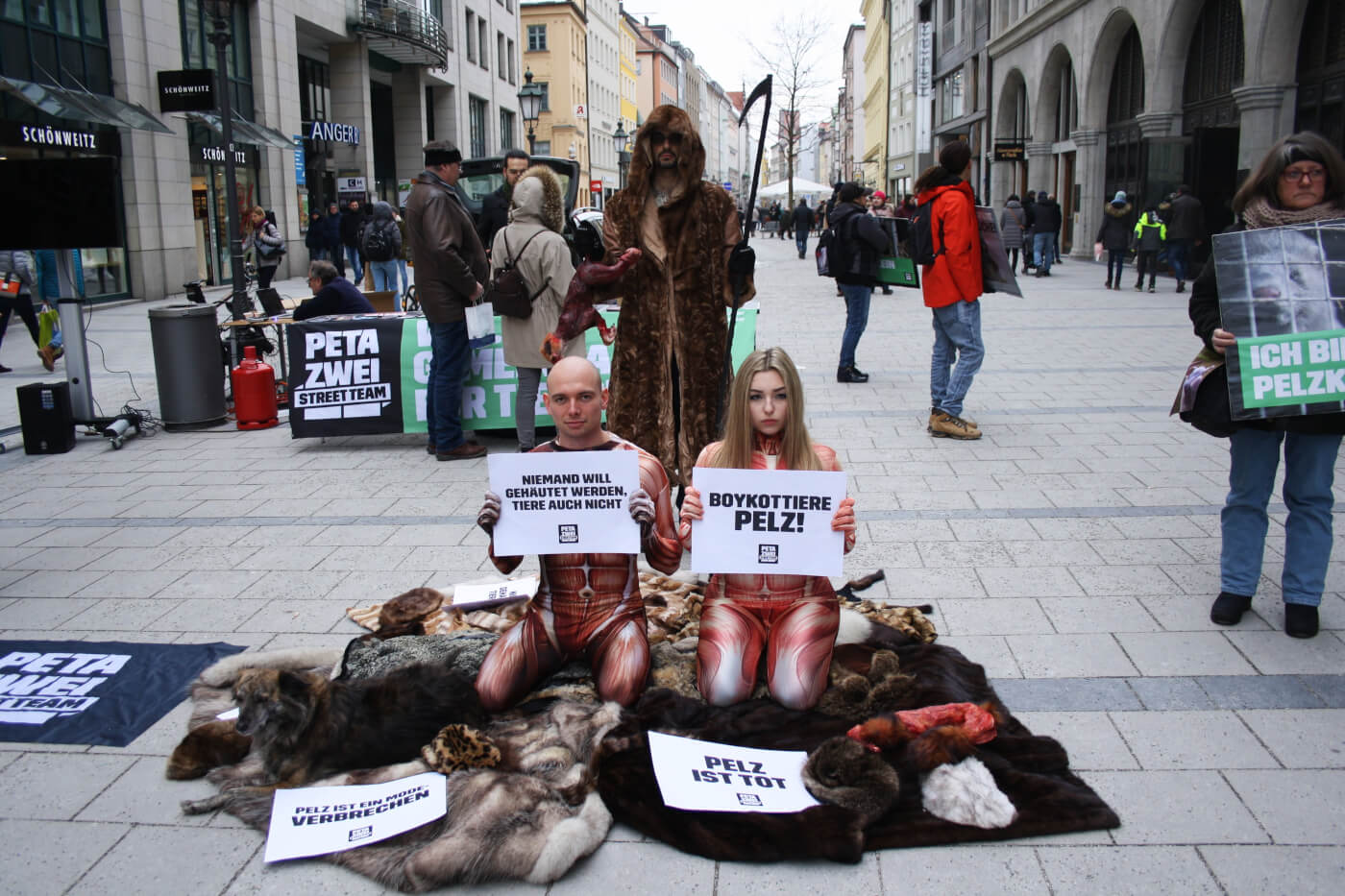 … and in Essen …
… to opposing animal testing in Osnabrück …
… and urging folks there to adopt—never buy—companion animals …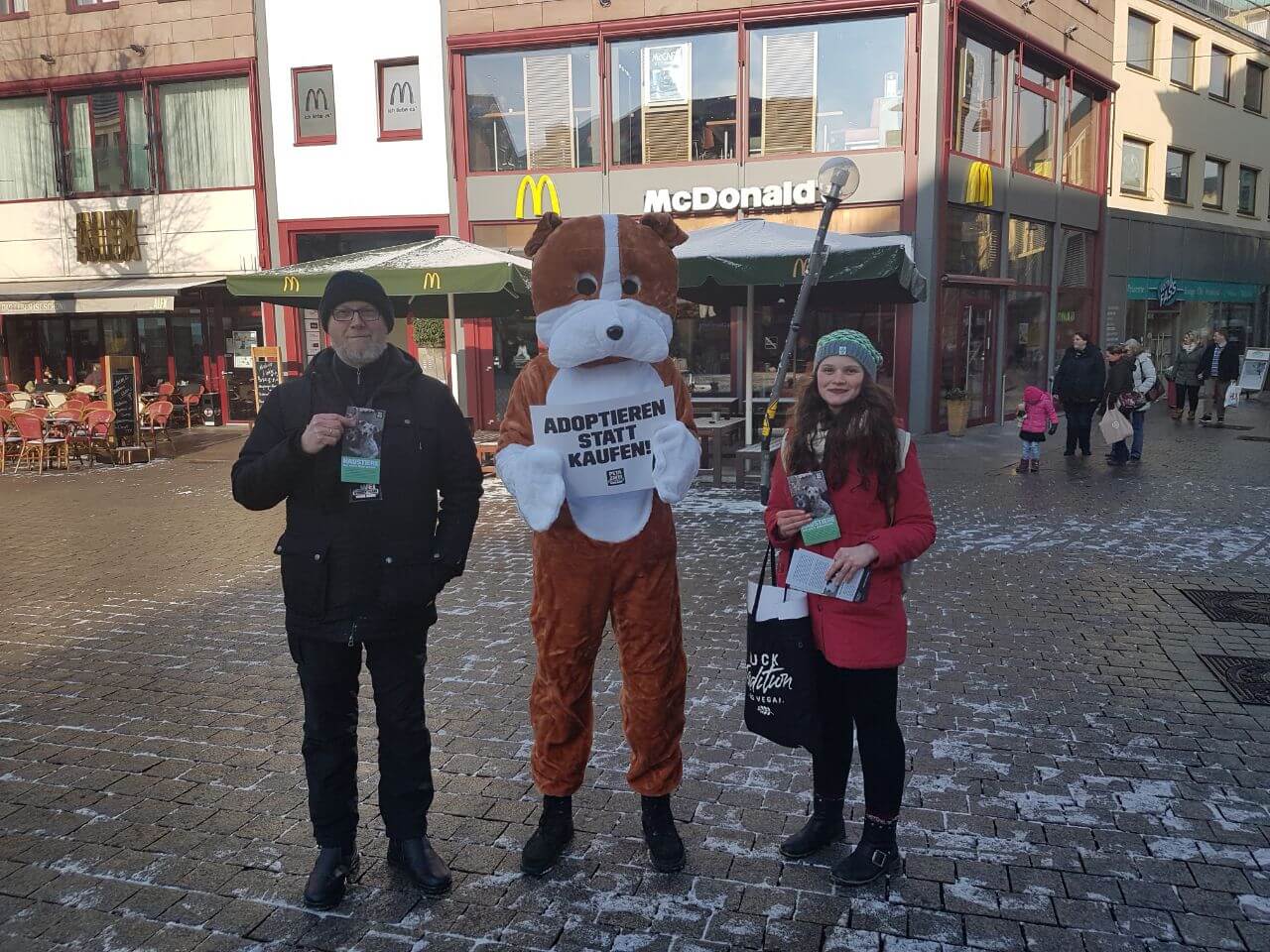 … to encouraging folks in Essen to choose vegan cheese over cruelly obtained dairy "products" …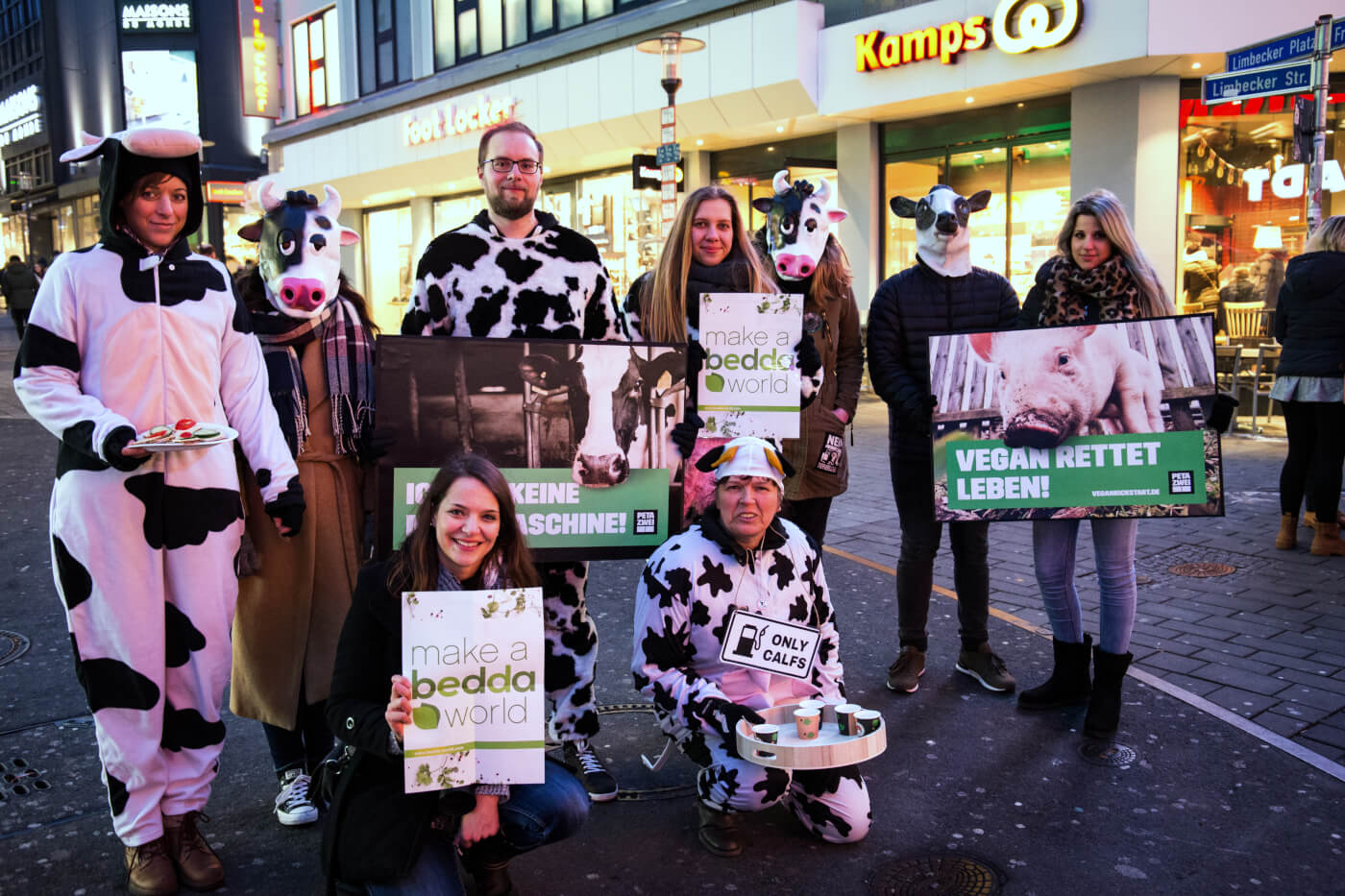 … to protesting McDonald's in Hamburg following the release of disturbing video footage of one of its meat suppliers …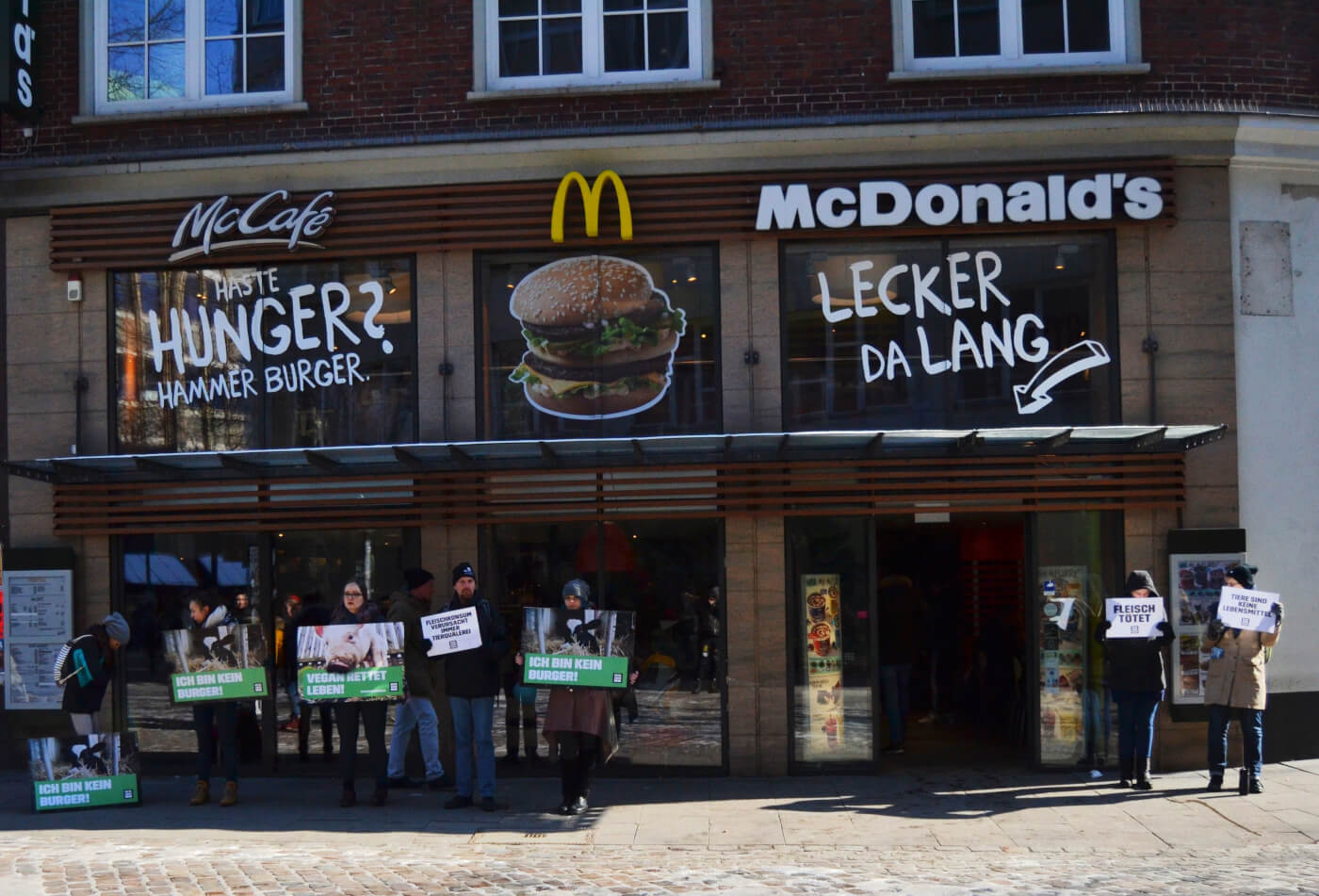 … PETA Germany's street team has been working nonstop to spread the word.
PETA India went to work, too. One day before National Science Day, a PETA volunteer lay with her "skin" peeled back and her "internal organs" exposed to urge passersby to denounce cruel and archaic animal dissection.
Today in Hyderabad! PETA speaks up against animal dissection for #NationalScienceDay. Does your school/college still use animals for dissection? Tell us about it at [email protected] and we will work to stop it. pic.twitter.com/d6SldXJ2Ow

— PETA India (@PetaIndia) February 27, 2018
Click here to learn about modern, animal-friendly alternatives to animal dissection.
A few thousand miles away, activists demonstrated outside dozens of Thomas Cook stores throughout the U.K. Although the travel company has announced that it would suspend online promotions of SeaWorld, it continues to prop up orca abuse by selling tickets to the abusement park. The activists' message was clear: Cut all ties with SeaWorld.
From St Andrews to Portsmouth, local activists today demonstrated outside dozens of @ThomasCookUK stores throughout the UK. pic.twitter.com/BQ9N1wTZ0k

— PETA UK (@PETAUK) March 10, 2018
Click here to urge Thomas Cook to stop supporting orca abuse.
PETA U.K. activists disrupted the Crufts dog show to highlight the suffering of dogs bred by humans to have grossly exaggerated features just to meet The Kennel Club's "Breed Standards." Vegan Strike Group activists stormed the floor brandishing signs that read, "Crufts: Canine Eugenics."
Wow! @PETAUK disrupts @Crufts dog show where sad, inbred dogs with physical problems are paraded around for prizes that go to their breed-happy owners. #AdoptDontBuy https://t.co/ROU1dD4am2

— PETA (@peta) March 11, 2018
Click here to learn more about the dangers of breeding "purebred" dogs.
Join PETA's Action Team to Help Animals
Around the globe, our voices are being heard. And animal abusers are getting the message loud and clear: We will never be silent.
Together, we can make a difference for animals. Are you ready to get active? If so, click the button below to learn how you can make a difference by joining our team: