Cruelty to animals is rampant in the meat industry, no matter the country.
German animal rights organization SOKO Tierschutz has leaked disturbing video footage of a McDonald's meat supplier that revealed that workers were striking animals with electric prods and hanging conscious animals upside down to bleed out in agony.
In the footage of a slaughterhouse run by the global food provider OSI Group, workers repeatedly fail to stun cows, even after administering numerous electric shots to their heads. When they won't budge in the kill line, employees shock them excessively with electric prods. Still very much alive and conscious, the cows in the video are seen chained upside down and flailing about after their throats were slit.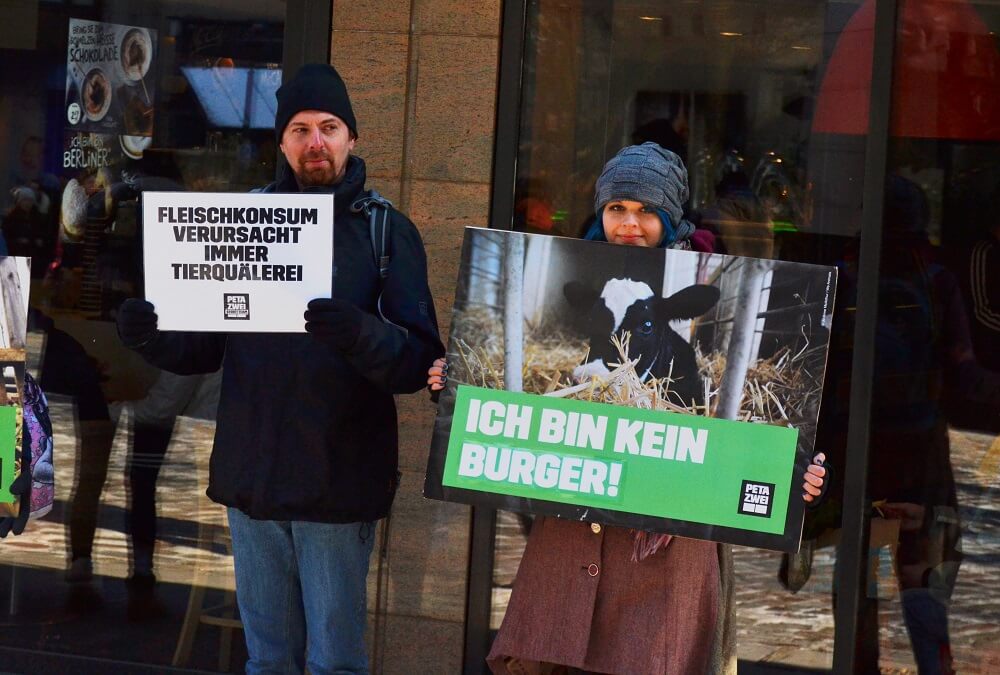 SOKO's efforts against the McDonald's supplier have paid off. According to reports, the slaughterhouse has shut down and police are investigating the operation. But activists aren't leaving it there—after all, as long as humans eat hamburgers and steaks, there will be slaughterhouses. After learning about the alarming video, volunteers of PETA ZWEI—part of PETA Germany—led a protest at a McDonald's in Hamburg.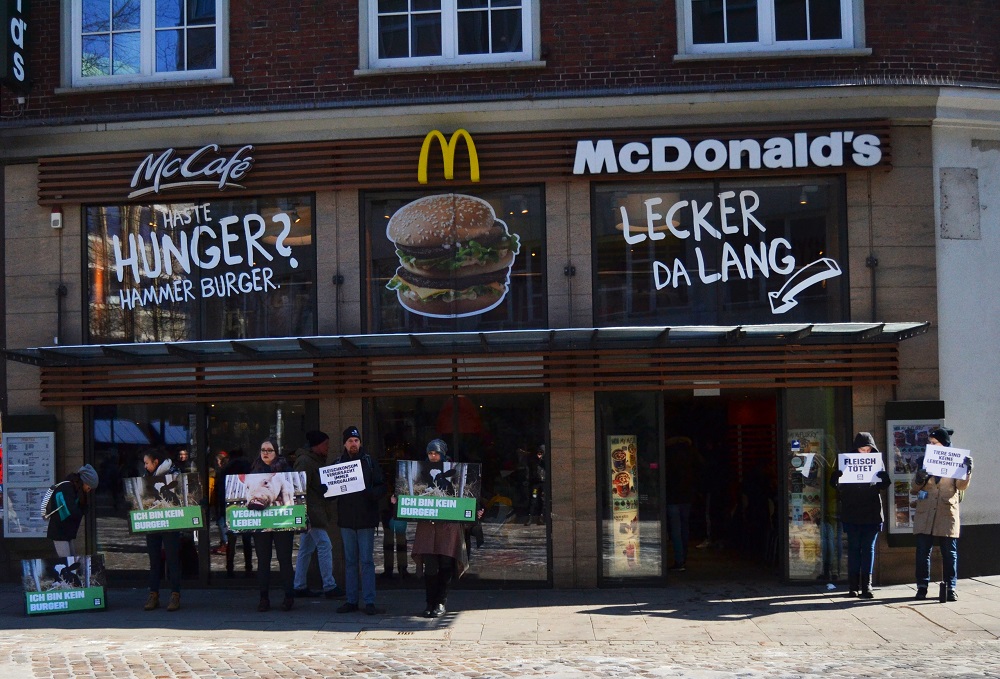 Billions of animals used for food live in agony, only to be slaughtered in violent and painful ways.
Cows are intelligent, sensitive animals who feel pain just as we do, yet all over the world, they are branded, castrated, and packed onto filthy feedlots and their horns are ripped out of their skulls without any painkillers.
Cattle who survive feedlots, dairy sheds, and veal farms face a hellish trip to the slaughterhouse. They're crammed onto trucks, where they typically go without food, water, and rest for the duration of the journey, which can sometimes be days. Many cows collapse in hot weather, and in the cold, they sometimes freeze to the sides of a truck until workers pry them off with crowbars.
Did these cows feel EVERYTHING? pic.twitter.com/ZY5h79LuHZ

— PETA (@peta) January 11, 2018
Given how fast kill lines move, many cows, like the ones seen in the SOKO footage, are improperly stunned and cut to pieces while still conscious. Ramon Moreno, a longtime slaughterhouse worker, told The Washington Post that he frequently has to cut the legs off completely conscious cows. "They blink. They make noises," he said. "The head moves, the eyes are wide and looking around. … They die piece by piece."
Every one of us can help end this rampant abuse.
Now that more people than ever are going vegan in order to benefit animals, the environment, and their health, the time is ripe for McDonald's to branch out and offer vegan meals. Please drop the company a quick, polite note to let it know that you'd like to see vegan items on its U.S. menus.