It's the most wonderful time of the year—but not for the countless animals who are held captive and used for cruel, archaic forms of entertainment. The holidays are meant to be spent with loved ones, but these 13 animals are denied interaction with their families every single day. Take a look at their stories:
In 1969, off the coast of British Columbia, Corky was forcibly separated from her family and natural home and then sold into captivity. Today, she's locked inside one of SeaWorld's tiny tanks, swimming in endless circles, although PETA has been campaigning hard for her release. She's been pregnant seven times, but none of her calves has survived. The oldest lived for just 46 days. Her siblings and other members of her pod still swim freely in the ocean, but the only life that she knows is one of forced associations, deprivation, suffering, and loss.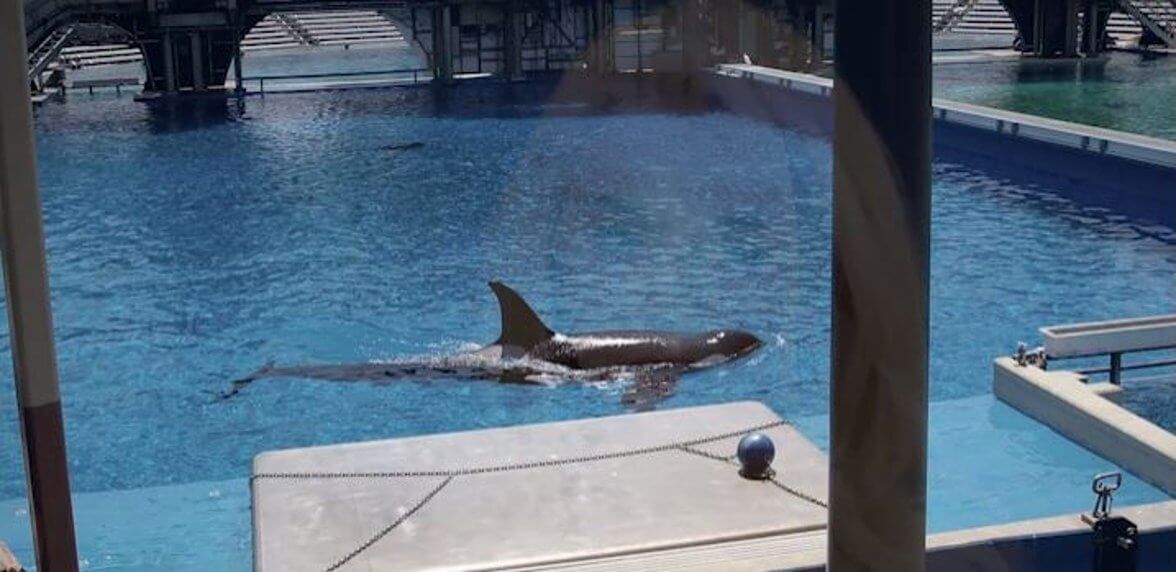 Lolita was captured off the coast of Washington State in 1970. As a calf—nearly a half century ago—she was surrounded by humans in boats, forced into a net, and torn away from her family in Puget Sound. She's been held captive in the world's smallest orca tank and forced to perform at the Miami Seaquarium ever since, although we haven't stopped pushing for her release. Lolita's family, or pod, is still together in the waters off the coast of the northwestern U.S., while she has lived without another orca's company since 1980.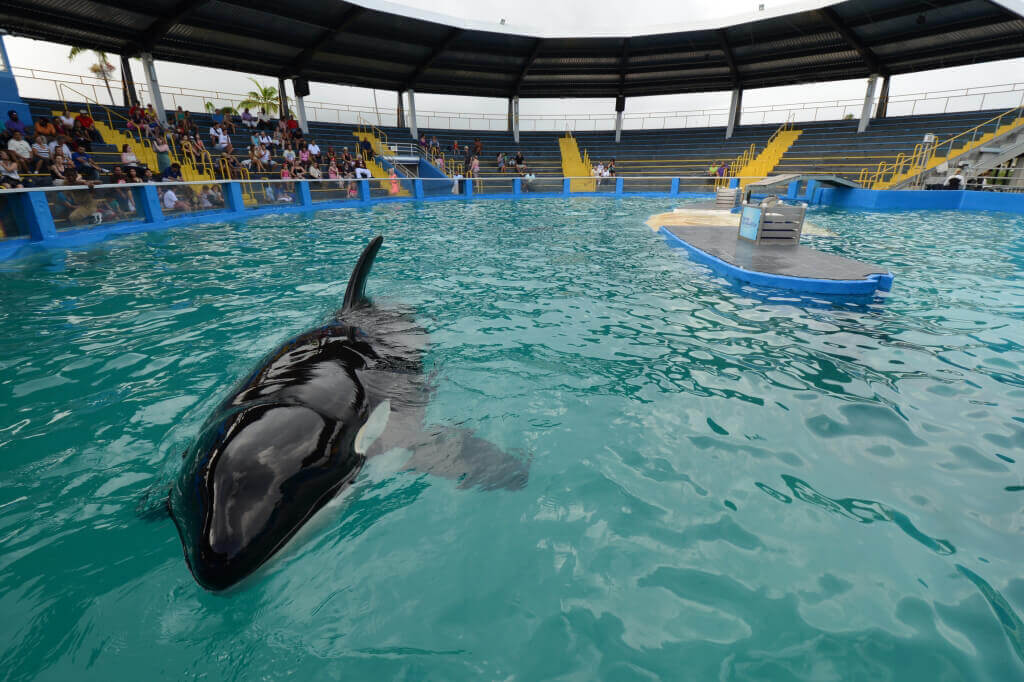 In 1980, when he was only about 3 years old, Ulises was abducted from his family off the coast of Iceland and eventually sent to SeaWorld. He's one of the last surviving wild-caught orcas being held captive at the abusement park. Since being at SeaWorld, he has sustained injuries and endured stress from being bullied by incompatible tankmates. When breeding orcas in captivity was still a thing at SeaWorld, trainers would masturbate Ulises to get his sperm, which would then be put into a tube and inserted into female orcas to impregnate them. It's been asserted that he was possibly infertile, but conflicting reports indicate that his sperm had possibly produced one or more calves.
Ikaika
Ikaika was born at SeaWorld Orlando in 2002. At a young age, he was separated from his family and shipped to Marineland in Ontario, Canada. After just a few years there, he was moved to SeaWorld San Diego. His father, Tilikum, died at SeaWorld. His mother, Katina, is still being held captive at SeaWorld Orlando, as are his sister Nalani and brother Makaio.
Simba and Jambo
Lion Simba and giraffe Jambo are both kept in solitary confinement at Tregembo Animal Park in Wilmington, North Carolina. In 1998, PETA named this roadside zoo—then known as the Tote-'Em-In-Zoo—one of the worst in the country. It may have changed its name, but the facility is still pitiful. In 2017, following a victorious lawsuit led by PETA and two North Carolina residents, we helped secure the rescue of two bears—Ben and Bogey—who'd also been kept there. For Simba, Jambo, and all the other animals still suffering at Tregembo, we'll continue to campaign against the decrepit roadside zoo.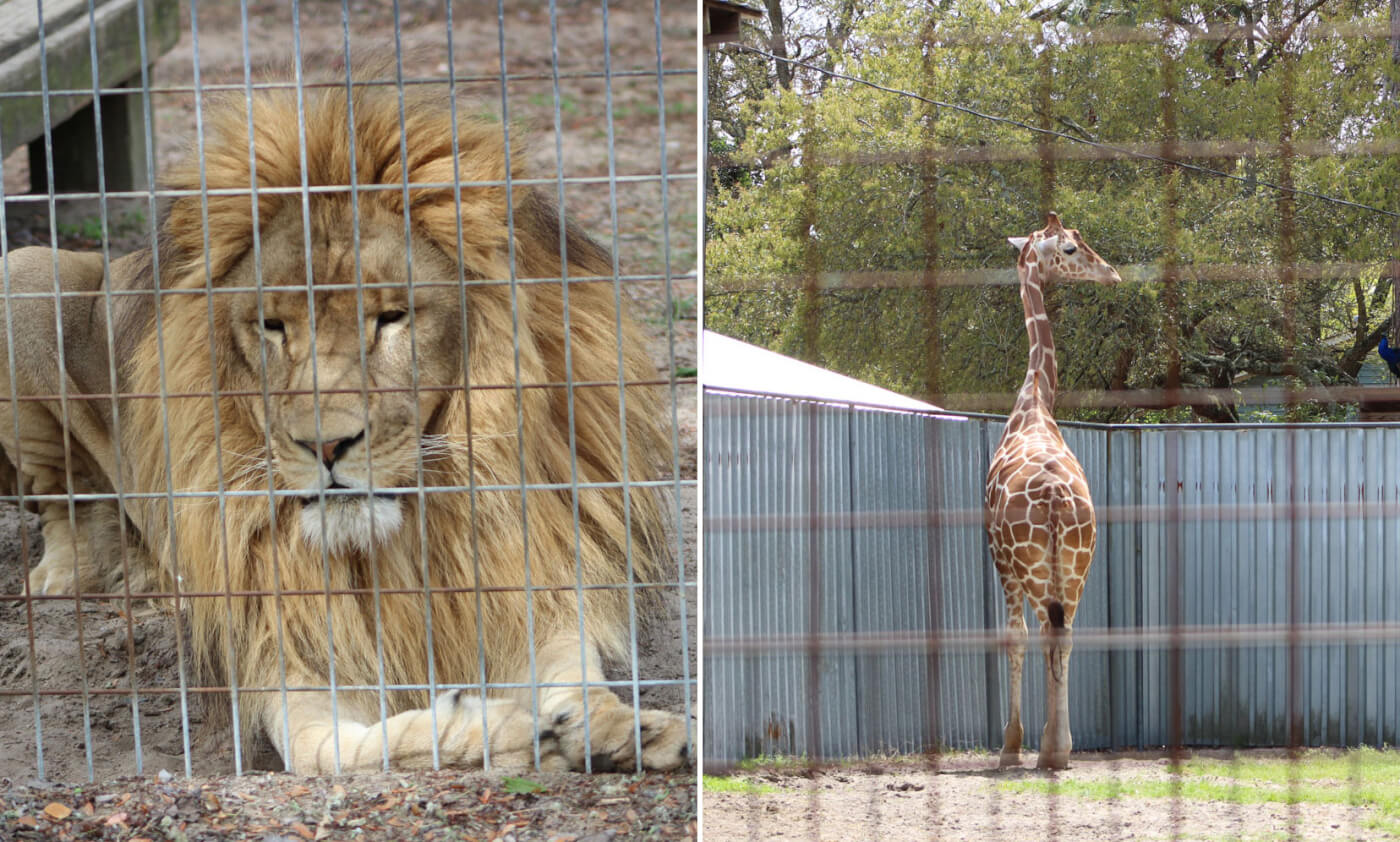 Samson, Lucie, and Northgate
The Barry R. Kirshner Wildlife Foundation in Oroville, California—notorious for its chronic animal-welfare violations—is "home" to three lions: Samson, Northgate, and Lucie, who are kept separate and alone. The pseudo-sanctuary has an appalling history of abusing and neglecting the animals there. According to former volunteers-turned-whistleblowers, Samson was once taken out repeatedly for visitors to pick up and handle and was hit with a broom while he was suffering from broken bones. According to similar reports, operator Roberta Kirshner has done the following:
Failed or refused to call in a veterinarian for many ill and injured animals, who were left to suffer and die
Struck a bear—who was so young that she had not yet fully opened her eyes—with enough force to knock the cub backward and instructed a volunteer to do the same in order to "teach" the cub
Instructed another volunteer to "discipline" a clouded leopard by repeatedly hitting her under the chin with a fist—even after the animal's nose started to bleed
The facility was slapped with a fine in 2016 for chronic violations of the federal Animal Welfare Act following a U.S. Department of Agriculture (USDA) inspection that was prompted by a PETA complaint.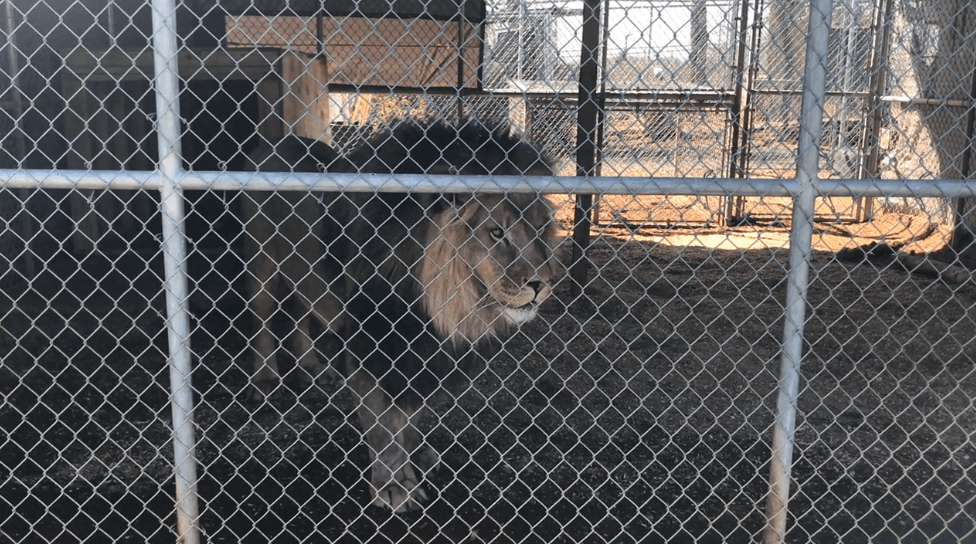 Handsome, Lil Trix, and Jocko Jr.
In their natural habitat, baboons live in complex social groups—playing, grooming, and foraging together—and come together to form troops of hundreds of individuals. But at Waccatee Zoo—a roadside zoo in Myrtle Beach, South Carolina—baboons Handsome, Lil Trix, and Jocko Jr. are forced to spend their lives completely alone. Witnesses have observed them swaying and rolling their heads—a sign of severe psychological distress. After PETA alerted the USDA to eyewitness video footage showing this and other primates' self-injurious types of behavior, agency inspectors went to the roadside zoo and confirmed PETA's allegations, citing the facility for failing to provide the primates with adequate environmental enrichment. During the inspection, Jocko Jr. was observed walking repeatedly in figure eights, Lil Trix swayed back and forth, and Handsome repeatedly rocked back and forth, tossed his head, stood up, circled in place, and then resumed rocking. Help us fight the good fight for these animals—tell the Monster Coupon Book to stop promoting animals' suffering at Waccatee Zoo.
Marcel
Spider monkeys are highly social animals, yet Zootastic Park—a disreputable roadside zoo that PETA has lodged complaints against for years—has kept Marcel, a spider monkey, in solitary confinement. Unfortunately for him and every other animal held at the North Carolina facility, there's nothing fantastic about Zootastic. Chronic, long-standing suffering and neglect there have been well documented, including a lack of adequate veterinary care, patrons being exposed to health risks, and animals being treated as moneymaking props. Our message to people who care about animals and their own health is that they should refuse to buy a ticket to any roadside zoo—Zootastic included.
Will You Take a Stand for These Animals?
It's the holidays, so give animals the best gift of all: your support! We've achieved numerous victories with help from kind folks like you, and we're only getting started. Click the buttons below to stand up for Corky, Ulises, Handsome, Lil Trix, Jocko Jr., and others like them: