You don't have to be a film critic to know that The Founder—the unflattering new movie about McDonald's creator Ray Kroc that opens next month—probably won't get a standing ovation from the suits at the company's Oak Brook, Illinois, headquarters.
One movie reviewer described Kroc as a "conscience-free" go-getter. Another, pointing to his "scheming … venality," wrote that he was "ethically challenged."
No surprise there. These are the principles upon which McDonald's was built. PETA has been making that clear for years.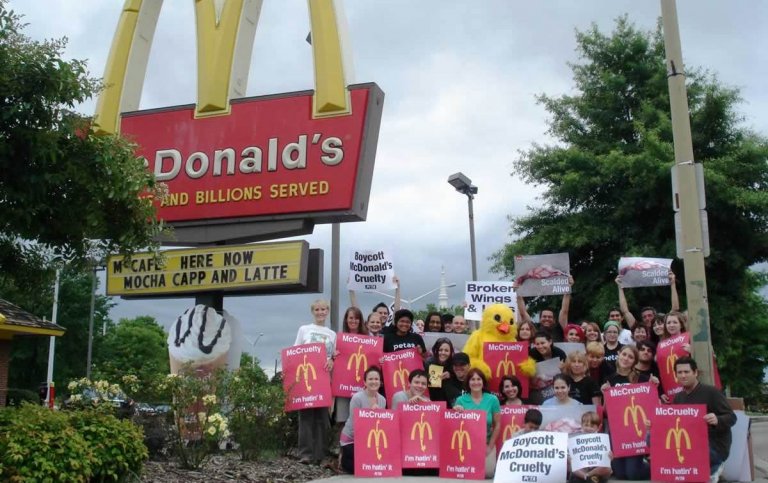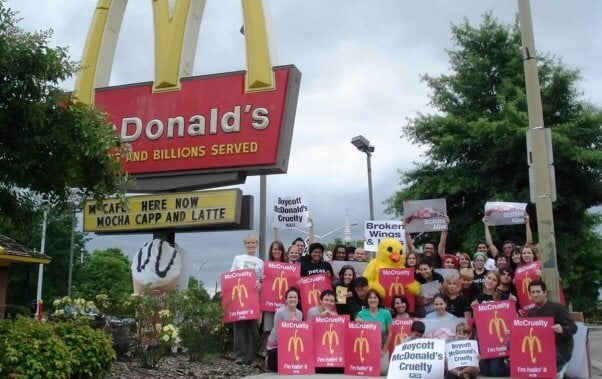 Here are five facts that you should know that didn't make it into The Founder:
McDonald's has a dirty legal past.
Following the McLibel verdict in 1997, in which a British judge found that McDonald's causes cruelty to animals and untruthfully promotes its food as nutritious, PETA wrote to the company asking that it alleviate the suffering of animals killed for its restaurants.
PETA launched its McCruelty campaign in 1999.

The campaign was launched after the company refused to budge following two years of negotiations. As part of this movement, we called out executives during an annual meeting, "creamed" cruel clown Ronald McDonald, handed out Unhappy Meals, unveiled a crippled-chicken McCruelty statue, and took over the podium at a franchisees' convention. We also recruited Rock & Roll Hall of Famer and PETA friend Chrissie Hynde.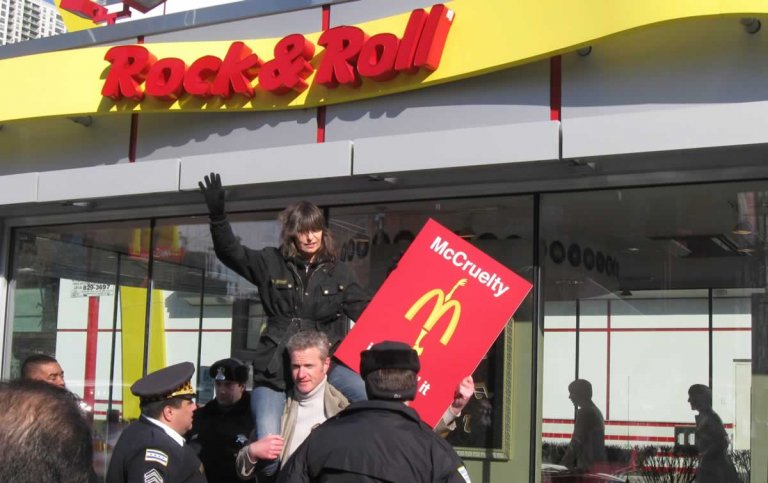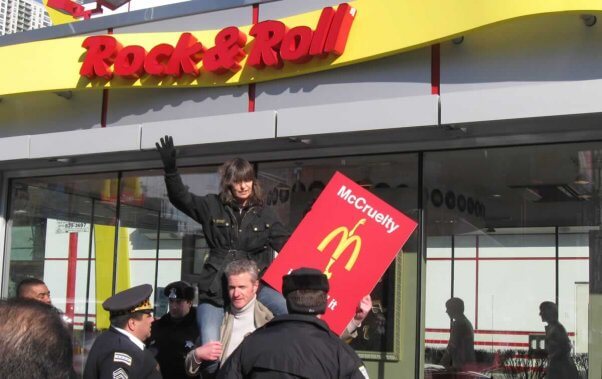 PETA's McCruelty campaign was initially a success …
After 11 months of campaigning and more than 400 demonstrations, PETA announced a moratorium on its campaign when McDonald's agreed to improve the welfare of farmed animals—the first time in U.S. history that a major meat-seller made such an agreement.
… but McDonald's stopped making animal-welfare improvements.
For almost nine years (from September 2000 to February 2009), PETA tried to work with the company to modernize its animal-welfare standards and make further improvements, especially regarding how chickens are slaughtered in the U.S., but it refused to do so.
The company has refused to adopt a less-cruel method of slaughter.
In February 2009, PETA lifted its moratorium after McDonald's failed to require its U.S. and Canadian chicken suppliers to adopt a method of slaughter that's less cruel. Ten years after the original launch, Hynde helped relaunch our McCruelty campaign, and it's still going strong.
What You Can Do
McDonald's still trades in cruelty. Take a personal stand against animal suffering and exploitation: Try vegan!