Never underestimate the lifesaving power of giving someone a vegan Beyond Burger or a delicious, animal-free oat milk latte. If you know someone who still eats meat or drinks cow's milk, introducing them to delicious vegan food will enlighten their taste buds—and it could help them make lifesaving changes. Every person who goes vegan can save nearly 200 animals per year.
Buying a delicious vegan sausage or some tasty dairy-free ice cream for a friend, a family member, or even the person behind you in line could be the first step in their vegan journey.
Try one or all of these five ways to save hundreds of animals for just $5 or less:
1. Make a Drive-Through Patron's (and Animals') Day
There's no doubt: The Beyond Guacamole Tacos from Del Taco are delish. One bite could turn a meat-eater vegan faster than you can say, "Add a side of crinkle-cut fries." Taco Bell's bean burritos are fabulous, too. So the next time you pull up to the drive-through any restaurant that has vegan food and there's a car behind you, buy an extra Beyond Guacamole Taco or other vegan entrée and ask the staff at the pick-up window to give it to the customer behind you. Who knows—the mouthwatering cow-free beef, those tasty beans, the lack of congealed cow breastmilk (aka "cheese"), or a "100% Plant-Based Protein" wrapper note might inspire someone to go vegan.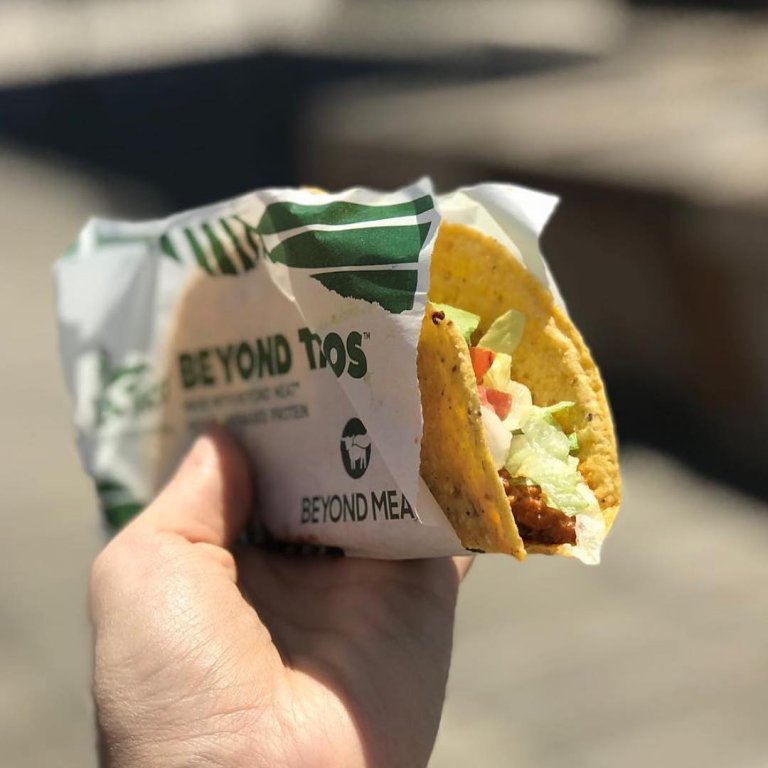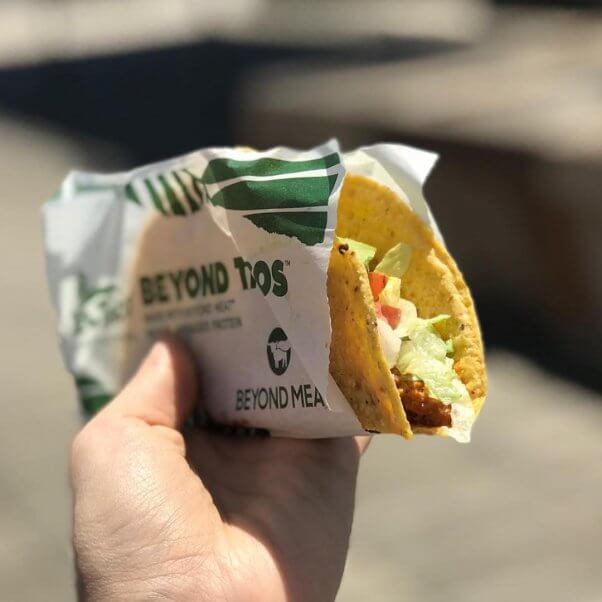 2. Do Your Friends Know About Vegan Eggs?
Perhaps your pals don't know that all chickens used in the egg industry are eventually killed. Maybe deceitful "cage-free" or "free-range" labels duped them. Whatever their reason for still eating eggs, as a vegan and their trusted friend, you're uniquely qualified to explain how stealing something from an animal and eating it is speciesist. Or you don't need to say a word. There's really no better way to persuade them than with delicious vegan eggs! Whether you give them a carton of Follow Your Heart's VeganEgg or you whip up a vegan quiche using Simply Eggless, you'll inspire your pals to be kind to chickens by opting for one of the many egg-free upgrades available today.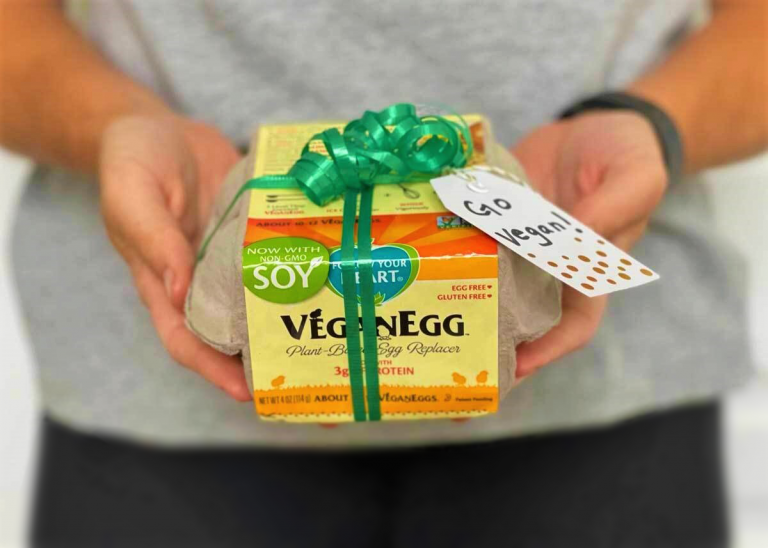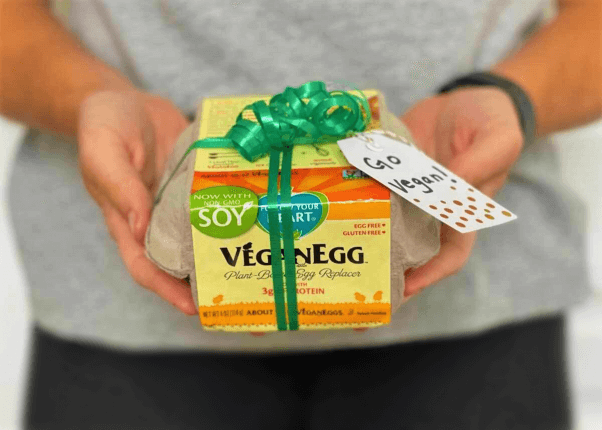 3. We're Sure the Recipient of This Gift Will Love It a Latte
Meeting up with a friend at Starbucks? Treat them to an oat milk latte. Standing in line at Dunkin'? Surprise the patron behind you with an iced oat milk latte. Heading back to work after a Peet's Coffee break? Grab an extra oat milk horchata latte for your cubemate. Wherever you are and as often as you can, spread the word: Oat milk saves lives (as do soy, almond, and all other vegan milks). Oat milk is beloved among baristas, and now that it's available at almost every coffee shop and chain nationwide, dairy doesn't stand a chance against the animal-free favorite. Cows need us to opt for dairy-free milks, and your $5 treat could be the thing that persuades a dairy milk drinker to make the switch at long last.
4. Someone's Birthday? Give the Gift That Keeps On Giving!
Whether your present is a vegan chocolate bar or you bake the birthday boy or girl a vegan birthday cake, birthday celebrations are the perfect time to show someone how easy and delicious it is to be vegan. After all, all animals deserve all their trips around the sun.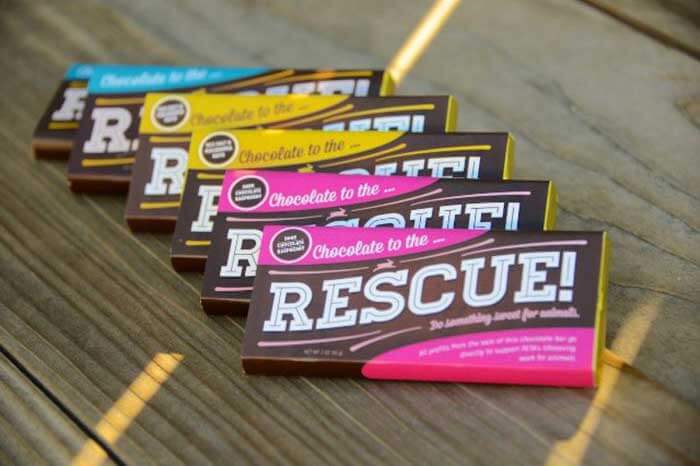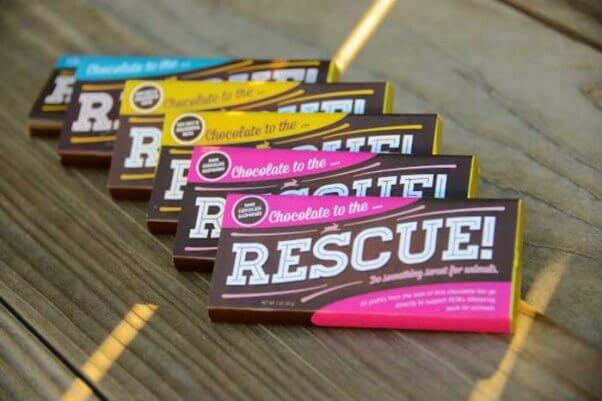 5. Supermarkets: A Super Place to Market Going Vegan
Grocery store aisles are full of scrumptious vegan foods, which means the checkout lines are full of opportunities to introduce someone to animal-free options. So before you check out, grab an extra pack of Beyond Burgers or an extra pint of Ben & Jerry's dairy-free ice cream. Pay for it along with all your other items, then explain to the customer behind you that tonight's dinner or dessert is on you and that you hope they enjoy the vegan goods. Once they discover how delicious these animal-friendly foods are, the recipient just might never look back.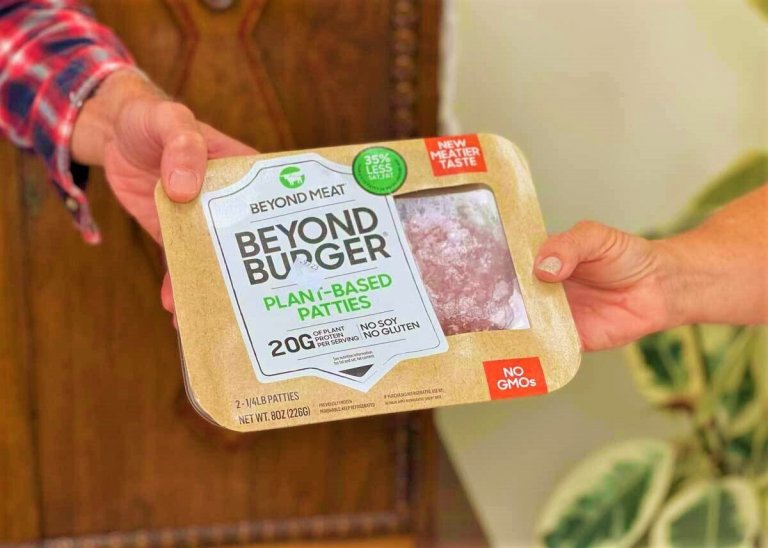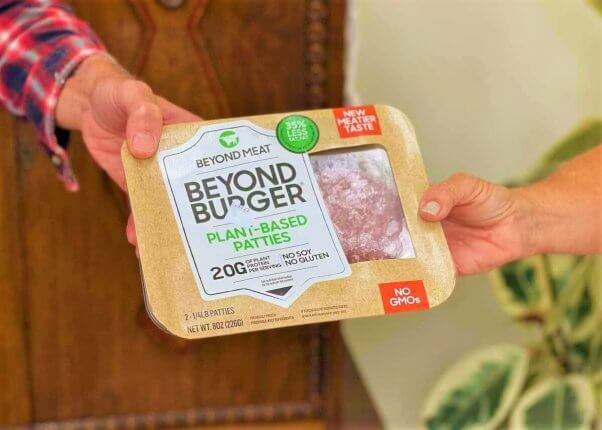 *****
These five ideas are just some of the many easy ways to spread the vegan love. You can also improve a store's magazine rack by slipping in some free vegan starter kits, add a copy of Animalkind or another animal-friendly book to a "little free library," or visit PETA's popular rapid-action pages to make a difference for countless animals for free and from the comfort of your home. If you have more than $5 to spare, give a nonvegan pal the vegan picnic that they didn't know they needed—with a handy reusable tote and various savory and sweet snacks, the PETA Shop's "The Future Is Vegan" picnic bag is the perfect purchase to help your friends ditch meat, eggs, and dairy.
The possibilities for driving the animal rights movement forward are endless. Visit PETA.org/action for more ideas: