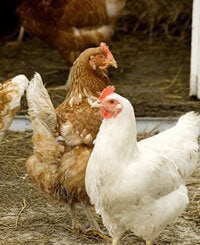 Before PETA existed, there were two important things that you could do if you wanted to help animals. You could volunteer at a local animal shelter, or you could donate money to a humane society. While many of these organizations did useful work to bring comfort to animals who are used by humans, they didn't question why we kill animals for their flesh or their skins or why we use them for tests of new product ingredients or for our entertainment.
PETA's founders sought to give caring people something more that they could do and to provide them with ways to actively change society. They wanted to show how easy it is to go vegan and shop cruelty-free. They wanted to protest, loudly and publicly, against cruelty to animals in all its forms, and they wanted to expose what really went on behind the very thick, soundproof walls of animal laboratories.
Aided by thorough investigative work, consumer protests, and international media coverage, PETA brings together members of the scientific, corporate, and legislative communities to achieve large-scale, long-term changes that prevent animal suffering and exploitation.
PETA's first case—the precedent-setting 1981 Silver Spring monkeys case—resulted in the first arrest and criminal conviction of an animal experimenter in the U.S. on charges of cruelty to animals, the first confiscation of abused laboratory animals, and the first U.S. Supreme Court victory for animals in laboratories. And we haven't stopped winning in our efforts for animals since.
PETA's Historic Cases
Every year, with the help of generous supporters, PETA is able to secure victories for animals. And every victory is important and celebrated, from the smallest mouse spared a horrific death in a glue trap to the thousands of cows, pigs, chickens, and fish whose lives are spared every time someone goes vegan.
The following are just a few of PETA's major accomplishments for animals:
PETA persuaded more than a dozen companies, including Pfizer and Johnson & Johnson, to make the abusive and pointless forced swim test a thing of the past. Laboratories conduct these experiments by dosing mice, rats, guinea pigs, gerbils, or hamsters with a test substance, dropping them into inescapable containers of water, and watching as the petrified animals frantically look for an escape. See other victories for animals who are used in experiments.
In 1995 after two years of negotiations with—and more than 400 demonstrations against—the company worldwide, McDonald's became the first fast-food chain to agree to make basic welfare improvements for farmed animals. Now, thanks largely to PETA's outreach and persistence, you can't visit a fast-food restaurant without seeing a vegan option, whether it's Burger King's or Carl's Jr.'s animal-free burgers, Del Taco's vegan beef burritos, or WaBa Grill's plant-based steak bowls. The vegan revolution is here.
Undercover investigations of pig-breeding factory farms in North Carolina and Oklahoma revealed horrific conditions and daily abuse of pigs, including the fact that one pig was skinned alive, leading to the first-ever felony indictments of farm workers. See other victories for animals who are used for food.
After persistent campaigning by PETA U.S., other PETA entities, and our supporters around the world, Canada Goose joined the ever-growing list of top fashion brands that have sworn off fur, including Prada, Coach, Versace, Michael Kors, Balmain, Gucci, Calvin Klein, and Burberry. And we're toppling other industries, too. After we released the results of PETA Asia's investigation into the angora rabbit fur industry, more than 100 major brands suspended their use of the material, including Gap, H&M, Ralph Lauren, Topshop, UNIQLO, and Zara. And following the release of the first-of-its-kind undercover PETA investigation into one of the world's largest alpaca-fleece producers, we persuaded more than 65 companies to make the compassionate decision to ban the material. See other victories for animals exploited for fashion.
After 36 years of protests from PETA members and supporters against Ringling Bros. and Barnum & Bailey Circus, it stopped using animals in its shows. Ringling is planning its return to the big top, without animals—sending a powerful message to the entire industry and echoing what we've been saying for decades: Animals don't belong in the circus or in any other form of entertainment. In a landmark case, our Endangered Species Act (ESA) lawsuit against Tiger King villain Tim Stark and Indiana roadside zoo Wildlife in Need succeeded—setting a precedent that premature separation of lion, tiger, and lion/tiger hybrid cubs and mothers; declawing; and cub-petting violate federal law. We also played an integral role in a major victory when the U.S. Department of Justice seized 69 protected big cats from Lauren and Jeff Lowe, operators of Tiger King Park in Oklahoma, and won its own ESA lawsuit against the Lowes. See other victories for animals used for entertainment.
PETA persuaded Mobil, Texaco, Pennzoil, Shell, and other oil companies to cover their exhaust stacks after showing how millions of birds and bats had become trapped in the shafts and been burned to death. See other victories for wildlife.
Thanks to PETA's lengthy campaign to push PETCO to take more responsibility for the animals in its stores, the company agreed to stop selling large birds and to make provisions for the millions of rats and mice in its care. See other victories for abused companion animals.
See more precedent-setting victories and PETA's milestones for animals.
PETA's Success Stories
PETA has made groundbreaking advances for animals who are abused by corporations, governments, and individuals throughout the world, and these successes have led to dramatic improvements in the lives of millions of individual animals.
Whether by working with universities and government institutions to implement animal-free test methods, sparking a boom of "cruelty-free" product marketing and a nosedive for the U.S. fur industry, or promoting the mass availability of vegan meat at grocery stores and gourmet restaurants, PETA has been the driving force behind many of the largest successes for animals. Read more about PETA's success stories.
Help Us Continue Our Groundbreaking Work for Animals