Vegan
Vegan Tofu Banh Mi Recipe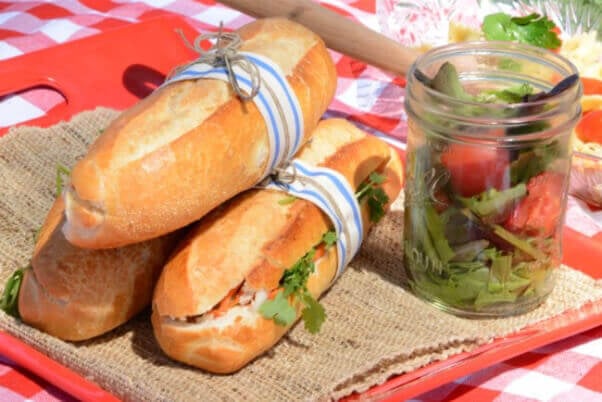 Print
Ingredients
3 Tbsp.

fresh lime juice

3 Tbsp.

rice vinegar

3

carrots, shredded

1/3 cup + 1 Tbsp.

brown sugar

1 Tbsp.

canola oil

3 Tbsp.

soy sauce

1

medium yellow onion, thinly sliced

1

14-oz. pkg. firm tofu, drained and cut into 1-inch squares

1/2 tsp.

salt

1/3 cup

vegan mayonnaise (try Vegenaise)

Sriracha sauce, to taste

1

large baguette, cut into 4 pieces, then halved

1/2

cucumber, cut lengthwise into 2-inch strips

Fresh jalapeño slices, to taste (optional)

1 cup

chopped fresh cilantro
Instructions
Stir the lime juice, rice vinegar, carrots, and 1/3 cup of the brown sugar together in a large bowl. Cover and refrigerate while you prepare the other ingredients. Heat the oil, soy sauce, and remaining brown sugar in a large nonstick skillet over medium heat. When the oil is hot, add the onion and cook until golden brown.
Season the tofu with the salt. Add to the onion and oil mixture and cook until browned, about 2 to 3 minutes per side.
Remove the carrot mixture from the refrigerator and drain.
Spread the vegan mayonnaise and Sriracha sauce onto the baguette slices, then place the carrot mixture, cucumber strips, tofu mixture, jalapeño slices, and cilantro in between.
Serve and enjoy!
Makes 4 servings