Vegan
BBQ 'Ribs' to Die For (That No One Had to Die For)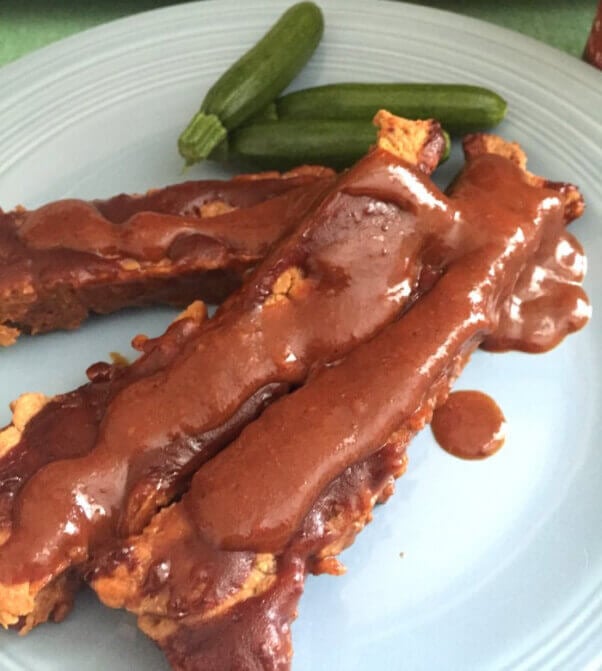 Print
Ingredients
1 cup

vital wheat gluten

1 1/2 Tbsp.

nutritional yeast

2 tsp.

smoked paprika

2 tsp.

onion powder

1 tsp.

garlic powder

3/4 cup

water

2 Tbsp.

tahini or nut butter

1 Tbsp.

soy sauce or Bragg Liquid Aminos

1 tsp.

liquid smoke (optional)

1 cup

your favorite vegan barbecue sauce (try Annie's Original or Smokey Maple BBQ sauces)
Instructions
Preheat the oven to 350°F and spray an 8-inch-by-8-inch baking dish with oil.
Mix the dry ingredients in a large bowl. Mix the water, tahini, soy sauce, and liquid smoke in a separate bowl. Stir the wet mixture into the dry ingredients and knead for 1 minute.
Spoon into a baking dish and spread flat, filling the pan evenly. Cut into 12 to 16 even strips. Put in the oven and bake for 25 minutes.
Baking option: Remove and brush the top, sides, and bottoms of the seitan with a layer of barbecue sauce. Bake for another 10 to 15 minutes, making sure that the sauce doesn't burn or blacken. Remove from the oven and re-cut or pull apart the individual seitan pieces to serve.
Grilling option: Pour the barbecue sauce evenly over the strips. Using a large spatula, place the seitan pieces on the grill. Grill for approximately 8 minutes, browning each side and adding more sauce as you turn and cook. Remove from the grill and re-cut or pull apart to serve.
Makes 4 servings