Vegan
The Best Pumpkin Cheesecake Recipe Ever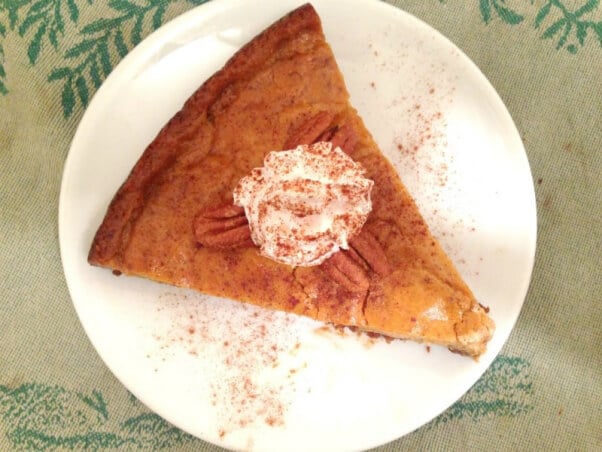 Print
Ingredients
1/2 cup

pecan halves, plus more for decorating

1 stick

vegan butter

2/3 cup

packed brown sugar

1/2 cup

vegan sour cream

1 cup

canned pumpkin

2 Tbsp.

sugar

1 tsp.

cinnamon

Pinch

ground cloves (optional)

Pinch

ground ginger (optional)

Soy whipped topping, for garnish
Instructions
Preheat the oven to 325°F and prepare the egg replacer according to the package directions.
Place the ginger cookies and pecans in food a processor and pulse until fine. Transfer to a 9-inch pie pan, preferably a springform pan.
Melt the vegan butter in a saucepan on low heat. Add to the cookie mix and press into the pan until evenly moist and flat.
Bake for 10 minutes, then remove from the oven and allow to cool.
Using an electric mixer, beat the vegan cream cheese and brown sugar until soft. Stir in the vegan sour cream and pumpkin at a low speed.
Beat one-third of the egg replacer into the mixture, followed by another third of the egg replacer. Add the sugar, cinnamon, cloves, and ginger and mix until well combined. Add the remaining egg replacer and mix well. Pour on top of the crust.
Bake for 45 minutes, then turn the oven off and leave the pie inside until the oven reaches room temperature. Refrigerate for at least 2 hours before decorating as desired, and enjoy!
Makes 6-8 servings