As you may know, July is National Ice Cream Month and July 16 is National Ice Cream Day. (If you didn't know that, you'd better start celebrating ASAP.) As more and more people are going dairy-free, we wanted to ring in the occasion by serving up some recommendations to help satisfy your sweet tooth and help you beat the heat.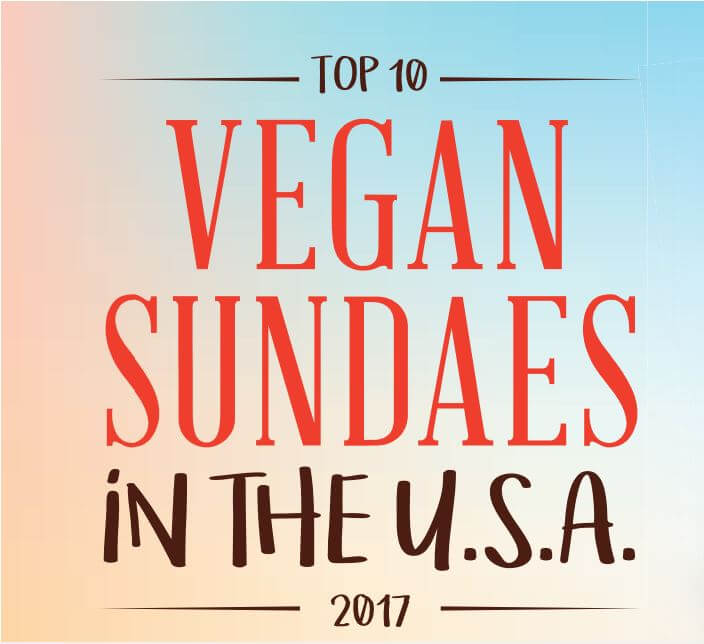 background: © iStock.com/4khz
We've gone beyond "from sea to shining sea," venturing all the way from the shores of Hawaii to Boston to find the most tempting, delicious, and—most importantly—vegan ice cream sundaes in America. Because, after all, there's nothing cute or refreshing about the way that mother cows "scream" for ice cream (or in the production of any other dairy "products"). Vegan ice cream is popping up in more and more restaurants, and those that made our list are pushing the boundaries of what people think of when they hear the word "vegan." Take a look for yourself!
Warning: Don't read this list on an empty stomach—you WILL get hungry.
Fort Lauderdale, Florida
Sublime's Ice Cream Sundae is a tried-and-true (and delicious) classic, but the best part is that it's just one of the many scrumptious desserts that the Florida restaurant offers. Sublime's Chocolate Nirvana cake appeared on our list of the Top Ten Vegan Sweet Treats.
https://www.instagram.com/p/BK6pZ7aAMIz/
Los Angeles
Let your inner child out to party with the PB&J Sundae at Crossroads, made with vanilla bean ice cream, peanut butter caramel, candied grapes, and roasted peanuts.
Crossroads has plenty more top-notch vegan food to offer. It previously appeared on our list of the Top 6 Vegan Fine-Dining Restaurants.
Honolulu
With three locations in Honolulu, Banán serves up beautiful, delicious dairy-free soft serve—which comes in exotic tropical flavors, including Liliko'i (passion fruit) and Roots (beets, ginger, lemongrass, and turmeric), and is made from bananas and ice. We're particularly taken with the stunningly tempting Papaya Boats.
When customizing your order at Banán, just be sure to avoid the honey and bee pollen to keep your sundae vegan.
Palm Beach Gardens, Florida
Christopher's Kitchen is co-owned by critically acclaimed chef Christopher Slawson. Everything in the restaurant is completely plant-based, and the tantalizing Mint Sundae will be more than enough to convince you to stay for dessert after finishing your meal.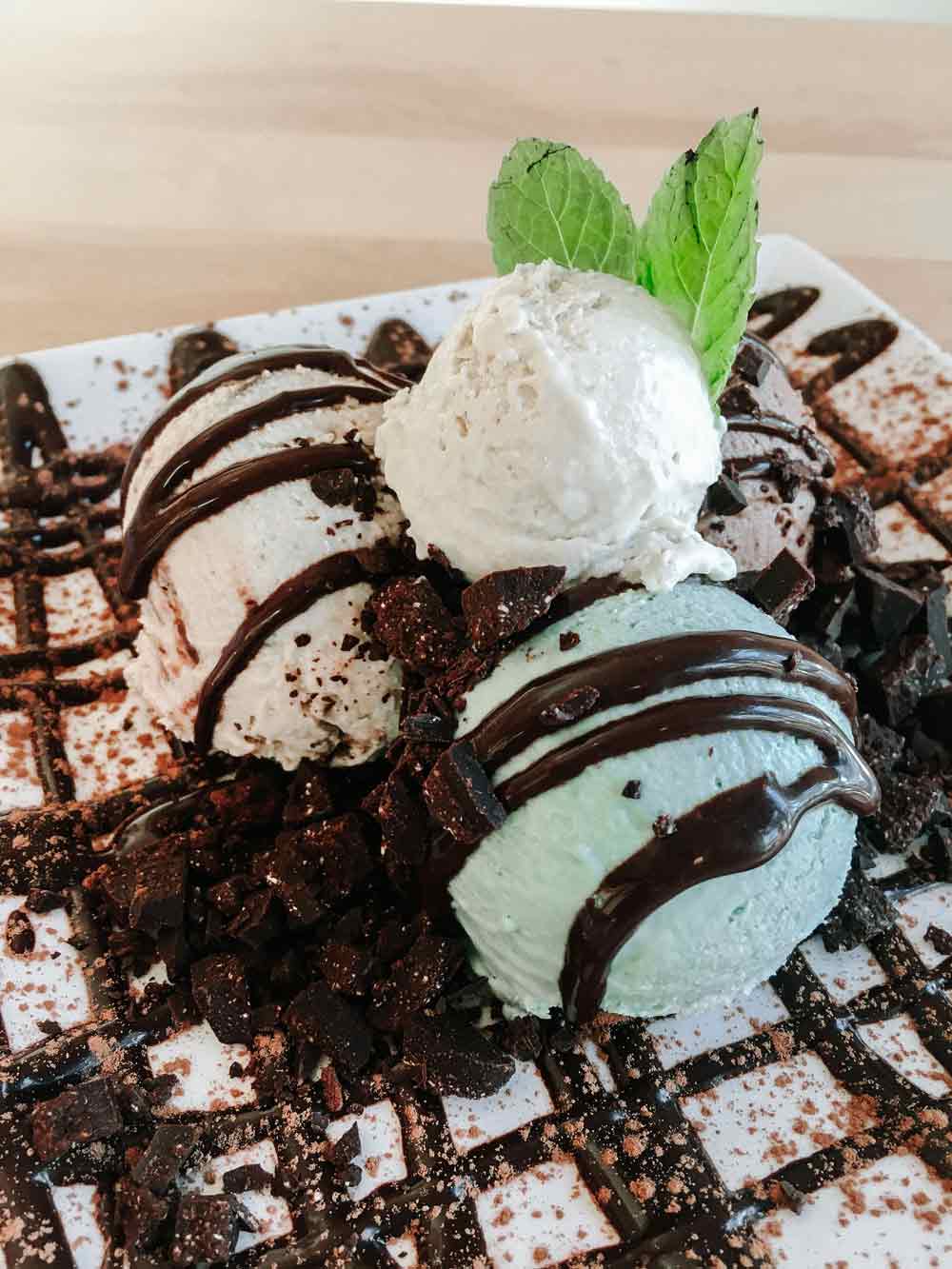 Paige Vuoto
The sundae comes complete with scoops of chocolate, cookies and cream, and mint ice cream topped with a signature chocolate sauce, mint bark, and mint leaf.
Los Angeles
When you order KindKreme's Waffle Sundae, you can pick which delicious flavors you'd like sandwiched between two vegan waffles, which come topped with seasonal fruit and maple syrup. Although a few of KindKreme's flavors are sweetened with honey, you can rest assured that your sundae is free of animal ingredients by simply asking which of the available flavors are 100 percent vegan.
Austin, Texas
Sweet Ritual's Banana Split consists of a caramelized banana topped with three scoops of dairy-free ice cream, such as the coconut milk–based (and rainbow-colored) Unicorn Poop, the fan favorite Rocky Road (complete with vegan marshmallows), and the cashew-based Cubano Coffee. Three toppings—salted caramel sauce, edible glitter, and gummy worms—make the sundae extra-special.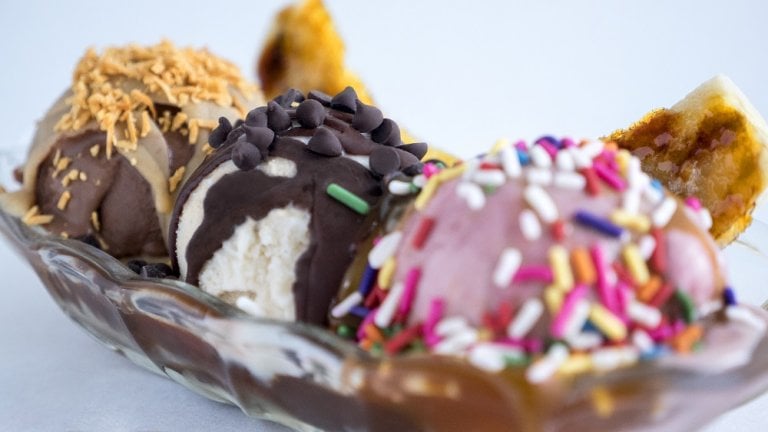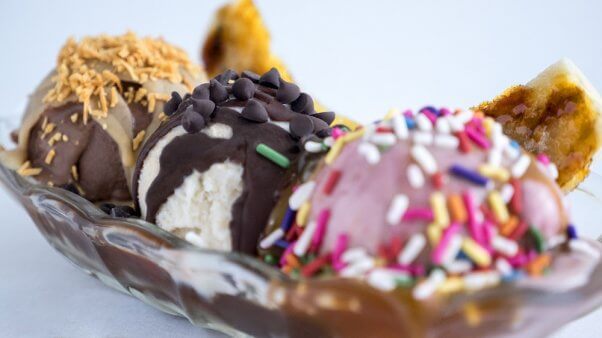 Field Guide Films
Boston
Everything at Veggie Galaxy is made from scratch and can be made vegan. The restaurant's Berry Sundae features vegan ice cream made locally in Boston by FoMu, and it comes topped with blueberry and strawberry sauce as well as coconut whipped cream.
Note: Veggie Galaxy's on-site bakery is 100 percent vegan.
Denver
SNOWLAB offers a variety of dairy-free shaved "snows" that can be customized with some exotic toppings. The Avocado Alps shaved snow certainly piqued our interest—its avocado-flavored snow comes topped with "dragon eyes" (longans) and popping bobas.
Pro tip: Skip the optional drizzle to make your SNOWLAB creation all vegan—it's made from condensed milk.
Seattle
The Call the Dentist Sundae at Cookie Counter immediately caught our eye, and it'll catch yours, too: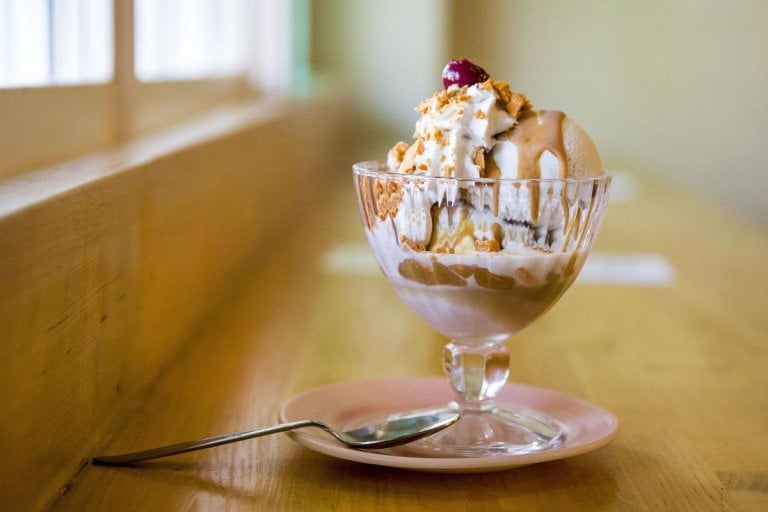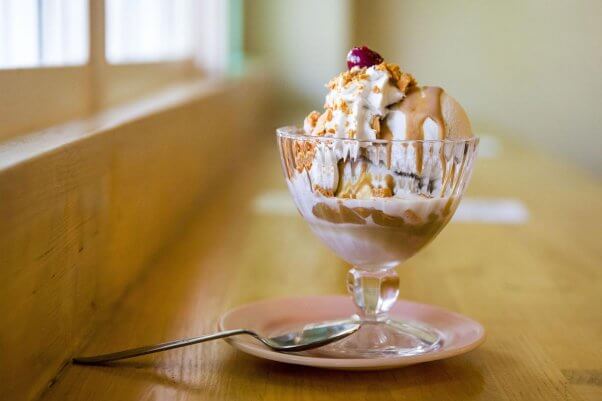 Not only is the all-vegan Cookie Counter an established store front, the company also operates a cool vintage VW Bus Ice Cream Truck, which takes its delectable desserts all over the greater Seattle area.
Portland, Oregon
Forgive our stretching the definition of the word "sundae," but we don't think anyone will be upset by the gorgeous Ice Cream Flight offered by Portland's Virtuous Pie.
You can choose three of the restaurant's many interesting ice cream flavors to include in your Ice Cream Flight. To get the wheels in your mind turning, here are just a few of the available flavors: Turmeric + Black Pepper, Double Chocolate + Salted Caramel, Lavender + Lemon, Mint + Dark Chocolate, and Coffee + Donuts.
*****
Not near any of these restaurants? Never fear!
You don't need to travel the country in order to find vegan ice cream. In fact, there are probably some options waiting for you right now at your local grocery store.
There's never been an easier—or more delicious—time to go vegan. We've got more plant-based recipes than you could ever need, and we're always tracking the latest trends and lifestyle tips to make going—and staying—vegan a total breeze. What are you waiting for?