Beloved Mexican singer, actor, and animal advocate Paulina Rubio has an important message for everyone this holiday season: Animals. Are. Not. Gifts. In her beautiful PETA ad calling for "peace on Earth to all animals," Paulina stars alongside adopted dog Eric and reminds everyone that animals are individuals who require a lot of time and care and should never be given as gifts for any holiday or at any other time of year.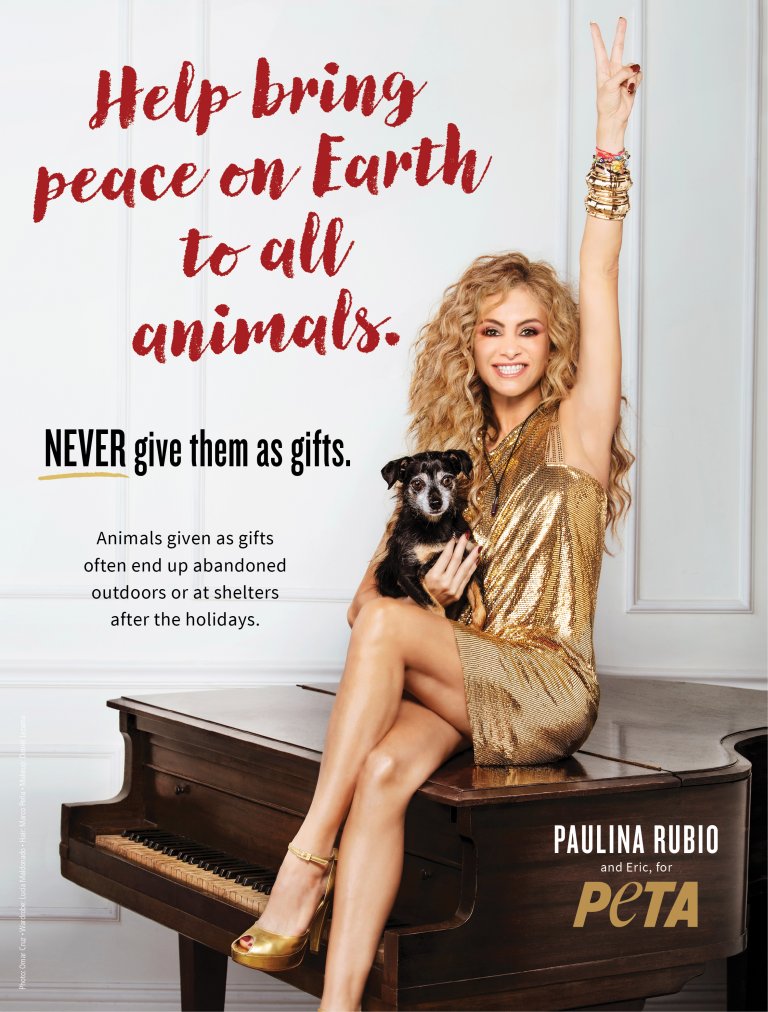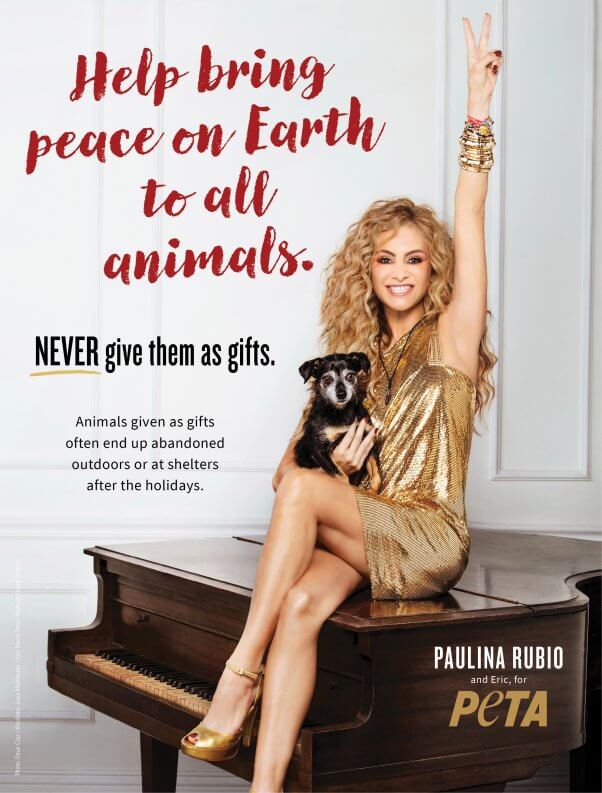 Paulina also donned a holiday sweater (some call it "ugly," but we prefer "quirky") for a video reminding viewers that while a less-than-flattering Christmas gift may seem like the worst possible choice, it's definitely nowhere near as bad as "surprising" someone with an animal companion—a more-than-decade-long commitment—during the busiest time of year. And for an animal, it's likely even more stressful to wind up in a home that didn't choose you and probably isn't prepared to meet all your needs.
"Now, I know that that may sound confusing—this is a PETA PSA after all, and of course, I love animals," the "Tú y Yo" singer explains. "That's actually why I'm here to tell you not to give them as gifts. … Because once the decorations come down and the initial spark of excitement passes, many people realize that caring for an animal is a lot of work. And that leaves many dogs and cats abandoned in the streets or left in an animal shelter."
Paulina collaborated with PETA in the past, talking to fans about the dangers dogs face when they're left in a hot car, even for "just a minute." Her heart is here for animals in both the hottest and coldest months, and PETA is so thankful that this singer is using her beautiful voice to speak up for animals in need all year round!
The Worst Gift You Can Give This Holiday
Adding an animal companion to the family is a serious decision—not an impulsive "surprise," no matter how much someone begs! Every year after the holidays, shelters see a spike in unwanted animals as people find themselves unable to or just uninterested in caring for the surprise puppies, kittens, or other animals they received as presents. Buying an animal from a breeder or pet store also takes a potential home away from a dog or cat at a local animal shelter or responsible adoption group.
How You Can Help
Don't ever give an animal as a gift! If you have discussed the idea with the prospective recipients and know that they have the time, willingness, ability, and resources to care for an animal properly and make that serious commitment, consider offering them a gift certificate to a local animal shelter.
If you attend a fair, a flea market, or another event at which animals are being given away, inform those who are responsible and call local authorities, as in some jurisdictions, giveaways are not permitted or special requirements are in place.
And if you or your loved ones have decided that they're truly ready to bring an animal companion into the family, remember to adopt—never buy them—from an animal shelter or a reputable, trusted foster or adoption program.