Oswald's Bear Ranch—a seedy roadside zoo in Newberry, Michigan, where guests can pay to take photos with bear cubs—considers itself "a place of rescue."
But if the self-proclaimed "rescue refuge" really wanted to "protect" and "educate," the numbers below would be dramatically different. Take a look for yourself:
42
This is the number of captive-born bears currently residing at Oswald's Bear Ranch, according to reports.
Does this look natural to you?

If your answer is "no", take action to help these cubs before it's too late! https://t.co/zxOuFTUAoY pic.twitter.com/derPZ9A2Ug

— PETA (@peta) May 20, 2021
2
Only two bears—Teton and Wyoming—currently residing at the ranch are wild-born orphaned cubs. And only one other wild-born orphaned cub has been placed at Oswald's since 2009.
92
That's how many bear cubs bred in captivity Oswald's Bear Ranch has acquired since 1996, apparently for use in photo ops. Of those 92 bears, 79 were acquired from other roadside zoos or breeders, while 13 were actually born at Oswald's.
79%
This is the approximate percentage of bears acquired by Oswald's as cubs who were bred in captivity, apparently for photo ops, between 1999 and 2019.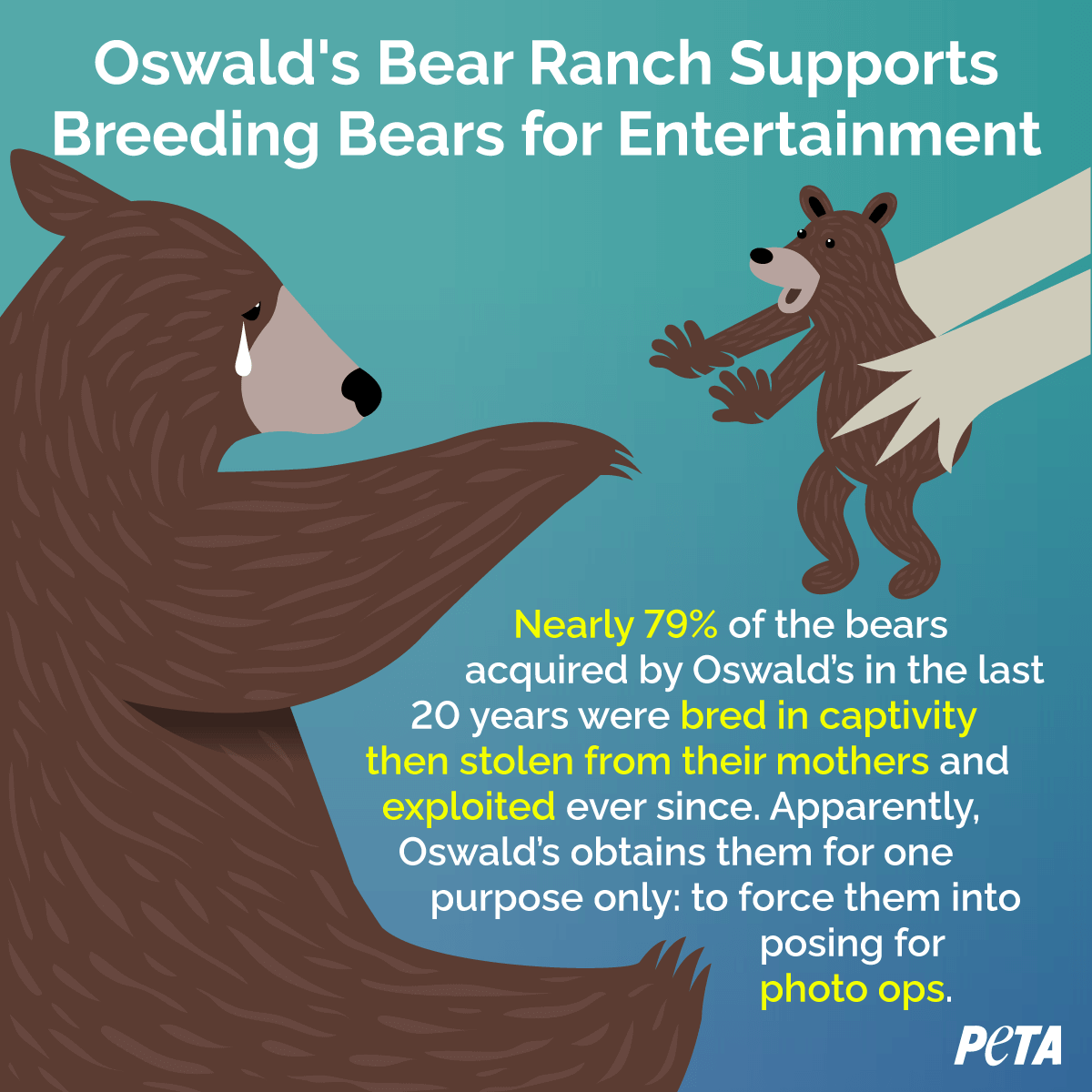 7+
At least six bears at the ranch have been slaughtered and another was killed for being too "mean."
9
Nine bears have apparently been illegally transferred from Oswald's. Three of them were wild-born, government-placed bears from Michigan and Minnesota shipped by Oswald's to a breeding facility in Arizona.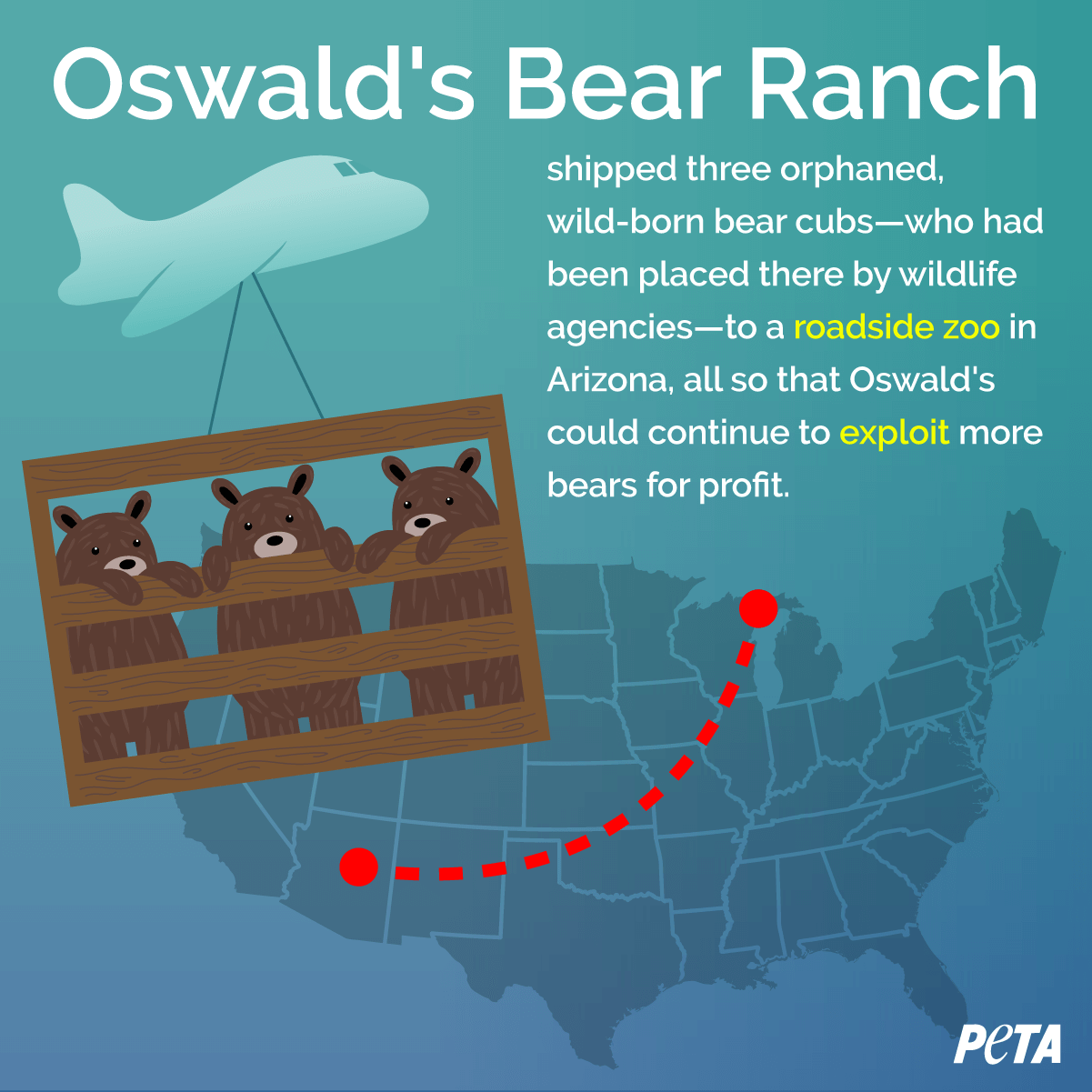 17
That's how many cubs under the age of 2 have apparently died suddenly at Oswald's. Of the 65 bears believed to have died at the ranch, 42 of them have known ages—and none of those lived past the age of 25. (Bears can live into their 30s.) These don't include two slaughtered bears whose ages weren't noted but who were almost certainly killed prematurely.
Causes of death for bears at the ranch have included becoming trapped in a collapsed den and suffering a "drug overdose." Others have been slaughtered or have died suddenly of unknown or undisclosed causes. In April 2019, a juvenile bear named Sophie was shot dead after escaping from an enclosure at Oswald's. Before she was killed, she—along with her cagemates Ashley and Sassy—was captured on video pacing and crying out while confined to a concrete-floored enclosure:
*****
On its website, Oswald's Bear Ranch misleadingly portrays its U.S. Department of Agriculture (USDA) status as "A+," when in fact, the facility has been cited by the USDA multiple times, including for the following:
Using physical abuse (striking a bear cub twice during guest photo ops)
Letting young children hand-feed the bears, posing an unnecessary risk of injury
Allowing a guest to be scratched by a bear cub, resulting in an infected wound (According to state records, the visitor had to go to the hospital.)
Feeding restaurant scraps too high in fat to the bears, some of whom appeared overweight
Confining bears to a nonsecure enclosure, which allowed at least two to escape, one of whom (Sophie) was shot and killed when she was found days later (Then Oswald's lied about the circumstances surrounding her death and was ordered to pay a $2,400 penalty to settle an administrative complaint with the USDA over the alleged violations.)
The USDA isn't the only agency that's called Oswald's out for being dangerous and cruel. The Michigan Occupational Health and Safety Administration concluded that the facility's employees are placed at risk of death or serious injury because the roadside zoo allows direct contact between inherently dangerous adult bears and staff.
In 2013, Oswald's misled lawmakers to believe that it regularly received cubs from the Michigan Department of Natural Resources (MDNR), but the agency hadn't placed cubs at the facility since 2005, as a matter of policy. Bears at Oswald's have also allegedly been shot with paintball guns in an unregistered experiment to test how long paint would stay on their hair, a practice that MDNR considered "harassment."
*****
76
Since 2012, PETA has helped actually rescue 76 bears from dire situations, and that number will keep growing until no bear is forced to perform for cruel photos ops, as those at Oswald's Bear Ranch are. Ben and Bogey, for example, were transferred to The Wild Animal Sanctuary in Colorado—a real wildlife sanctuary—where they're able to climb, dig, and run.
The Wild Animal Sanctuary and other legitimate sanctuaries like it don't offer bear photo ops or allow guests to play with cubs—they're focused on the animals' well-being, not on making a quick buck.
The 44 bears currently at Oswald's deserve better than to suffer at a death trap.
Help PETA save more bears from cruelty and neglect! Click below to call on Oswald's to send the bears to reputable, accredited sanctuaries before more of them die:
Urge Oswald's Bear Ranch to Send Bears to Reputable Sanctuaries