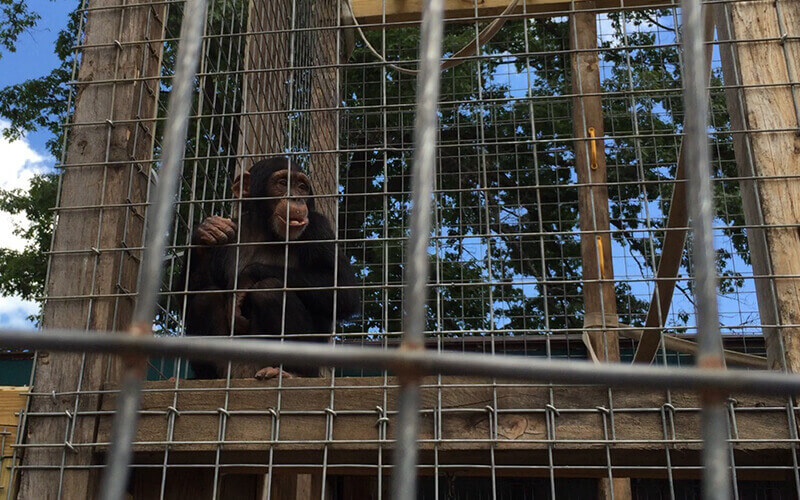 In the Upper Peninsula of Michigan, there's a dreadful roadside zoo called the DeYoung Family Zoo, where chimpanzees—including a young, energetic one named Louie and, reportedly, an adult named Tommy—are confined. Louie was shipped to Michigan as an infant, and rather than growing up with his mother, he was forced to be a prop for photo ops at the roadside zoo. Tommy was kept in a small trailer park in New York before he was transported to the DeYoung Family Zoo. It's time for Louie, Tommy, and all other chimpanzees at DeYoung to get the space to roam, the complex enrichment, and the care that they need at an accredited sanctuary.
Chimpanzees live in large groups in the wild. Youngsters wrestle with and playfully chase each other and follow their mothers around everywhere while they learn how to find food and make tools. They aren't weaned until they're 4 or 5 years old, and male chimpanzees never leave the group that they're born into, so the mother-son bond is extremely strong. Louie was never afforded the opportunity to know his mother, and just like humans, he and other chimpanzees are capable of suffering from loneliness, frustration, and depression. When he grew too big to be used for photo ops, the DeYoung Family Zoo put him on display for gawking tourists.
[peta-video youtube="OcsE9WKYW6A"]
Louie, Tommy, and all other chimpanzees confined at the DeYoung Family Zoo deserve a chance at a sanctuary life—like Iris, who was once isolated in a roadside zoo but now enjoys space to roam and the companionship of her chimpanzee friends at Save the Chimps.
Speak up today and urge the roadside zoo to release the chimpanzees to accredited sanctuaries, where they could enjoy dynamic social stimulation, an abundance of enrichment, and ample space in which to roam, climb, and play outdoors year-round.
Email Polite Comments to the DeYoung Family Zoo
Please feel free to use our sample letter, but remember that using your own words is always more effective.