When he isn't on the set of his hit Netflix series, Elite, Miguel Bernardeau is most likely riding the barrel or pulling off a 360. An avid surfer, who frequently documents his moves on Instagram, Miguel thrives on the freedom of being out on the open ocean. That's why the Spanish star teamed up with PETA and famed photographer Michael Muller to create an ad urging his fans to boycott SeaWorld and other marine parks, where "freedom" is not an option for the animals imprisoned there.
"People my age, we don't want to see animals in captivity," says Miguel. "We want to keep orcas and dolphins in the ocean, where they belong …. Animals are not ours to use for entertainment."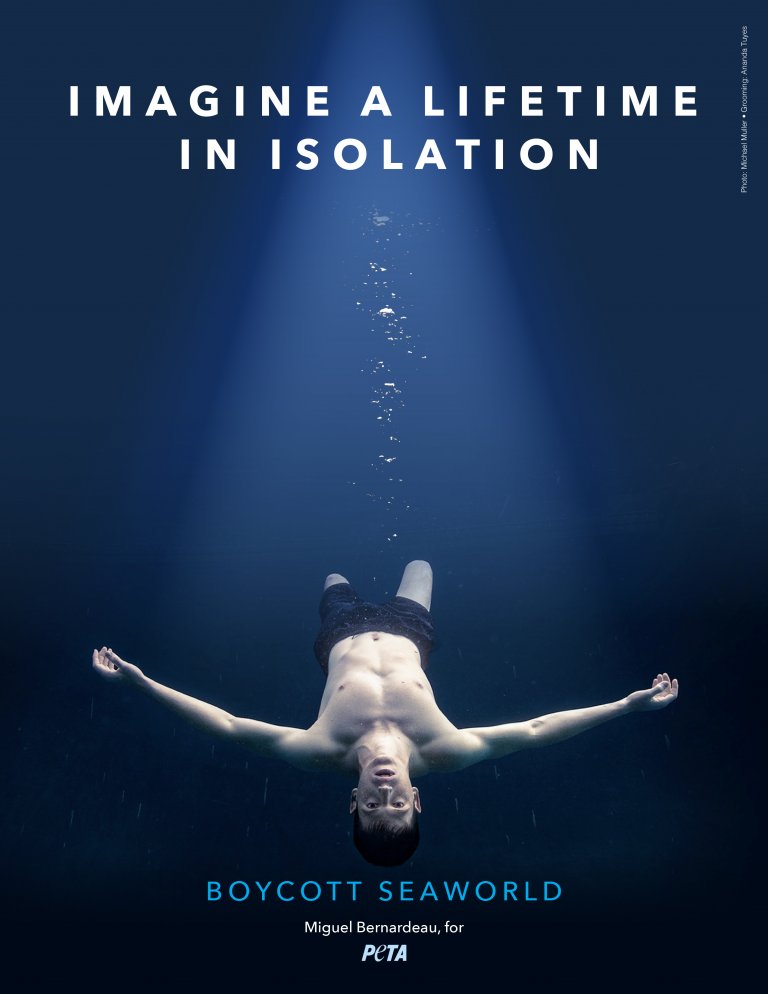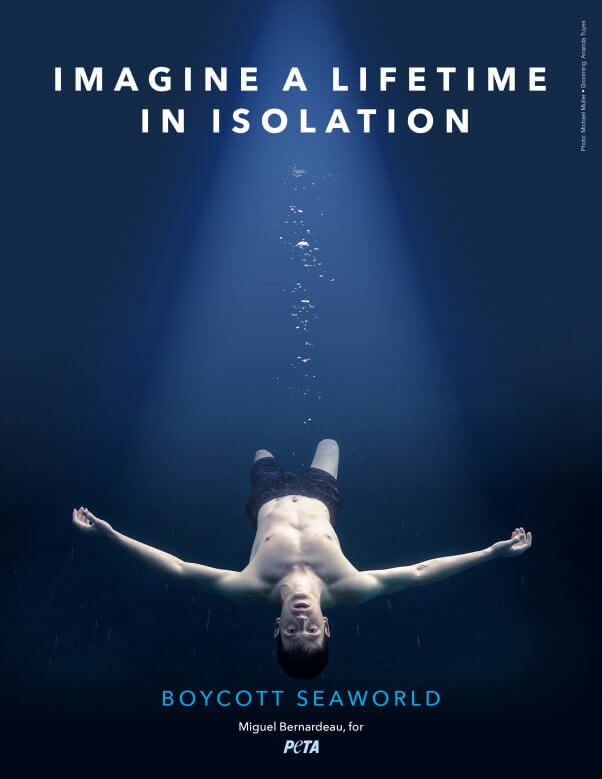 In a behind-the-scenes PETA interview, Miguel sympathizes with orcas and other dolphins, who typically swim miles and miles a day in open waters but are forced to live in cramped, barren tanks in captivity.
Miguel goes on to say that his surfing buddies are like a second family—"and the best part is I get to choose them." Orcas and other dolphins also have families—in the ocean, they live in large, socially complex pods—but those in captivity are commonly kept in incompatible groups, which often leads to fighting, injuries, and even death.
Captivity Kills
More than 40 orcas have died on SeaWorld's watch—many far short of their natural life expectancy. And let's not forget the more than 300 other dolphins and whales and approximately 400 pinnipeds who have also lost their lives at SeaWorld. An orca named Tilikum, who was the subject of the groundbreaking documentary Blackfish, died in 2017 after nearly three decades of confinement at SeaWorld. Tragically, death was the only way he was able to escape a life of imprisonment.
Orcas are a highly intelligent and social species, and they often stay with their families for life. They work together to search for food, and in some populations, they rarely leave their mother's pod. In nature, orcas dive deep and swim up to 140 miles a day—neither of which is remotely possible when they're imprisoned at SeaWorld. Dolphins, who are still forced to perform tricks at SeaWorld, have extremely complex communication signals and enviable memories.
Tell SeaWorld 'Time's Up': A Seaside Sanctuary Is in the Works!
Exciting news: The Whale Sanctuary Project has announced plans to build a 40-hectare seaside sanctuary for rescued orcas and beluga whales in Nova Scotia, Canada. PETA wasted no time in urging new SeaWorld CEO Sergio D. Rivera to do what his predecessors failed to do: Retire the orcas and belugas held captive at the parks and let them move to a true sanctuary that can give them some semblance of the life that was stolen from them.
Urge SeaWorld to Send Dolphins and Whales to Seaside Sanctuaries