Published by .
In 2013, Tilikum, who was one of the more than 20 orcas then held captive at SeaWorld, reached celebrity status worldwide as the subject of the stunning documentary Blackfish. The stardom (his) and infamy (SeaWorld's) that followed put an important spotlight on his sad life, and his recent death was the culmination of a miserable lifetime of confinement, making it all the more tragic. Celebrities from all fields—including actors, musicians, athletes, and politicians—took to social media to express their sadness over his captivity and death, and some said they were grateful that he's finally free:
Fuck sea world. RIP #Tilikum

— James Arthur (@JamesArthur23) January 6, 2017
Heartbreaking 2 hear #Tilikum has passed away. Finally he is free from the slavery he endured. Fly high my love @blackfishmovie @peta

— Patti Stanger (@pattistanger) January 6, 2017
This is awful!!!! An incredible intelligent animal dying at 36 years old…. they should live double that. #RIPTilikum #BoycottSeaworld https://t.co/f29j5x618x

— Josh Cuthbert (@JoshCuthbert) January 6, 2017
Wow. This whale has been through a lot, if you don't know what I'm talking about watch the documentary on NETFLIX. https://t.co/1FGuTDN1gw

— A.i (@iSpeakComedy) January 6, 2017
#BoycottSeaWorld #RIPTilikum 🐳❤

— Lucy Watson (@imLucyWatson) January 6, 2017
I feel so much pain for animals in captivity, my heart hurts so badly. I'm so sorry #Tilikum. I love you, I had a dream we saved you

— Sarah Jeffery (@sarahjeffery) January 7, 2017
Beloved #SeaWorld orca & Blackfish documentary subject #Tilikum passes away at 36 https://t.co/055Eu2OSlY pic.twitter.com/gVWuJpv46u

— Perez Hilton (@PerezHilton) January 6, 2017
RIP Tilikum

— Odell Beckham Jr (@obj) January 7, 2017
Let's hope so. #RIPTilly https://t.co/4D9MfITQsL

— Holly Marie Combs Ryan (@H_Combs) January 6, 2017
Very Sad. 🙁 https://t.co/VblelREoeF

— Shanna Moakler (@ShannaMoakler) January 7, 2017
#Tilikum the Orca from #Blackfish has died. Pls support Bill S-203 to end whale captivity in Canada. My speech: https://t.co/ssX9ndyNvN https://t.co/yWwCdwQbO9

— Sen. Wilfred Moore (@SenWillyMoore) January 6, 2017
Even in the years before Tilikum's death, celebrities—propelled by Blackfish and his story—used their expansive reach on social media to echo the public's growing sentiment that keeping orcas in captivity is reprehensible:
Please watch BLACKFISH #befree 👱❤️🐳

— Miley Cyrus (@MileyCyrus) November 20, 2013
Thx. Very serious topic. #FreeTilly #Blackfish RT @TramsAndTea: You are such a bad-ass intelligent man. Really loved you on tonight's show.

— Van Jones (@VanJones68) October 25, 2013
@SeaWorld Yeah we all noticed about two years ago. Assholes. #Tilikum #Blackfish

— Holly Marie Combs Ryan (@H_Combs) March 10, 2016
Ahhh man, all of these @SeaWorld heads like @SeaWorldTexas's Carl Lum are such scum bags… https://t.co/rXP7Rtcw5v #Blackfish

— ERIC BALFOUR (@ERICBALFOUR) October 4, 2016
Just seen the incredible #Blackfish documentary. DON'T GO TO SEAWORLD. I want to set the orcas free. #FreeTilly

— Lucy Watson (@imLucyWatson) October 12, 2013
Compassionate people everywhere are pushing SeaWorld to begin the process of releasing the orcas it holds captive into coastal sanctuaries, where they could have some semblance of the natural life that the marine park has denied them.
Only in death is Tilikum finally free. But for the other orcas stuck in abusement parks, there's still a chance for a happy ending. Use the link below to join us in pushing SeaWorld to do right by these long-suffering animals and release them into seaside sanctuaries—and encourage your friends and family to do the same. Let's hope Tilikum's death is the last for exploited orcas.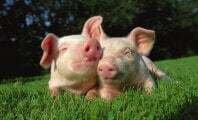 Order Your FREE Vegan Starter Kit