Travis Barker makes a lot of wonderful noise on stage for the world to hear as the drummer for blink-182. The longtime vegan and his vegetarian daughter, Alabama, sat down with PETA for an exclusive interview and raised their voices for animals by explaining why they don't eat them, how other aspects of their lives reflect their love and respect for them—and exactly how a pig plays into the equation.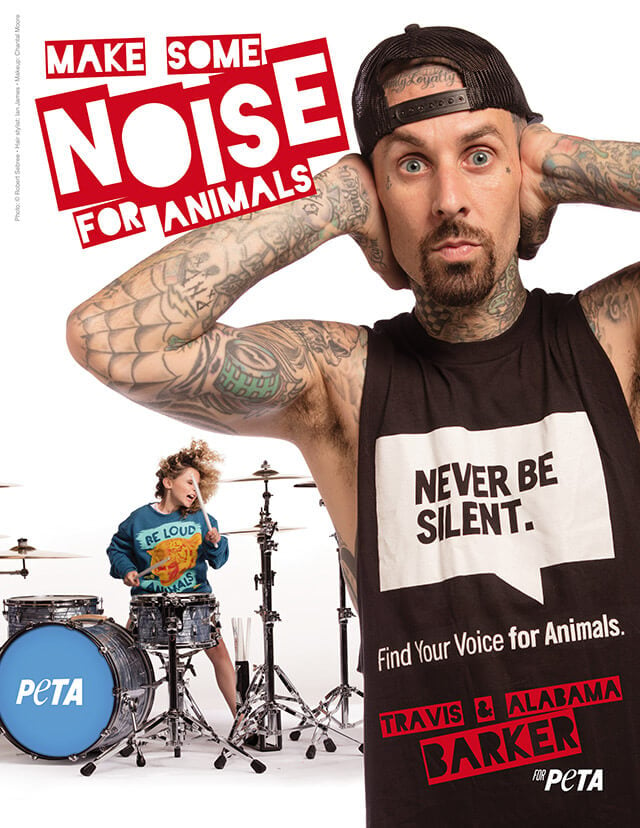 They believe that it's our duty to help animals in need and keep them safe, as we can't assume that someone else will. When animals suffer, they can't ask for the abuse to stop—that's our responsibility.
Join Travis and Alabama: Pledge to be loud for animals.
There are many things that you can do to make your voice heard. Looking for inspiration? Here are some easy ways that you can help animals:
Speak up if you see a "backyard dog": Check out some simple tips for helping dogs in your area who are forced to live outside.
Join PETA's Action Team: Help local activists around the world organize for animal rights.
Order leaflets and pass them out: Grassroots work is essential to the success of the animal rights movement.
Tell all your friends about the importance of getting companion animals spayed and neutered: It's the most effective way to combat the homeless-animal overpopulation crisis and prevent cats and dogs from suffering and dying.
Order some PETA merchandise so that you can be loud without saying a word: Stock up on animal-friendly items, such as classic PETA T-shirts and activist literature.
Request a free vegan starter kit for someone you know: Help your friends and family members take the first step toward going vegan by ordering them a copy of our free guide to healthy and humane eating.
Share Travis and Alabama's video on Facebook and Twitter.