Do you know how to spot an animal hoarder? Many operate as self-proclaimed animal "rescues" and are often directly aided by the unknowing public. Learn the signs of animal hoarding and how you can help animals.
What Happens When Animals Are Hoarded?
During an undercover PETA investigation, dead animals were found strewn throughout the property—and dying animals were hoarded inside a trailer called the "sick ward"—at Caboodle Ranch Inc., a disingenuously self-named "cat rescue sanctuary" in Florida. Based on PETA's evidence, officials seized the animals there and charged its founder and operator, Craig Grant, with felony and misdemeanor cruelty to animals and a scheme to defraud. Approximately 700 cats were rescued from the property.
Another gut-wrenching scene reportedly greeted authorities when they raided Tiggy Town Rescue—a shoddy animal "rescue" group in Arizona that operated out of its owner's home. According to news reports, six dead dogs were stuffed in the kitchen trash can. The skeletal remains of another dog littered the living room. Animals' skulls were strewn around the bedroom. Nearly every inch of the floor was covered with feces. The stench was so pungent that neighbors could smell it from the sidewalk.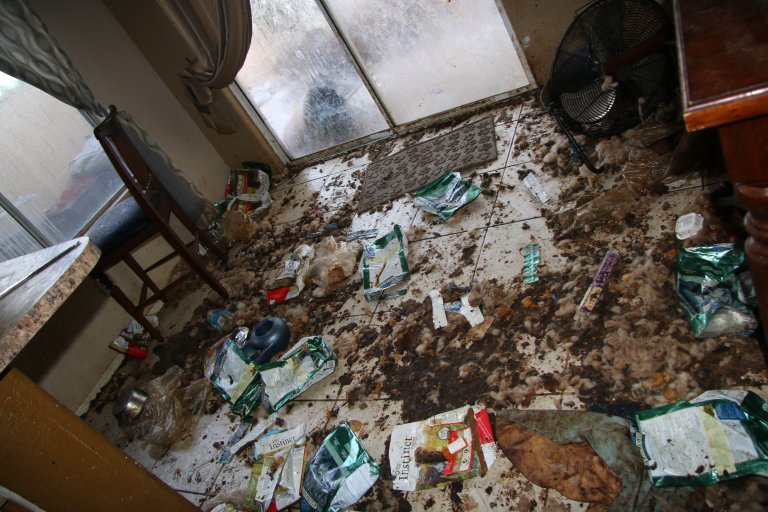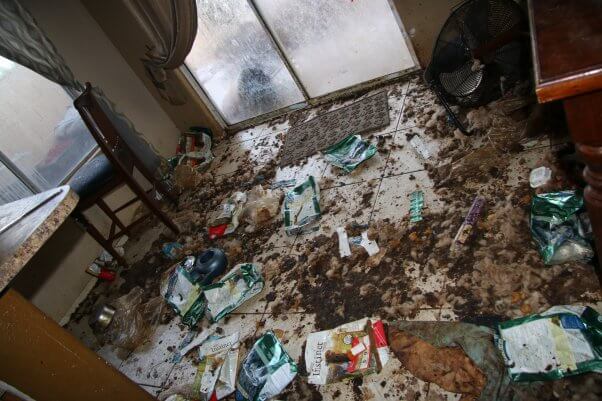 Amid this squalor, 12 dogs and five cats had somehow managed to survive—barely. All of them were reportedly found in extremely poor health and in desperate need of veterinary care. Many were emaciated. In desperation, they had apparently resorted to cannibalizing the corpses of animals who had died.
How Widespread Are Hoarding Cases at 'Rescues'?
It's estimated that as many as 250,000 animals are taken in by hoarders each year. According to the Animal Legal Defense Fund, hoarding is "the number one animal cruelty crisis facing companion animals in communities throughout the country." Many animal hoarders have also been charged with abusing children, the elderly, and other vulnerable individuals.
Hoarded animals are typically denied adequate food, water, shelter, veterinary care, and basic hygiene—not to mention socialization, affection, and respect. Parasites and diseases spread like wildfire in crowded, filthy living conditions. Because hoarded animals often aren't spayed or neutered, either their numbers multiply exponentially or they're confined to small cages, carriers, kennels, bathrooms, basements, sheds, garages, or kitchen cabinets.
Dogs, cats, and other animals who are brought in by hoarders suffer emotionally and physically when they're kept in cages and deprived of basic care, like clean food, water, and proper living conditions.
How to Spot a Hoarder
Well-meaning people contribute to the hoarding problem by donating or giving animals away to people who claim to operate "rescues," sanctuaries, "no-kill" shelters, or hospices without checking references or doing any research. If you must find a home for an animal, always follow PETA's guidelines.
Animals may suffer in horrific conditions for years because hoarders are notoriously secretive and because neighbors "don't want to get involved" or "don't want to get anyone in trouble." But the only hope for these animals lies with concerned people who report suspected abuse and neglect. Be a nosy neighbor, and you could save many lives.
Keep an eye out for the following warning signs of hoarding:
Homes that are unkempt, are in disrepair, have overgrown yards, or appear to be abandoned but where animals can be heard inside
Houses where there are animals who are heard but rarely seen—or ones with many animals sitting in the windows
Windows that are kept closed with the shades always drawn or with flies gathering inside them
Homes with strong, persistent odors of waste and decay
Homeowners who refuse to open the door to visitors and meet people outside instead
Multiple cats and kittens roaming the property
Multiple dogs confined on chains outside, or roaming after escaping from the property and/or animals who are suffering from infections, injuries, or malnutrition
If you notice some of these red flags, please don't hesitate—call the police. Don't give up until you get results, and contact PETA if you encounter resistance. Please, never be silent.