Angel's Gate, Inc., is a self-proclaimed animal "hospice and rehabilitation center" that promises guardians that "special needs animals" will "live out their days in peace, dignity and love." But a new PETA undercover investigation has revealed shocking, systemic, and sometimes fatal neglect of the animals taken to this deceptive Delhi, N.Y., facility. PETA has submitted a formal complaint to the local prosecutor and is calling for a criminal investigation and immediate veterinary assessment of all animals still languishing at Angel's Gate. PETA has also turned over evidence to the federal Drug Enforcement Administration and to various New York State regulatory officials.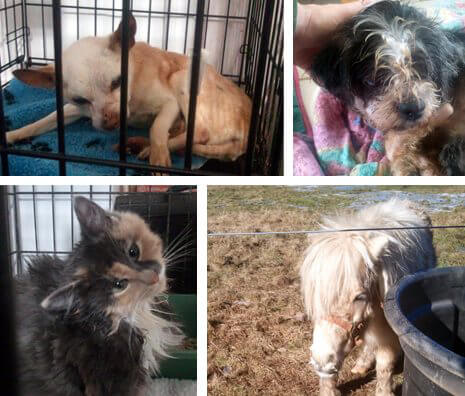 PETA's investigation found that Angel's Gate executive director Susan Marino kept animals in crowded, inhumane conditions, leading to fights over space and food and injuries that were then left untreated. Animals were denied veterinary care and medications for pain, seizures, tumors, infections, and open wounds; one such animal, Malcolm, was left to deteriorate for roughly two weeks, until he could not stand, walk, or eat, before he finally died. Despite the availability of wheelchair carts, Marino forced paraplegic dogs to drag themselves around. Animals who needed to have their bladders expressed were placed in diapers until they urinated on themselves, resulting in urine scald. A miniature horse at the facility, Mimi, died after she was denied treatment for severe respiratory distress. Months after Mimi's death, Marino is still soliciting donations for the horse's care on her website.
Please take a moment to e-mail Delaware County District Attorney Richard Northrup Jr. and politely ask him to investigate Angel's Gate, get immediate help for the animals there, and file suitable cruelty-to-animals and other criminal charges against Susan Marino.
And please promise your animal companions today that you will always be there for them, especially in the most difficult times of their lives. They depend on us to prevent and alleviate their suffering; when veterinary care cannot provide that, please give them the relief and dignity of humane euthanasia. Shipping animals off to a facility in the hope that they will die there peacefully fails them, as this investigation clearly shows.
Written by Paula Moore