Way before Tiger King hit number one on Netflix and 100% on Rotten Tomatoes—about two decades before, actually—PETA was sounding the alarm on notorious animal exhibitor Joe Exotic for abusing animals and fueling the cruel cub-petting industry. In fact, before he fled the Greater Wynnewood Exotic Animal Park, PETA helped rescue 39 tigers, three bears, two baboons, and two chimpanzees from his hellhole roadside zoo—and we're happy to report that all of them are now thriving at reputable sanctuaries.
Now that everyone—including celebrities—is staying home to help curb the spread of the new coronavirus, binge-watching is at an all-time high. And that means millions of people are getting a look at the abuse and exploitation of animals at roadside zoos across the country—and they're taking to social media to talk about it.
Here are some of the biggest celebrities talking about Tiger King and promoting conversations about the suffering that big cats and other wild animals endure when they're exploited for tourist traps:
Actor and writer Lena Dunham shared a sweet message from her mom, who clearly knows that the tigers are the real victims in Tiger King:
Text from my mother: By the way we stopped watching tiger came because there are no nice people except the Tigers. #TigerKing

— Lena Dunham (@lenadunham) April 11, 2020
Model Ireland Baldwin suggested that instead of a series focusing on animal abusers, someone should create a documentary highlighting the people and places that actually help animals: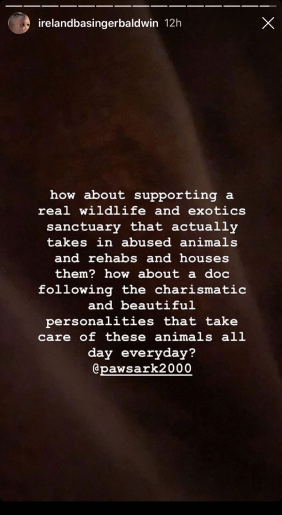 Reality star Amy Hart called for roadside zoos and SeaWorld to be shut down:
I couldn't believe that everyone was more concerned with dressing up as Joe rather than the horrendous life these cats have. These, along with seaworld, need to be shut down. https://t.co/DgOIi5PNjt

— Amy Hart (@amyhart1707) April 14, 2020
Riverdale star and proud vegan Madelaine Petsch shared a statement against keeping tigers in captivity with her 19 million Instagram followers:
https://twitter.com/peta/status/1247964689478365191
TV host and comedian Ellen DeGeneres told her 80 million Twitter followers that no one should be breeding tigers:
Everyone has an opinion about "Tiger King," including me. pic.twitter.com/vz8X2AaoW3

— Ellen DeGeneres (@TheEllenShow) April 7, 2020
Model Joanna Krupa joined PETA to speak out against all kinds of cruelty to animals—and now, she's supporting our work to take down animal abusers like those depicted on Tiger King:
Actor Shannon Elizabeth knows that there's nothing more heartrending than watching a newborn tiger cub being torn away from her mother, and she encouraged her followers to support the Big Cat Public Safety Act:
Actor and model Bo Derek knows Tiger King isn't entertainment—it's about animal abuse:
Please call on #Congress to pass #bigcatpublicsafetyact #tigerking is not entertainment, it is about #AnimalAbuse. Nobody should own, posses, sell, breed or have any access to #bigcats Join champion @repmikequigley and call your rep today 202-225-3121! #hr1380 #tigerkingnetflix pic.twitter.com/V6YWrp75OR

— Bo Derek (@boderek) April 7, 2020
Five minutes into Tiger King, actors Emily Osment and Valerie Bertinelli were already in tears after seeing horrendous cruelty to animals on screen:
made it five minutes into Tiger King and then they showed an exhausted looking snow leopard in a very small cage in the back of a very hot van and i burst into tears. so yeah. not the show for me.

— Emily Osment (@EmilyOsment) April 1, 2020
https://twitter.com/Wolfiesmom/status/1245108899771899905
After watching Tiger King, actor Josh Gad put a call out to end the imprisonment of big cats and other wild animals:
When all this is over, can we please stop imprisoning big cats and other exotic animals even if we are goofy crazy, entertaining funny psychos? pic.twitter.com/u8HkLQwHDC

— Josh Gad (@joshgad) April 1, 2020
Celebrity veterinarian Dr. Evan Antin encouraged fans to take the initiative and do their own research into the dark, abusive world of cub petting—and always #SayNoToCubPetting:
Millionaire matchmaker Patti Stanger encouraged her followers to get PETA's side of the story:
Tweets this is something worth watching. Animals like this do not belong in cages let alone private zoos where they are abused? Starved or taken from thier mothers. https://t.co/adwIVWDECw

— Patti Stanger (@pattistanger) April 7, 2020
Vegan athlete and influencer Dominick Thompson knows that the real victims in all this are the tigers:
Author Patrisse Cullors said watching Tiger King and seeing how badly animals suffer at roadside zoos turned her into an animal rights activist:
Just finished watching @netflix #TigerKing. Honestly I an now an animal rights activist. So fucking sad and devastating what these animals have been through.

— patrisse cullors (@OsopePatrisse) April 1, 2020
Pop star Kesha, who joined PETA's campaign blasting Canada's shameful seal slaughter, told her fans that she's been watching Tiger King while in quarantine.
I've been watching tiger king that has been quite possibly be one of my favorite television shows I have ever seen. Last night I watched the original suspiria. Highly recommend it https://t.co/2xOMEds16Y

— kesha (@KeshaRose) March 27, 2020
PETA pal Justin Long weighed in on the Joe Exotic casting debate.
Sorry @daxshepard but I think Christopher Guest might have to play #JoeExotic – why not get your paws on the role of Erik Crowie??

— Justin Long (@justinlong) March 27, 2020
Comic book artist Adam Ellis doesn't have time for cruelty to animals—and neither do we.
Tiger King just seems like a lot of animal cruelty and I don't have time for that

— adam ellis (@moby_dickhead) March 30, 2020
British reality TV star Rykard Jenkins empathizes with all the animals suffering at the roadside zoos depicted in Tiger King.
I feel bad for these Tigers & wildlife all locked up. In my opinion all the owners & everyone involved should be locked up and all Zoo's/Sanctuary's should be shut down. #TigerKing

— Rykard Jenkins (@ItsRykard) March 29, 2020
Filmmaker Freddie Wong showed support for legislation protecting big cats.
My takeaway from Tiger King was that Carole was far and away the most reasonable person who's trying to enact legislative change (which pisses off a bunch of people). It's wild to find that the collective internet appears to disagree with me.

— fwong (@fwong) March 31, 2020
Modern Family star Jesse Tyler Ferguson promoted the docuseries to his more than 1 million Twitter followers.
The twists and turns of The Tiger King is truly incredible. What a docuseries! I'm happy to be considered to play Joe Exotic someday.

— Jesse Tyler Ferguson (@jessetyler) March 27, 2020
Never missing an opportunity to speak up for animals, comedian Whitney Cummings showed her more than 1 million Twitter followers what a real sanctuary looks like.
if you watched #TigerKing and are interested in learning more please watch this. https://t.co/FvTTM485ru

— Whitney Cummings (@WhitneyCummings) March 24, 2020
Jared Leto, who was crowned PETA's Sexiest Veg Celeb in 2014, made sure to tell his 4.4 million Twitter followers that tigers do not belong in roadside zoos.
For the record no one should keep these animals in cages like this. Not ok. We need to protect exotic / endangered animals and their wild habitats @WWF

— JARED LETO (@JaredLeto) March 27, 2020
The disturbing documentary made influencer Hayes Grier tweet about animal liberation.
this tiger king show makes me want to break every tiger out of captivity and just let them run free

— Hayes Grier (@HayesGrier) March 25, 2020
Reality star Kim Kardashian West called Tiger King "crazy"—to which we say, that's an understatement (but thanks for sharing, Kim).
Has anyone seen Tiger King on Netflix?!?! It is crazy!!!!

— Kim Kardashian West (@KimKardashian) March 22, 2020
When asked what she was watching these days under quarantine, pop star Selena Gomez recommended Tiger King.
We're just gonna leave this tweet from influencer Lauren Toyota right here.
https://twitter.com/laurentoyota/status/1243028372902391809
Actor Dax Shepard is vying to play real-life villain Joe Exotic in a Tiger King biopic.
If I don't get cast as Joe Exotic in the eventual biopic, Hollywood is broken.

— dax shepard (@daxshepard) March 26, 2020
Crowned PETA's 2016 sexiest vegan celeb, singer Jhené Aiko continues to be all about animals in 2020.
https://twitter.com/JheneAiko/status/1242887067127832579?s=20
Actor and PETA pal Daniella Monet lost sleep watching the troubling docuseries.
Actor Awkwafina concluded her heartfelt Instagram post with some comedic levity, writing, "I will be locking myself up for the next 2 weeks rewatching … Tiger King."
Reality star and PETA supporter Holly Madison is in for a sad, wild ride if she keeps watching.
Currently on the second episode of Tiger King. There's no WAY this can get weirder. Does it?

— Holly Madison (@hollymadison) March 25, 2020
NFL player J.J. Watt watched the doc with his pups and called the series "bananas."
Watching Tiger King with Kea and the pups. https://t.co/M9LkNoxmgw

— JJ Watt (@JJWatt) March 25, 2020
Tiger King left comedian Michelle Wolf wondering about the tigers' perspective in all this.
After watching tiger king, all I can think is tigers must be like, "humans are fucking weird"

— Michelle Wolf (@michelleisawolf) March 23, 2020