Update: January 22, 2020
Joseph Maldonado-Passage, aka "Joe Exotic," has been sentenced to 22 years in federal prison. Today, he received a nine-year sentence for each of his two murder-for-hire convictions and four years for crimes against wildlife, which included trafficking in endangered animals and killing tigers to make more room in the cages at his ramshackle roadside zoo. PETA is calling on the U.S. Department of Justice to ensure that other wildlife abusers and traffickers who sentence animals to a lifetime of cruelty without the possibility of parole follow in Joe Exotic's prison-bound footsteps.
Updated on April 2, 2019: 
Today, Joseph Maldonado-Passage—aka "Joe Exotic"—was found guilty of two counts of murder-for-hire as well as 17 federal wildlife charges, including killing five endangered tigers in October 2017. According to reports, he faces a potential sentence of more than 20 years in prison. The notorious animal abuser has been on our radar for years as the primary supplier of big-cat cubs for the cruel cub-petting industry. We've already succeeded in getting 39 tigers, three bears, two baboons, and two chimpanzees out of his hands and into reputable sanctuaries. The world will be a safer place for all living beings with this man behind bars, where he can no longer harm animals or the animal advocates he hanged in effigy.
Originally posted on September 11, 2018:
A federal grand jury has indicted notorious big-cat breeder and roadside zoo operator Joseph Maldonado-Passage, who likes to go by the name "Joe Exotic," for allegedly orchestrating a murder-for-hire plot targeting a big-cat advocate and rescuer.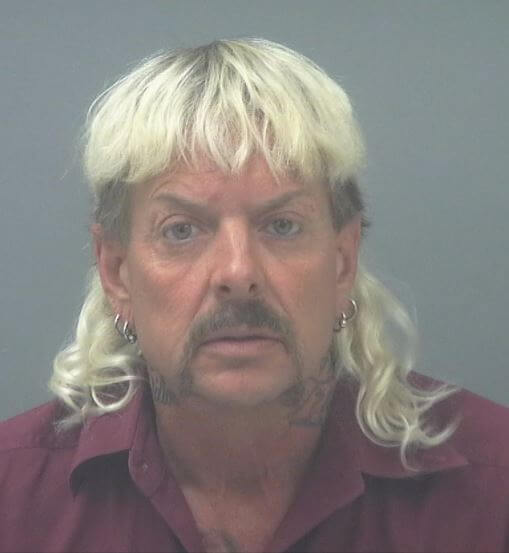 © Santa Rosa County Jail
Maldonado-Passage—also known as Joe Maldonado and Joe Schreibvogel—had been the entertainment director and previous owner of the infamous ramshackle roadside zoo The Greater Wynnewood Exotic Animal Park ("G.W. Exotic") in Wynnewood, Oklahoma, until earlier this summer. The U.S. Department of Justice charged him with two counts of murder-for-hire after he allegedly attempted to hire an undercover FBI agent and another individual in two separate attempts to kill Carole Baskin, the CEO of accredited wildlife rescue organization Big Cat Rescue in Tampa, Florida.
PETA has been working for years to shut down G.W. Exotic (which has also undergone several name changes), including with eyewitness investigations and legal action.
In January 2006, the U.S. Department of Agriculture (USDA) entered into an agreement with Maldonado-Passage requiring him to pay a $25,000 fine to resolve numerous violations of the federal Animal Welfare Act (AWA) and suspending his exhibitor license for two weeks. Despite this, he continued to violate the AWA and deny animals adequate care. A PETA eyewitness investigation from February to June revealed that sick, injured, and dying animals were denied veterinary treatment or even humane euthanasia. Animals were kicked, deprived of food, blasted with pressurized hoses and fire extinguishers, and beaten with the blunt end of a gun.
For years, this roadside zoo has bred tiger cubs and been the primary supplier of cubs for use in traveling shows and public photo encounters—even after the USDA opened an investigation into the deaths of 23 tiger cubs at the facility in just seven months. Just last year, PETA rescued 39 tigers from the roadside zoo, along with three bears and two baboons, and got them placed in reputable sanctuaries. More recently, we helped get the two chimpanzees at the facility into an accredited sanctuary. And we have two lawsuits pending against facilities that acquired cubs from Maldonado-Passage for alleged violations of the Endangered Species Act.
He has made threats against both Big Cat Rescue and PETA, including posting a video in which he shoots a doll made to look like Baskin and posting an image in which he hangs a mannequin labeled "BCR" and one labeled "PETA."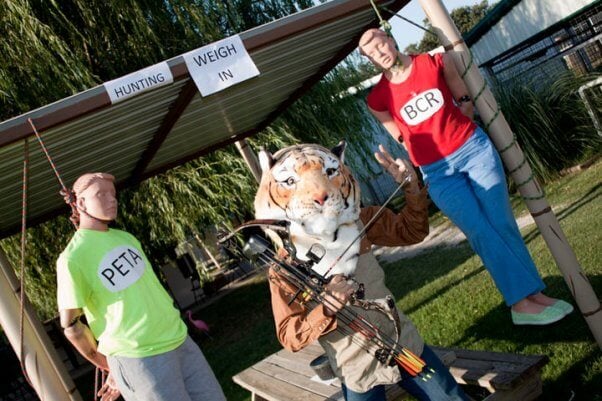 If convicted in the murder-for-hire plot, Maldonado-Passage could face up to 10 years in prison and a fine of up to $250,000 for each count.
Research in psychology and criminology shows that humans who commit acts of cruelty to nonhuman animals don't stop there—many of them move on to hurt their fellow humans. It should come as no surprise that Maldonado-Passage, who profits from imprisoning sentient individuals and denying them their bodily autonomy on a daily basis, readily directs the same violence toward his own species.
PETA continues working to free the remaining animals from G.W. Exotic, and we urge everyone not to support abusive animal shows or exhibits.