Note: As small businesses struggle as a result of the coronavirus pandemic, many restaurants are offering food for delivery and takeout. The ones featured here were open as of the time of publication, but this could change. Please check with each to see which options are available. Let's support vegan restaurants during the COVID-19 crisis so that we can enjoy their food for years to come!
It's impossible for a burrito to be awesome if an animal was violently slaughtered for it. Cows, pigs, and chickens are just trying to get by, like the rest of us. Would you enjoy being locked inside a cramped, filthy shed your entire life just to be killed and rolled up in a flour tortilla? Nah, we didn't think so.
All of these hearty, protein-packed burritos prove how easy and delicious it is to take Mexican cuisine back to its pre-colonized, plant-based roots, especially when going vegan is on a sharp rise in Latinx communities. Before the Spanish conquest, most of Mexico's indigenous people ate plant-based meals. Spanish colonizers were the ones to introduce flesh from cows, pigs, and chickens.
Here's a list of some that you've absolutely got to try if you can!
Big Vegan Burrito with Pollo Asado—Cena Vegan in Los Angeles
Sure, you could fill the Big V with other types of vegan meat (like al pastor, carnitas, carne asada, or barbaco), but our favorite is the pollo asado. It's delicately seasoned, finished over mesquite, and served in a huge flour tortilla along with rice, beans, pico de gallo, guacamole, roasted tomatillo salsa, and chipotle crema. Note that Cena Vegan is a pop-up restaurant (with no permanent store), but you can place pickup orders through its website.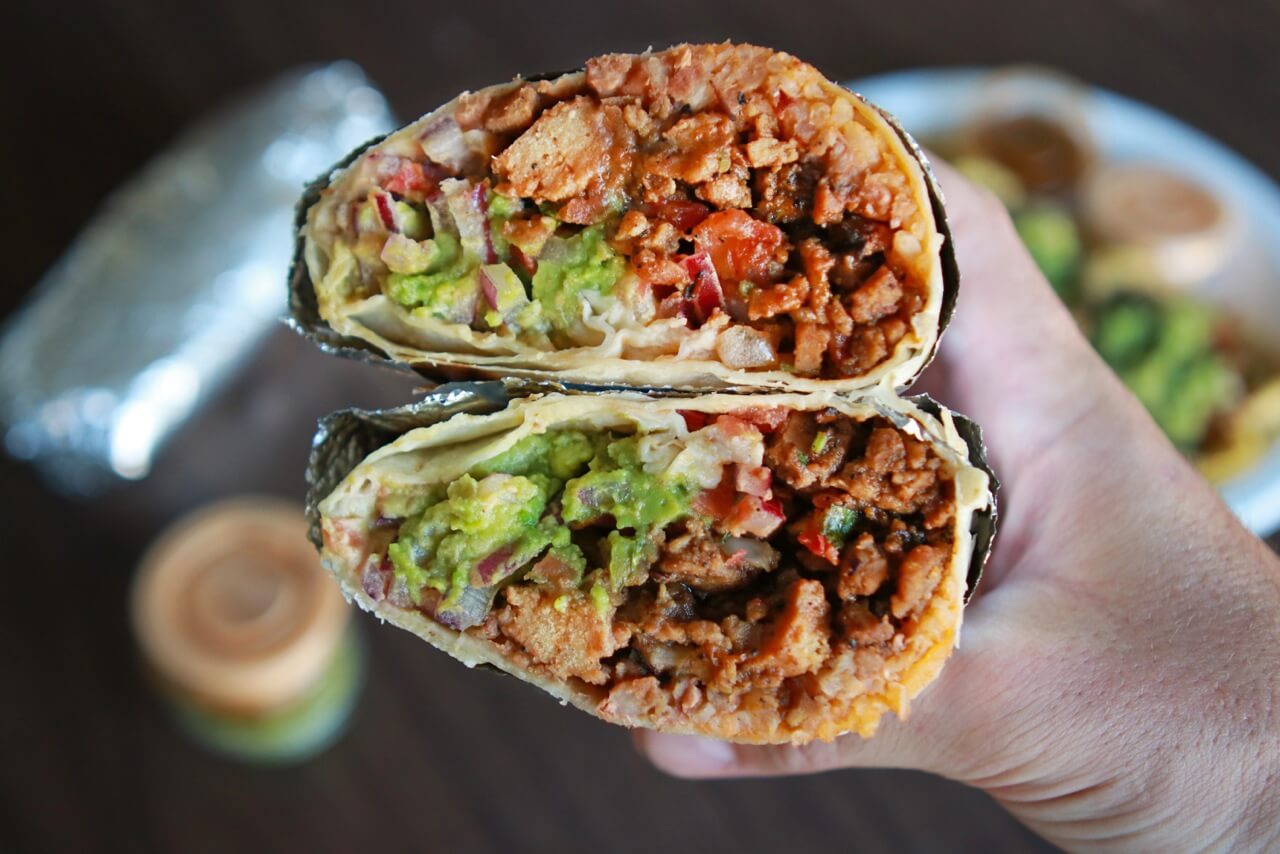 Photo: Damian Rinaldi
California Burrito with Al Pastor—Pancho's Vegan Tacos in Las Vegas and Henderson, Nevada
The all-vegan Pancho's Vegan Tacos fills its California Burrito with pico de gallo, cream, shredded cheese, guacamole, fries, and its own wheat-based al pastor, which is seasoned with dried chiles, achiote, and a little chopped pineapple for a sweet and spicy flavor.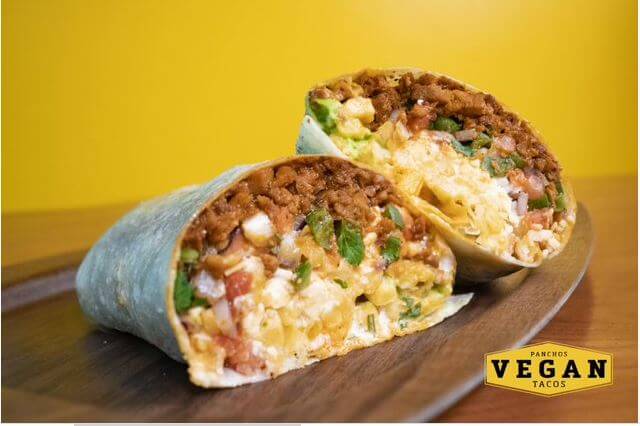 © Pancho's Vegan Tacos
Not your protein jam? You can also choose from wheat-based asada or chorizo, soy-based "chik-end," mushrooms, jackfruit, and even cactus.
Breakfast Burrito—Ethos Vegan Kitchen in Winter Park, Florida
This take on a breakfast classic is filled with scrambled tofu, home fries, and sausage, and it's smothered in sausage gravy. The burrito is available at Ethos Vegan Kitchen for takeout and delivery from 12 noon to 9 p.m. every day of the week.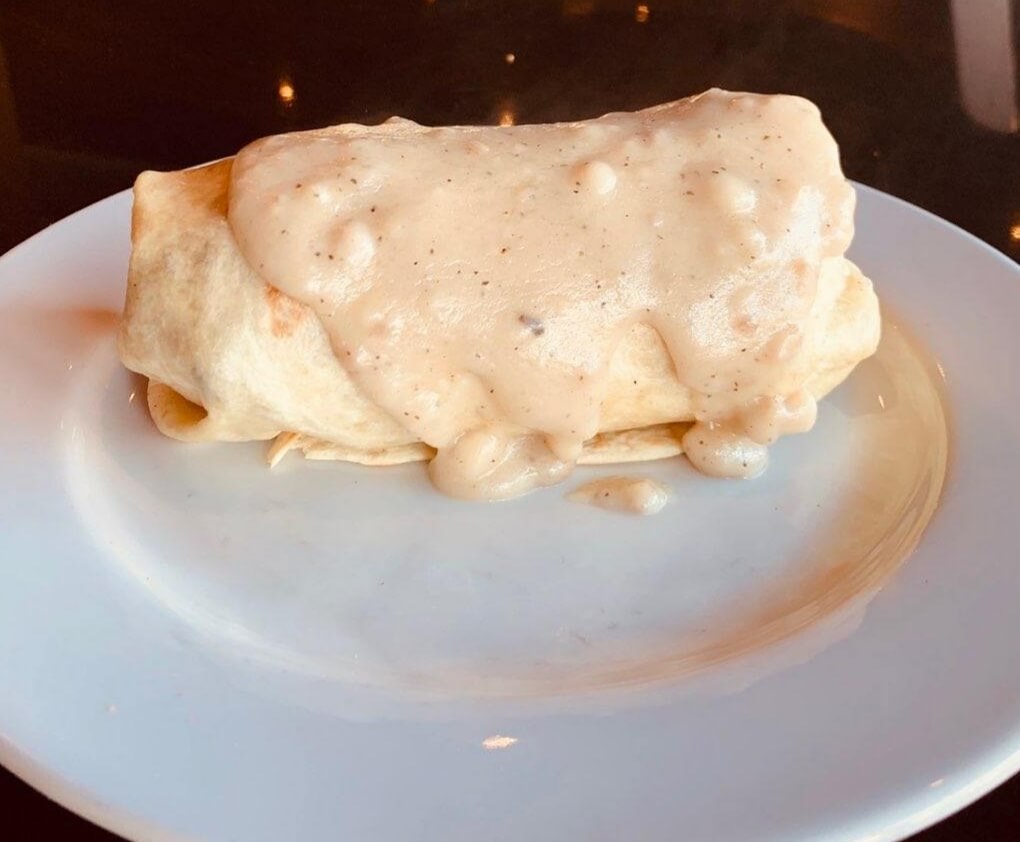 Fish Tuna Burrito—El Cantaro in Monterey, California
This one's a little unconventional and a whole lot of mouth-watering yumminess. El Cantaro's Fish Tuna Burrito is loaded with vegan tuna, chipotle sauce, black beans, rice, cabbage, and vegan cheese. You can make it wet with sauce for an additional $2.75.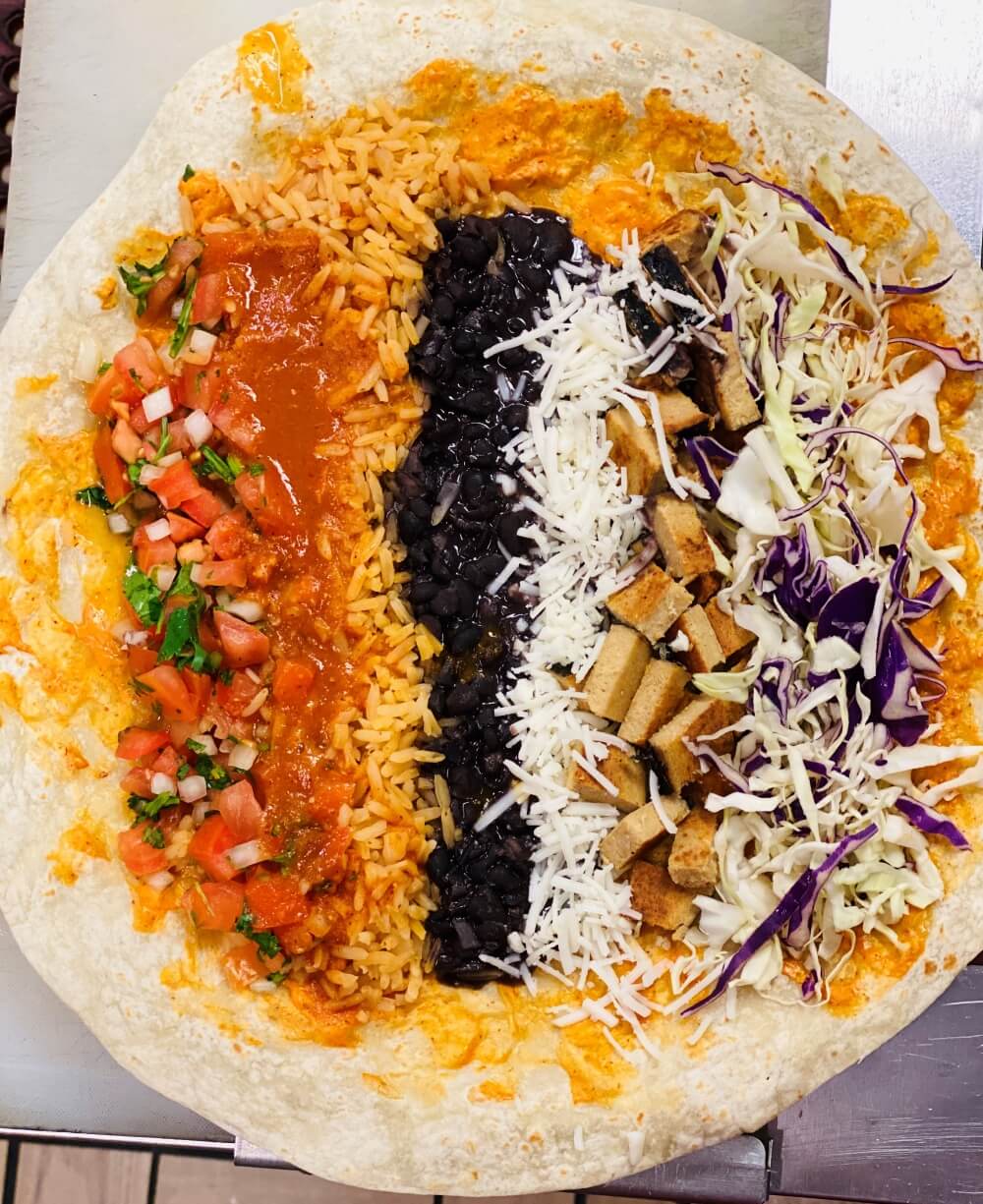 Soy-Rizo Burrito—Mi Vegana Madre in Glendale, Arizona
Who makes better food than your mama? Mi Vegan Madre lives up to expectations with the Soy-Rizo Burrito. It has soy-based chorizo, red rice, black beans, onion, and cilantro, all stuffed into a flour tortilla and served with red salsa. Burritos are also available with carne asada–seasoned veggie protein.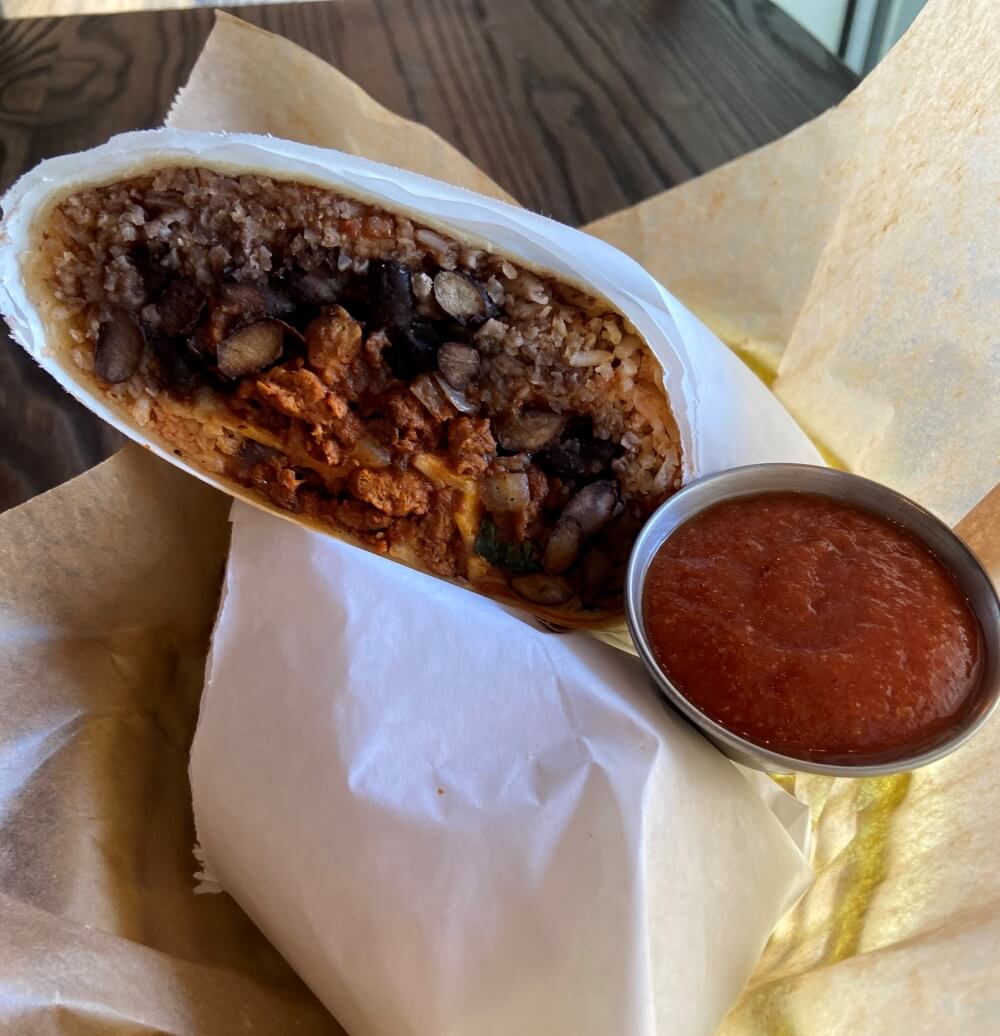 Red Quinoa & Jackfruit Burrito—Jajaja Plantas Mexicana in New York
Quinoa and jackfruit are vegan staples, and they make for a fine burrito, too. Jajaja Plantas Mexicana's features heart of palm carnitas, modelo especial, guacamole, and salsa verde. The flavor will leave your taste buds highly satisfied.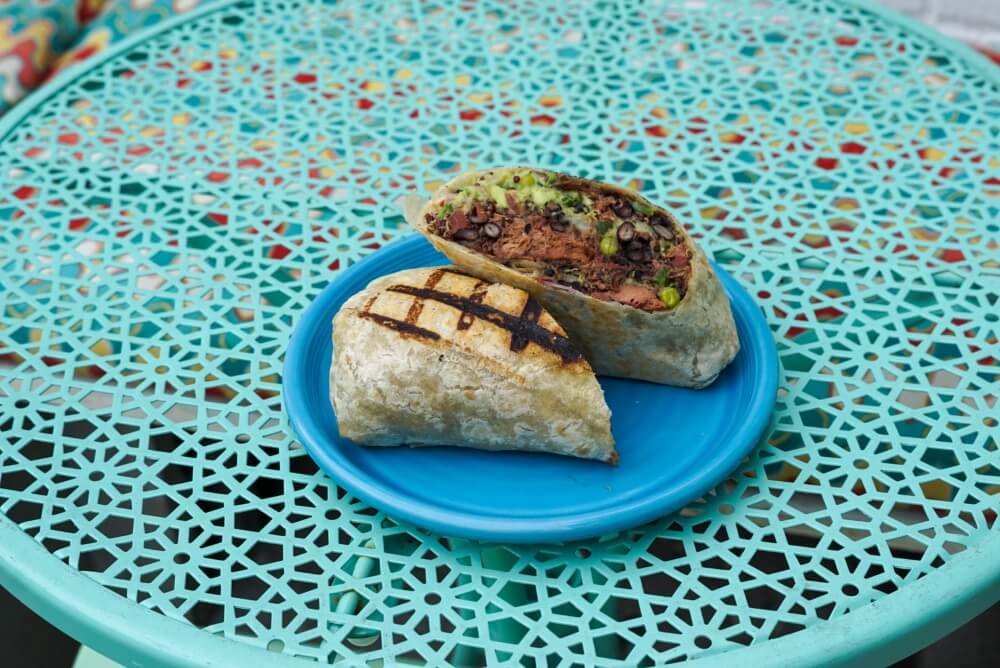 Vegan Steak Burrito—Vegos in Albuquerque, New Mexico
Vegos—a pop-up and catering vegan establishment—offers its Vegan Steak Burrito as a part of a box lunch with beans, rice, and house-fried blue corn chips. It's stuffed with rice, beans, and vegan steak (made of seitan) and served with a side of red and green chile sauce.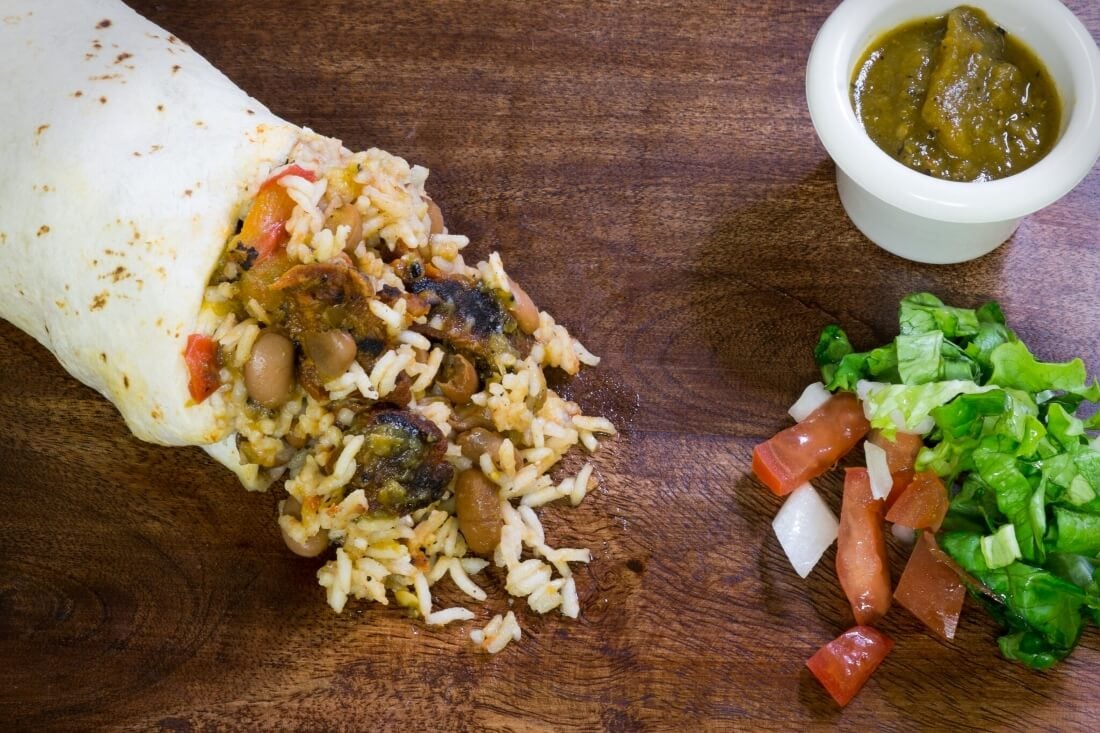 Seitan Al Pastor Burrito—Luna Verde Vegan Mexican Restaurant in Bradley Beach, New Jersey
Warning: You're about to drool hungrily. Luna Verde's savory godsend is a flour tortilla filled with seitan al pastor that's been simmered with al pastor salsa and pan-seared with onions and pineapple. Each burrito is served with rice, beans, guacamole, and pico de gallo.
Vegan Fajita Burrito—Mr. Natural in Austin, Texas
Show this bomb burrito some respect! The Vegan Fajita Burrito from Mr. Natural is filled with Mexican brown rice, beans, and seitan strips sautéed with soy sauce, onions, tomatoes, mushrooms, and bell pepper.
*****
Animals are friends, not food!
Cows communicate with each other through complex facial features. A hen "talks" to her chicks in the egg before they've hatched to teach them to recognize her voice in a flock. Pigs enjoy listening to music, playing with soccer balls, getting massages, and even playing video games. All these animals are capable of loving humans who treat them with kindness.
Cows, chickens, and pigs are intelligent, emotionally complex individuals, just like us. Their lives are important to them. We owe it to our fellow sentient beings to drop our speciesism and afford them respect and dignity.
PETA encourages people to support businesses in their communities while fighting cruelty to animals and human health problems on a global scale. As 75% of influenza viruses—and the novel coronavirus—are linked to the meat industry, preventing future pandemics is as simple as opting for a delicious vegan burrito over a meaty one.
Don't live near any of these places? Find vegan burritos in stores from companies like Daiya, Amy's, and dozens more. Or, make your own burritos with these recipes here and here.