Every year, thousands of monkeys are abducted from their homes and taken away from their families or bred on squalid factory farms to satisfy U.S. experimenters' insatiable appetite for victims. The animals are thrust into cramped crates and loaded into airplane cargo holds, where they're forced to languish in darkness and their own waste as they're transported around the globe. This sordid trade is rife with illegal activity and endangers wild monkey populations and the public. Help us shut it down.
'A Flight to Death': PETA's Media Blitz Slams Canadian Officials Over Monkey Imports
September 20, 2023
PETA is plastering stark new ads throughout Montréal calling out Canadian officials for enabling the deadly Cambodian monkey-importation industry—even after the U.S. halted such imports and indicted Cambodian government officials for passing off wild-caught monkeys as captive-bred. The ads have appeared at 33 bus stops throughout the city as well as in newspapers Le Devoir, The Suburban, and the Montreal Gazette. Join us in urging Canadian officials to slam the brakes on this corrupt and dangerous industry.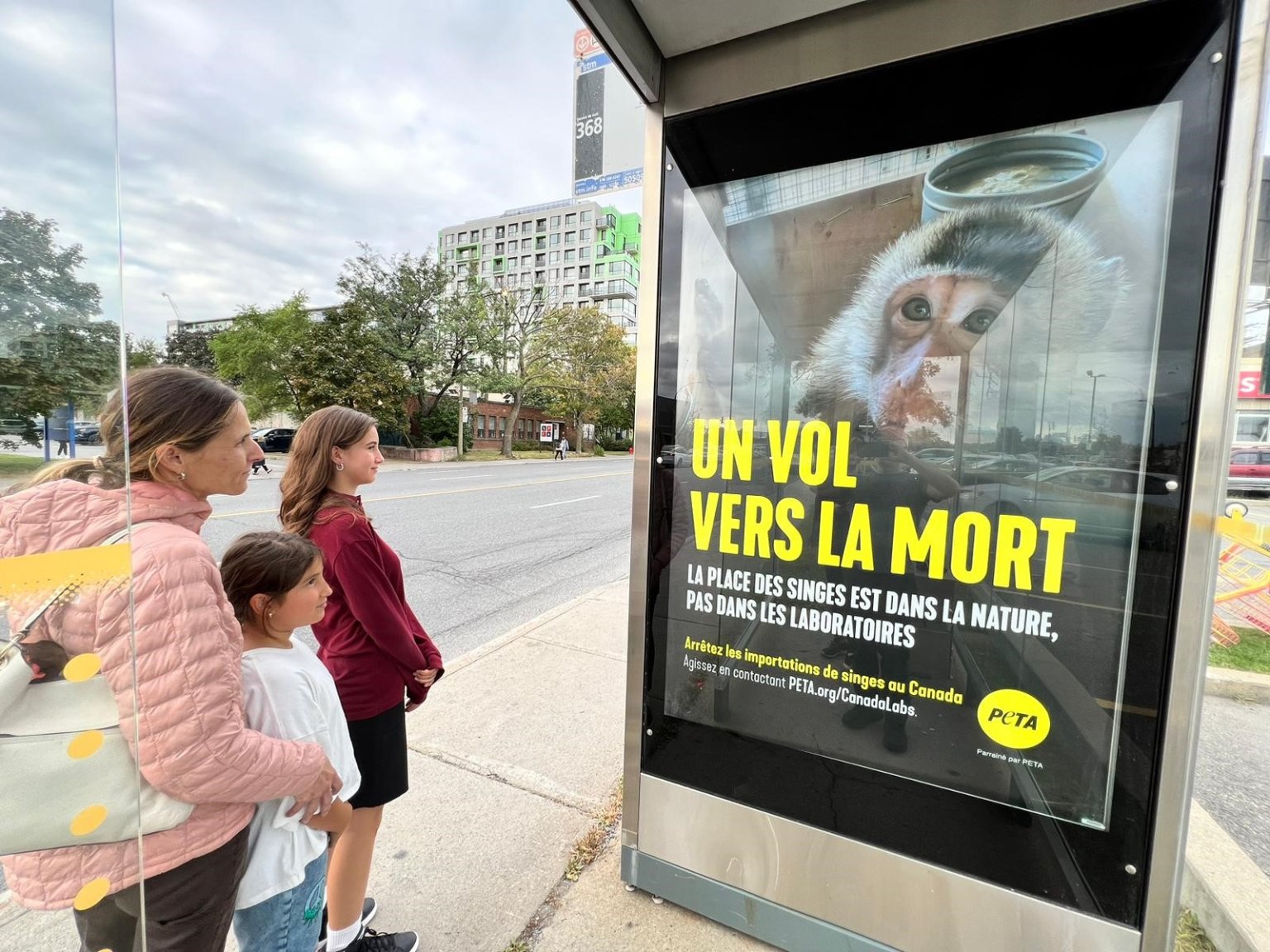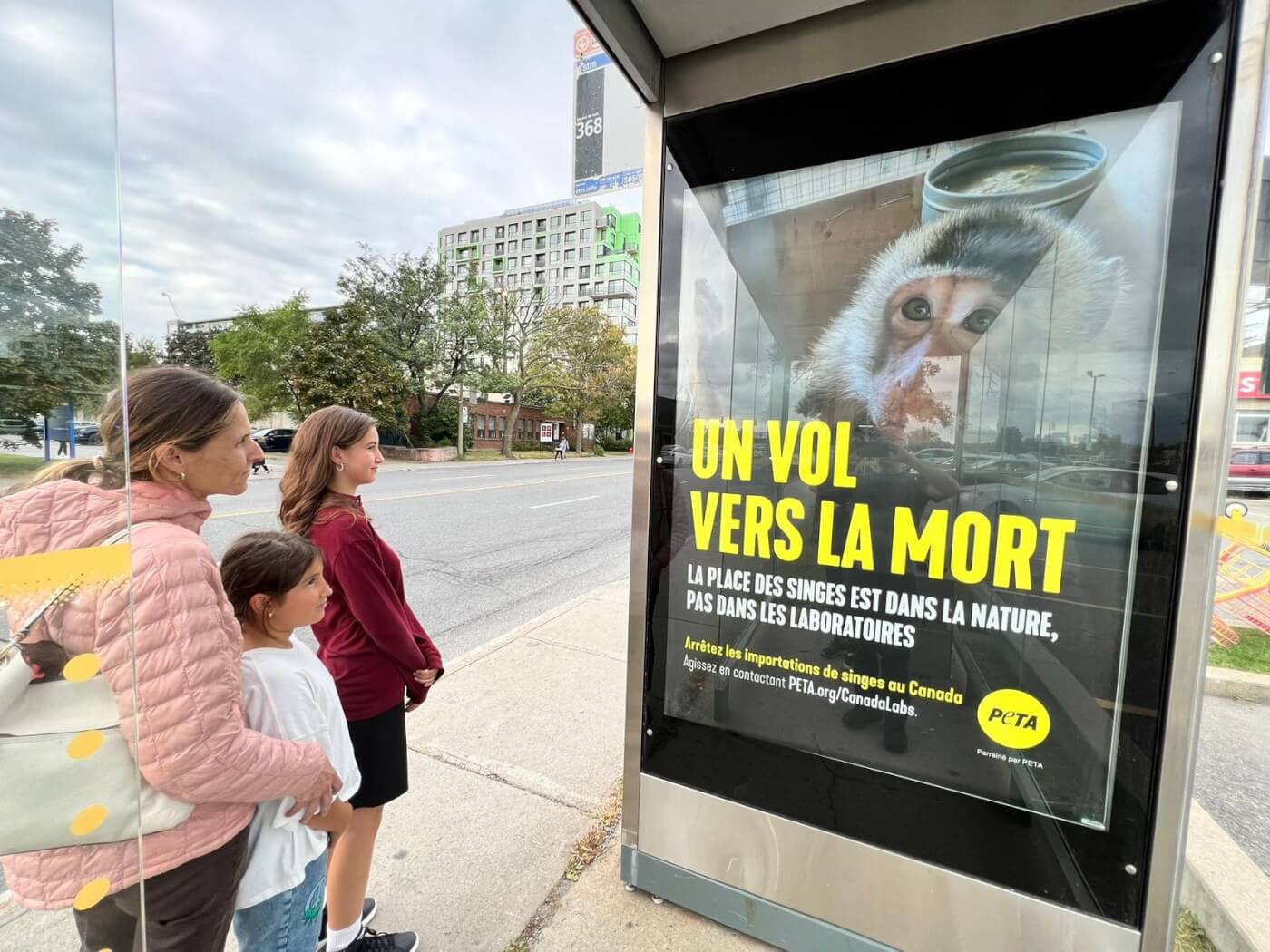 ---
Monkeys in the Middle: Protesters Pressure Feds to Send 1,000 Macaques to Sanctuaries
July 21, 2023
A troop of three dozen "monkeys" rallied outside the Department of the Interior in Washington, D.C., demanding that Secretary Deb Haaland release 1,000 possibly illegally imported macaques to sanctuaries and compel Charles River Laboratories—which had brought the endangered animals into the U.S. from Cambodia—to pay for their lifetime care. These long-tailed macaques have existed in a state of legal limbo for months after the company failed to prove they hadn't been abducted from their forest homes instead of bred in captivity.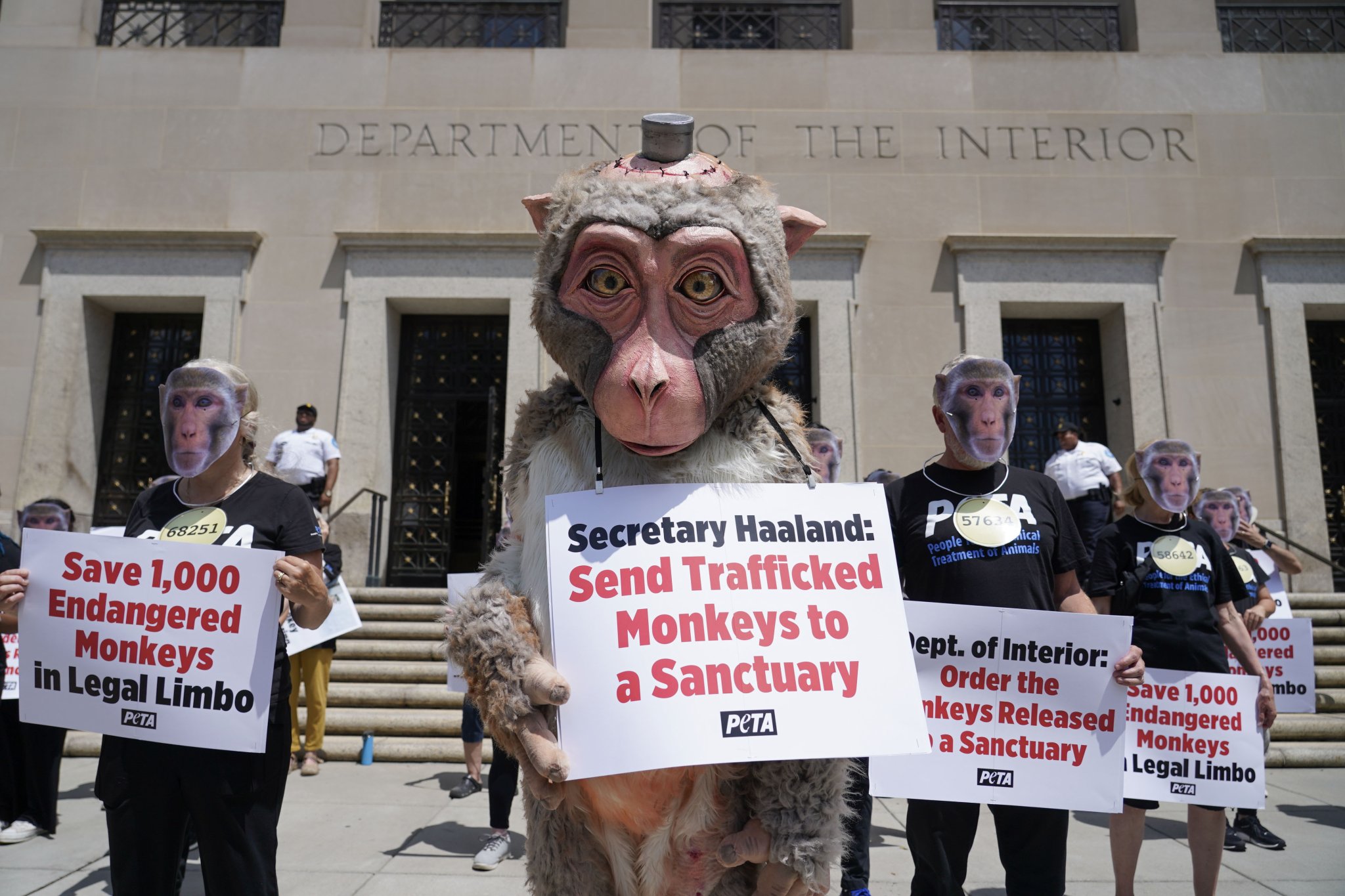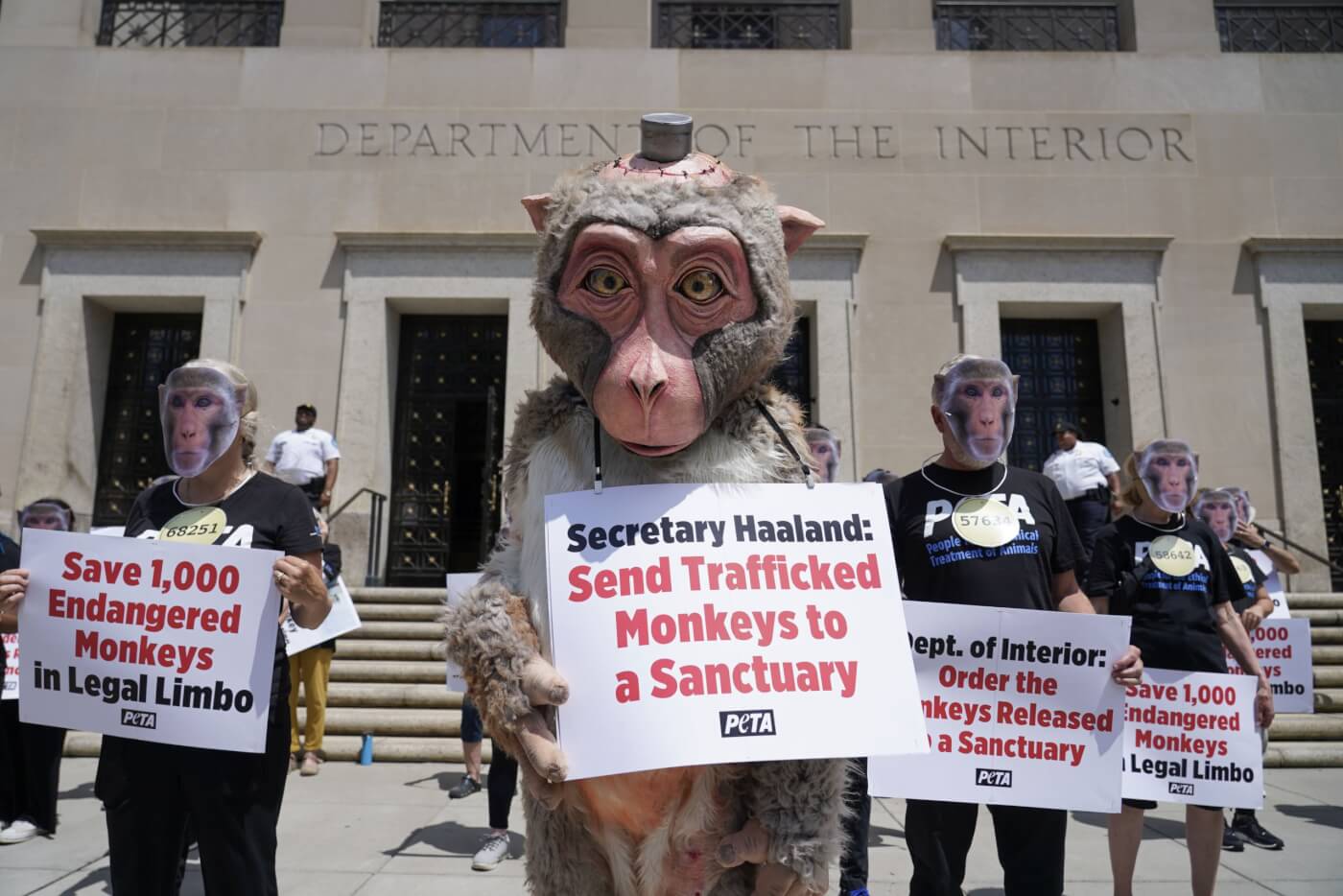 ---
Victory! Sri Lanka Cancels Plan to Export 100,000 Monkeys to China
June 26, 2023
Following a letter from PETA to officials in Sri Lanka, the island nation nixed its plan to export 100,000 toque macaques to China, where they likely would have been funneled into biomedical experiments, tormented, and killed. Read more.
---
TB Outbreak at Monkey Facility in Mauritius Prompts International Call to End Primate Imports
May 5, 2023
PETA—along with Action for Primates in the U.K., Abolición Vivisección in Spain, and One Voice in France—has demanded a ban on primate imports following reports of a tuberculosis (TB) outbreak on a monkey farm in Mauritius, an island nation east of southern Africa that is the second-largest exporter of primates destined for laboratories. PETA also urged the U.S. Centers for Disease Control and Prevention to quell the flow of primates into the U.S. before this vile pipeline potentially sparks the next pandemic. The bacteria that cause TB, a highly infectious disease that can hop between monkeys and humans, are among the many dangerous pathogens that can slip past often unreliable screening methods and into the cargo holds of U.S.-bound planes.
---
PETA Shares Damning Video Evidence of a Senior Cambodian Official's Involvement in a Monkey-Smuggling Ring
May 4, 2023
A few short minutes caught on camera may soon spell a long prison sentence for accused monkey smuggler Masphal Kry. Undercover footage shared by PETA shows the former senior Cambodian wildlife official facilitating the drop-off of crates of shrieking long-tailed macaques—apparently freshly ripped from their forest homes—at a breeding facility, from which the endangered monkeys could be illegally sold as captive-bred. The incriminating videos, filmed by the U.S. government's confidential informant in Cambodia, were made public by the prosecution in the case against Kry to demonstrate that he could communicate effectively in English. Kry can be heard saying, "[D]o more business … make more money," as he suggests that a new road built for smuggling would help move more wild-caught monkeys to the facility.
The monkeys in the video are just a few of likely thousands of smuggling victims who have crossed international borders in the past decade—1,000 of whom are in danger now. You can help them here.
---
Feds Urge International Protection of Endangered Long-Tailed Macaques
April 26, 2023
The U.S. Fish & Wildlife Service (FWS) has called on an international body to review exports of long-tailed macaques to ensure that monkeys abducted from their forest homes aren't passed off as captive-bred.
FWS made the appeal to the Animals Committee of the Convention on International Trade in Endangered Species of Wild Fauna and Flora, a global agreement among governments to preserve and protect plant and animal species from extinction.
This additional layer of scrutiny would occur before monkeys reach the cargo hold of a plane—stemming the flow of animals into the primate-importation pipeline at the source and likely preventing thousands of endangered monkeys from being abducted from their homes and families in nature. Long-tailed macaques are the most commonly imported species to the U.S. for experimentation.
---
Commotion at the Courthouse: 'Monkeys' Rally in Miami to Demand Transparency as Primate-Smuggling Case Begins
April 21, 2023
PETA supporters wearing monkey masks and "metal" ID collars gathered on the steps of the C. Clyde Atkins U.S. Courthouse in Miami, demanding that evidence pertaining to an alleged international conspiracy to smuggle endangered monkeys from Cambodia be made public. The protest coincided with the first public hearing conducted by the U.S. District Court for the Southern District of Florida in the prosecution against Masphal Kry, a deputy director in the Cambodian Ministry of Agriculture, whose attorneys have requested the suppression of key evidence in the case.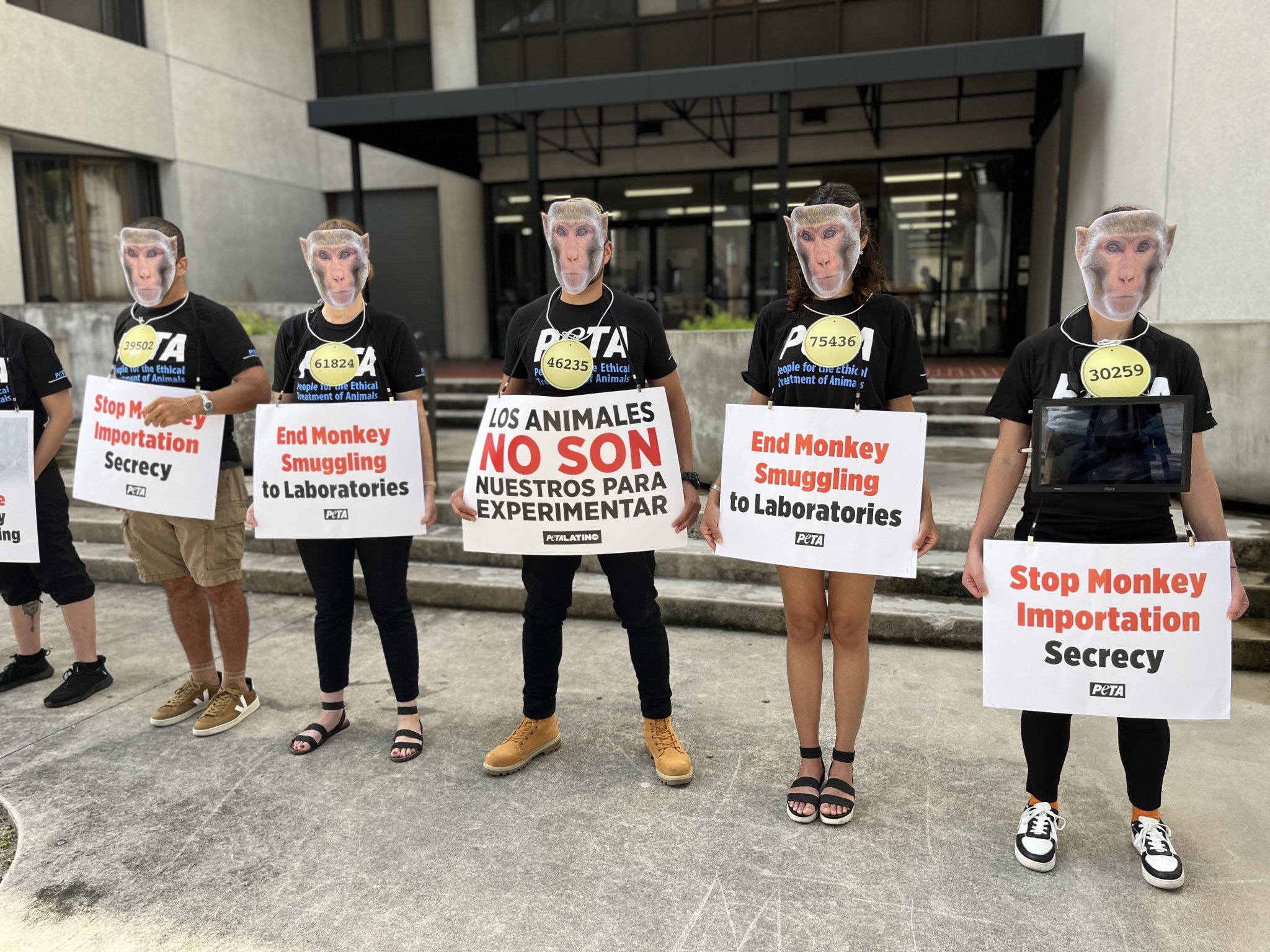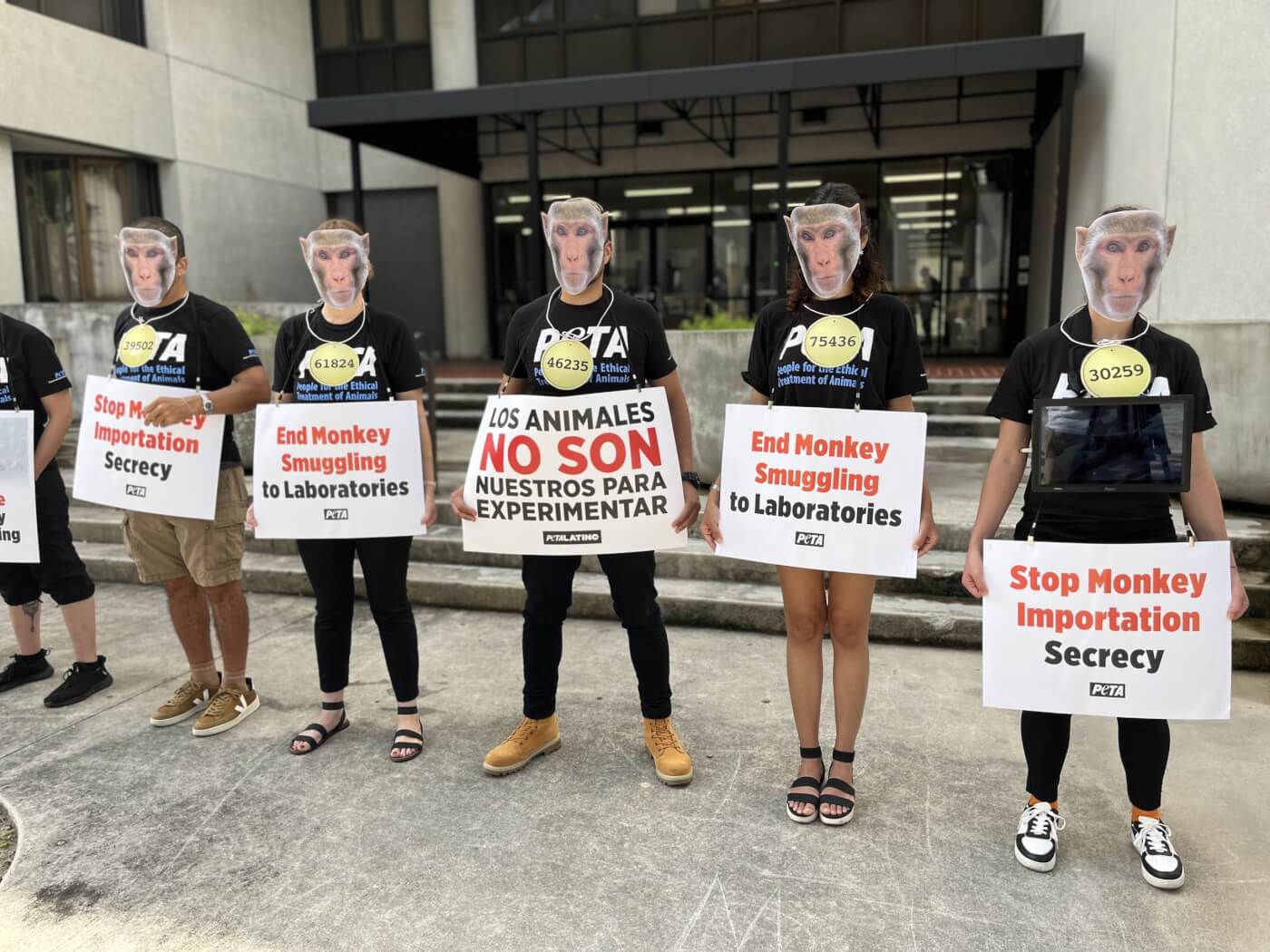 ---
Jane Goodall, Other Experts Join PETA's Plea to Feds: Give Imperiled Macaques Endangered Species Act Protection Now
April 12, 2023
PETA, prominent primate scientists including Jane Goodall and Birutė Galdikas, and more than 30 wildlife and scientific organizations from around the world have filed two formal petitions for rulemaking (here and here) calling on the U.S. Fish & Wildlife Service (FWS) to grant protections to long-tailed and southern pig-tailed macaques under the Endangered Species Act. The populations of these two endangered species are being decimated by the animal experimentation industry, and FWS action would likely greatly restrict their importation.
---
Victory! Following a Push From PETA, Feds Call a Halt to Tearing Monkeys Away From Their Families and Homes
March 2, 2023
Monkeys around the world are safe from being violently abducted for U.S. laboratories following decisive action by the U.S. Fish and Wildlife Service, which now requires that all imported monkeys undergo DNA testing to ensure that they were bred in captivity. A testing program of this magnitude could take up to two years to implement, saving thousands of animals in the interim and hopefully prompting the archaic, animal-reliant biomedical research industry to join the 21st century and reimagine laboratory testing without the exploitation of sentient beings.
---
National Institutes of … Monkey Laundering? PETA Ad Pressures NIH to Release Smuggling Victims to Sanctuaries
February 28, 2023
Is the National Institutes of Health—which purports to be the world's premier biomedical research agency—neck-deep in the monkey-laundering business? PETA's ad in The Washington Times points to the agency's multiyear, multimillion-dollar contracts with companies caught up in the U.S. Department of Justice's international monkey-trafficking investigation as evidence that hundreds of smuggled animals may be languishing in the agency's laboratories. The full-page ad calls on readers to take action in defense of monkeys today.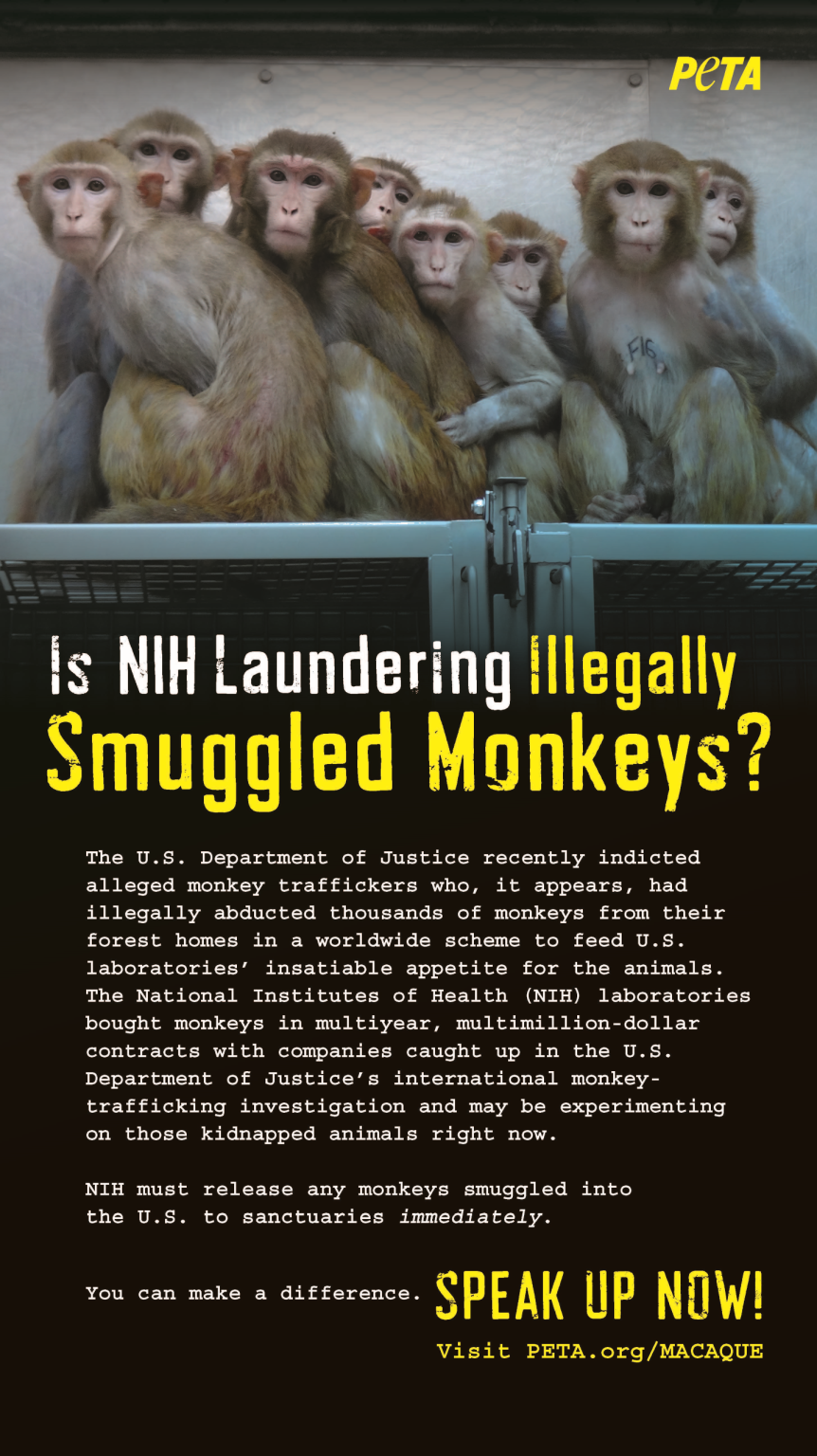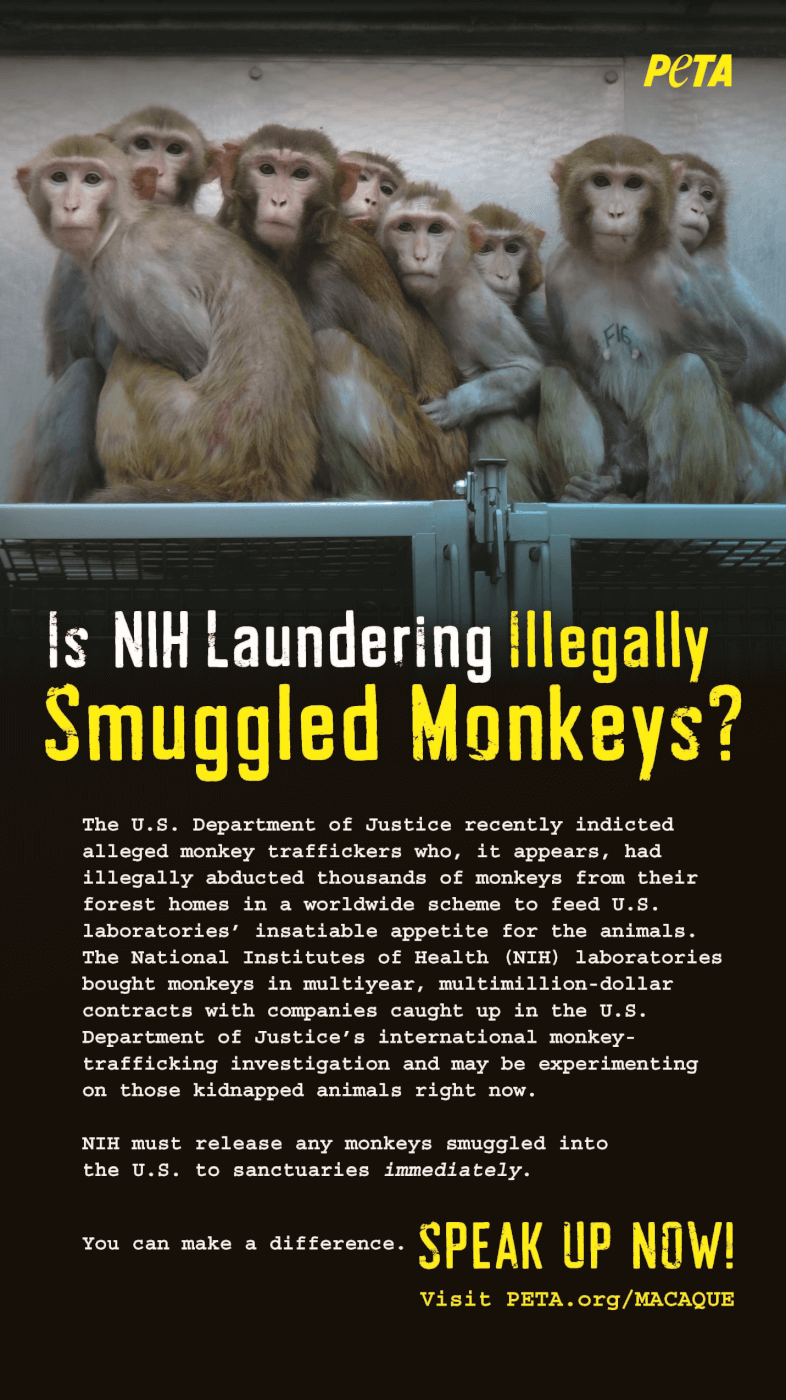 ---
CDC Amps Up Oversight of Lab-Bound Monkeys After PETA Exposes Disease Threat
February 6, 2023
PETA's been shouting from the rooftops that the monkey-importation industry poses a public health threat—funneling monkeys into the U.S. who may be harboring pathogens that cause Ebola, tuberculosis, melioidosis, and other deadly diseases. Finally, following a PETA exposé of this dangerous industry, the CDC has taken a small but important step toward addressing this disturbing concern. In a statement posted on its website, the agency states that quarantine facilities must report disease symptoms—such as diarrhea, fevers, hemorrhaging, abscesses, weight loss, and vomiting—in newly imported monkeys and must treat monkeys found to be infected with malaria. PETA continues to urge the agency to do more to protect monkeys and the public by banning monkey imports altogether.
---
PETA Supporters Swoop Into Dulles Airport With 'No More Monkey Business' Message for Congress
December 22, 2022
In response to reports that AELF FlightService's Maleth Aero airline has flown hundreds of long-tailed macaques from Cambodia and Vietnam into Dulles International Airport in Virginia, PETA supporters descended on the departures hall with signs reading, "Congress: No More Monkey Business! Stop Primate Imports!" The demonstrators urged legislators traveling home for the holidays to direct the Centers for Disease Control and Prevention to end all shipments of monkeys to U.S. laboratories.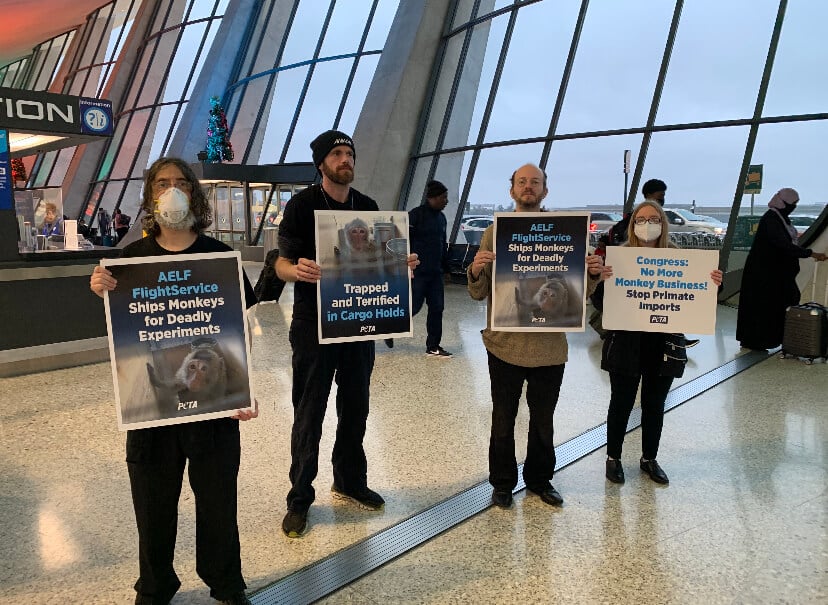 ---
PETA Primatologist Exposes the Dark Underworld of the International Monkey Trade on NBC Nightly News
December 16, 2022
U.S. TV viewers settling in for their nightly dose of the nation's top stories received a disturbing primer on the ethically and ecologically disastrous monkey-importation industry from PETA primatologist Dr. Lisa Jones-Engel: "[We're] literally hoovering these monkeys out of the forest. We are wiping these monkeys off the face of this planet." Watch the full segment.
This is UNACCEPTABLE 🚨 Shipping monkeys to laboratories is holding modern science back and is driving monkeys to the brink of extinction. PETA primate scientist Dr. Lisa Jones-Engel explains this dire situation on @NBCNightlyNews. pic.twitter.com/97ed6pdt83

— PETA (@peta) December 17, 2022
---
Busted! PETA Calls Out Inotiv and Worldwide Primates for Apparent Role in Monkey-Smuggling Ring
November 23, 2022
Color us (not) surprised: PETA sleuths have determined that Inotiv and Worldwide Primates—two companies so unconcerned with ethical conduct that they gleefully import thousands of monkeys to be abused and killed in laboratories each year—are the likely U.S.-based unindicted coconspirators who aided Cambodian officials in tearing monkeys away from their forest homes and illegally passing them off as captive-bred. PETA is calling on both companies to identify any illegally imported monkeys in their facilities and release them to reputable U.S. primate sanctuaries, where they would enjoy the rest of their lives free from exploitation.
We've been shouting for @CDCgov to end monkey imports, & now the owner of Envigo's dog breeding facility is feeling the heat!

Inotiv's stock PLUMMETED after employees of its main supplier were charged with ILLEGALLY importing monkeys to the U.S. https://t.co/q9s877gHRh

— PETA (@peta) November 18, 2022
---
Are NIH-Funded Labs Full of Illegally Imported Macaques? Amid Monkey-Smuggling Scandal, PETA Demands Accountability
November 21, 2022
Following the U.S. Department of Justice's (DOJ) indictments of Cambodian officials and others for conspiring to import wild-caught monkeys into the U.S. illegally by passing them off as captive-bred, PETA is demanding that the National Institutes of Health (NIH) extricate itself from this tangled web of criminal activity by identifying any laundered monkeys in laboratories it funds and transferring them to reputable sanctuaries. As PETA notes in its letter to NIH, more than 74,000 long-tailed macaques have been imported into the U.S. from Cambodia since 2017 and the presence of even one laundered wild-caught monkey invalidates the transport permit for the whole shipment. The disturbing result? U.S. government–funded laboratories are likely benefiting from the misery of thousands of victims of this illegal trade.
---
Feds Indict International Monkey Smugglers Who Supply U.S. Labs; PETA Rejoices
November 16, 2022
"Prosecute them to the fullest extent of the law—and if they're convicted, don't ever let them near another monkey again," PETA's urging the DOJ following the news of its indictment of eight individuals allegedly involved in an international monkey-laundering and -smuggling ring. The indicted parties—including Cambodian government officials and nationals as well as the owner and staff of Vanny Bio Research (Cambodia) Corporation Ltd., a monkey-breeding farm—allegedly falsely labeled wild-caught monkeys as captive-bred and illegally imported them to the U.S. for sale to laboratories, in felony violation of both the Lacey Act and Endangered Species Act.
PETA is urging the @CDCgov to end the importation of monkeys for experiments.@TheJusticeDept has just indicted individuals allegedly involved in a monkey-laundering ring that reportedly sold monkeys captured from their forest homes—a felony violation. https://t.co/SbdhZJYUtV

— PETA (@peta) November 22, 2022
---
Macaque Population Crash Prompts PETA Plea to CDC: Stop Monkey Shipments Now
July 27, 2022
Thanks in no small part to U.S. experimenters' voracious demand for victims, long-tailed macaques and pig-tailed macaques are careening toward extinction—and PETA's urging the Centers for Disease Control and Prevention (CDC) to shut down the forest-to-laboratory pipeline before it's too late. PETA's plea to the CDC to end U.S. monkey imports follows the International Union for Conservation of Nature's (IUCN) alarming reclassification of both species from "vulnerable" to "endangered," a change that the IUCN itself partly attributes to the species' popularity in biomedical experimentation.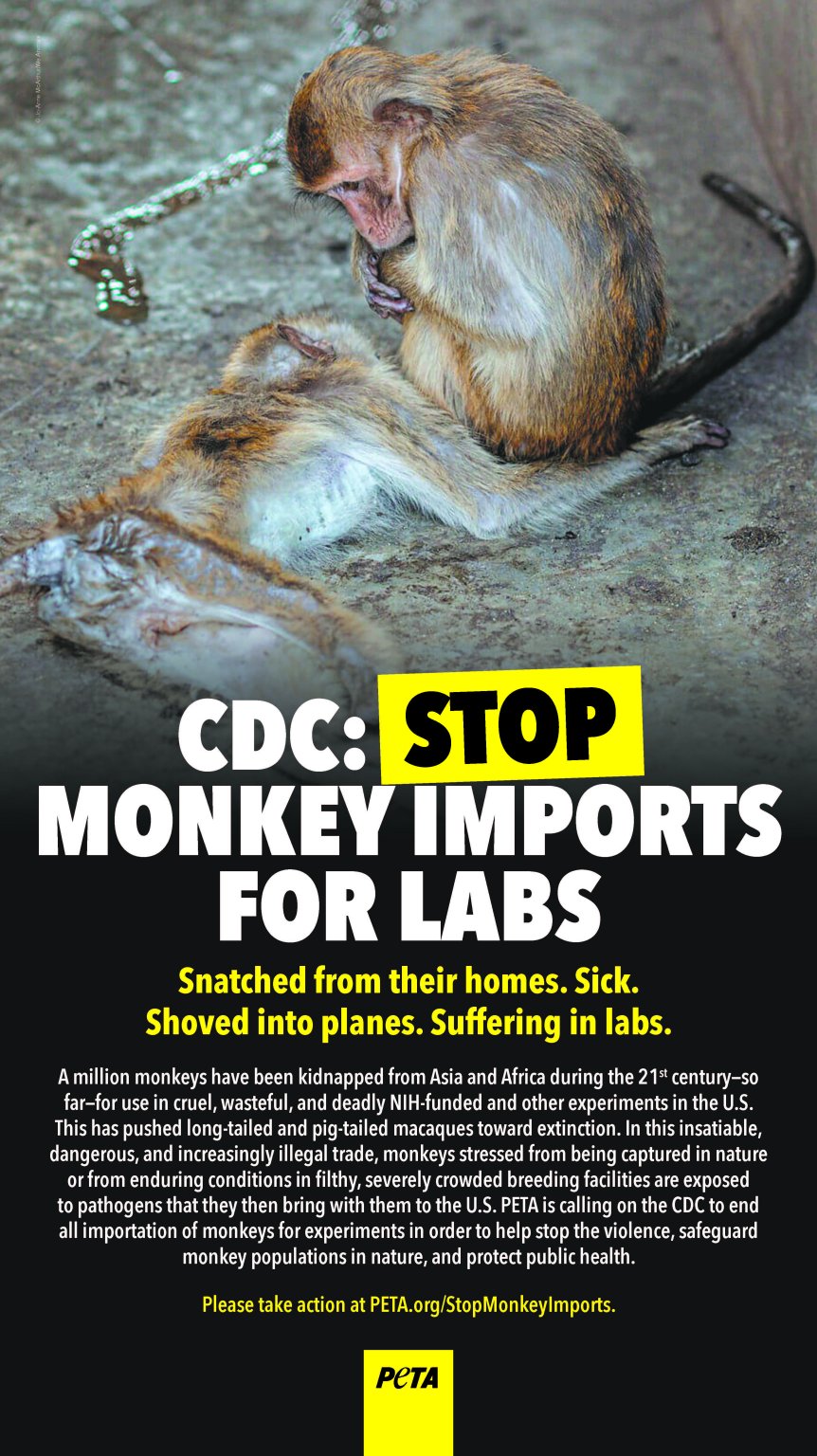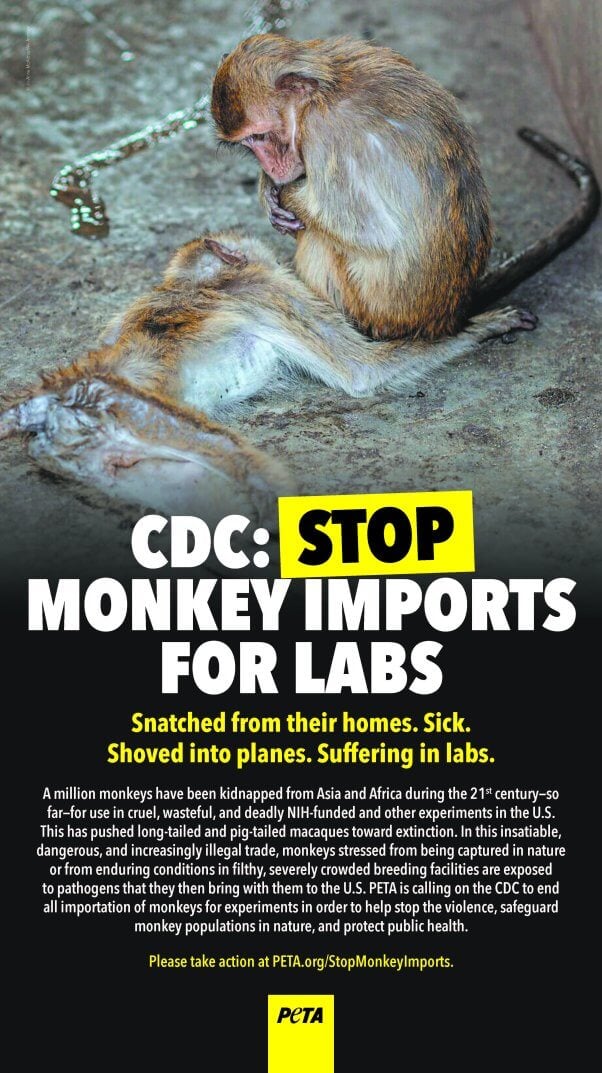 ---
Monkey Pipeline Pours Deadly Pathogens Into U.S.—PETA Urges CDC to Stop the Flow
July 6, 2022
Monkey shipments can harbor some sinister stowaways: the pathogens that cause melioidosis, dengue fever, leprosy, and other conditions. Every batch of imported primates increases the risk that one of these nasty pathogens will infect the public. PETA dashed off a letter to the CDC urging it to stop putting public health in peril and end the shipment of monkeys to U.S. laboratories immediately.
*****
What You Can Do
Click the button below to join thousands of PETA supporters in urging the CDC to shut down the violent monkey-abduction pipeline.