Note: At the time of this writing, many businesses are still feeling the effects of the COVID-19 pandemic. We tried to ensure that all information is current as of June 1, 2020. Please contact the companies for more information, as businesses around the country continue to reopen fully.
Vegan doughnuts—great food or the greatest food?
Help do away with the dairy industry, in which farmers tear calves away from grieving mothers and steal their milk, and the egg industry, which keeps sensitive hens inside cages for their entire lives and grinds "unprofitable" male chicks up while they're still alive. Eating a vegan doughnut isn't just delicious—it's compassion in practice.
All the establishments on PETA's list demonstrate how easy and appealing it is to choose cruelty-free fare. Check out some of America's best doughnut spots:
Doe Donuts, Portland, Oregon
It's no surprise that one of the top vegan cities in the world offers some of the best doughnuts on our list. Doe Donuts regularly switches up its creative inventory of sweets, but some of its offerings have included vanilla bean glazed doughnuts with torched crème brûlée filling and the signature CBD-infused (hey, it's Portland, after all) Hazelnut Mudslide. Look for staple flavors like French Toast, Cookies and Cream, and Portland Fog.
Current availability: Multnomah County will begin reopening from COVID-19 closures on June 12. As of now, Doe Donuts will take orders through delivery apps only. Customers can choose a pickup option. It's open seven days a week, 8 a.m. to 4 p.m.
NiceBites Bakery, Wichita, Kansas
Dorothy and Toto must have brought a little Oz magic back with them, because one bite of a NiceBites Bakery doughnut will send you on a dreamlike journey of deliciousness.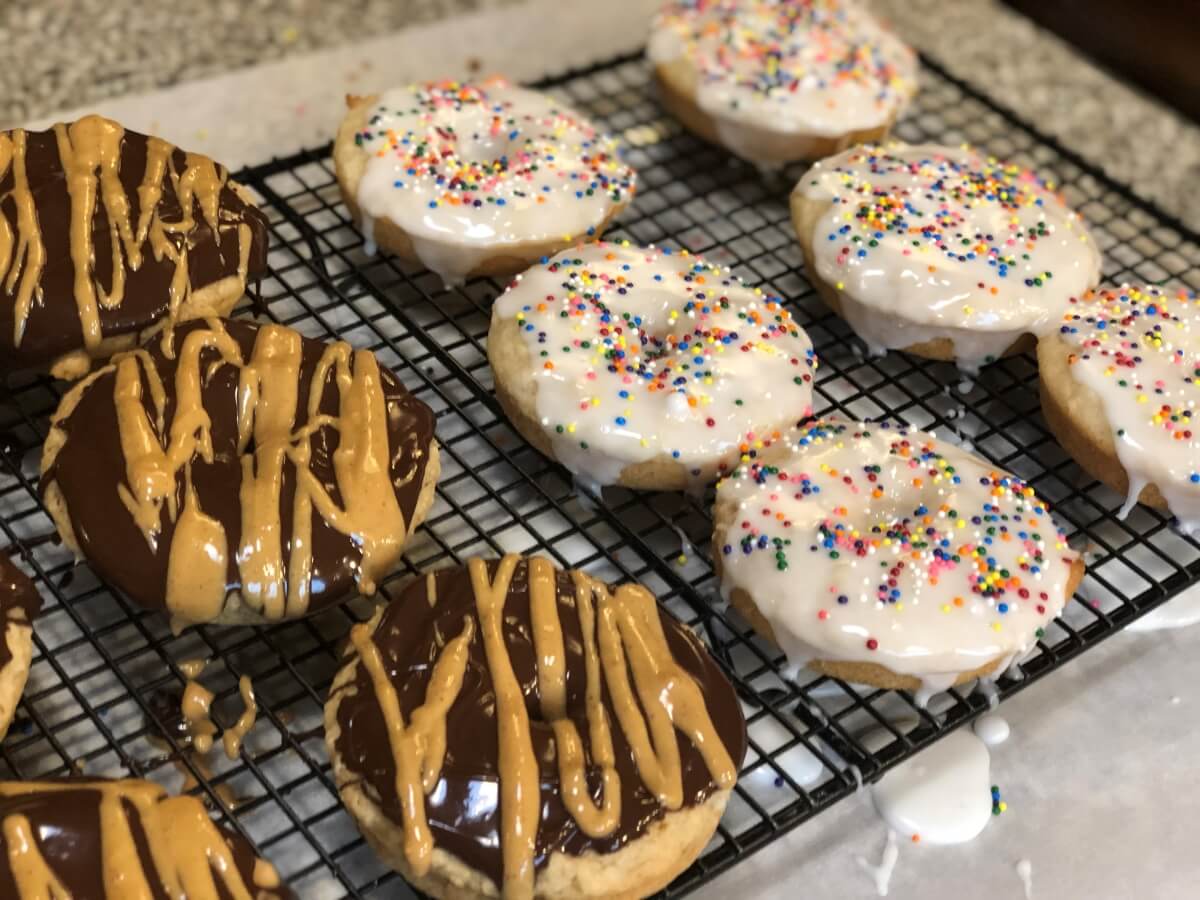 The bakery offers classic doughnut flavors such as chocolate, maple, blueberry, and vanilla. Be a little daring and try a maple coconut "bacon" doughnut or maybe a chocolate espresso if you skipped your morning coffee.
Current availability: Order online for in-person pickup only. Or you can find NiceBites' doughnuts at the Old Town Farm & Art Market (when it reopens), the Songbird Juice Company, Jane's Landing, Sunflower Espresso, and other spots in the Wichita area.
Lovebirds Donuts, Kittery, Maine
Lovebirds Donuts offers some of the cutest, tastiest treats we've ever come across. Some of its signature doughnuts include Raspberry Coconut, Bourbon and Rock Salt, Strawberry Shortcake, and Blueberry Jam. However, you'll have to make the pilgrimage to the bakery on a Saturday or Sunday to try its two special flavors, Maine Blueberry and Cocoa Caliente. The shop's flavors change monthly and follow the seasons.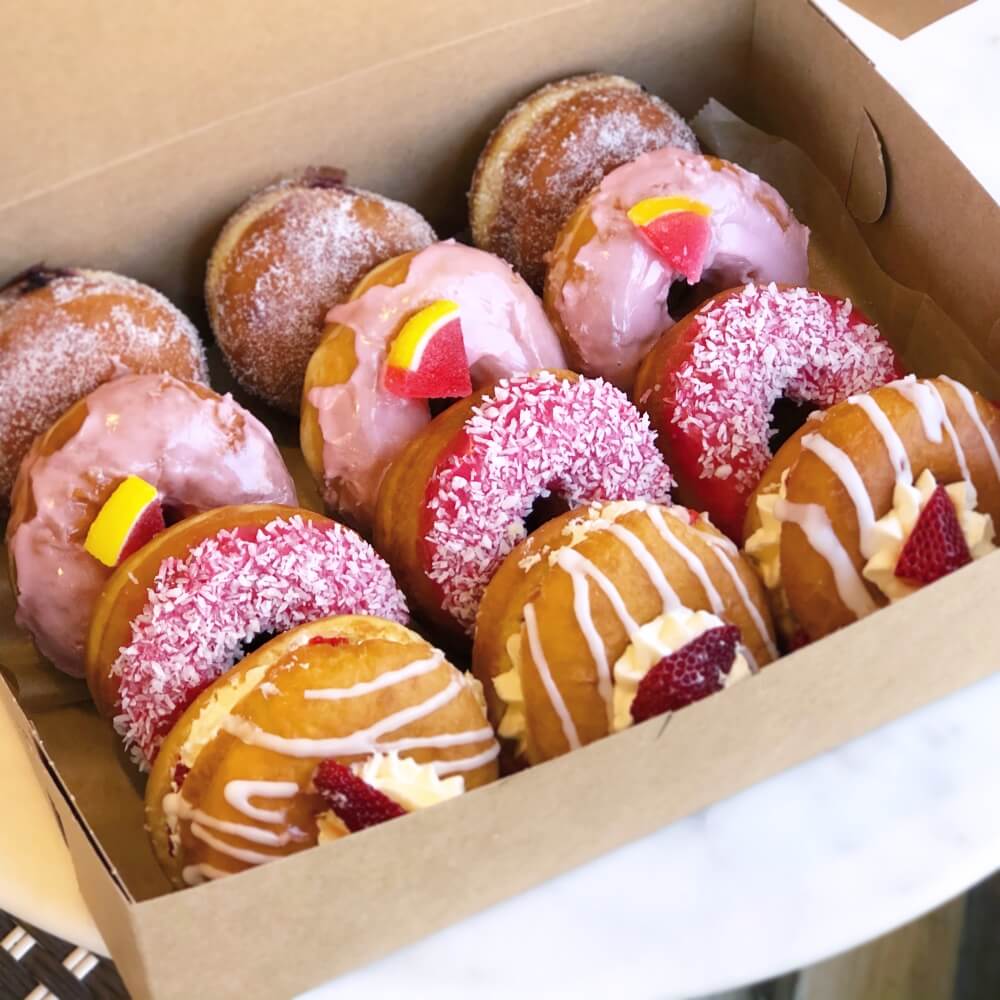 Lovebirds also offers a great big doughnut, which is brioche-based and serves eight hungry patrons. It comes in Strawberry Shortcake, Blueberries + Cream, and Funfetti flavors.
Current availability: The bakery is open for curbside pickup only. Order online or call ahead.
Dun-Well Doughnuts, Brooklyn, New York
Dun-Breathtakingly-Well-With-a-Side-of-Astonishing must have already been taken when Dun-Well applied for its business license. These doughnuts offer next-level deliciousness. Dun-Well specializes in artisanal doughnuts that are handcrafted daily with organic ingredients.
Flavors are uploaded daily to their Instagram story, further proving the bakery's commitment to quality and creativity. Flavors we've seen in the past include peaches and cream, cherry pie, strawberry sprinkle, blueberry pistachio, toasted coconut, and something called a "Yoda Doughnut" (pistachio glazed with coconut).
Current availability: It's open for takeout only on Postmates and DoorDash.
Tandem Doughnuts, Missoula, Montana
Tandem Doughnuts proves that tasty vegan food exists in every corner of the country. The bakery offers classic cinnamon and sugar, chocolate, lemon, and coffee doughnuts, just to name a few. It also creates seasonal-special doughnuts—like the apricot rose and Turkish coffee pictured below—along with cupcakes and cakes, so keep an eye out for those.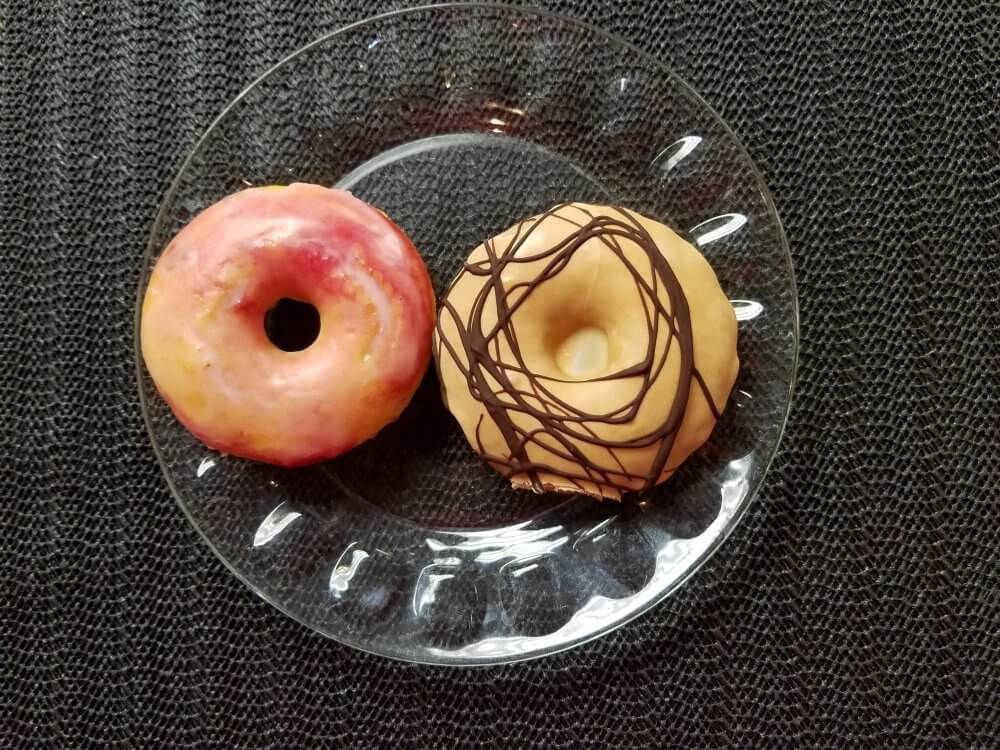 Current availability: According to the store's site, its kitchen is now open, producing wholesale and special orders and planning for an online farmer's market season. Tandem delivers baked goods five days a week to grocery stores and coffee shops in the Missoula and Bitterroot valleys. Its doughnuts can be found at establishments such as the Good Food Store and Orange Street Food Farm.
Karma Baker, Westlake Village, California
Good karma comes to those who leave animals alone, and it comes with mouthwatering vegan doughnuts. Do yourself a divine favor by ordering The Donut KarmaBox from Karma Baker. It includes two white buttermilk doughnuts with a hint of nutmeg and a white chocolate coating, two chocolate doughnuts, and one sprinkle mania doughnut. Each item is carefully packaged individually to preserve freshness and can be frozen for three months.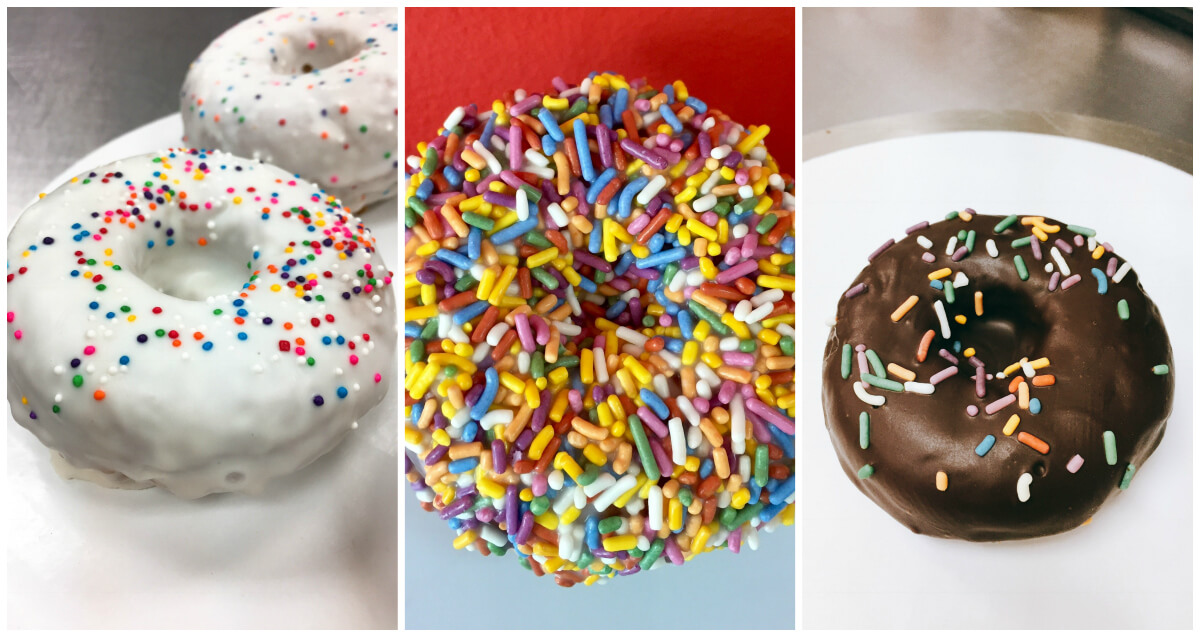 Current availability: The bakery's products are currently available only for pickup and shipping. But, the Donut Karma Box is available for shipping across the US!
The Sweet Praxis, Syracuse, New York
If you need the finest crafted doughnuts in Syracuse, The Sweet Praxis takes the cake. Order a box of vegan doughnuts for the whole family (or yourself—we won't judge) consisting of flavors such as Boston Cream Pie, Vanilla Sprinkle, Hibiscus, and Snickerdoodle.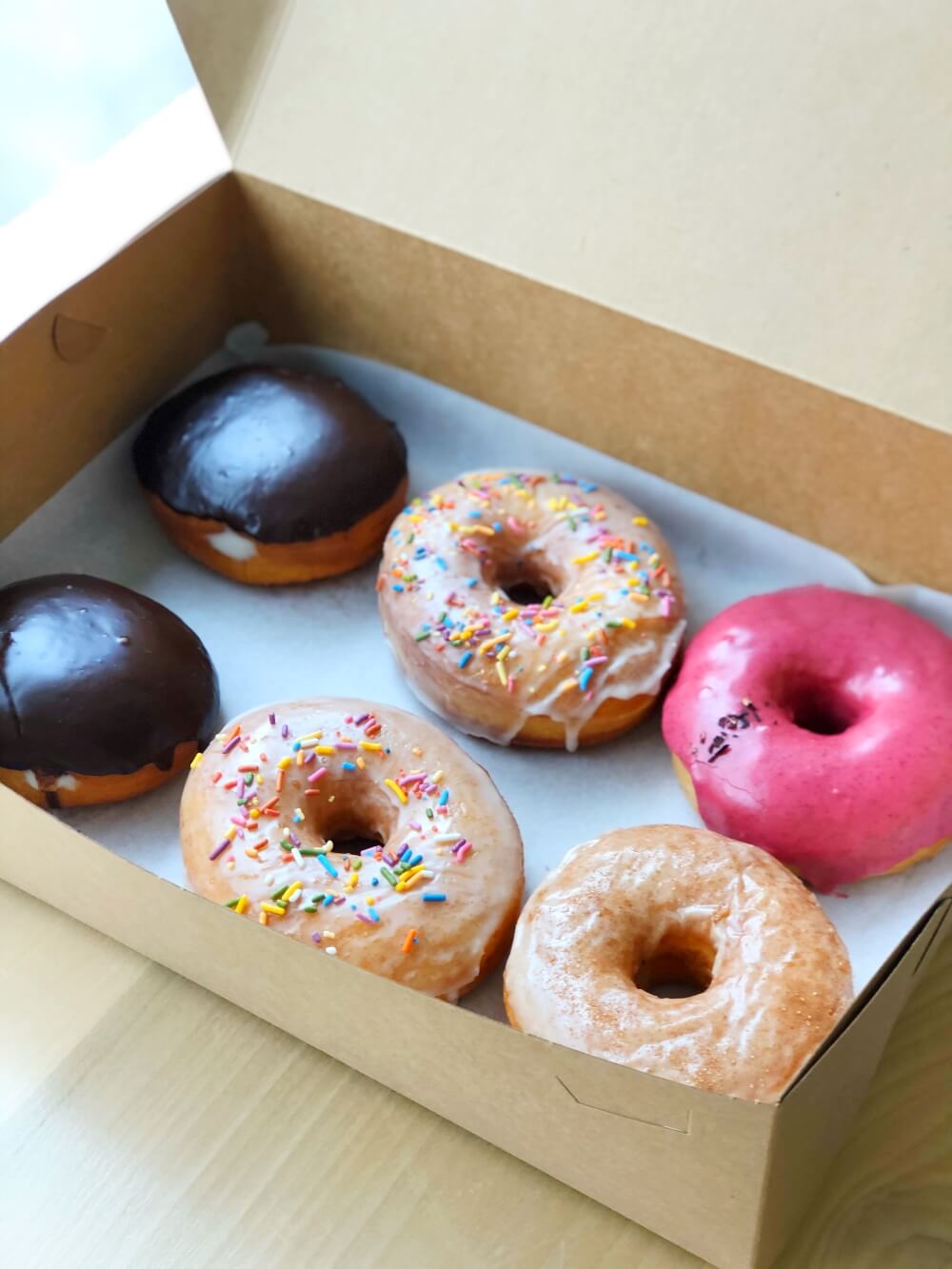 Current availability: The bakery is temporarily closed to customers. However, it is accepting pre-orders for curbside pickup on Fridays, Saturdays, and Sundays and local delivery on Saturdays. Pre-orders must be received by Thursday at 12 noon for each weekend.
*****
Cows, chickens, and all other animals are intelligent, emotionally complex individuals, just like us.
Cows are gentle giants who mourn the deaths of loved ones, sometimes shedding tears over their loss. Imagine a mother's grief when farmers steal her babies.
Chickens love their families. They would rather create their own social structures than be crammed together with hundreds of other suffering birds.
Their lives are important to them. We owe it to our fellow sentient beings to end our speciesism and afford them respect and dignity.
PETA encourages people to support businesses in their communities while fighting cruelty to animals and human health problems on a global scale. As 75% of emerging diseases—including COVID-19—are linked to eating animals, preventing future pandemics is as simple as opting for a delicious vegan doughnut over a dairy-coated one made with eggs stolen from chickens.
Don't live near any of these places? Check to see if any of these featured doughnut shops operate near you. Make your own tasty vegan doughnuts with these recipes from PETA: Try our glazed doughnut or baked doughnut, or get fancy with this pumpkin spice doughnut.