When spotting an animal who needs help, it may seem easier to think, "I would stop, but then I'd be late for work," "I don't think I'm strong enough," or "I'm sure someone else will help." But a suffering animal may not have time to wait for someone else to come along. To celebrate the people who instead thought, "Work will understand," "I have to try," or "If I don't help, who will?" PETA is proud to honor our Top Animal Rescuers of the Year for 2019.
Chloe Dorsey, for Freeing a Fawn—Twice
PETA is honoring Chloe Dorsey for coming to the aid of a trapped deer—not once but twice! She was jogging in Stone Mountain Park near Atlanta when she spotted a fawn who appeared to be stuck between the bars of a fence surrounding the park. Two other deer stood guard nearby. Even though the fence was made of thick metal, she worked until she had pried the bars far enough apart for the trapped animal to squeeze through and escape. Thinking that the morning's adventure was over, Dorsey was about to continue her run—but just a short distance away, she saw the fawn lodged in another section of the park's fence. The bars were harder to bend this time, so it took a gentle push, too, to help her wriggle free. "I have been an animal lover my whole life," she said. "I knew I had to do something." Even if that meant two rescues in a row.
Tanya Krasuin, for Helping a Starving Skunk
Good Samaritan Tanya Krasuin was surprised to see a skunk outside her Mission, British Columbia, Canada, home struggling to free her head from the plastic cup that had become lodged on it. Krasuin ran outside, grabbed the cup, and gently tugged until the trapped animal was able to pull free and run off to safety. "People keep asking me if I was afraid of getting sprayed," she told PETA. "No! I did what I had to do to save an animal from suffocating. I think any person would do the same."
This skunk likely would've died of starvation or dehydration or been hit by a car if not for Krasuin's quick thinking. PETA commends her and urges everyone to check out our guide on properly disposing of trash to protect wildlife.
Randel Sands and Ron Nash, for Freeing a Shark Tangled in Fishing Line
Divers Randel Sands and Ron Nash were doing a reef cleanup in Lauderdale-by-the-Sea, Florida, when they discovered a 6-foot nurse shark who'd become entangled in fishing line. They knew the shark would die unless they intervened. "There was a moment where she was looking at me with her eye—I believe she knew I wanted to help her," Sands told PETA. "She lay perfectly still as we searched for the line and worked to untangle her. Not for a second did she struggle or try to get away." Thankfully, Sands and Nash were able to free her. The gentle shark glided away, and Sands posted the video of her rescue on YouTube to make people aware that discarded fishing equipment harms animals.
Elizabeth Gardner, for Rescuing a Hen on a Highway
A little hen left to die on the side of a road is now enjoying life as a beloved companion, thanks to one compassionate highway worker. Elizabeth Gardner was working alongside the Bronx River Parkway on Long Island when she came upon an unusual sight: a lone chicken. The end of the bird's beak had been cut off and she was missing most of her feathers, suggesting that she had likely been confined to a metal battery cage with other hens and used for eggs until her production waned. Chances are she was on her way to slaughter when she fell off the transport truck and tumbled onto the road. Gardner scooped the little bird up and took her to local animal advocacy group Long Island Orchestrating for Nature, founded by PETA Manager John Di Leonardo. There, the bird, named "Elizabeth" after her rescuer, received some much-needed medical care and found a loving home with a guardian who's determined to help her heal completely.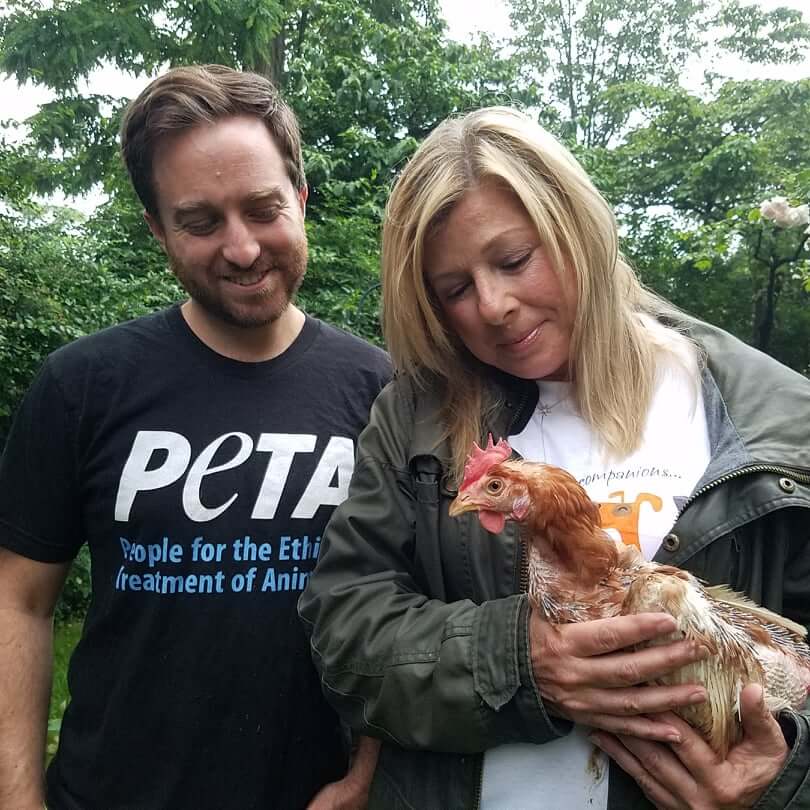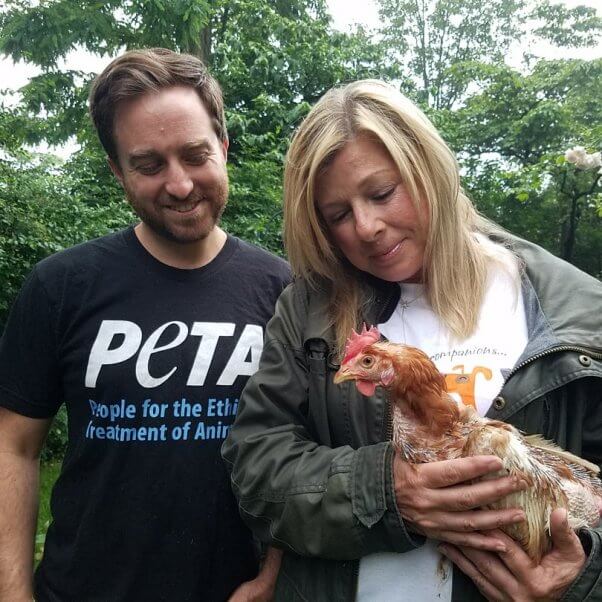 Long Island Orchestrating for Nature (LION)
Yaghnam Yaghnam, for Preventing a Turtle From Being Hit by a Bus
This video of a bus driver smiling while helping a turtle cross the road made us smile, too. Yaghnam Yaghnam was making his rounds in Milwaukee when he spotted a turtle in the middle of the roadway. Another bus was headed straight for the animal, so Yaghnam pulled his bus over, darted across the road, picked the turtle up, and quickly covered the rest of the distance for him. With the coast clear, he signaled to the other bus to proceed. The two bus cameras caught his heroic action, and his proud employer wasted no time in sharing it. "I love turtles," Yaghnam says. "As soon as I realized it was a turtle, I smiled, as you can see in the video. I knew the other bus was approaching and wanted to be sure he was out of harm's way." You can help turtles stay out of harm's way, too, with PETA's easy guide.
Officers Anthony Picariello and Christopher Mazzella, for Stopping a Train to Save a Goat
Most animals who try to run from the slaughterhouse don't get this lucky. But one goat who made a break for it on St. Patrick's Day had the luck of the Irish—and two kind cops—on his side. NYPD officers Anthony Picariello and Christopher Mazzella responded to a call about a goat who had escaped a slaughterhouse and was dodging traffic in the Bronx. They were trying to capture the scared and confused animal when he stopped—directly in the path of an oncoming train. Thinking quickly, the partners were able to stop the train, call an emergency service unit for assistance, and finally catch the goat. But instead of returning him to the slaughterhouse, they took the determined individual to the Animal Care Centers of NYC for veterinary treatment. And from there, the brave animal got a permanent home at the Skylands Animal Sanctuary & Rescue in New Jersey. The officers' kind actions earned them recognition from PETA and even an article in the New York Post.
Katie Kellner, for Pulling a Man and a Dog From a Reservoir
While jogging around Boston's Chestnut Hill Reservoir, Katie Kellner heard a man shouting for help. He'd gone into the water after Berkeley, a dog he was walking, and both were soon overwhelmed by the current. Without hesitating, Kellner kicked off her shoes, jumped into the reservoir, swam out to the pair, and pulled them both to safety on shore. Berkeley was soon reunited with his grateful guardian, and his caregiver made a full recovery after a brief hospital visit.
Sgt. Greg Tietje, for Coming to the Aid of Sea Turtles in a Hurricane
Five baby sea turtles who hatched in the middle of Hurricane Dorian would likely have been victims of the storm if not for Sgt. Greg Tietje. Hatchlings normally use the slope of the shore, the sound of the waves, and moonlight to help them find their way to the ocean, but Hurricane Dorian was making that impossible for these babies. The disoriented animals were stuck in a restroom at Mala Compra Beach in Jacksonville, Florida, when Tietje found them. Picking up each tiny turtle, he shepherded them to the water, shining his flashlight on the waves to help them see which direction to swim.
Deputy Josh Tolliver, for Rescuing a Puppy Trapped in a Flooded Car
As the storm surge from Hurricane Dorian swept over Florida, drivers abandoned their flooded vehicles on the side of the road. But one driver near Orlando left someone behind: a tiny puppy. As flood waters swirled, Deputy Josh Tolliver checked the car and discovered the shivering pup trapped inside. He pulled her to safety; wrapped her up in his warm, dry patrol car; and hurried her to Orange County Animal Services for care. But it wouldn't be the last time they would see each other. Tolliver returned the next day to adopt the little dog, whom he named "Dorian." To help keep animals safe during natural disasters, PETA offers an emergency-preparedness guide for guardians on our website.
Maurice German, for Saving a Cat Hopelessly Stuck on a Utility Pole
Maurice German wasn't expecting accolades when he agreed to rescue a cat who'd been stuck on top of a utility pole for more than 12 hours—and he certainly wasn't expecting what happened next. The Verizon employee was working in a bustling Philadelphia neighborhood when a worried resident asked him if he would use his utility truck to rescue her cat. German agreed and was able to quickly reach the animal and get her into the truck's lift. The cat's guardian filmed the rescue, and the video spread on social media. But as soon as Verizon caught wind of the rescue, the company suspended German for three weeks without pay, saying that he'd used the lift in an unauthorized area. Philly rallied around him—more news stations covered his story, two successful GoFundMe pages were set up for him, and people organized a petition against Verizon. German was widely recognized as a hero.
https://twitter.com/SteveLindsayCBS/status/1107071734061170695
Bryant Fritz, for Jumping Into Freezing Water to Help a Puppy
We can't imagine what was going through the mind of the person who burned a small pit bull–mix puppy and dumped her, locked inside a crate, into the freezing waters of Kaufman Lake in Champaign, Illinois, this winter. We're just glad that teacher Bryant Fritz was there to save her.
He spotted the dog floating in a crate, ran into the freezing water, pulled her to safety, and rushed her to the University of Illinois College of Veterinary Medicine. Her temperature was so dangerously low that the doctors' thermometers couldn't even read it. But after receiving several days of care, the pup pulled through, and, as you can see in this video, she and Fritz were happily reunited—for good. PETA is offering $5,000 to anyone with information that leads to the arrest and conviction of the person(s) responsible for the crime.
Workers From Hillsboro Garbage Disposal, for Saving a Kitten Encased in Spray Foam
Though the employees of Hillsboro Garbage Disposal in Oregon who saved a nearly dead kitten didn't want recognition, they deserve to be honored and have their story told. Someone doused a tiny kitten in spray foam and, after it hardened around his head, tied his legs together and suspended him upside down in a trash can. A sanitation worker heard whimpering and was horrified to discover the tortured kitten, still clinging to life. Employees raced back to their facility with the bin, freed the little cat from it, untied his legs, and then began carefully chipping away at the spray foam with a razor blade so that he could breathe. When most of it had been removed, they hurried him to the nearest veterinarian. Because of their quick actions, the kitten recovered and had a long line of potential adopters offering him a home. And PETA is offering a $5,000 reward to anyone who can help the Washington County Sheriff's Office arrest and convict the kitten's abusers.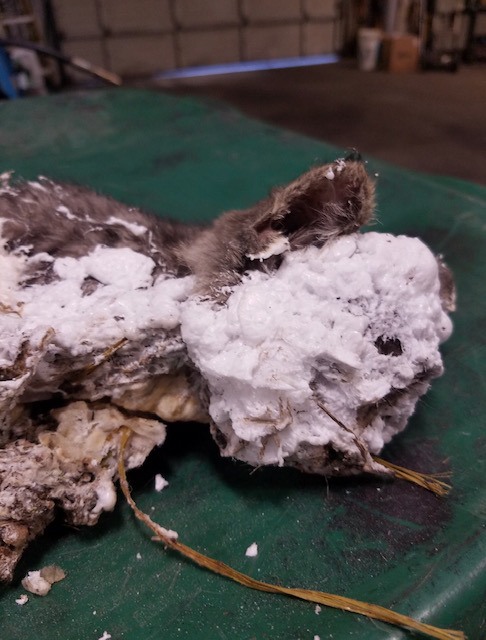 Courtesy of Washington County Sheriff's Office
https://www.facebook.com/bonnie.silkman/videos/2342670292645840/
---
Each of these heroes received a framed award from PETA along with a box of vegan cookies. And now, all of them are being recognized as our Top Animal Rescuers of 2019 and will receive our Merry-Mint Cocoa and Mug Gift Set, a collapsible reusable straw from FinalStraw, our 2020 Rescued Calendar, and a box of Divine Treasures' Divine Kingdom vegan chocolates.
"The time is always right to do what is right."

—Dr. Martin Luther King Jr.