"You have a better chance of winning a sex offender case than you do a cruelty-to-animals case," says Francisco Hernandez, the lawyer of "Joe Exotic," in episode one of Tiger King 2. It turns out that exotic-animal exhibitors have been accused, charged, and even convicted of sex-related crimes. Season 1 of Netflix's Tiger King might as well have been subtitled Misogyny, Mugshots, and Male Chauvinism—you could almost count on instances of sexism as often as you could be sure another example of animal abuse was right around the corner. The follow-ups Tiger King 2 and Tiger King: The Doc Antle Story are showing once again that sexism and speciesism can go hand in hand. There's no need to take our word for it—not when Bhagavan "Doc" Antle, Joe Exotic, Tim Stark, Jeff Lowe, and a slew of other animal abusers have shown their true misogynistic colors too many times to count.
Let's take a look at the animal exhibitor "lineup":
Bhagavan 'Doc' Antle
Myrtle Beach Safari
"He definitely struck me as the Harvey Weinstein of the animal-training business," former Yogaville devotee Ruth Vargas says of Antle in Netflix's Tiger King: The Doc Antle Story.
According to Barbara Fisher, who made a much-discussed appearance during Tiger King's first season, Antle—another villain and Joe Exotic's self-proclaimed mentor—pressured young female "apprentices" working at his roadside zoo (some of whom began working for him when they were just teenagers) into sleeping with him, something he apparently said would help them reach "his level of enlightenment."
"He had four women who were sleeping with him when I was there, and each started out as his apprentice," said Fisher, an apparent former Myrtle Beach Safari apprentice of Antle's. "That might not fully fit the 'sex cult' moniker that Twitter has bestowed on Doc's place, but it is certainly problematic and predatory in my opinion."
According to Fisher, Antle chose his apprentices' clothes, told them what they could and couldn't eat, and even pressured Fisher into getting breast implants—something she agreed to, she said, because she knew it would mean that she'd be allowed to rest for a few days after surgery. Fisher said that she and his other apprentices worked long days with no breaks, were paid roughly $100 per week, and were forced to live in cockroach-infested "terrible horse stalls basically, like with sliding doors with bars on them." In The Doc Antle Story, she describes the big-cat exploiter as "a very, very skilled con artist" who "creates his own truth always." She alleges that Antle tortured her via a capuchin monkey she particularly loved: "Bhagavan knew I loved her. He liked that I was taking very good care of her, but he did also, like, torture me with the fact that I was so attached to this monkey. In one instance in particular, he took her and put her in a freezer … and closed it and just stared at me, waiting for me to stop being upset."
"Doc has gotten away with this for so long, he thinks that he's bulletproof. But after Tiger King, all these people contacted me with their own stories," Fisher says in The Doc Antle Story. "I knew that if I came forward, other people would, too. There is safety in numbers. … [W]hat's going on with Doc won't survive in sunlight."
Viewers are then introduced to a slew of other former roadside zoo staff members and alleged victims of Antle. "To be part of the zoo, you give up your entire life, you give up your name, you give up your world, you give up your family, your friends. … [A]nd it's really just a way of him getting free labor," says Steven Diamond, Antle's former magician partner.
"It's a harem," says Magenta Brooks, a former apprentice of Antle's roadside zoo and one of the many women and girls he kept around him and allegedly manipulated. Most were women he employed, and some were girls as young as 14. Brooks goes on to detail how his misogyny and speciesism are closely related: "He's got this very highly overinflated sense of self. He sees himself as kind of a guru. And so having followers or having animals that are subservient to him kind of bolsters that narrative."
Others recount Antle's Yogaville past, his supposed "psychic powers," and his feeble attempt at being "the cool guy with the tigers." Multiple former Yogaville devotees allege that he sexually abused them: "It was part of the culture, I think, that Bhagavan cultivated. There was a lot of photoshoots. There were some inappropriate photos, definitely. And we were underage. Naked photos," says ex–Yogaville devotee Sachi Oba. "He did a nude photoshoot of me and a boa constrictor," echoes Sumati Steinberg, who allegedly slept with Antle and became his "spiritual wife" when she was 15 years old and he was in his 20s. "There were four times in four years where I thought he was gonna kill me. … He would beat me or be violent with me. And it scared me into staying with him. Choked me to the point where I passed out," Steinberg claims. "[H]e tried to guilt trip me into an abortion," she adds, regarding sharing the news of her pregnancy.
Antle allegedly separated underage girls from their mothers to exploit them, just as he does to tiger cubs.
"You know, he was pretty careful about picking teenage girls whose parents didn't pay attention to them," says Antle's first wife, Betsy "Brahmi" Rogers, who was still married to him when he allegedly wed the underage Steinberg and who never consented to being part of a polyamorous relationship. She says, "He was only interested in me as long as I looked like I was 12."
"I was 14 and he was 25," says Radha Hirsch, another of Antle's ex-wives, at the end of The Doc Antle Story's first episode. "Bhagavan and I were talking on the phone and he wanted me to give him very specifically my route to school. … [H]e came and pulled up next to me in a disguise of some sort … and I jump in the car … and we flew off. … I still kind of wasn't thinking that it was really an abduction."
How many more of Antle's alleged victims have broken their silence? Does the law ever catch up to him and punish him for the "trail of suffering" that he's left in his wake? What has become of the animals he's exploited and abused?
You'll have to keep reading and watch The Doc Antle Story to find out.
Joseph Maldonado-Passage, aka 'Joe Exotic'
Formerly of The Greater Wynnewood Exotic Animal Park, aka 'G.W. Exotic'
Joe Exotic, Tiger King's premier villain, has made few attempts to hide his strong prejudice against women. This includes routinely referring to Carole Baskin, owner of Big Cat Rescue, as a "bitch" throughout the show. (Joe's statements about "that bitch Carole Baskin" and "I'm gonna kill that bitch" will haunt you for days.) In addition, he spent the better part of a decade threatening the female animal rights activist in violent, often sexually charged ways.
"I was incredibly disappointed by the public's reaction to Carole … [Joe] was convicted of trying to murder this woman," said PETA Foundation Deputy General Counsel for Captive Animal Law Enforcement Brittany Peet during her appearance in Tiger King 2. "[Carole] was terrorized for so long by Joe." Peet testified in the trial in which Joe Exotic was convicted on murder-for-hire and wildlife-trafficking charges and appeared in the show's first season, too.
One video in his YouTube series showed Joe Exotic shoving a dildo into the mouth of a blowup doll designed to look like Baskin—and he eventually shot the doll in the head. Ultimately, Joe Exotic's murder-for-hire plot as well as 17 counts of wildlife crimes landed the animal abuser a 22-year federal prison sentence.
Before his incarceration, Joe Exotic also made threats against PETA, including posting an image in which he hanged a mannequin labeled "BCR" (for "Big Cat Rescue") and another labeled "PETA."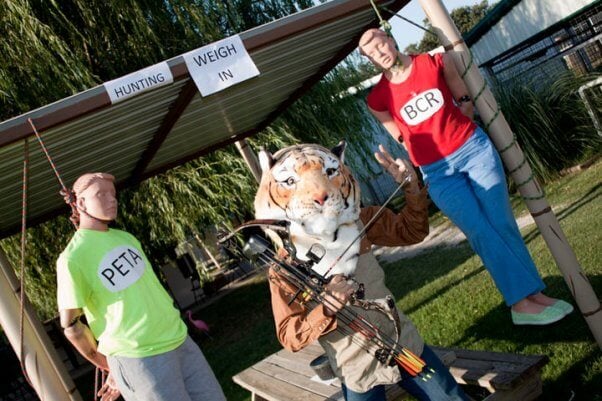 Tigers and women weren't his only intended victims, either. In season 1, the former roadside zoo owner and convicted felon—who also abused bears, chimpanzees, baboons, and other animals during his G.W. Exotic days—was accused of using methamphetamine to nurture dependency in much-younger romantic partners John Finlay and Travis Maldonado.
Jeff Lowe
Formerly of The Greater Wynnewood Exotic Animal Park, aka 'G.W. Zoo,' and Tiger King Park
How lowe can abusive animal exhibitors go? Jeff Lowe—a notorious animal exhibitor who appears in Tiger King and Tiger King 2—has the answer. In season 1 of the docuseries, Joe Exotic claims that he bailed Lowe out of jail after the latter allegedly "beat up and strangled his first wife, Kathy Lowe."
Also in season 1, Lowe admits to using big-cat cubs to lure women into bed with him. "A little pussy gets you a lot of pussy," he declared. In Tiger King 2, former G.W. Zoo volunteers and employees confess that others helped make it easier for Lowe to target women: "Code 69 is … well we got codes for a lot of things. These are FCC radios, so people do listen in," said Erik Cowie, who once acted as the roadside zoo's head keeper. "Code 69, that means it's a pretty girl in the park," former park volunteer Tyrone Jackson clarified. The code meant, "Hey, there's some bait that just walked in the zoo," added Lowe family friend Sarah Nicole. "'Cause we weren't making relationships, we were making experiences—a person was almost nameless." Lowe confirmed. "It was like, that's our toy," added Nicole, speaking of women Lowe and his current wife, Lauren, would target. "Jeff and Lauren draw people in with the money, the cats. They manipulate the situation, and they bring vulnerable women in," former G.W. Zoo employee Ashley Webster recalled during a Tiger King 2 interview.
"If I have to put Lauren on a corner earning, then we'll do whatever we have to do," Lowe said with a chuckle, speaking of his wife and potential financial obstacles related to Tiger King Park in Thackerville, Oklahoma.
Seasons 1 and 2 touch on the fact that in 2008, Lowe also pleaded guilty to federal mail fraud after he posed as an employee of a domestic violence charity in order to get marked-down merchandise for his liquidation store.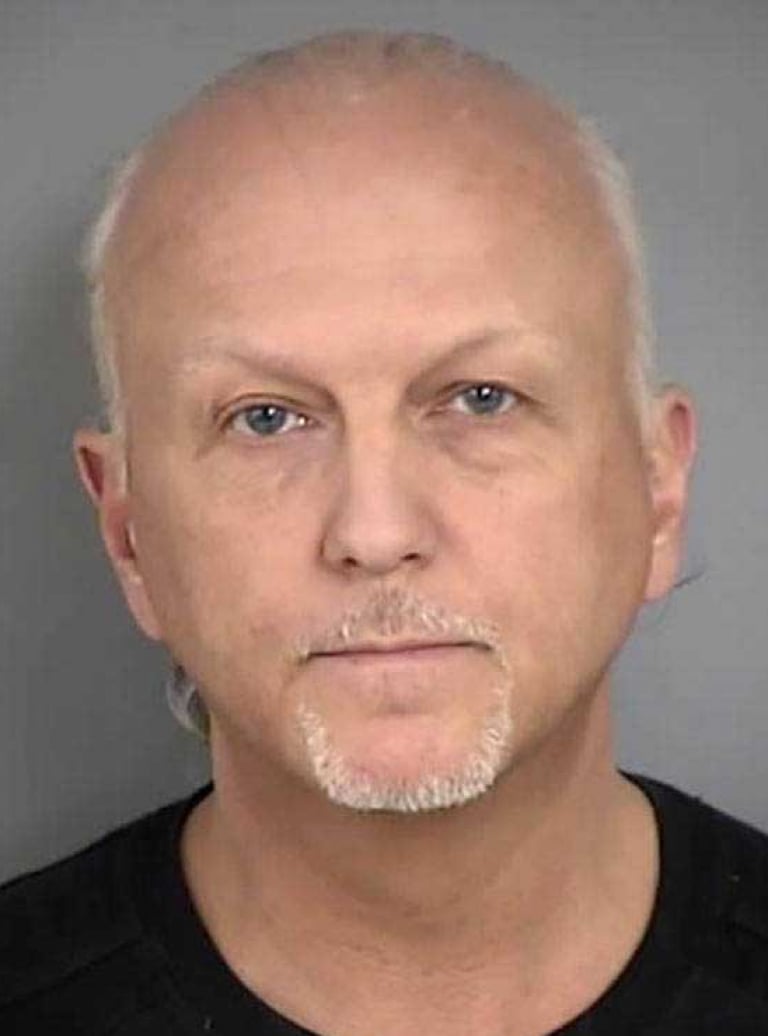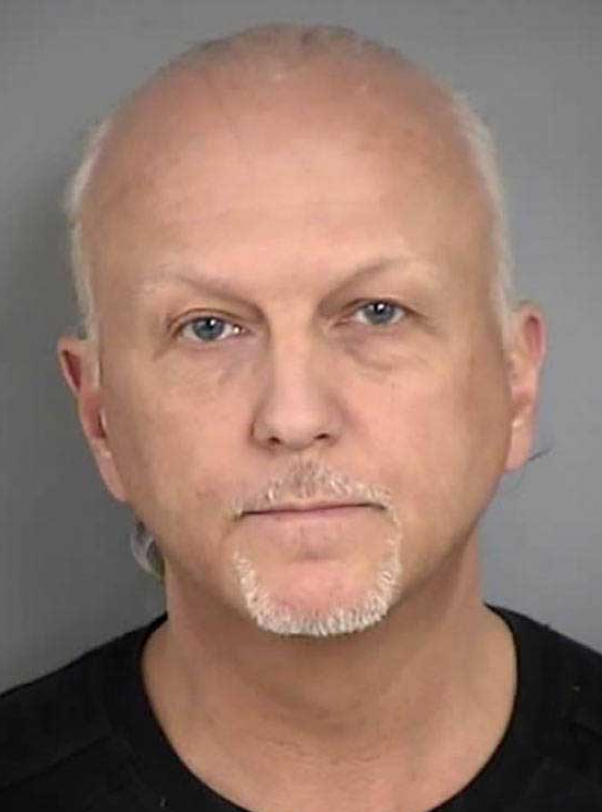 Like his former business partner, Joe Exotic, Lowe made obscene threats of violence against PETA staff, too, including Peet and PETA's cofounder and president, Ingrid Newkirk. In a June 2017 Facebook post, he threatened to livestream Newkirk's murder. Then in June 2017, he referred to Peet as a "c*nt" and insinuated that he'd orchestrate her murder: "When you offer great white shark swims, I will personally bring Brittany Peet down for a dip," Lowe wrote in a comment to Kathy Stearns on Facebook.
Tim Stark
Formerly of Wildlife in Need
Joe Exotic wasn't the only chauvinistic animal exhibitor who admired Bhagavan "Doc" Antle—Tim Stark, who operated a roadside zoo in Indiana called Wildlife in Need (WIN), also seemed jealous of Doc's sexist regime. (In 2020, PETA helped secure the rescue of 22 tigers, lions, and tiger/lion hybrids from WIN, which is now defunct.) In season 1 of Tiger King, Stark expresses wonder over "the way [Antle] had them women trained."
"I don't need you to teach me a damn thing about animals. How the f*ck you got these women trained?" Stark asked Antle of his apprentices.
In Tiger King 2, while leaving WIN after authorities showed up with a court order requiring that he be at least a mile from the premises while authorities confiscated animals on the property, Stark looks around for Shay McAlister, a local journalist: "Where's bitch at? Hey, Shay, your fat ass around here somewhere?" And when he spots her, he says, "Oh, there you are—how you doing, bitch, you little animal rights activist."
Given all the facts, it's rather unsurprising that a man who bludgeoned a leopard to death with a baseball bat is also a misogynist.
Eduardo Serio
Black Jaguar–White Tiger
Although not mentioned in Tiger King, many know Black Jaguar–White Tiger Foundation in Mexico is a sham "sanctuary"—all the rescue-themed hashtags like #SaveTigers in the world can't hide that the facility promotes selfies with cubs and relegates grown cats to dirt and concrete lots. So what's Black Jaguar–White Tiger owner Eduardo Serio's big public-relations solution? Dismiss critics of his fake sanctuary as bitter women.
"The real problem is that [these] bitter senior angry vegan feminists messed up their own lives when they had a chance to live them and now the only way to redeem themselves (According to them) is to become social justice warriors. Obviously, if a real man would pay attention to them, they'd drop their phones and focus on that testosterone in front of them, but that won't happen," Serio ranted in a since-deleted Instagram post.
Little does Serio realize that sexist bullies only encourage animal rights activists (a diverse group consisting of people of all ages, genders, and other demographics, thank you very much) to continue to challenge the tired supremacist notion that tigers, jaguars, and other nonhuman animals exist solely for human use.
Randy Stearns
Dade City's Wild Things
Randy "The Tiger Man" Stearns used to co-operate a roadside zoo in Dade City, Florida. But Randy "The Registered Sex Offender" Stearns might be a more apt nickname: Stearns, who was president and "head trainer" of the now-defunct Dade City's Wild Things (DCWT), was charged with eight counts of sexual misconduct, including six involving children he reportedly exposed himself to in an elevator. He later pleaded guilty to two counts of sexual misconduct and is now registered as a sexual offender.
Meanwhile, DCWT closed after the last six tigers once held there were sent to The Wild Animal Sanctuary, an accredited sanctuary in Colorado. The victory came just days after we obtained a default judgment and a permanent injunction in our Endangered Species Act lawsuit against the sleazy Florida roadside zoo.
Bruce Sankey
Pymatuning Deer Park
First, Bruce Sankey exploited animals—then he came for a young girl. The former manager of Pymatuning Deer Park (a deplorable tourist trap in Jamestown, Pennsylvania) is currently serving a 10- to 20-year prison sentence for sexually abusing a then-14-year-old girl. The victim reportedly worked with him at the roadside zoo, where a bear named Bosco is forced to live primarily in a virtually barren concrete pit. According to reports, Sankey expressed "little remorse" at his sentencing hearing.
Sankey was described as "manipulative, scheming and self-centered" by a member of the victim's family. The former roadside zoo operator and his wife, who currently operates Pymatuning Deer Park, apparently pressured his young victim into not coming forward. Sankey is now classified as a Tier III sex offender for life.
PETA and the Animal Legal Defense Fund are currently suing Pymatuning Deer Park under the Endangered Species Act and for public nuisance over inadequate conditions for animals, including Bosco, at the roadside zoo.
Daryl Raymond Jr.
Jungle Safari
Daryl Raymond Jr. made a living off animals' misery, forcing ponies to carry children on their backs at a traveling menagerie. It turns out that ponies weren't the only ones he exploited. In 2016, Raymond was accused of touching six children inappropriately when they visited Jungle Safari, the traveling zoo where he worked at the time. In 2018, he pleaded guilty to multiple counts of sexually abusing children, all of whom were reportedly girls between 3 and 6 years old. "Raymond would guide the pony by the saddle horn, and that's when the touching of the victims would occur," the Bangor Daily News reported.
Although neither Raymond nor Jungle Safari appears in Tiger King, there is an apparent connection—in 2017, Jungle Safari apparently arranged for the interstate transfer of a 4-week-old tiger cub who had been separated from her mother forcibly and prematurely. According to a certificate of veterinary inspection, Jungle Safari arranged for the tiger cub's transfer from G.W. Zoo.
George Todd
Todd's Ponies
In 2010, George Todd—who co-owned Todd's Ponies and Hay Rides in Garden Prairie, Illinois—pleaded guilty to criminal sexual assault after molesting a 14-year-old girl multiple times. The abuse reportedly took place on Todd's property, where the victim worked caring for ponies.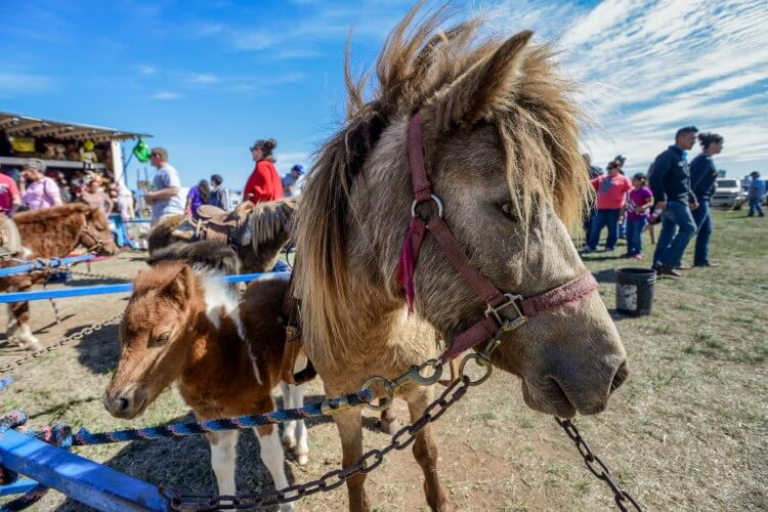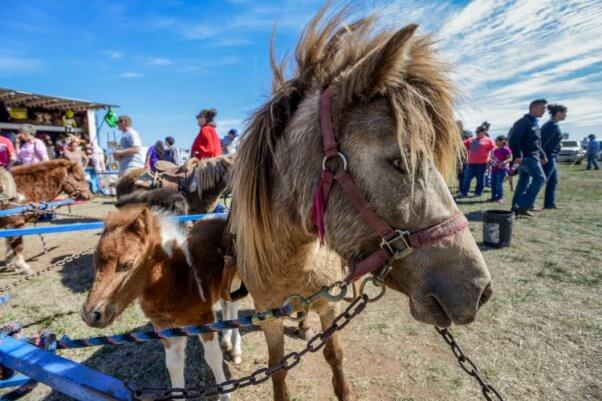 Pony rides treat animals like inanimate carnival equipment, so it's hardly surprising that someone who earned a living exploiting animals abused others, too.
Scottie Brown
Zootastic Park
Zootastic Park in Troutman, North Carolina, is a roadside zoo that regularly forces baby wild animals into stressful photo-op encounters and keeps animals in barren, decrepit enclosures. Owner Scottie Brown has been cited repeatedly by the USDA for federal Animal Welfare Act violations and was fined more than $7,000 for failing to provide animals with adequate care.
His legal woes didn't end there: In 2010, Brown was arrested for assaulting his ex-wife, Kelly Underwood. He allegedly broke into her house and held her down. According to the Mecklenburg Superior Court clerk's office, the charges were dismissed in 2017.
*****
Animal Abuse and Human Abuse: Partners in Crime
It's not unusual for those who abuse animals to carry out or threaten to carry out acts of violence—including physical attacks and sexual assault—against women and children. Animal handlers and exhibitors demand 100% compliance from the animals they abuse, who experience learned helplessness, just as victims of domestic violence do. This power dynamic is common in circuses, too, where virtually all handlers are male and virtually all elephants are female:
Some of the jobs and even lives of the men listed above have revolved around the imprisonment, reproductive control, kidnapping, and abuse of tigers and other wild and exotic animals, so it's not exactly shocking when they treat women and children in the same abusive, domineering manner.
The link between cruelty to animals and other violent crimes is well established.
These animal exhibitors' violence and exploitation didn't stop with animals, and that's not unheard of. The same pattern occurs in other animal-abusing industries, too, as we've seen with some vivisectors.
"If somebody is harming an animal, there is a good chance they also are hurting a human," said John Thompson, deputy executive director of the National Sheriffs' Association. "If we see patterns of animal abuse, the odds are that something else is going on."
*****
Please, help protect everyone from these dangerous individuals by never visiting a roadside zoo or any other exploitative operation that puts animals on display. Click on the link below to do more for victims of speciesism: