When viewers tune in to Netflix's Tiger King 2, they will find that nearly every animal exhibitor from season one was locked up or shut down or is facing lawsuits or criminal charges. Leading the way was PETA's legal team, and PETA Foundation Deputy General Counsel for Captive Animal Law Enforcement Brittany Peet—who testified in the trial that got "Joe Exotic" convicted on murder-for-hire and wildlife-trafficking charges—appeared in the show's first season and is back for season two. But it's been more than just a big year for big cats and a bad year for the bad guys of Tiger King—PETA's been tackling the murder, mayhem, and madness for years, successfully working to dethrone the show's villains as well as rescue and advocate for the big cats and other animals they've abused. From our 2006 undercover investigation that exposed misery and cruelty at G.W. Exotic Animal Memorial Park to negotiating directly with Joe Exotic for the release of 20 big cats, three bears, and two baboons and joining reputable sanctuaries in rescuing the animals, our work for big cats and their cubs was going on long before Tiger King captivated audiences in 2020. And the dominos of the big-cat cub-petting industry continue to fall as a result of PETA's victories in the courtroom.
"PETA hopes that the second season of Tiger King will inspire more people to stay away from roadside zoos and support the much-needed Big Cat Public Safety Act, which would ban public contact with big cats," says Peet.
https://www.youtube.com/watch?v=pT4NYto3abM
Whether you've watched Tiger King 2 or you're just gearing up for it, relive the excitement of a few of PETA's big wins for big cats and others since the show's debut season first aired.
PETA: 1, Tim Stark: 0
For years, Stark tore big-cat cubs away from their mothers, amputated their claws, and used them as photo props to line his pockets. But shortly after Tiger King aired, PETA caught up with him: In a precedent-setting victory against Stark and Wildlife in Need (WIN), his now-defunct roadside zoo, it was held that prematurely separating big-cat cubs from their mothers, declawing them, and using them for public encounters violate the federal Endangered Species Act (ESA).
PETA: 2, Tim Stark: 0
As part of our victory in that ESA case, 22 big cats were transferred from Stark and Lowe, his former business partner and fellow Tiger King villain, to accredited sanctuaries. Stark, his ex-wife, and WIN were also permanently barred from owning or possessing big cats without court approval and now owe us more than $753,000 in legal fees and costs.
'Tiger King Park' Officially Becomes Tigerless
The U.S. Department of Justice (DOJ) cited PETA's ESA victories—including in litigation in which Lowe is a defendant—in its own lawsuit against him …
It's official: There are NO tigers left at Tiger King Park!

69 big cats have been seized for "ongoing Endangered Species Act violations", just in time for #EndangeredSpeciesDay.

PETA provided some of the key evidence cited in the government's warrant. https://t.co/GcfpN9QDTn

— PETA (@peta) May 21, 2021
… which led officials to seize more than 69 protected big cats (lions, tigers, lion-tiger hybrids, and a jaguar) from Tiger King Park. The DOJ's search and seizure warrant was based in part on evidence obtained by PETA's lawyers in January 2021, including admissions that they had elicited regarding ongoing big-cat breeding (in violation of a court order) and the "neurotic behavior" of a jaguar as well as testimony elicited from Lowe that he had housed big-cat cubs and juveniles in his home and let employees take the cubs home with them. Authorities later transferred 61 other animals (including a porcupine, a camel, bobcats, lemurs, and raccoons) Lowe and his wife, Lauren Lowe, had signed over to the government. The Lowes have entered into a consent decree with the DOJ agreeing to never again exhibit animals, and surrendering all rights to the confiscated animals.
'Doc' Antle to Face the Courtroom—and the Consequences
Notorious wildlife exploiter Antle, another Tiger King villain, was indicted in October 2020 and charged with one felony count of wildlife trafficking, one felony count of conspiracy to traffic in wildlife, and 13 additional misdemeanor charges, including cruelty to animals, in Virginia. His charges stem from his alleged involvement in trafficking in lions with the owner of the now-defunct Wilson's Wild Animal Park, Keith Wilson, who faces similar charges. Virginia officials seized more than 100 animals from the roadside zoo after PETA filed complaints with the state.
Who Is 'Doc' Antle?
If Antle's much-discussed appearances during Tiger King's first season—which revealed how the alleged wildlife trafficker pressured young female "apprentices" working at his roadside zoo (some of whom began working for him when they were just teenagers) into sleeping with him—left you wondering, "What happened with 'Doc' Antle?" prepare to be clued in. Netflix is dropping new Tiger King content, including footage subtitled The Doc Antle Story, which will apparently spotlight his penchant for manipulating women and possibly girls and others around him.
PETA Exposes Zoological Wildlife Foundation
Most recently, after PETA reported that a Zoological Wildlife Foundation (ZWF) visitor had been bitten by a lion cub being used for photo ops, the U.S. Department of Agriculture issued multiple critical citations to the shady roadside zoo. The agency then went a step further and issued it an official warning over the incidents. This means that if these violations reoccur, ZWF could face civil penalties or other sanctions, including criminal prosecution.
ZWF's owner, felon Mario Tabraue, was sentenced to 100 years in prison after he was busted for using his exotic-animal business as a front for a drug-smuggling operation and was implicated in the dismemberment and burning of the remains of a former federal informant. (Tabraue was released after serving only 12 years when he testified against other criminals.)
*****
The use of big cats for photo ops has plummeted following PETA's legal cases: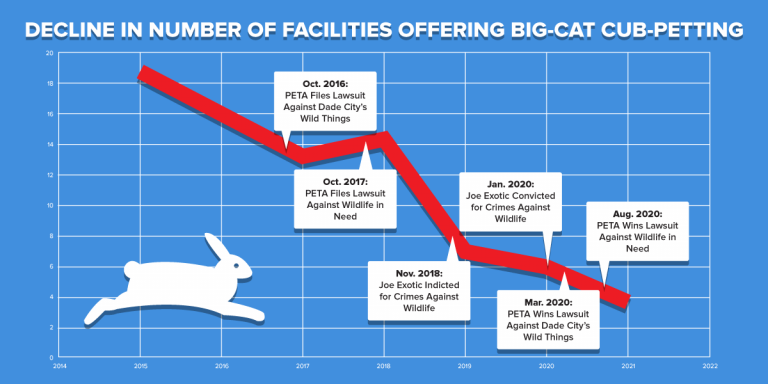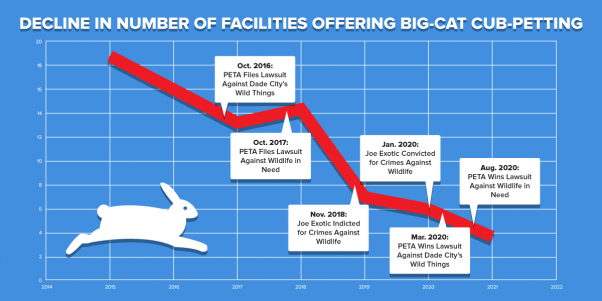 Be a True King or Queen for Tigers
Tiger King shone a light on the cruel big cat-cub petting industry, and it probably left you wondering what you can do to help prevent these animals from being exploited. To help end public contact with big cats as well as private possession of them, please let your U.S. representative and senators know that you support the Big Cat Public Safety Act, which would end big-cat cub petting and private ownership of big cats:
And remember, helping animals trapped at shoddy roadside zoos and other highway hellholes can be as simple as staying away from these facilities. Please, never support abusive animal shows or exhibits.