PETA Visa Rewards® Credit Card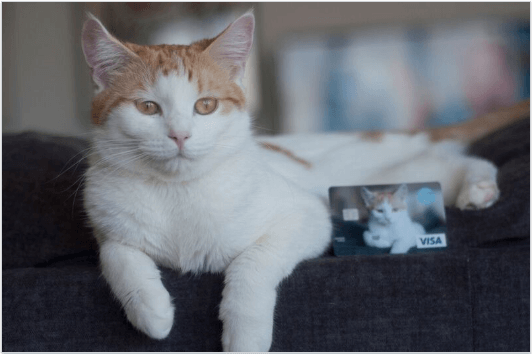 © Kendall Bryant
Pictured on the PETA Visa Rewards credit card—and aptly named after the 2017 hurricane that devastated areas of Texas and Louisiana—Harvey was among the 67 cats and dogs who were evacuated from affected areas by PETA's rescue team.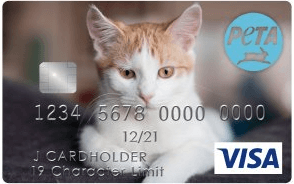 Apply by phone: 1-800-421-2273
After spending a week rescuing stranded animals from flooded homes in Port Arthur, Texas, the team traveled for nearly 24 hours straight, stopping only to feed, water, and exercise the evacuated animals.
During the long journey from the disaster area to PETA's headquarters—the Sam Simon Center—in Norfolk, Virginia, Harvey won the heart of one of his rescuers, who adopted him. And now, he'll win more hearts with every transaction.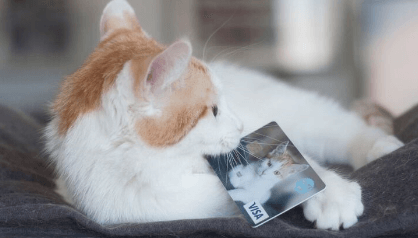 © Kendall Bryant
Let the PETA Visa Card spark discussions about animal rights with every swipe, and serve as an effective voice in behalf of animals who are suffering on farms, in the skins trade, in laboratories, in circuses, and wherever else they're abused.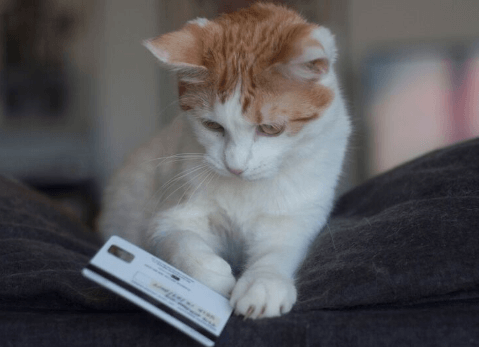 © Kendall Bryant
Apply by phone: 1-800-421-2273
Using this card is also the easiest way to earn rewards.
Plus, you can show your support for PETA by shopping with it for the things that you purchase every day. PETA earns a $55 donation when the card is used for the first time and .50% of all purchases made on the card.
Apply by phone: 1-800-421-2273
Rewards Benefits
Earn one point per dollar spent on all purchases.1
Rewards Redemption
Redeem rewards points for gift cards, merchandise, travel, account credits, event tickets, and much more by logging in to CardCenterDirect.com.
Additional Visa Benefits
Fraud Protection
Visa's zero-liability protection means that you won't be held responsible for any unauthorized charges made with your card or account information.2
Other Benefits
You can get auto-rental coverage, emergency cash, travel and emergency assistance, warranty manager service, and more.
This Apple Pay–compatible chip card also has the following enhanced security features to protect against fraud:
Online Credit Card Control
View transactions, pay bills, and track expenses.
Receive eStatements with 18 months of card-activity history.
Learn more about Visa's competitive rates and fees.
Apply by phone: 1-800-421-2273
Cardholder Self-Service Contacts
Online account access: CardCenterDirect.com
Customer service: 1-800-821-5184 (call toll-free)
Lost or stolen cards: 1-800-821-5184 (call 24 hours a day)
Rewards points redemption: CardCenterDirect.com
Credit cards are issued by UMB Bank n.a., under license from Visa USA, Inc.
1 See the Rewards Rules and Guide to Benefits that accompany your card for details. Certain terms and conditions may apply.
2 Visa's zero-liability protection covers U.S.-issued cards only and does not apply to certain commercial card transactions. The customer must notify the issuer immediately of any unauthorized use. For specific restrictions, limitations, and other details, please consult the card issuer, UMB Bank n.a.
Apply by phone: 1-800-421-2273