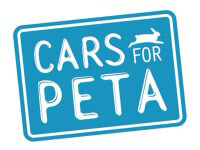 You can help protect animals by donating your car, truck, boat, motorcycle, Jet Ski, airplane, or motor home. Our vehicle donation program follows a simple process that will save you precious time (because you won't have to sell your vehicle yourself), and the proceeds from the sale will directly benefit our work to expose and stop cruelty to animals.
PETA can accept vehicles in any condition from all 50 states.
How It Works
Fill out the vehicle donation form online.
A service representative from Charitable Adult Rides & Services, Inc. (CARS) will arrange to tow your vehicle at your convenience.
CARS will send you an IRS tax receipt for your records.
Why Donate Your Vehicle to PETA?
You will be supporting PETA's lifesaving work to stop cruelty to animals.
It's a free, fast, and easy alternative to selling or trading.
You can receive a tax write-off.
If you are interested in donating your vehicle, please visit the vehicle donation Web site or call 1-877-PETA-GIV (1-877-738-2448) and a vehicle donation agent will help you through the donation process.
For additional assistance, please email [email protected]. Thank you for taking the time to consider the many ways in which you can help animals!