If there's anything that can cause a traffic jam even by New York City standards, it's a naked Wendy Williams in Times Square. As a crowd of cheering fans and snapping flashbulbs drowned out the honking taxis, a fully clothed Wendy unveiled her much-anticipated nude anti-fur ad for PETA: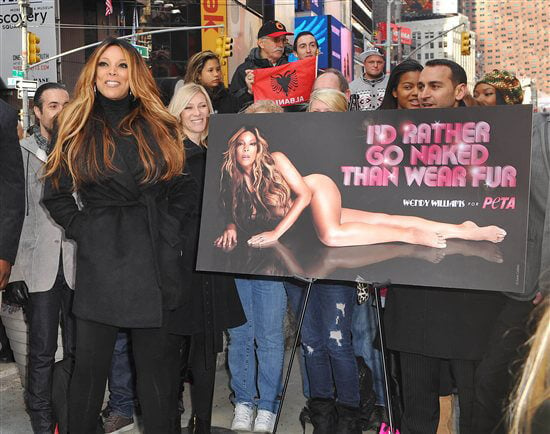 © StarMaxInc.com
The talk show host used to wear real fur made from foxes and minks but stopped after she learned from PETA how animals raised for their fur are electrocuted, bludgeoned, or skinned alive. Now, she knows that it's much better to bare skin than to wear skin. "I'd rather go naked than wear fur—it's very sexy," she purred during her photo shoot with top celeb photographer Aaron Cobbett.
Wendy hopes her actions will inspire other fur-wearers to shed their skin as well. And she already has the perfect idea for what they can do with those tacky, cruel coats: Donate them to PETA, and we will distribute them to people who are homeless because of Hurricane Sandy.
Helping people and animals—seems like the perfect reason for witty Wendy to get a little cheeky.