In a sexy homage to Lady Godiva, Kristen Johnston bared all to become the latest star of PETA's campaign against horse-drawn carriages in New York City. Posing nude on top of a prop horse, the Emmy Award–winning actor appears beside the tagline "Don't Get Taken for a Ride. Horse-Drawn Carriages Are Cruel" in PETA's provocative new ad.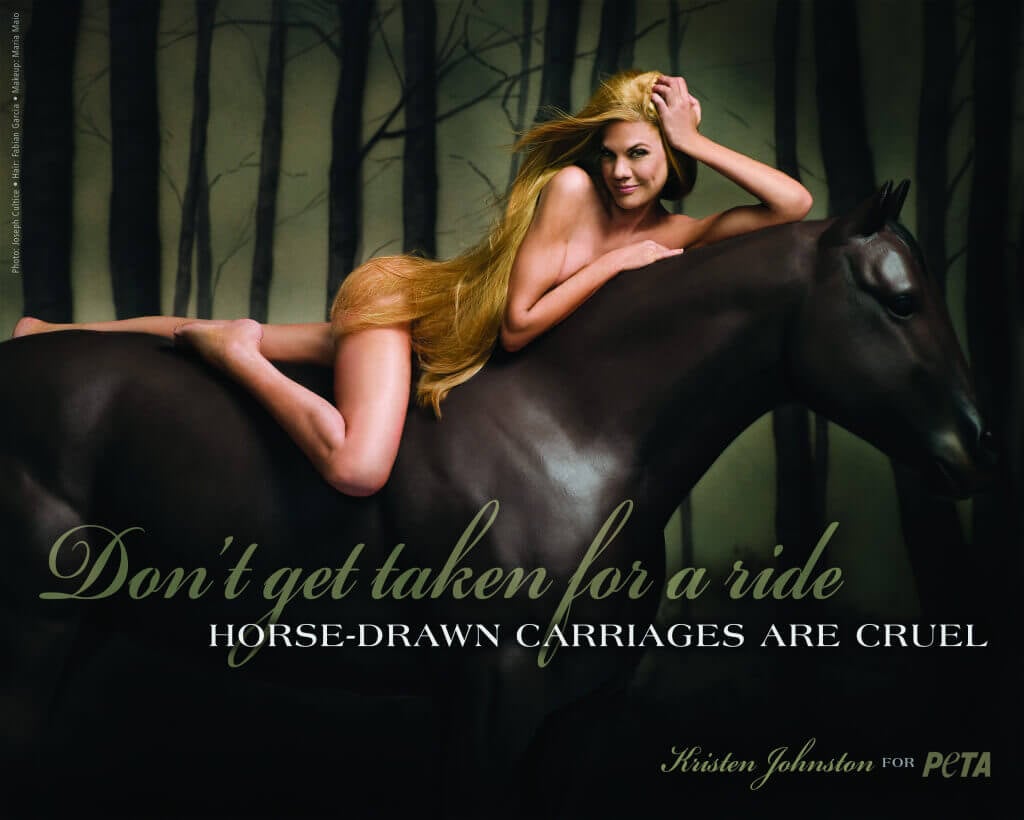 Kristen was inspired to get involved with PETA's campaign after attending a New York screening of the movie Blinders. "Well, my friend Jackie saw the movie Blinders and was really affected by it. She's one of my best friends, and she asked me to come to the New York premiere. And I went, and I was blown away by the story and how these horses live—or actually, I should say, don't live."
Horses used in the horse-drawn carriage industry are deprived of everything that is natural and important to them. These gentle, social animals are denied the opportunity to socialize with other horses, graze in fields, and run free.
Instead, these horses spend their days and nights hauling oversized loads in all types of weather, dodging traffic on busy, noisy, and crowded city streets. They often develop painful and sometimes debilitating leg problems from walking on hard pavement, and many suffer from respiratory ailments as a result of their repeated exposure to exhaust fumes. "They go from this horrible trotting job, where they're pulling people through the streets of Manhattan, to this tiny jail cell in this building on like the ninth floor—and it's horrible," says Kristen. Find out what else Kristen had to say in this behind-the-scenes footage of her shoot.
Each year the number of accidents involving horse-drawn carriages continues to rise, resulting in injuries not only to the horses but also to humans. It's time to put an end to this cruel industry once and for all—especially in New York City, where tourists can find countless activities that don't involve animals.
If you are a New York City resident, please contact your councilmember and urge him or her to support a ban on horse-drawn carriages.
If you live an another city where this outdated practice still continues, please contact your local legislators and ask them to support a ban or even sponsor a bill to ban horse-drawn carriages.